This is an archived article and the information in the article may be outdated. Please look at the time stamp on the story to see when it was last updated.
All six games to air on wgnradio.com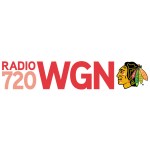 CHICAGO, Illinois (September 17, 2013) – WGN Radio 720, the official radio home of the Chicago Blackhawks, has announced that in addition to carrying two Blackhawks preseason games live on WGN-AM 720 on Sept. 19 and Sept. 20, the station will also stream all six matchups on wgnradio.com.  All games will be called by Blackhawks radio broadcasters John Wiedeman and Troy Murray.
Due to Cubs broadcast conflicts, four match ups will not air on 720 AM. Fans can listen to tonight's game vs. the Detroit Red Wings at 7 p.m., the Sept. 22 rematch vs. the Detroit Red Wings at 4 p.m., the Sept. 23 game vs. the Pittsburgh Penguins at 6p.m., and the Sept. 28 game vs. the Washington Capitals at 7p.m. online at wgnradio.com/listen, the WGN Radio mobile apps, TuneIn and iHeartradio.com. Details at wgnradio.com/listen.
2013-2014 Chicago Blackhawks Preseason Schedule:
Tuesday, September 17, Blackhawks vs. Red Wings, 7:00pm, wgnradio.com
Thursday, September 19, Blackhawks vs. Penguins, 7:00pm, WGN Radio 720 & wgnradio.com
Friday, September 20, Blackhawks vs. Capitals, 6:00pm, WGN Radio 720 & wgnradio.com
Sunday, September 22, Blackhawks vs. Red Wings, 4:00pm, wgnradio.com
Monday, September 23, Blackhawks vs. Penguins, 7:00pm, wgnradio.com
Saturday, September 28, Blackhawks vs. Capitals, 7:00pm, wgnradio.com