This is an archived article and the information in the article may be outdated. Please look at the time stamp on the story to see when it was last updated.
HOMETOWN VOICES TOUR
Presented by Allstate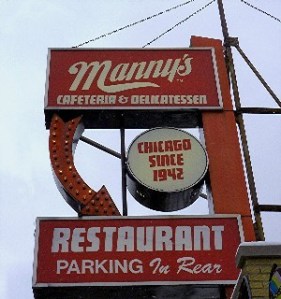 The Allstate Hometown Voices Tour makes its next stop at Manny's Deli in the South Loop of Chicago on Wednesday, March 26!
Bob Sirott & Marianne Murciano are piling up the Chicago history…and the corned beef!  Join them for a live broadcast from 12-3p from the historic restaurant and continue to celebrate the luck of the Irish. Be sure to stop by to enjoy a sandwich– you'll receive a free potato pancake with purchase during the show!

Manny's Deli
1141 S. Jefferson
Chicago, IL
The WGN Radio Hometown Voices Tour to South Loop Chicago, Illinois is presented by Allstate Agent Lamont Robinson

5048 S. Indiana Ave
Chicago, IL 60615
773-268-8288
ljrobinson@allstate.com
Lamont Robinson is Agency Owner of the Robinson and Associates Agency, an Allstate Insurance agency located in Chicago, IL. His focus is on protecting your assets and family from mayhem by ensuring that you have the appropriate products and coverage for your needs. He is licensed in Illinois and Indiana to sell property and casualty, life, accident and health.
In his career with Allstate, Lamont has won numerous awards for providing outstanding customer service and exceeding business expectations. Lamont's primary focus has always been the customer and he truly prides himself on providing an amazing customer experience to everyone that comes in contact with his agency. Prior to opening his agency, Lamont worked as territory sales representative for another large insurance company marketing property and causality insurance products. It is this experience that has enabled Lamont to communicate policy information in a clear and easy to understand way.
Lamont is also positively impacting the community he serves by recently being appointed by the Chicago City Council to serve a two year term as a Commissioner to the Special Service Area #51 as a local business owner in the community. The Special Service area is in charge with the responsibility of using economic development to assist in cleaning, beautifying and revitalizing the 51st street retail corridors.
A native of Chicago, he holds a BS in Business Administration from Clark Atlanta University and a MBA from National Louis University.
Community Involvement:
Edward G. Irvin Foundation
51st   Street Business Association
51st  Street Special Service Area
The Boy's and Girl Club of Chicago