This is an archived article and the information in the article may be outdated. Please look at the time stamp on the story to see when it was last updated.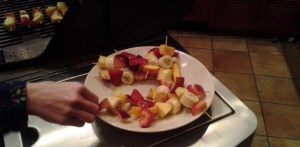 A nice, fresh, and light treat to make on the grill is fruit kabobs. Yes, GRILLED FRUIT = YUM!
INGREDIENTS:
Plain Greek Yogurt (Fat Free or 2% works)
Honey (recommended: Wildfire Honey)
Variety of Fruit
 Many fruits are excellent for this type of preparation – so it's really up to what's in season – and what you love.
We can recommend a few that are exceptional:  Bananas, pineapple, papaya, peaches, nectarines, watermelon, strawberries, plum, and kiwi.
The primary focus of the prep is to make the fruit into consistently sized pieces.  This is easier to do with melons and bananas, then it is with berries – but as close as you can is great.
Skewer your fruit onto either metal skewers, or presoaked wooden skewers, and prepare for grilling.  Just prior to transferring to the grill – brush lightly, but thoroughly, with extra virgin olive oil.  This extra step will help assure that your fruit will not stick to the grill –this is important!
You'll want to place the fruit onto the grill at ideally a medium temperature – but hotter is ok, just keep away from full flame.  Turn when fruit begins to brown (caramelize), and continue until each side has those cool grill marks.
Total grilling time is going around ten minutes – depending on the heat of your grill.
DIPPING SAUCE:
Start with 1 cup of greek yogurt and 1 Tbsp of the spicy honey, and add additional honey to boost the flavor up – or additional yogurt to tone it down.
Plain honey is also fine – but if you can get your hands on the spicy honey – give it a try – it's AMAZING!
Once the honey yogurt is ideal for your taste, serve with the kabobs – and you're ready to enjoy!