This is an archived article and the information in the article may be outdated. Please look at the time stamp on the story to see when it was last updated.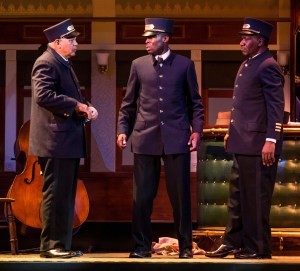 Rick Kogan talks with Cheryl West, playwright of the Goodman Theatre's new show, "Pullman Porter Blues." The play tells the story of three generations of Pullman Porters, who West calls some of the first African-American men to move into the middle class.
In this wide-ranging interview, Kogan and West discuss how she became a playwright, the Porters' struggles and their formation of a union and how the controversial George Pullman had to be buried under concrete to avoid his grave being desecrated.
Kogan calls the "must-see" show "a history lesson, an emotional experience and a musical experience" all wrapped up in one.
The Chicago Tribune theater critic Chris Jones gave "Pullman Porter Blues" three out of four stars. He said, "West (whose work I've admired for a couple of decades) is a sophisticated yet accessible writer who knows how to involve us in human stories played out against culturally complex backdrops." Click here to read the full review.
Click here to learn more about the play or buy tickets.