This is an archived article and the information in the article may be outdated. Please look at the time stamp on the story to see when it was last updated.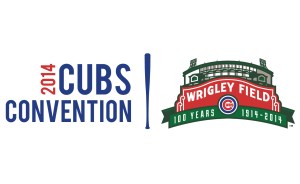 Here's the WGN Radio event line-up for the 2014 Chicago Cubs Convention, January 17-19 at the Sheraton Chicago Hotel and Towers. All of these events are in Ballrooms VIII, IX and X. Saturday afternoon's Sports Central will be a live radio broadcast. All other sessions will be recorded for later broadcast or online use. Details subject to change.
Friday:
7-9pm The David Kaplan Show
Join the broadcast of WGN Radio's The David Kaplan Show to talk with some of the weekend's most popular Cubs.  This is your chance to hear directly from some of the players, coaches and key front office personnel in the Cubs organization and find out what they're looking forward to in 2014.
7:00- 7:30- Theo Epstein and Jed Hoyer
7:30- 8:00- Darwin Barney, Anthony Rizzo and Nate Schierholtz
8:00- 8:30- Edwin Jackson, Jeff Samardzija and Travis Wood
8:30- 9:00- Rick Renteria and TBA
Saturday:
10:00 a.m. – 11:00 a.m. Meet the Cubs Baseball Management
Get your questions answered from the men in charge.  Join WGN Radio's Steve Cochran and Andrea Darlas as they sit down with President of Baseball Operations Theo Epstein, Executive Vice President/General Manager Jed Hoyer, Assistant General Manager Randy Bush and Assistant General Manager Shiraz Rehman.  Hear what lies ahead for the 2014 season from Cubs Baseball Management.
11:30 a.m. – 12:30 p.m. Scouting & Player Development
Ever wonder why a player is drafted above another or why some guys move quickly through the Minor League system? Listen to members of the Scouting and Player Development staff as they discuss some of the work that goes on behind the scenes. Hosted by WGN Radio's Judd Sirott and Jordan Bernfield.
12:45 p.m. – 1:45 p.m. For Kids Only Press Conference, presented by Advocate
This always memorable hour-long session is for the kids! Hosted by WGN Radio's Bill Leff, this fun segment allows kids to take charge and ask the questions. Come listen to Jake Arrieta, Darwin Barney, Anthony Rizzo, Nate Schierholtz and Travis Wood answer some entertaining questions, as well as give advice to these youngsters about how to become future big-league stars.
2:00 p.m. – 3:00 p.m. Not for Women Only
WGN Radio's Kathy O'Malley and Judy Markey are back for a Convention favorite.  Listen in on what they ask your favorite players about life off the field—nothing's too personal for these two!  Joining fans for this session will include James Russell, Jeff Samardzija, Pedro Strop and Ryan Sweeney.
4:00 p.m. – 6:00 p.m. WGN Radio's Sports Central LIVE!
WGN Radio's Jim Memolo and Glen Kozlowski bring their Sports Central show to the Sheraton Chicago for a live broadcast with some of your favorite current Cubs and alumni.  They're covering all the offseason moves, as well as what to look forward to with the 2014 team.
4:00 p.m. – 4:30 p.m.        Villanueva
4:30 p.m. – 5:00 p.m.        Rizzo / Castro
5:00 p.m. – 5:30 p.m.        Arrieta / Samardzija
5:30 p.m. – 6:00 p.m.        Schierholtz / Murphy
Weekend passes and hotel packages are still available!  Click here for details.