This is an archived article and the information in the article may be outdated. Please look at the time stamp on the story to see when it was last updated.
Chicago Cubs announcer to be honored on September 24th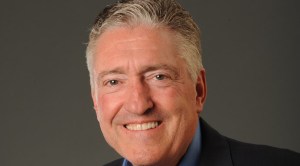 Chicago, IL- WGN Radio announced today that longtime Chicago Cubs broadcaster Pat Hughes will receive a plaque on the WGN Radio Walk of Fame.  Hughes will be recognized for his prolific contributions to the station's storied history of play-by-play on the radio.   His name joins fellow WGN Radio legends in the walkway outside the Allstate Showcase Studios at the Tribune Tower, 435 N. Michigan Avenue in downtown Chicago. A ceremony commemorating the honor will be held on Pioneer Court Wednesday, September 24th at 3:00pm.
"Pat describes baseball with such an air of joy and detail, you feel like you're seated behind home plate every time you hear his voice," said Todd Manley Vice President of Content & Programming.  "To celebrate the vivid pictures he's etched in our minds, we're proud to carve his name in stone among WGN's greatest talents."
"I am greatly honored to be included in the WGN Radio Walk of Fame," said Hughes. "I have been privileged to work on WGN for 19 years as the Voice of the Chicago Cubs.  To think that the memory of my work will be preserved for posterity is truly special."
Pat Hughes is in his 19th season as the WGN Radio play-by-play voice of the Cubs. He joined WGN in 1996 after spending the previous 12 years on the Milwaukee Brewers Radio Network. Hughes began his baseball play-by-play career in the minor leagues, calling action for the San Jose Missions (1978-1981) and for the Columbus Clippers (1982). Hughes was named the Illinois Sportscaster of the Year five times and earned Wisconsin Sportscaster of the Year Award honors three times (1990-1992).  He most recently received the Illinois Broadcasters' Association Silver Dome Award for Best Play-By-Play in 2013.