This is an archived article and the information in the article may be outdated. Please look at the time stamp on the story to see when it was last updated.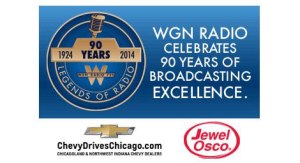 Part of year-long 90th anniversary celebrations
CHICAGO, May 12, 2014— This year, WGN Radio celebrates 90 years of growing up in Chicago.  On June 1, 1924, the Chicago Tribune converted the operations that had formerly been WDAP to WGN, with the new call letters paying homage to the "World's Greatest Newspaper."  WGN quickly proved itself a pioneer in radio and went on to establish several broadcasting "firsts," such as the Memorial Day 500 (later known as the Indy 500), the Kentucky Derby, and the live courtroom proceedings of the Scopes Monkey Trial.
Throughout June 2014, the station will honor its rich history with several commemorative projects, videos, "Throwback Thursday" social media posts, and on-air programming featuring highlights throughout the decades.
The anniversary celebration culminates on Friday, June 27 when Tribune Media unveils the "WGN Radio Walk of Fame."  Plaques will be installed outside the Allstate Showcase Studio at the Tribune Tower, 435 N. Michigan Avenue.  The 2014 induction will recognize ten beloved and legendary hosts from the station's long list of distinguished talent including: Jack Brickhouse, Bob Collins, Roy Leonard, Judy Markey, Spike O'Dell, Kathy O'Malley, Wally Phillips, Milt Rosenberg, Quin Ryan and Orion Samuelson.  Bios and career highlights of the inductees can be found at wgnradio.com.  The ceremony will broadcast live from 11:30am-1pm, followed by an anniversary special broadcast, "90 years in 90 minutes" from 1pm-2:30pm.
"Our inaugural Walk of Fame class represents all nine decades of WGN Radio's life in Chicago," said  Todd Manley, Vice President of Content at WGN Radio.  "We look forward to honoring even more names who have helped make us the fencepost of conversation for 90 years."
Additional details regarding the ceremony and events will be announced in the coming weeks and available at wgnradio.com/90thanniversary.