This is an archived article and the information in the article may be outdated. Please look at the time stamp on the story to see when it was last updated.
With McCormick Foundation Match over $800,000 to be granted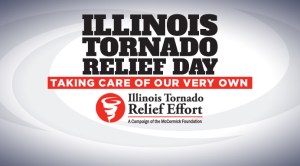 CHICAGO, Illinois (December 3, 2013) – In response to the widespread damage of the November 17 storms throughout Illinois, WGN Radio partnered with McCormick Foundation, WGN-TV and Chicago Tribune to host the Illinois Tornado Relief Effort on Tuesday, November 26. The fundraising initiative took place over a 24-hour period, with WGN Radio hosts rallying listeners to donate to the newly established Illinois Tornado Relief Effort, a campaign of the McCormick Foundation.
WGN Radio listeners, in addition to major donations from Medline Industries Inc., Cadence Health, Wintrust Financial Corporation and the FDC Foundation, contributed to a total of $554,087 raised.  The McCormick Foundation matched the first $500,000 raised at 50 cents to the dollar, providing an additional $250,000 in funds and bringing the total amount available to grant to $804,087.
"The Illinois Tornado Relief Effort continues the WGN Radio tradition of reacting quickly to take care of our listeners in need," said Jimmy de Castro, President & General Manager of WGN Radio. "It's also another example in a long list of generous giving from the Chicago community.  We thank our partners at the McCormick Foundation, WGN TV, and the Chicago Tribune as well as generosity of our listeners, viewers, and readers for helping rebuild the lives of those impacted by the devastating storms."
David Hiller, President and CEO of the Robert R. McCormick Foundation said, "People in these communities will need assistance in addressing their long-term needs. These funds provide families with more than just the physical resources to rebuild their lives. We're able to offer them hope on the road to recovery."
All $804,087 will be granted directly to nonprofit agencies providing disaster relief and recovery efforts to those communities hit hardest by the storms with the first round of grants being distributed by the end of 2013. Fundraising for this effort will continue through December 31, 2013. Only monetary donations are accepted.
There are three ways to donate:
Call the toll-free phone number: 1-800-931-5707
Mail a check payable to:
Illinois Tornado Relief
McCormick Foundation Processing Center
23912 Network Place
Chicago, IL 60673-1239