This is an archived article and the information in the article may be outdated. Please look at the time stamp on the story to see when it was last updated.
Induction ceremony on Friday, May 27 at Tribune Tower
CHICAGO (April 8, 2016) – WGN Radio announced the seven honorees in the 2016 Walk of Fame class during the Steve Cochran Show. On Friday, May 27, voices of agriculture, entertainment and news along with behind-the-scenes staff including producers, engineers, and management will be honored with a ceremony and live broadcast from 10am to 11:30am at the Tribune Tower at 435 North Michigan Avenue.
The 2016 Walk of Fame class is: Max Armstrong, Floyd Brown, Jim Carollo, Dan Fabian, Marilyn Miller, Tom Petersen and Dean Richards. They will be commemorated in bronze plaques placed outside the Allstate Showcase Studio.
"In this year's Walk of Fame class we honor a great combination of compelling characters with golden voices mixed with powerful personalities from behind the scenes," said Todd Manley, Vice President of Programming & Content at WGN Radio. "It takes more than a microphone to make memorable moments on the radio."
WALK OF FAME INDUCTEE BIOS
Max Armstrong
A widely-recognized and highly-regarded agriculture journalist, Max Armstrong, "the Voice of American Agriculture" has been one of the business and ag-business reporters at WGN for more than 32 years. For nearly four decades, he's collaborated with colleague Orion Samuelson, co-hosting the long-running Noon Show from both the studio and then making the circuits through state and county fairs every summer on "The Manure Tour" and the Saturday Morning Show.  Armstrong was quoted as saying "the best part of working at WGN was working with legendary figures like Wally and Bob Collins and Roy Leonard." His broadcasting career led him across the heartland of America and he continues to advocate for the men and women who feed the world.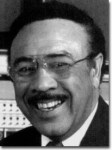 Floyd Brown
Hired by Ward Quaal, veteran broadcaster Floyd Brown's career at WGN spanned 28 years, from 1971 to 1999. He was announcer, sports anchor and host of "The Floyd Brown Show". At one point, he said he worked 15 hours a day, six days a week. Brown's Sunday night show featured a mix of music, events, interviews, investments and business along with two hours of America's "great jazz music." He interviewed jazz greats including Duke Ellington, Ella Fitzgerald and Lionel Hampton. He announced his retirement and delivered his last show on July 4, 1999. The Courier-News wrote on the day of his retirement: "Brown shattered the color barrier with his trademark dose of gentlemanly grace, fueled by a veiled undercurrent of rage…armed with a baritone as smooth and rich as molasses…."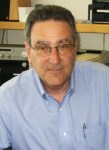 Jim Carollo
Jim Carollo, affectionately known as "JC", started at WGN in March 1970 and rose through the ranks of board operator, remote engineer, studio maintenance engineer and Chief Engineer. He worked with a roster of station legends the likes of Vince Lloyd, Lou Boudreau, Jack Brickhouse, Irv Kupcinet, Roy Leonard, Franklyn MacCormack and Bob Collins. JC was instrumental in building WGN's Michigan Avenue studios, the Showcase Studio and several mobile studios, including designing the radio studio at Walt Disney World in Florida. Posted at Wrigley Field for both Cubs and Bears broadcasts and the 1986 Bears World Championship coverage from New Orleans, guaranteed that work at WGN would always be "interesting, challenging and never dull."
Dan Fabian
Dan Fabian was an innovator of his time. In his career at WGN, spanning 1965 to 1996, Fabian held positions in every department, from college intern to sales, promotions, marketing, program director and, finally, Vice President and General Manager from 1986 to 1996. Under his leadership, he commissioned Steve Goodman to create a new Cubs jingle resulting in "Go Cubs Go", brought Spike O'Dell to Chicago from the Quad Cities and helped guide the transition from Wally Phillips to Bob Collins. Famous for cryptically-worded staff memos, Bob Collins would call Fabian the "Memo Fairy" on air. Fabian also spearheaded the most successful and memorable marketing campaign in Chicago radio history with the creation of a cartoon bird who called himself "Chicago". Of WGN, Fabian was quoted as saying in the Chicago Tribune: "It's back-fence radio. The whole idea was to look out the window and see if the sky is falling. If it is falling, then you're all over it and you try to figure out what to do about it together. If it's not falling, then you kick back and say, 'Well, what is going on? Seen any good movies lately? So how's the family?'"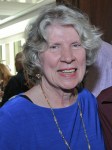 Marilyn Miller
Marilyn Miller is believed to be the first woman to produce a major market morning drive radio show in the United States. She certainly was the first woman to produce a morning drive show as successful as the Wally Phillips Show for more than 25 years. Wally was a pioneer in the call-in radio talk show format and it was Miller who initiated the calls and skillfully orchestrated those callers.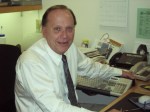 Tom Petersen
Tom Petersen started at WGN in 1982 and worked at the station until his retirement in 2005. A respected newsman with a trusted calming voice, he was news director and the morning news anchor for Bob Collins and Spike O'Dell. Petersen was one of the first newsmen who could be a personality at the same time and was often called upon to host shows. He helped start careers of colleagues and was considered a mentor for many. On September 11, 2001, Petersen read one of the first bulletins that said "a plane crashed into one of the towers" and provided descriptions of the video images coming out of New York City.
Dean Richards
A native of Chicago and fixture on Chicago's radio since 1975, the New York Times once called Dean Richards, "the Tribune Company's Man of Many Hats." It's easy to see why. On WGN Radio AM 720, "Dean Richards' Sunday Morning" (9am-1pm) covers "all things entertainment."  He's also heard daily on "The Steve Cochran Morning Show" at 8:10am and every Thursday at 11:30am on "The Bill & Wendy Show".  Since joining WGN Radio in 1994, he has won over 30 local and national awards for programming and production. Dean joined WGN-TV as a staff announcer in 1991.  Today, his Emmy Award winning entertainment reports, celebrity interviews and reviews are seen on "WGN Morning News," "WGN Midday News," "WGN Evening News" and "WGN News at Nine" and the 24 hour news channel CLTV. In the past, he has appeared on national cable channel WGN America and written for The Chicago Tribune and Redeye.  Since 1996, his annual radio and television breast cancer specials have won local and national awards.  On and off the air, Dean has been a tireless worker related to HIV/AIDS, in addition to working with hunger, homeless, and domestic violence organizations.