This is an archived article and the information in the article may be outdated. Please look at the time stamp on the story to see when it was last updated.
John Williams returns to station as mid-morning host, Garry Meier to online station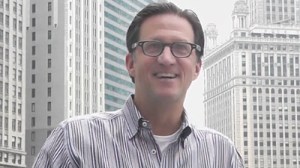 WGN Radio today announced changes to its weekday lineup, including the return of WGN Radio veteran, John Williams, and Garry Meier's move to the "Freeform Media" online site, wgn.fm.
Effective May 27, 2014, WGN Radio will extend the Steve Cochran show from 5-10am with a focus on news in the 5am hour. 10am-12pm will mark the homecoming of John Williams to the station while Bob Sirott and Marianne Murciano continue their shift from 12-3pm. The Bill and Wendy Show will move to afternoon drive from 3-7pm, followed by the Pete McMurray Show from 7-11pm. Patti Vasquez joins the station as a full-time host in overnights from 11pm-2am, with Nick Digilio continuing to host from 2-5am.
Williams was a staple in middays during most of his prior 15-year run at WGN, which began in 1997. Honored numerous times for his work on the air, he was also renowned for his volunteer endeavors including service on the Salvation Army board of directors. Beginning in 2010, John spent two years broadcasting from the WGN Radio studios from 1-3p for WCCO-AM in Minneapolis before he left Chicago to host full-time in the Twin Cities in 2012. John will continue his afternoon anchor position 3-7pm from WCCO-AM in Minneapolis.
"John crafts radio shows that are laced with such unique wit and wisdom that you don't want to miss a minute," said Todd Manley, VP of Content at WGN Radio. "John was born to be on both of these great stations. We give many thanks to our friends at WCCO for so graciously sharing him."
On Tuesday, Garry Meier will join the wgn.fm lineup which includes Jonathon Brandmeier (Game 87.7FM simulcast), "The Housing Guru" David Hochberg and "Business Rockstars" host Ken Rutkowski. Meier will keep an afternoon drive slot from 3-7pm. Additions to the lineup will be announced in the coming weeks. The site was introduced in September 2013 with Jonathon Brandmeier and served as the programming incubator for The Game 87.7FM which launched in February.
President and General Manager Jimmy de Castro is excited to see the bookends of Meier and Brandmeier on wgn.fm. "Garry is perfect for wgn.fm because he understands both the potential of spoken word and that the future of radio is programming to tech-savvy, mobile audiences. His approach to entertain interactively through digital media propels us into the future." De Castro continued, "This is a great start to the revamp of our entire online and mobile products including our apps, websites and on-demand content distribution."