This is an archived article and the information in the article may be outdated. Please look at the time stamp on the story to see when it was last updated.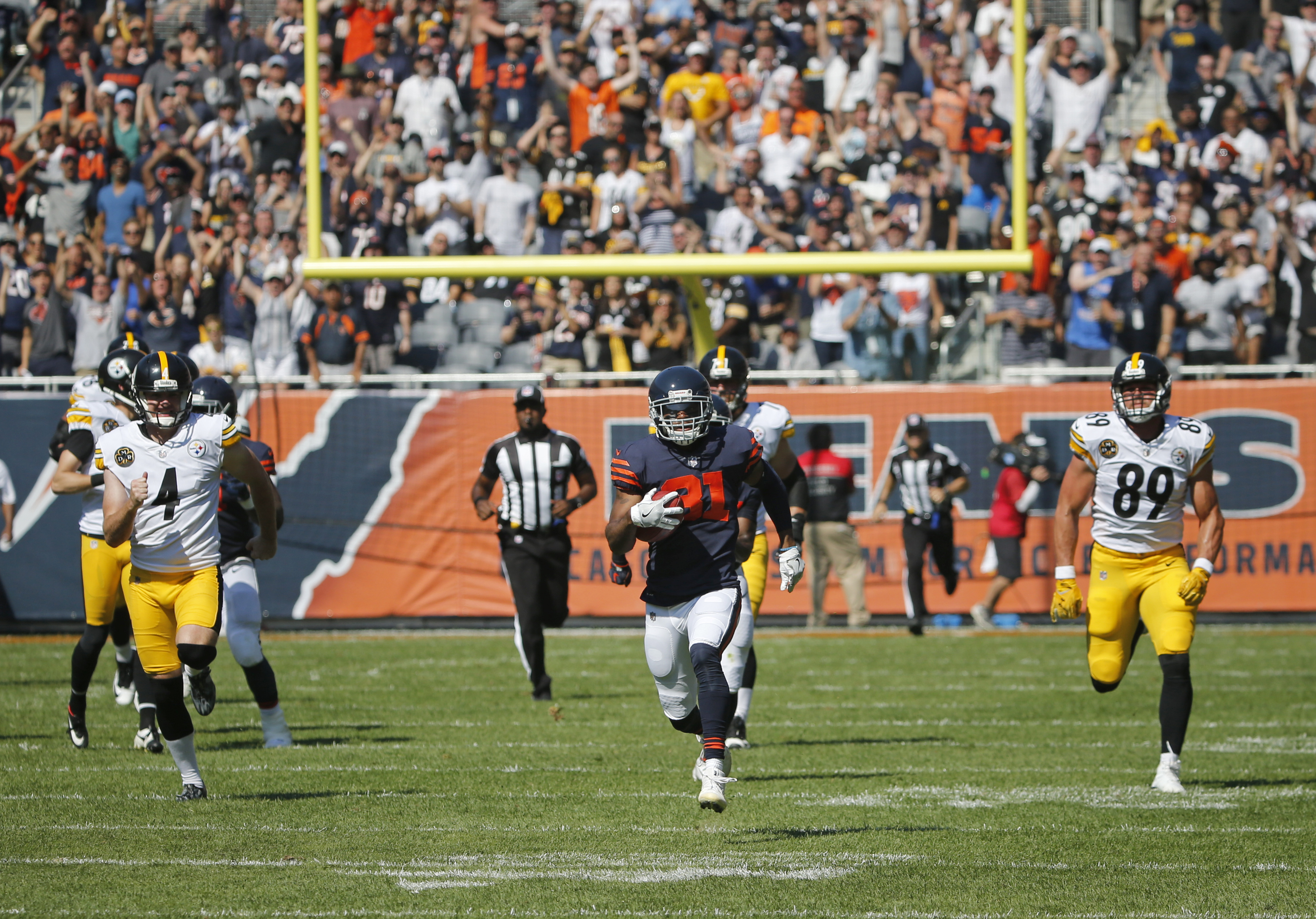 SOLDIER FIELD — The Bears' 23-17 overtime win over the Pittsburgh Steelers Sunday was one of the oddest victories in recent memory and it included what might be the wackiest play to ever occur at Soldier Field.
With six seconds remaining in the second quarter, an enormous field goal block by Sherrick McManis turned into disaster when Marcus Cooper did his best Leon Lett impersonation and fumbled the ball at the 1-yard-line as time expired (you can watch the play here).
The Bears led 14-7 at the time and the Steelers were lining up for 35-yard field goal that would have cut the Bears' lead to four points before halftime. What should have been a 14-10 halftime score suddenly appeared destined for 21-7 before eventually settling on 17-7.
And it's even more confusing than it sounds.
Here's a complete oral history of the craziest play I've ever witnessed, one the Bears were very fortunate to survive Sunday at Soldier Field:
Bears safety Eddie Jackson, who was on the field goal block team: Before the play, I was like, man, go block the kick. I thought it was Adrian Amos who blocked it, but it was Sherrick.
Bears cornerback Sherrick McManis, a Pro Bowl alternate last season as a specialist: I think as a field goal block team we did pretty well, man. We executed the play. I came off the edge, bent the corner and got the block.
Steelers tight end Xavier Grimble, who was beat by McManis on the left edge of Pittsburgh's formation: Good get off by McManis. A miss by me. Huge play.
McManis: We think we can get there every time. And if we see a slight thing that we can take advantage of, we try to execute and make it happen. It's something I've been working on. My goal coming into this year was to get a block.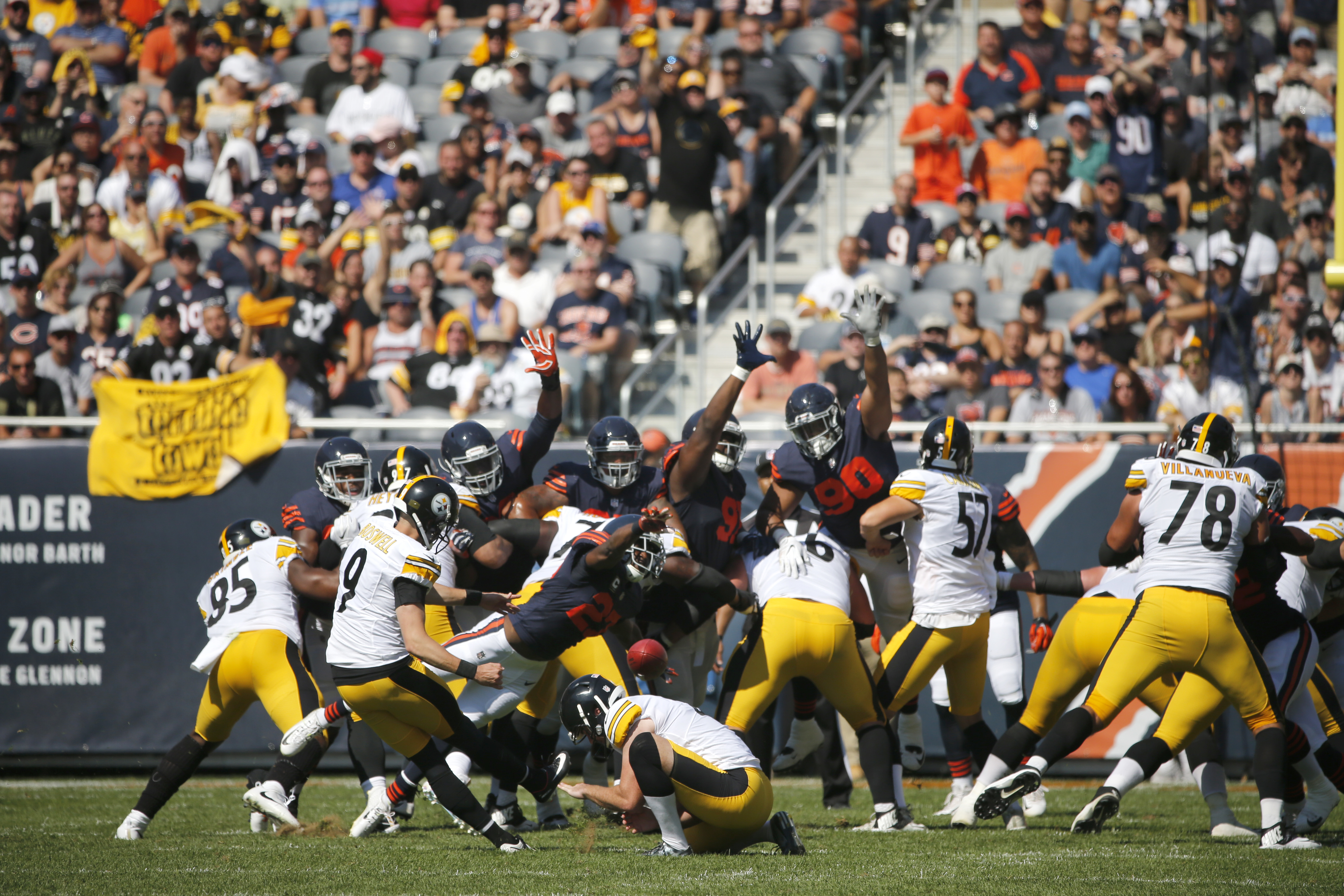 Steelers tight end Vance McDonald, who was lined up on the right side of the formation: I knew pressure was coming from the opposite side, so really when I see that I'm just wheeling out and making sure I don't hear a double thud, blocked kick.
Steelers punter Jordan Berry, who also serves as the team's holder: When I'm holding, I got my eye on the ball so I don't really see much. Ball is coming in, I catch it, put it on the ground and let Chris Boswell kick it. And then usually after that I focus on my spot, but yeah I just heard that bang of the block.
McManis: I knew exactly what kind of angle to hit on the ball so that it went straight to Marcus Cooper. Naw, I'm just kidding. It just happened man.
McDonald: When I heard the thud, I'm balls to the wall trying to stop a really bad thing from happening.
Berry: I turned around and saw Cooper already hauling ass down the field so I had to get on the horse and try to chase him down, but I wasn't really having much luck.
McDonald: As an offensive player, you're not really put in that position a lot of times. It's a little different. It's already a bad play, but you're just trying to stop the bleeding at that point.
Bears left tackle Charles Leno Jr., who was on the sideline: I was running down the sideline like go, go, go, go.
Jackson: I'm seeing Cooper running. I'm seeing him running. And I see him slow down.
Berry: As he got to close to the end zone he was obviously backing off and slowing down.
Bears defensive end Akiem Hicks: Young man was swaggin'. He was swaggin' his way to the end zone.
McDonald: That's really unprofessional. Really unprofessional.
Berry: You see those plays every couple of years on TV where someone does it. When he slowed down and opened up like that, I thought I was going to be too far away. McDonald was just coming and punched it straight out.
Bears cornerback Marcus Cooper: I didn't hear anybody coming. It was just a mistake on my part. I didn't think anybody was that close to me. Slowed down and the guy made a great play.
McDonald: I just tried to throw a rib as violently as I could and I didn't even see where the ball went. I was just trying to get the ball out before it went into the end zone. And I didn't really spot what happened from there.
Berry: I was just trying to read the bounce. I was going to try to jump on it, but I couldn't quite get there and I had to just slap it out of the end zone.
Leno: I was like, we scored? And that's how it was. I was confused. I didn't know what happened. I didn't know any rules. I just knew something was not right.
Jackson: I said to Coop, "You sure you scored?" He was like, "Yeah, I was in."
Cooper: I thought I was in, but obviously I wasn't.
Jackson: We see the instant replay like, aw man. Just got to finish.
Bears outside linebacker Pernell McPhee: We just got to finish them plays man. Just some plays we got to finish and that's one of them. We got to run it all the way through the end zone. It was a big changing point of the game.
McDonald: That kept us in the game for sure, coming into the half. That would have been really bad had they returned it for a touchdown.
Cooper: Your heart drops. Of course.
Bears head coach John Fox: Nobody feels worse than he does. It's a matter of focus and finishing. He understands that.
Cooper: I had sympathy then for Leon Lett.
Fox: That's made for TV. They ruled it was a fumble. It went into the end zone. Now it became the defense and they batted it out. You can't end the half on a defensive penalty, so they moved it to the 1-yard-line.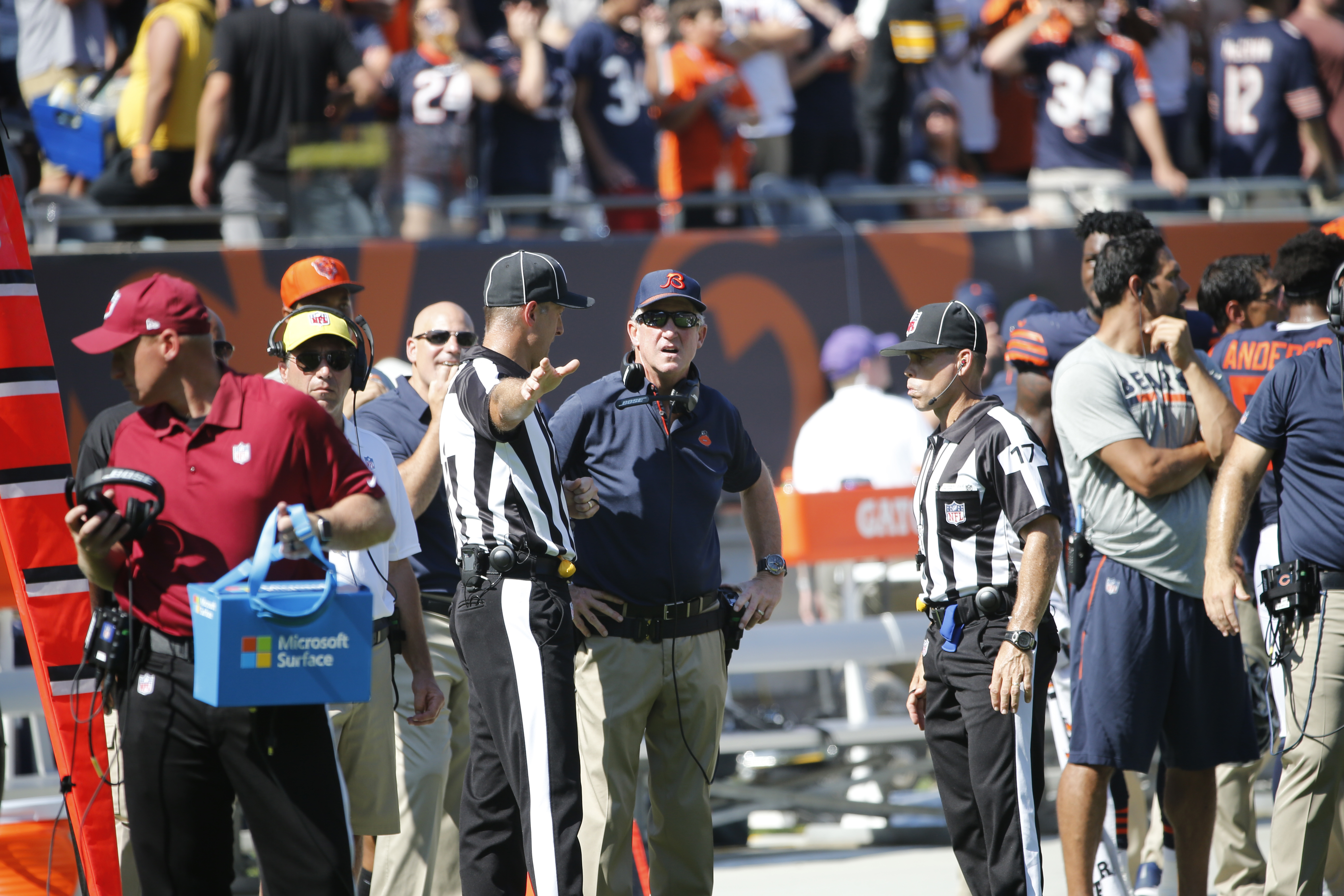 Referee Clete Blakeman, who was in the end zone and threw a flag when Berry batted the ball out of the back of the end zone: The original call was the runner had fumbled at the 1, and then there was a bat in the end zone, which is an illegal bat.
Berry: At the time, I wasn't thinking about that rule at all, but I have heard about that before. I think last year there was a game where someone did that on offense though so I wasn't really too sure of the situation with the turnovers and all that sort of deal — how it all works. I usually just read all the kicking play rules and nothing else.
Blakeman: It was originally the offensive team, the kicking team, that committed the bat. So the original call was that we wouldn't extend the period on that. Then we got into replay.
Steelers head coach Mike Tomlin: I still lack a little clarity there. I was told by an official that the half was over and that's why we took our team off the field. Then they went into review mode and things of that nature. I'm not questioning whether or not they did the appropriate thing, it was just tough communicating and understanding what the process was that produced the actions taken. I'm sure I'm going to get clarity at some point.
Jackson: I'm a rookie here. I thought it was two points and a safety.
McDonald: I'm pretty sure the refs even had to open the rulebook on that one. I've never seen a half end like that before.
Blakeman: The kicking team is offense. The defense is defense. But when we have a block and a return, now what happens is that they flip-flop designations. So in this case, the return team, originally the defense, now becomes the offense, and the kicking team is now defense.
Tomlin: In some way the play was reviewed. It was inside two minutes and it was reviewed. How it got to that point, I didn't get great clarity on and it's nothing against Clete and that group. It was an awkward play and they did the best they could.
Berry: Obviously they had a long chat and I guess they spoke to their bosses or whatever they do.
Blakeman: The fumble, we confirmed with replay that it did occur at the 1-yard-line. Now we got a loose-ball fumble in the end zone, and it gets batted by the defense, which is Pittsburgh. We go back to the spot of the fumble to enforce that penalty against the defense, so we go from the 1-yard-line to the half-yard line. And because it's a foul against the defense, we now extend for an untimed down.
McPhee: It was a great call by the refs.
Cooper: Rule-wise, it made sense for us to get it.
Fox, who opted to go for a touchdown on the untimed down instead of kicking the field goal: I mean, it was inside the 1-yard-line. You'd like to think you'd be able to get seven points.
Jackson: I loved that.
Fox: Then we did something clever, like a false start.
Leno: I'm trying to come off the fuc**** rock. I'm trying to dominate the guy in front of me. Too anxious and I false started and we had to kick the field goal.
Fox: We were able to get three points out of it. And again, these plays are never perfect. You strive for it, but it never happens.
Leno: I mean, were we supposed to be in that situation? No. Did I mess up? Yes.
Cooper: I should have scored in the first place and then we never would have had that issue.
Tomlin: You're probably fortunate to only be down by ten. We were.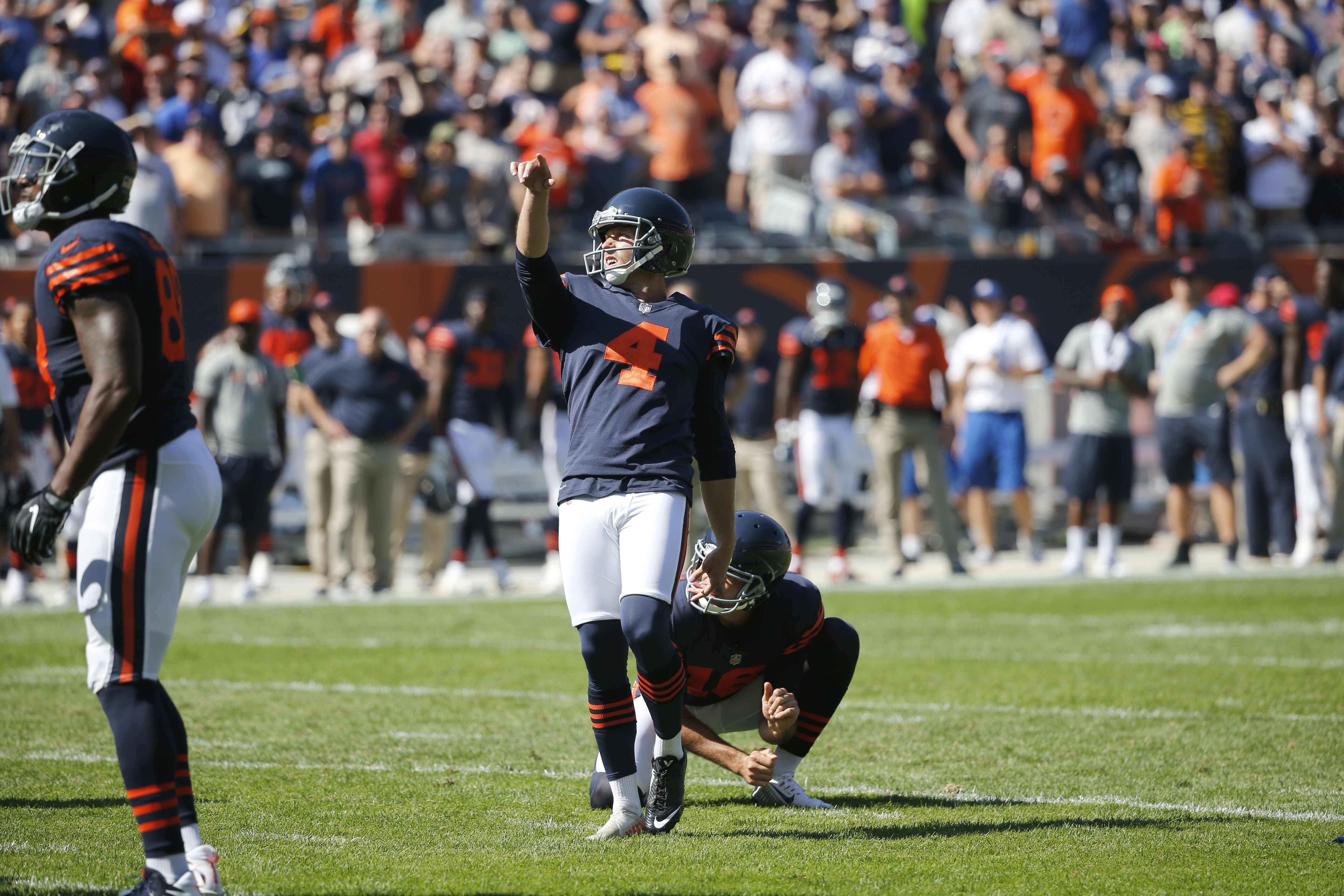 Berry: It definitely got the guys amped up a bit. It definitely pumped us up coming to the locker room.
Hicks: There were definitely guys who came up to Cooper at halftime and told him that everything was good and we're going to bounce back and we're going to get another opportunity and to just keep his mind in the game. And you saw that paid off towards the end when he made a couple plays.
McPhee: Just calm down and relax and play football and do what we do best. And do our best to come out victorious.
Cooper: At halftime, Coach Fox said, "Just make a play." That's it.
McDonald: I didn't know what Coop was thinking. I played with Coop out in San Francisco. He's going to be looking at that one over again and wishing he had that one back for sure.
Cooper: I couldn't dwell on that play. You move forward. Especially as a corner. You have that next-play mentality so after that occurred in the first half I let that go. Thankfully I got some guys that backed me and we came out with a "W" today.
Epilogue: To his credit, Cooper did put the play behind him and made a couple nice plays late in the game, including a key pass breakup. Amazingly, despite only 101 passing yards, the Bears did manage a 23-17 victory over the Steelers. They didn't score in the second half, so the wacky play before halftime ended up being a huge factor in the game going into overtime. Fortunately, the Bears won the toss and only needed four running plays to go 74 yards, winning on a 19-yard touchdown by Jordan Howard. Quarterback Mike Glennon didn't even throw a pass in overtime. It was that kind of day at Soldier Field.
Adam Hoge covers the Chicago Bears for WGN Radio and WGNRadio.com. He also co-hosts The Beat, weekends on 720 WGN. Follow him on Twitter at @AdamHoge.