This is an archived article and the information in the article may be outdated. Please look at the time stamp on the story to see when it was last updated.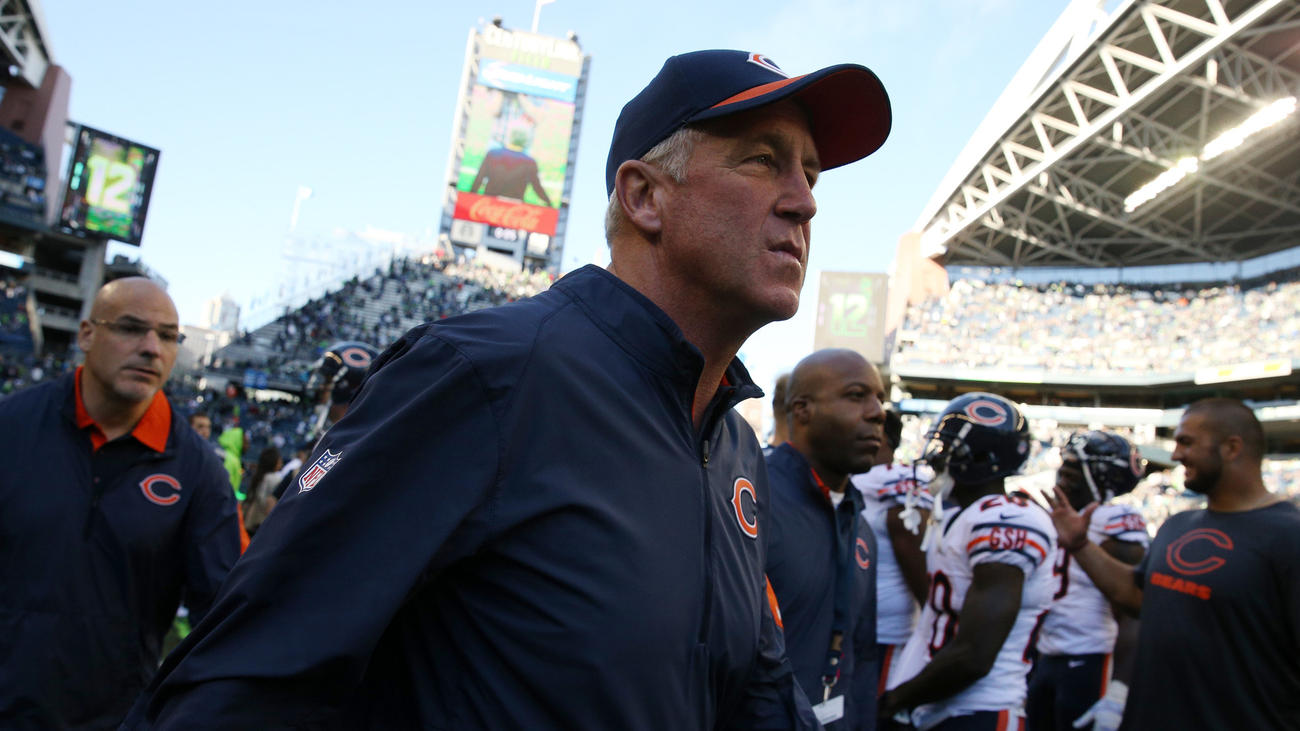 SEATTLE — If we've learned anything during the Bears' 0-3 start to the season, it's this: John Fox and his coaches are going to devise their game plans around the talent they do have, weed out the talent they don't have and adjust accordingly each week, with the big picture guiding the way.
So with the Bears' ugly 26-0 loss to the Seahawks Sunday in mind — their fourth loss by 25 or more points in their last 12 games —  here are three changes they might want to implement with the pieces they currently have:
1. Start David Fales against the Raiders. Look, I know a lot of Bears fans wanted to see Fales play Sunday in Seattle, but it just wasn't the time or place. He hasn't received a single regular season snap in the NFL and throwing him to the wolves in the loudest, craziest stadium in the NFL didn't make sense.
But starting him next week at home against the Raiders does make sense. By now, John Fox knows exactly who Jimmy Clausen is (the vanilla, low-risk game plan in Seattle proved as much) so why not learn more about Fales? The ceiling on Fales has never been described as anything other than being a capable backup, so why not see if he actually is a capable backup to Jay Cutler?
Interestingly enough, Fales' last start that counted came against Raiders quarterback Derek Carr in college, when Fales was quarterbacking San Jose State and Carr was leading Fresno State. In a crazy shootout, Fales out-dueled Carr by throwing for 547 yards, six touchdowns and no interceptions in a 62-52 win over the 16th-ranked Bulldogs. Carr wasn't bad either, throwing for 519 yards, six touchdowns and one interception. I don't bring this up as any kind of proof that Fales will have any of the success Carr has had in his young NFL career — Carr is clearly the better quarterback — but hey, maybe it will give Fales a sense of comfort.
At the very least, making your first NFL start at Soldier Field against the Raiders is much more comfortable than at CenturyLink Field against the Seahawks.
2. Stop the nonsense and just have Pat O'Donnell boom kickoffs out of the back of the end zone. This isn't a referendum on Robbie Gould, who has certainly proven over the years that he can put the football in proper position for his cover team to make a stop. But right now, the Bears simply don't have the depth/talent to properly cover kicks. When they aren't allowing touchdowns (two kickoff return touchdowns in two weeks), they're giving up huge chunks of yardage, putting the defense in a tough spot and losing the field position battle. The solution is quite simple: just have O'Donnell — who handled kickoff duties at the University of Miami — boom the ball out of the back of the end zone.
"That's something we can look at," Bears head coach John Fox said when I asked him about it. "Sometimes with the right coverage, having them return it is actually better than the (20-yard-line). Obviously in that case, it wasn't."
No it wasn't. And it's obvious the Bears don't have the right coverage right now.
3. Give Jeremy Langford more carries. I was stunned to see the rookie out Michigan State receive zero carries Sunday in Seattle. It's not like Matt Forte was overworked (he ran the ball 20 times for 74 yards), but he was taking a pretty good beating because the Seahawks knew he was the focal point of the offense. In fact, at one point, Forte got up very slowly holding his back and the trainers had to work on him for almost 10 minutes before the offense went back out onto the field.
Why not spell Forte for a series? That worked last week against the Cardinals when Langford ran six times for 21 yards and a touchdown.
"That's good question," Fox said when asked why Langford didn't get a carry. "But I think we didn't get a whole lot of offensive plays, kind of due to us."
At this point, we don't know what Forte's future is with the Bears (he's in the last year of his contract), but we do know this new regime drafted Langford and obviously likes him. That's why it was just odd the rookie didn't get a carry Sunday.
Meanwhile, you know Fox and his staff are going to continue to hold true to their message of accountability. After getting benched late last week against the Cardinals, I thought Kyle Fuller was much better Sunday against the Seahawks. He said after the game that he put extra work in this week — both on the field and in the film room — and it seemed to pay off during the game. Fangio indicated Fuller needed to gain his confidence back and it appeared to return Sunday.
"I feel like confidence is something I've always had, something you have to have as a defensive back," Fuller said. "Just going out there playing your technique and being in position."
Granted they're early results, but the benching of Fuller seems to be a move Fox and Fangio won't regret. Meanwhile, veteran pass rusher Willie Young was a healthy scratch Sunday, and if running back Matt Forte's comments after Sunday's shutout are any indication, more benchings could be coming.
"I'm not really concerned about what our record is now, I just want to continue to have everybody play as hard as they can out there," Forte said. "And I think we're still figuring out if some guys really want to do that, so we're going to have to look at the film to figure that out, and if not, like Coach (Fox) always says, we'll get somebody in who does want to do that."
Buckle up. This ride isn't going to get smooth anytime soon.
Adam Hoge covers the Chicago Bears for WGN Radio and WGNRadio.com. He also co-hosts The Beat, weekends on 720 WGN. Follow him on Twitter at @AdamHoge.