This is an archived article and the information in the article may be outdated. Please look at the time stamp on the story to see when it was last updated.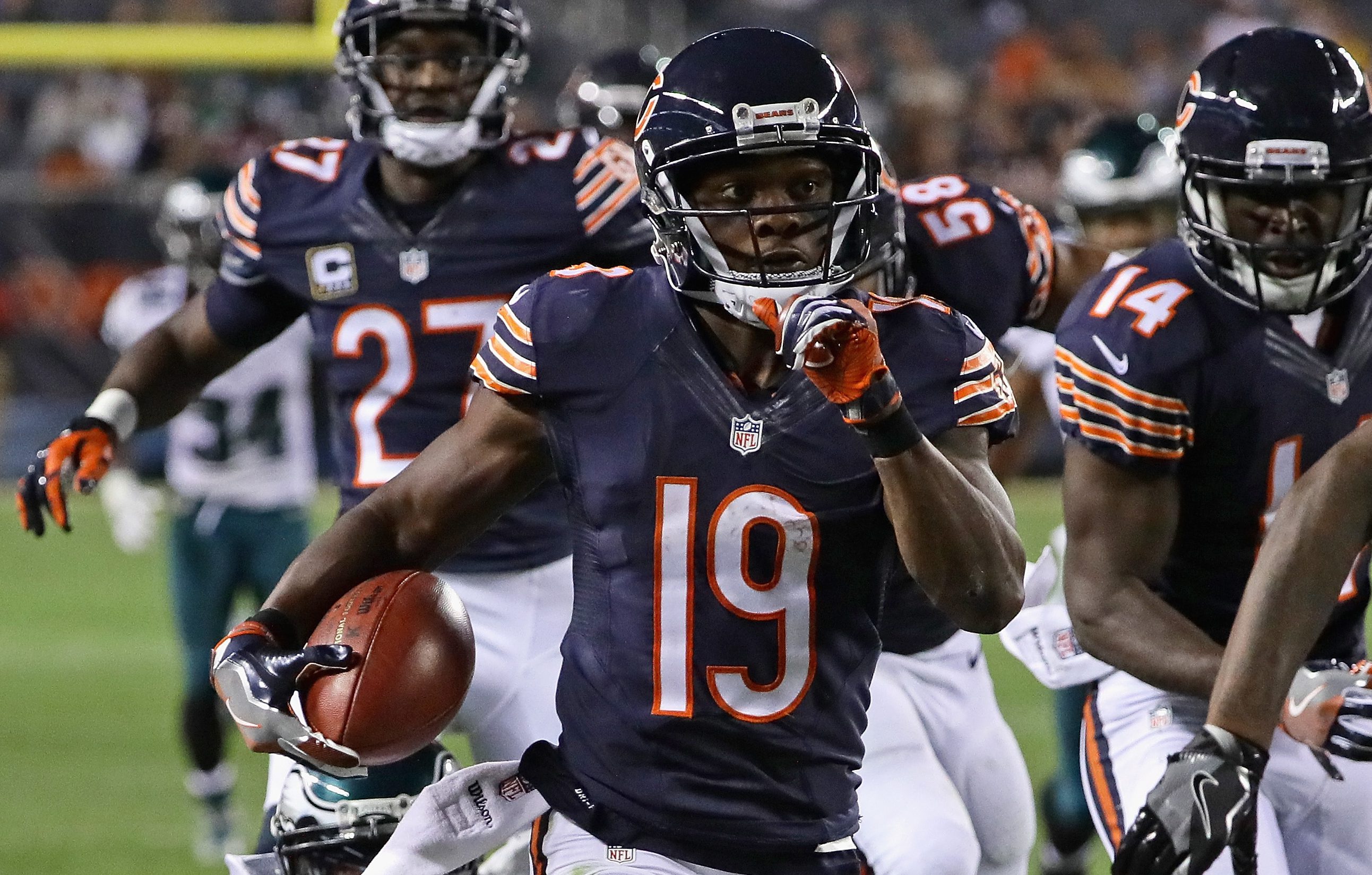 On a short week, let's dive right in with the film review from the Bears' 29-14 loss to the Eagles:
– Jay Cutler said he injured his right thumb early in the game and the guess here is that it happened on the second play of the game when Eagles cornerback Malcolm Jenkins came free to sack the quarterback. It's very brief, but on the coaches film, you can see Cutler look down at his throwing hand and flex it as he got up. On the next series, and on his second throw of the game, Cutler was on the run and threw a pass that landed five yards short of receiver Kevin White. It was an awkward throw for a quarterback who is usually pretty accurate on the run. While Cutler has been throwing a "heavy ball" at times since the preseason, it was diving especially hard Monday night. He clearly wasn't right.
– Despite missing the entire preseason, 30-year-old Eddie Royal looks fresh and in-shape. He has eight catches for 109 yards, with 54 of those yards coming after the catch. Six of his eight receptions have gone for first downs, including three on third down. Furthermore, Royal leads the NFL with 105 yards on five punt returns (21 yards per return) and has the only punt return touchdown in the league so far. While I was surprised to see Marc Mariani let go, it certainly looks like the Bears made the right call in going with Royal as their punt returner.
– Kick returner Deonte Thompson once again made a questionable decision to take the ball out of the end zone. There appeared to be some miscommunication with a couple of his blockers as they thought he would just kneel down. Thompson only made it to the 14-yard-line, costing the offense 11 yards. With just 2:27 left in the second quarter, that gave the offense a very long field and they ended up going three-and-out. The Eagles got the ball back and added a field goal to take a 9-7 lead into halftime. They never trailed again.
– After a quiet Week 1, defensive end Willie Young was very good against Philadelphia. He notched one sack, two TFLs and one hurry. He shed blocks with ease and was very strong against the run. Losing Lamarr Houston to a torn ACL is a big blow, but it's pretty clear Young is the Bears' best pass rusher right now.
– As for rookie Leonard Floyd, I only noticed him creating pressure on one pass rush when he appeared to be held. Otherwise, it was a very quiet night for the No. 9 overall pick.
– The Bears' secondary had three pass breakups in the end zone (Tracy Porter, Bryce Callahan and Deiondre' Hall), but failed to record an interception. While the cornerbacks appear to be making more plays on the ball, safeties Harold Jones-Quartey and Adrian Amos have yet to record a pass breakup through two games.
– Second-year corner Jacoby Glenn had a strong game Monday, even though he probably got away with pass interference at one point. Glenn has four pass breakups in his first two games, starting for Kyle Fuller in both games. Rookie Deiondre' Hall has also looked good and probably has a higher longterm ceiling. Fuller certainly has some competition when he returns from his knee scope.
– It's been a rough start to the season for second-year running back Jeremy Langford. With just 85 yards on 25 carries, Langford's yards/carry (3.04) is the fifth-worst mark among running backs with at least 20 carries (Adrian Peterson is actually last with 1.61). I've mentioned a number of times that I think rookie Jordan Howard has the highest upside of all the Bears' running backs and it's probably time he received more carries. Howard picked up a quick 18 yards on his first two carries Monday night but then strangely only received one more carry the rest of the game.
– Right tackle Bobby Massie continues to be the weak link on the offensive line. He allowed another sack Monday and was blown up on a Langford run that resulted in a loss of four yards. Right guard Kyle Long also struggled at times against the Eagles, including when he lost defensive tackle Destiny Vaeao who forced the fumble on Cutler. On the bright side, other than one false start, Cody Whitehair looked steady at center and left guard Josh Sitton had a good game. Left tackle Charles Leno was OK, but did allow a couple pressures.
– Losing Eddie Goldman (ankle sprain) for an extended period of time would be a huge blow. The second-year nose tackle was off to a great start to the season and was downright dominating against Eagles center Jason Kelce Monday night.
– I wasn't surprised to see fullback Paul Lasike waived Tuesday. The Bears didn't seem all that committed to having a fullback in the first place and Lasike only played five snaps Monday and missed at least one key run block. It's possible Lasike could return to the practice squad.
Adam Hoge covers the Chicago Bears for WGN Radio and WGNRadio.com. He also co-hosts The Beat, weekends on 720 WGN. Follow him on Twitter at @AdamHoge.