This is an archived article and the information in the article may be outdated. Please look at the time stamp on the story to see when it was last updated.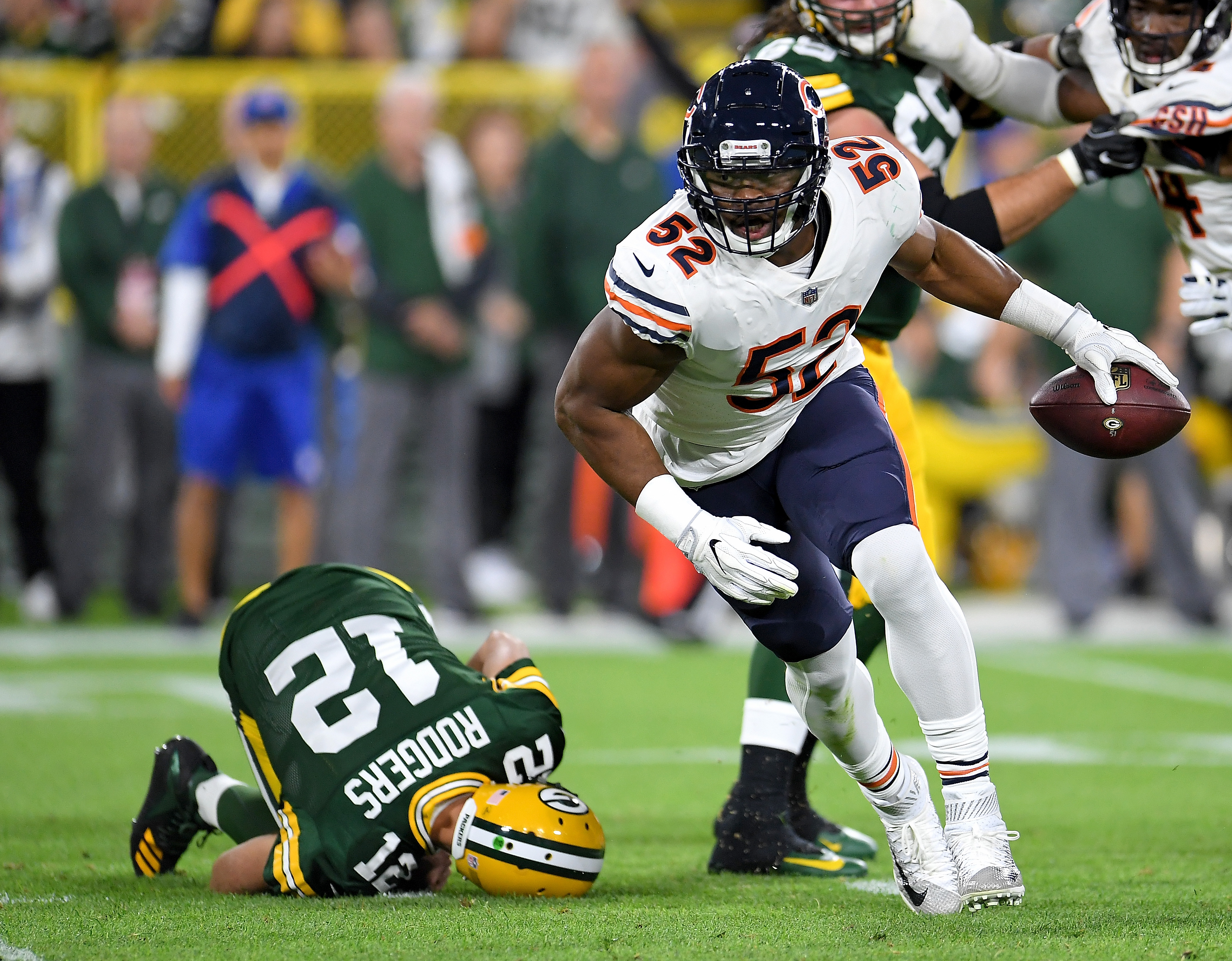 It's hard to remember a Bears game that was so polarizing from a performance standpoint. The first half in Green Bay Sunday night was one of the best performances we've seen from the Bears in years. The second half looked all too familiar, as the Bears lost to Aaron Rodgers and the Packers 24-23. 
Leaving Lambeau Field in the early morning hours Monday, there was a confusing feeling about Matt Nagy's first game as Bears head coach. After blowing a 20-0 lead to the Packers, the alarming concerns were obvious. But on the other hand, the Bears looked downright dominant in building that lead. 
The conclusion? This team should be the best the Bears have had since they went 10-6 in 2012, but there are still some big picture questions that need to be addressed in a hurry. 
Nagy faced many of those questions Monday afternoon at Halas Hall and made it very clear that he's not going to allow his team to look at Sunday's collapse in a negative light.
"If you have the negative pessimistic approach to it, then that's all wrong. We're not gonna have that," he said.
That's a good approach for the coaches and players, but for the rest of us, there are plenty of reasons for both optimism and pessimism. Let's take a look:
The Offense
Optimism: With months to come up with a offensive script for the Packers, Nagy's debut couldn't have started better as the Bears marched right down the field on a 10-play, 86-yard drive that ended with a Mitch Trubisky rushing touchdown. The second drive was also promising (nine plays, 53 yards), but fizzled out after Trubisky missed Allen Robinson on a fade to the back corner of the end zone. Still, the Bears built a 10-0 lead and the Packers looked downright confused as Nagy mixed in wrinkles like the T-formation and lining up left tackle Charles Leno Jr. as a wide receiver. Trubisky looked in control and fully capable of running a high-octane, aggressive offense. Nagy surely didn't show all his cards, which means this offense can continue to grow as the season goes along.
Pessimism: After gaining 146 yards on their first two offensive series, the Bears only gained 165 yards on their final eight drives of the game. Packers defensive coordinator Mike Pettine quickly adjusted, switching from man concepts to zone, and the Bears never really had an answer. We were told that "answers" were built into Nagy's offense, so why wasn't Trubisky able to read the Packers' defense and identify weaknesses within the zone? If the 3rd-and-1 throw to Dion Sims in the fourth quarter was the only option on that play and would only work against man coverage — as Trubisky said after the game — then why was the ball even snapped? 
Trubisky looked like a quarterback who has only started 25 games since high school, which is something that needs to be kept in perspective. He wasn't seeing the field well and, by his own admission, had "happy feet" when his first or second reads weren't available. One offensive touchdown a game isn't going to cut it and the challenge is going to be even greater going forward because the Seahawks and all the other future opponents have tape on this offense now. 
The Defense
Optimism: The Bears have a genuine superstar in Khalil Mack who, despite only having seven days to prepare for the opener, was the best player on the field (besides Aaron Rodgers). Perhaps more important, he made everyone else around him better too. Akiem Hicks clearly benefitted from Mack's presence next to him and even forced a fumble on Aaron Rodgers while being triple-team when Mack was on the sideline. The Bears honestly didn't know what they could get out of Mack and rookie Roquan Smith in this game after neither played in the preseason, but the returns were very positive. I would guess that the Nick Kwiatkoski experiment is over and Smith starts next week. Kwiatkoski is a smart player who can start a game if you need him to, but the difference in speed was astronomical. It was disappointing to see the defense blow a 17-point lead in the fourth quarter, but it was the first game and they were gassed while the offense was failing to sustain drives. Imagine what Fangio can do with this unit next week now that he knows Mack and Smith can play most of the game. 
Pessimism: How does a defense go from looking like the 1985 Bears in the first half to looking like the 2014 Bears in the second half? Rodgers was somehow better with one leg than two. Yes, he was getting the ball out quickly, but the defensive line wasn't getting their hands up and batting down passes. The coverage wasn't tight enough and the big plays allowed were unacceptable and all too familiar against Green Bay. Kyle Fuller had a chance to finish the game with a gift-wrapped interception and dropped it.
Nagy said the Bears came out clean from an injury standpoint, but scares to Danny Trevathan and Prince Amukamara during the game exposed some depth issues. This defense could still be very good, but injuries are bound to happen. Also, is Hicks OK? He dealt with a knee issue during the preseason and looked gimpy in the second half. He plays through almost everything, but that knee is worth watching going forward. 
The Coaching
Optimism: Nagy showed that his vision of this team can actually come together on the field. He had the Packers completely on their heels in the first quarter and his offensive creativity was a welcome sight after the Dowell Loggains' era. He showed his aggressiveness by going for it on fourth down at the Packers' 37-yard line with a 10-0 lead in the second quarter, even if it didn't work. The Bears came out with a plan and looked prepared in every phase, which should leave fans encouraged about Nagy's game-planning going forward.
Pessimism: The honeymoon period for Nagy ended at halftime. While the Bears coaching staff looked brilliant in the first half, Mike McCarthy and Mike Pettine ultimately won this battle. Credit the Packers' coaching staff for their adjustments and be concerned that the Bears' didn't have answers on either side of the ball. Fangio dialed down the pressure in the second half, even though Rodgers was on one leg. Both Nagy and Fangio were too conservative in the third quarter, and Nagy was critical of his own play calling Monday: "We ran two screens on back-to-back plays (late in the third quarter). I didn't like those calls."
Going back to last season with the Chiefs, Nagy has only called plays in seven NFL games and the last two saw his teams blow halftime leads of 21-3 and 17-0.  The 3rd-and-2 sequence at the Packers' 14-yard-line with 2:47 left in the game was questionable. With no timeouts left for Green Bay, running the ball would have been the smarter move and no one would have faulted Nagy for going for the kill shot on fourth down if it was still needed. Instead, we saw that he won't be that aggressive. 
"If it was less than one (yard to go), then I think you really have to think about (going for it on fourth down)," Nagy said. "But we had a play that we really liked. I'm fine with that. I get the whole thing. Trust me, I'm well aware of Aaron Rodgers and scoring a touchdown and how that can happen. I get that. I'm also well aware of when you go for it and you don't get it and it's three-point game, and then a touchdown can put (them) up more than a field goal. I feel comfortable with that. I'm not concerned about that."
The Outlook
Blowing a 20-0 lead is brutal, especially when Sunday night provided such a big opportunity to deliver the Packers an early blow and prove that this Bears team knows how to win. In reality, that's still something they need to learn how to do. 
This is where Nagy will really be tested. There were still a ton of positives to take away from that first half and the Bears have a very winnable game against a declining Seahawks team next Monday night at Soldier Field. In fact, the next three games (Seahawks, Cardinals and Buccaneers) are all very winnable. Can the Bears successfully flush Sunday night's disastrous second half and put together a successful first quarter of the season? It's still possible. 
In the short-term, the issues on defense seem easier to fix than the ones on offense right now, but Mack is the best player the Bears have had since Brian Urlacher. He and the defense have the ability to buy some time as Nagy and Trubisky try to get this offense rolling. The evolution of Mitchell Trubisky was always going to be the most crucial development of the 2018 season. That hasn't changed. 
Adam Hoge covers the Chicago Bears for WGN Radio and WGNRadio.com. He also hosts "The Hoge & Jahns Podcast." Follow him on Twitter at @AdamHoge.