This is an archived article and the information in the article may be outdated. Please look at the time stamp on the story to see when it was last updated.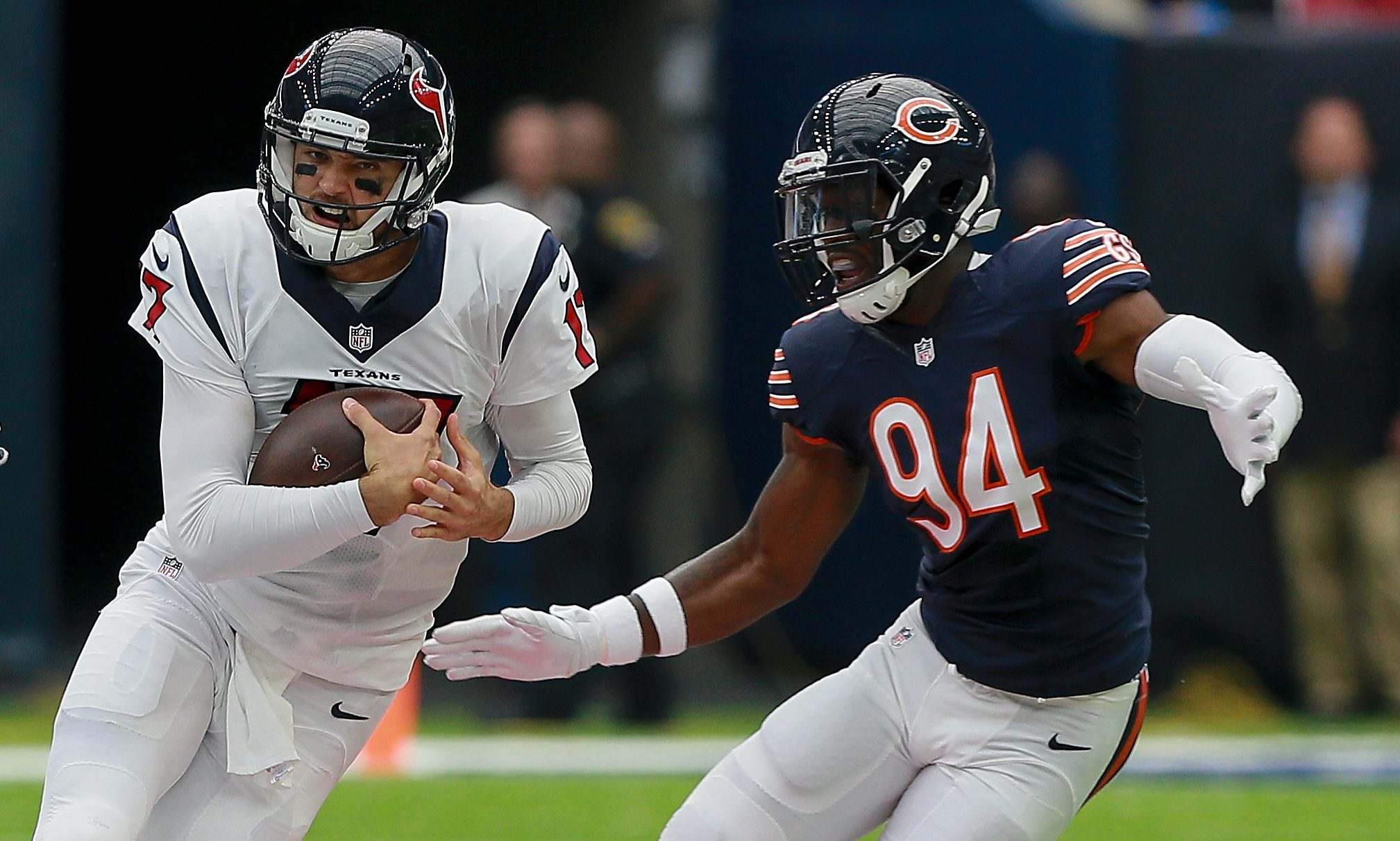 With the big picture in mind, Bears general manager Ryan Pace and head coach John Fox decided to start three players who were making their NFL debuts Sunday in Houston.
Wide receiver Kevin White was a projected starter all offseason and a minor hamstring injury was not about to prevent him from finally making his much anticipated debut. Cody Whitehair looked capable of starting all preseason, but that was when he was playing left guard. The Bears made a bold decision to move him to center just seven days before the opener and throw him into the fire. Finally, Leonard Floyd did very little in the preseason and it was frankly shocking to see the No. 9 overall pick start and play as much as he did in the Bears' season-opening 23-14 loss to the Houston Texans.
Podcast — Intentional Grounding, Episode 47: Bears-Texans Postgame Show
[audio http://serve.castfire.com/audio/3003003/3003003_2016-09-11-203003.64kmono.mp3?ad_params=zones%3DPreroll%7Cstation_id%3D3757.mp3]
So to kickoff the fourth year of the "Rewind" column, let's take a close look at the debuts of Floyd, White and Whitehair after film review:
OLB Leonard Floyd — Played 60 of a possible 75 defensive snaps (80 percent)
Just four days after defensive coordinator Vic Fangio called Floyd's preseason "choppy" and questioned the rookie's conditioning level, the Bears not only started Floyd, but played him more than any other outside linebacker. In fact, Floyd received 12 more snaps than Willie Young, who just signed a two-year, $11.05 million contract extension, and 33 more snaps than Lamarr Houston, who led the team in sacks last season. Thirty-three!
Look, it's not the first time a first-round draft pick played over more-deserving veterans and everyone expected to see a good amount of Floyd because the only way he can get better is to play. That said, it's borderline absurd that Floyd played more than Young and Houston, who were easily the Bears' best pass rushers in the preseason.
As for how Floyd played, he was fine. There were times when he was swallowed up by the Texans' offensive tackles and there were others when he showed off the burst that got him drafted so high. It was obvious Fangio was trying to get him as much experience as possible, as he frequently asked Floyd to drop into coverage and kept him on the field to play the run throughout the game. In those instances, he did a pretty solid job.
This, of course, does not mean that Floyd was the best option to play the most snaps at outside linebacker in Week 1. In fact, I would argue that the Bears coaching staff did not give its team the best chance to win by only playing Houston on 36 percent of the defensive snaps.
But I guess it depends on how you look at it. Which is more important: beating the Texans in Week 1 or getting your raw first round draft pick the most experience possible?
I guess we now know where the Bears stand on that question.
WR Kevin White — Played 55 of 56 offensive snaps (98 percent)
Before the game, no one would have had a problem with White playing the entire game. He needs to be the team's clear-cut No. 2 wide receiver if the Bears' offense is going to do anything this year and he needs all the reps he can get. That said, after White cost his quarterback an interception by stopping his route early in the third quarter, I was somewhat surprised he didn't see more time on the bench as the game went along. That's not to say White deserved to be benched, but it was pretty obvious that Cutler did not have enough trust in his young receiver and that disconnect certainly contributed to the Bears getting shutout in the second half. Once they fell behind in the fourth quarter, it may have made sense to feature Eddie Royal more and give Deonte Thompson more opportunities, especially with the Texans shading to Alshon Jeffery's side.
Overall, White was very disappointing in his debut and accounted for my lowest grade of the game. On top of blunder on the interception, he also was guilty of a false start and a drop on a play where Cutler held tough in the pocket and delivered a catchable ball that would have been a first down. Those are plays White definitely needs to make.
C Cody Whitehair — Played 56 of 56 offensive snaps (100 percent)
I admittedly questioned the idea of starting a rookie with almost no experience at center in Week 1, but, in this case, I understand the logic. Unlike at outside linebacker, where there were better options to start ahead of a rookie, the Bears didn't really have those same obvious options on the offensive line. Ted Larsen certainly could have started, but he wasn't an obvious enough upgrade to sacrifice the valuable experience Whitehair gained in this game.
That said, the Bears still needed to do everything within their power to protect the rookie in his first game and I thought passing on a 48-yard field goal on 4th-and-inches in the first quarter put Whitehair in a tough spot. I'm not saying you should expect Whitehair to fumble a snap in that situation, but you certainly can't be surprised by it — especially considering he had Vince Wilfork lined up on top of him in his first huge NFL moment.
Much like Floyd, I thought Whitehair was fine in his debut. There was some good and there was some bad, but from a physical standpoint, the rookie is much more equipped to handle the starting center duties than Hroniss Grasu was a year ago. That's a good sign.
Other notable observations:
– My highest grade of the week went to defensive lineman Akiem Hicks. Playing in his first game as a Bear, Hicks was extremely stout against the run and got some push as a pass rusher. He also forced a fumble on a handoff, which nearly led to the Bears' second takeaway of the game.
– The Bears' upgrades at inside linebacker were on display Sunday. It's funny, because Danny Trevathan and Jerrell Freeman are probably actually slower than Shea McClellin and the crop of inside backers the Bears' used last year, but you saw Sunday how instincts and experience (a.k.a. game speed) can make up for a lack of timed speed. Trevathan and Freeman combined for 28 tackles.
– Upon further review, John Fox absolutely should have challenged the spot on Brock Osweiler's QB sneak on 3rd-and-1. It was tough to tell from the press box, but on TV it was very obvious Osweiler was short. The Bears clearly had a breakdown in their replay review protocol and that will need to be ironed out going forward.
– This game could have — and probably should have — been more lopsided had Texans wide receivers Will Fuller and DeAndre Hopkins not dropped sure touchdown passes.
– Second-year running back Jeremy Langford still needs to get better in pass protection. The run struggles weren't necessarily his fault, although he did admit after the game that he needs to do better after initial contact.
– For just joining the team eight days before the opener, I thought left guard Josh Sitton played very well. With more experience in the playbook and playing alongside Whitehair, the Bears should be better equipped for some of the stunts that caused problems Sunday. Both offensive tackles — Charles Leno Jr. and Bobby Massie — need to be better, but you already knew that.
– New season, same old problem. Just take the touchback, especially now that the offense gets the ball at the 25-yard-line. The NFL Competition Committee is trying to help you out here, Bears.
Adam Hoge covers the Chicago Bears for WGN Radio and WGNRadio.com. He also co-hosts The Beat, weekends on 720 WGN. Follow him on Twitter at @AdamHoge.