This is an archived article and the information in the article may be outdated. Please look at the time stamp on the story to see when it was last updated.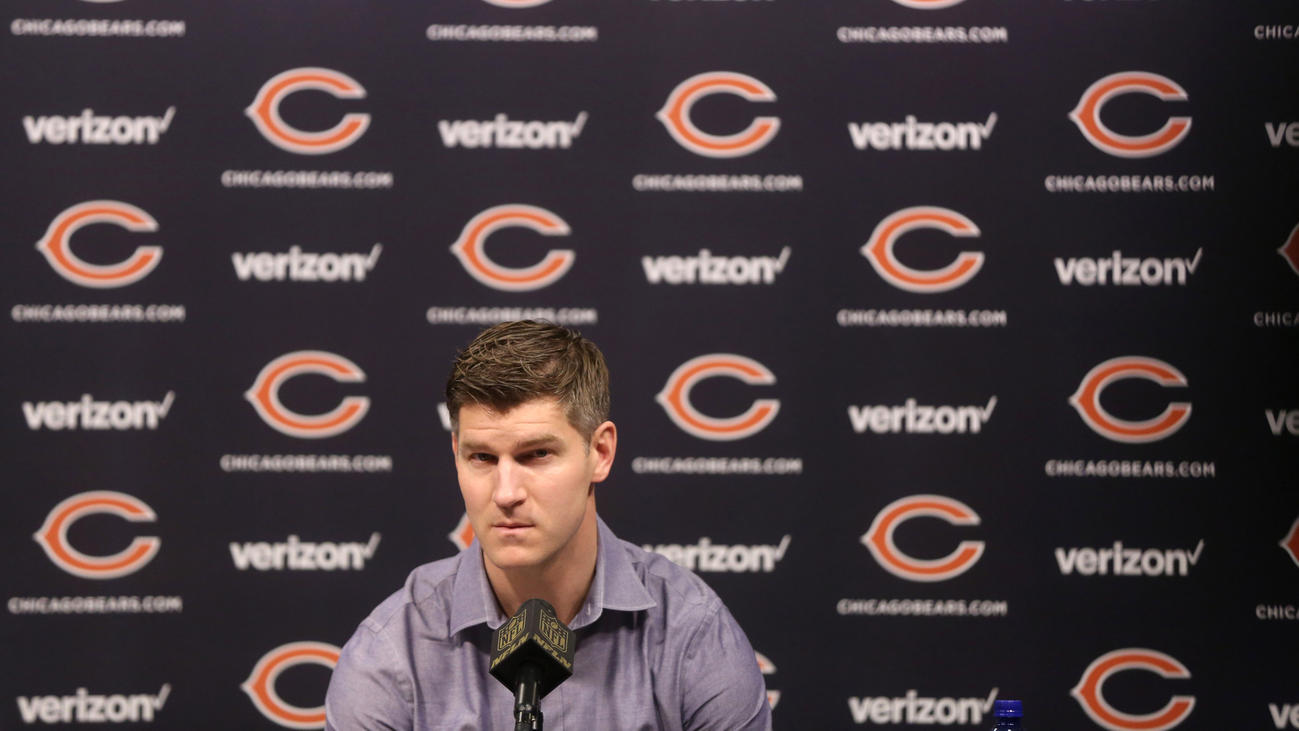 MOBILE, Ala. — A year ago at this time, Bears general manager Ryan Pace and head coach John Fox pointed all of their attention to filling out a brand new coaching staff. Just days on the job, Pace and Fox finalized agreements with offensive coordinator Adam Gase and defensive coordinator Vic Fangio, two hires that were applauded across the NFL throughout 2015.
But because they were in Chicago working on a coaching staff, that meant they couldn't be in Mobile, Ala. at Senior Bowl practices. Instead, Pace trusted his newly hired director of player personnel, Josh Lucas, to take the lead in Mobile. Lucas sat in the stands at Ladd-Peebles Stadium throughout the week with college scouting director Marty Barrett, who likely knew he was going to be let go after the draft, as Pace sought to bring in his own guy.
Fast forward to Tuesday afternoon in Mobile, and the Bears had a much different presence as the top college seniors worked out in front of the NFL universe. The Bears' entourage consisted of Pace, Fox, Lucas and new college scouting director Joe Douglas, as well as newly promoted offensive coordinator Dowell Loggains, defensive coordinator Vic Fangio, special teams coordinator Jeff Rodgers and numerous other position coaches and team scouts.
Basically, anybody who has any input in the Bears' draft selections is here in Mobile.
Fortunately, unlike regular season practices at Halas Hall, we get to see the same thing they do. Here are my observations from Tuesday's two practices:
– Locally, Northwestern and Wheaton-Warrenville South product Dan Vitale is working exclusively at fullback on the South team, coached by the Jacksonville Jaguars. Vitale was a "superback" at Northwestern, which is a tight end/fullback/receiver hybrid position. He's welcoming this week's challenge at fullback because he believes his college film shows his ability to run routes and catch the football. Vitale still needs to prove that he can be a downhill, hand-on-the-ground blocker and this week will allow him to do that. He got off to a good start Tuesday, performing well in blitz-pickup drills.
Vitale said he met with a scout from his hometown Bears when he got here on Sunday and he was hoping to have a more formal meeting with the team Tuesday evening.
"I'd like to believe I'm on their radar," he said. "I hope so."
I'll have a more in-depth story on Vitale Wednesday and he'll be a guest on our special Senior Bowl edition of "Intentional Grounding," which will be released Wednesday evening.
– Other local products include Florida linebacker Antonio Morrison (Bolingbrook), Michigan State center Jack Allen (Hinsdale Central) and Michigan center Graham Glasgow (Marmion Academy). I thought Morrison looked a little stiff in individual drills, but he's considered a coveted prospect. Glasgow will be remembered Tuesday for getting beat badly on a spin move by Louisville defensive tackle Sheldon Rankins, but the center had a great showing at the East-West Shrine Game last week, which earned him a late promotion to the Senior Bowl. He has a chance to be a decent pro.
I didn't focus much on Allen Tuesday, but he's on the list for tomorrow.
– LSU linebacker Deion Jones was one of the more impressive players I saw Tuesday. He has noticeable speed and quickness for someone his size. One of the Jaguars coaches even joked, "You should be playing safety." He certainly moves like a safety. Looks like a classic 4-3 Will linebacker to me, but he's good enough to be successful in any scheme.
– I have a feeling Alabama linebacker Reggie Ragland is a name you'll hear linked to the Bears. He's a good pass rusher, but is versatile enough to play multiple spots in a 3-4. Looks like a first-round talent.
– Temple cornerback Tavon Young had a great first day in Mobile. It seemed like he broke up every pass that came his way. Young is small, but feisty and it was fun watching him and Ohio State wide receiver Braxton Miller go one-on-one Tuesday. I just wish they had a stronger quarterback throwing the ball. It didn't seem like North Dakota State's Carson Wentz was ever the QB when Young and Miller went head-to-head, which brings us to the next point…
– As I suspected, Wentz is far and away the best quarterback at the Senior Bowl. Especially on the North squad, Wentz's arm strength stands out considerably over USC's Cody Kessler, Stanford's Kevin Hogan and Louisiana Tech's Jeff Driskel. Unless he suffers some kind of catastrophic injury, there's no way this week will hurt him. Wentz is already considered a smart quarterback and the type of guy who can emerge as a reliable leader in an NFL clubhouse. Throw in his arm strength and it's no wonder he's already getting Top 10 chatter. He certainly looks like a first-round talent to me.
– I admittedly don't know a whole lot about UMass wide receiver Tajae Sharpe, but he showed off good hands and an ability to high-point the football. He has good height at 6-3, but probably needs to add a little muscle to his frame. Could be a solid value pick.
– Temple's Tyler Matakevich is already one of my favorite inside linebacker prospects and he showed off his coverage skills today, consistently blanketing tight ends.
– Duke's Jeremy Cash played a hybrid safety/linebacker position in college, but he's trying to prove that he's an NFL safety. While he likes that teams have noticed his versatility, he told me he wants to show scouts he can play centerfield in the NFL. In my opinion, that's not his strength, but if he can quiet those doubts this week he has a chance to be a late first-round pick.
– Finally, current Bengals and former Alabama quarterback AJ McCarron was at the South team practice Tuesday. Just two years too late.
That's all for Day 1. Much more coming Wednesday on WGNRadio.com/Bears.
Adam Hoge covers the Chicago Bears for WGN Radio and WGNRadio.com. He also co-hosts The Beat, weekends on 720 WGN. Follow him on Twitter at @AdamHoge.