This is an archived article and the information in the article may be outdated. Please look at the time stamp on the story to see when it was last updated.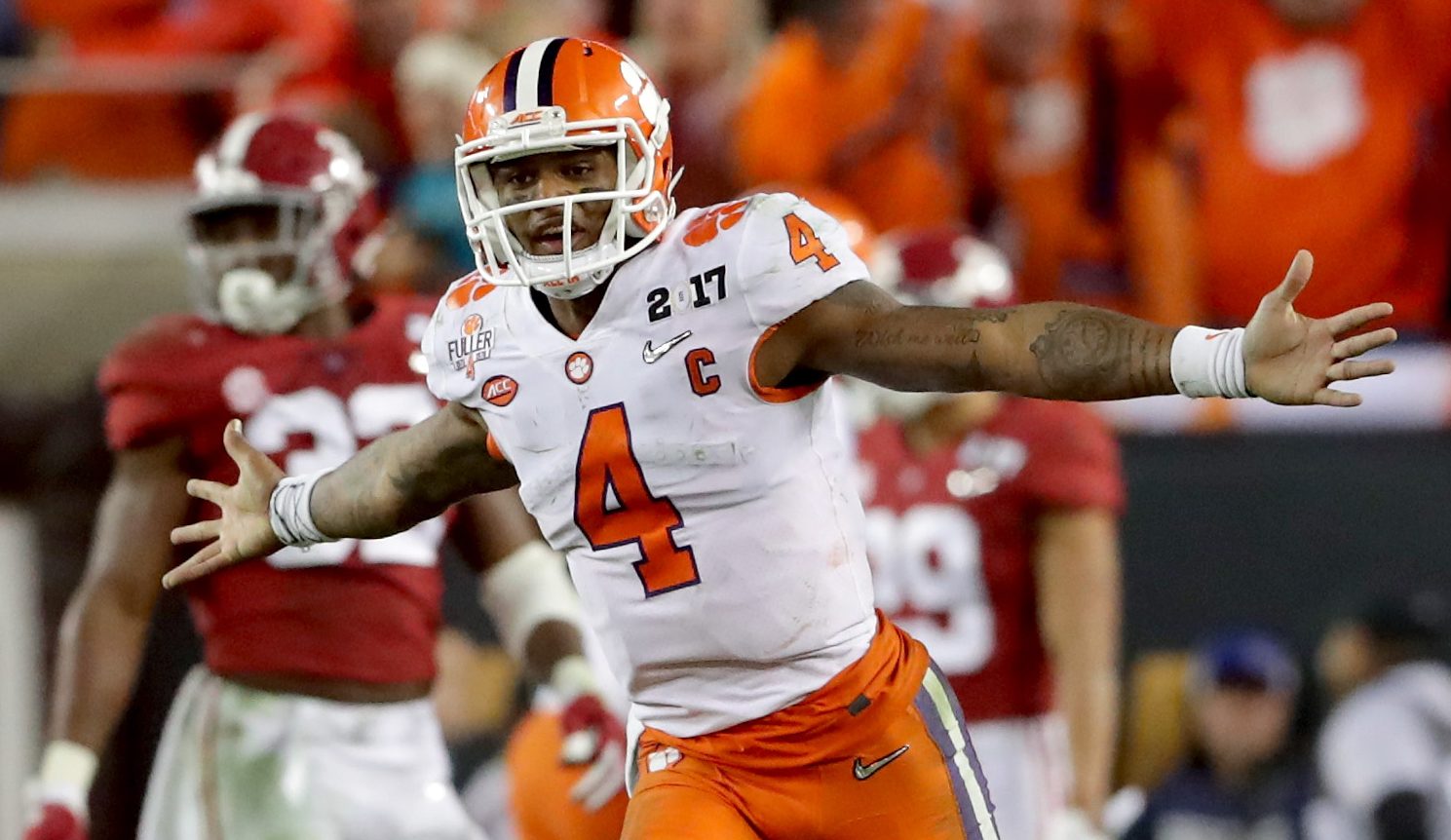 While the NFL Combine is ideally just a "tiebreaker" for closely rated prospects, there is still a lot to be learned between now and April 27. Extensive medical evaluations will be performed. Grueling "whiteboard" sessions will be completed. And coaches will fly out to Pro Days and personal workouts to test players on the field.
That's why my annual quarterback rankings won't come out until mid-April. I put a lot of stock in personal character and football intelligence, and there's still plenty of information to be gathered from that standpoint when it comes to the quarterback position.
That said, we still have the tape to go off and I've watched a lot of it over the last two months. Here is some early insight into four juniors in this year's quarterback class (listed in the order I evaluated them):
Mitch Trubisky, North Carolina — 6-3, 220
It wouldn't surprise me if Trubisky ends up as my No. 1 quarterback this year, but many evaluators (especially coaches) are nervous that he only has 13 college starts under his belt. Couple that with an offense in which he operated exclusively out of the shotgun, and he's going to be a work in progress as an NFL rookie. That said, Trubisky has a great arm and showed a knack for making big throws in clutch moments, especially late in games. He has good feet in the pocket and impressive athleticism and escapability, looking comfortable throwing the run. Overall his accuracy is very good, but he needs to be more consistent on deeper throws to the sideline and up the seam.
From a tools standpoint, Trubisky has exactly what NFL GMs crave. My only gripe is that in every game I watched, I noted that his delivery looked odd and inconsistent every once in a while.
What concerns me is that I see a lot of half-field reads, and while Trubisky only threw six interceptions, many of them were a result of not reading the defense correctly. In the Sun Bowl, Trubisky didn't see the safety on his first interception and then threw a pick-6 when he thought Stanford was in zone. Instead, the safety was in man coverage on his target out of the backfield. It was a costly mistake in a close game.
Of course for every concerning moment like that, there are many more encouraging moments that make you think Trubisky can be molded into a very good NFL starter. In general, he gets criticized for his Sun Bowl performance, but what gets ignored are the incredible plays he made with his arm and feet (despite multiple drops) on North Carolina's last drive of the game.
The early word is that Trubisky is extremely intelligent and a good leader. If that gets verified by NFL teams over the next two months, there's a good chance he will be the first quarterback selected in April.
DeShaun Watson, Clemson — 6-3, 215
There's no questioning Watson's leadership and ability to elevate his teammates. Simply put: he's a winner, and there's a lot to be said for that. Of course, there's a big difference between being a winner in college and being a winner in the NFL. Tim Tebow was a winner too, but he couldn't throw the football.
Watson, of course, can throw the football, but his arm strength and accuracy are not the strongest in this draft. The challenge for NFL teams over the next two months will be trying to figure out if he's limited by natural arm talent or by correctable mechanics. If it's the later, there's no question Watson can be a very good NFL quarterback.
The mechanics and decision-making are what concern me. Watson throws a heavy ball too often and his pocket awareness is average. While he has elite athleticism to escape pressure, he doesn't always see it and he takes big shots. He has somewhat of a slender frame, so that's concerning at the NFL level.
In November, I wrote that the Bears need to find their Marcus Mariota — and that's a common comp for Watson — but I felt much more confident about Mariota's physical ability as a quarterback when he was coming out of Oregon. I think Watson can be a decent-to-good NFL quarterback. I'm just not completely sold that he's worth a first round pick.
DeShone Kizer, Notre Dame — 6-4, 230
Compared to Watson, DeShone Kizer has a much bigger frame to withstand the rigors of the NFL. He also has a much bigger arm. It might even be the best arm in this year's quarterback class.
What Kizer doesn't have is all the wins. And while there are plenty of valid excuses for his 2016 season (loss of reliable targets, a dropoff on his offensive line and a terrible defense), you never feel great about drafting a guy who got worse in his final college season.
In Notre Dame's 2016 opener at Texas, Kizer received good protection and was throwing to wide open wide receivers. As a result, he looked like a No. 1 overall draft pick. But we quickly found out that Texas wasn't very good and Kizer didn't receive that same help throughout the rest of the season.
In my opinion, Brian Kelly did not handle the quarterback situation well going into 2016 and I think that had a negative impact on Kizer. Of course, in the NFL, you aren't always going to get every break and there's going to be plenty of adversity to overcome. I'm really torn on Kizer. I love the natural skill set, but I don't like the 2016 results. He might be a first round talent, but I wouldn't feel great about taking him in the top 10.
Patrick Mahomes, Texas Tech — 6-3, 219
I'm a little skeptical that Mahomes is really 6-3, but he does have a big-bodied frame so he should have good enough NFL size at the position. He also has a great arm and his tape is full of incredible plays made while throwing on the move.
The ability isn't a question, but Mahomes is going to be a significant project in my mind. He will be making a similar offensive adjustment that Jared Goff made last year and that alone is a big deal. But Mahomes also needs a ton of work on his mechanics. Nothing in his delivery ever seems consistent, yet he somehow completed 66.7 percent of his passes in 2016. Many times, he looks like he's free-wheeling it in an intramural flag football game. If you watch the Oklahoma tape, you see a guy who led a great two-minute drill before halftime, but also threw a terrible red zone interception off his back foot while moving backwards. In fact, I see a guy who retreats backwards a lot and is too eager to leave the pocket. While he's good at throwing on the move, he's too dependent on it.
On the plus side, I love Mahomes' confidence and swagger, even if it gets him in trouble sometimes. And there's no question he has the natural talent to play in the NFL. He just needs a lot of work.
There are times when Mahomes looks like Aaron Rodgers and then there are others when he looks like Jay Cutler's evil twin. He has a very high-ceiling, but is an incredibly risky pick.
Listen Up
Love him or hate him, Tom Brady was fantastic in this two-part podcast with the MMQB's Peter King. I've never heard Brady sound so open and honest in an interview. Over 90 minutes, King and Brady broke down nearly every significant play of the Patriots' Super Bowl comeback and then discussed the quarterback's legacy and future. If you love scheming in football, you have to hear Brady breakdown the final 20 minutes of the Super Bowl.
From The Draft Room
It's good to hear that Watson will run and throw at the Combine next week. I thought he missed a Carson Wentz-like opportunity to light up the Senior Bowl and now he'll be tested by throwing next to guys like Trubisky, Kizer and Mahomes, who all have better arms. Trust me, NFL teams are stressing as they weigh Watson's winning resume vs pure quarterback talent. I mentioned at the beginning of this notebook that the NFL Combine is supposed to be a "tiebreaker" and there's a good chance some ties need to be broken at the quarterback position.
One big Combine snub: Northwestern wide receiver Austin Carr. I couldn't believe he wasn't invited to the Senior Bowl and now he won't be at the Combine either. Carr caught 90 passes for 1247 yards and 12 touchdowns as a senior and was a Biletnikoff finalist (nation's top wide receiver). Yes, he's undersized and was somewhat of a one-year wonder, but I'm shocked teams wouldn't want to take a closer look at him given the tape he put out in 2016. Carr has a knack for finding the soft spots in the defense and he caught virtually every ball in his catching radius (I can only remember one drop off the top of my head). There's no doubt in my mind that he'll end up in an NFL training camp and make it very hard for any team to cut him.
So, again, why wasn't Carr invited to the Combine? We'll get a chance to hear him answer that question this Sunday as he, Anthony Walker and Ifeadi Odenigbo all join "The Beat" live in studio at 4 p.m. CT. (Walker and Odenigbo are both headed to the Combine.)
Quick Hitters
So the Bears are officially shopping Jay Cutler. No surprise there. But one sentiment I don't understand is the idea that there's no turning back now. I've seen that written and said in multiple places over the last 24 hours. People remember that the Bears did this exact same thing two years ago, right? It wasn't a secret that Ryan Pace had significant trade talks involving Cutler before deciding to keep him. Look, I agree that there's a very good chance Cutler won't be playing for the Bears next fall, but just because they are shopping him doesn't mean they can't change their minds. Cutler has been through this before and he's known for months that the team was going to look into trading him again. He's always handled these situations professionally. Chances are, Cutler is gone, but nothing changed Tuesday when these very unsurprising reports surfaced.
As I mentioned in my last offseason notebook, I still think Garoppolo will be the first quarterback domino to fall. If he is traded, he'll help set the market for other quarterbacks, including Cutler.
Let's also not forget that Cutler is recovering from shoulder surgery. The NFL Network's Ian Rapoport reported Wednesday that the quarterback "is expected to be able to pass a physical by March."
It appears the Bears have their new wide receivers coach as Zach Azzanni is reportedly leaving the University of Tennessee where he was the team's wide receivers coach and passing coordinator. Azzanni was a fast riser with Wisconsin in 2012, but moved on to Tennessee after Bret Bielema left. It was in Knoxville where he became a valuable recruiter and highly respected assistant for the Vols. He also has history with Urban Meyer, coaching with him at both Bowling Green and Florida. This is a promising hire for the Bears, in my opinion.
The next few weeks are going to get pretty crazy in the NFL. The Combine starts next Wednesday (Mar. 1) and runs through March 6. And, in a new twist, the franchise tag deadline will occur at 3 p.m. CT on Mar. 1 so we'll get some clarity on Alshon Jeffery next week. Then, as soon as the Combine ends, the free agency negotiating window begins March 7 at 3 p.m. CT. The official NFL New Year begins March 9 at 3 p.m. CT and that's when contracts can be signed and trades completed. Fasten your seat belts.
We'll end this edition of the Offseason Notebook on a charitable note as Bears running back Jordan Howard will present a $10,000 check to the Pulmonary Fibrosis Foundation in memory of his father, who passed away from pulmonary fibrosis 10 years ago. The ceremony will take place Friday and Bears Care will complement Howard's donation with an extra $2,500 check.
Adam Hoge covers the Chicago Bears for WGN Radio and WGNRadio.com. He also co-hosts The Beat, weekends on 720 WGN. Follow him on Twitter at @AdamHoge.