This is an archived article and the information in the article may be outdated. Please look at the time stamp on the story to see when it was last updated.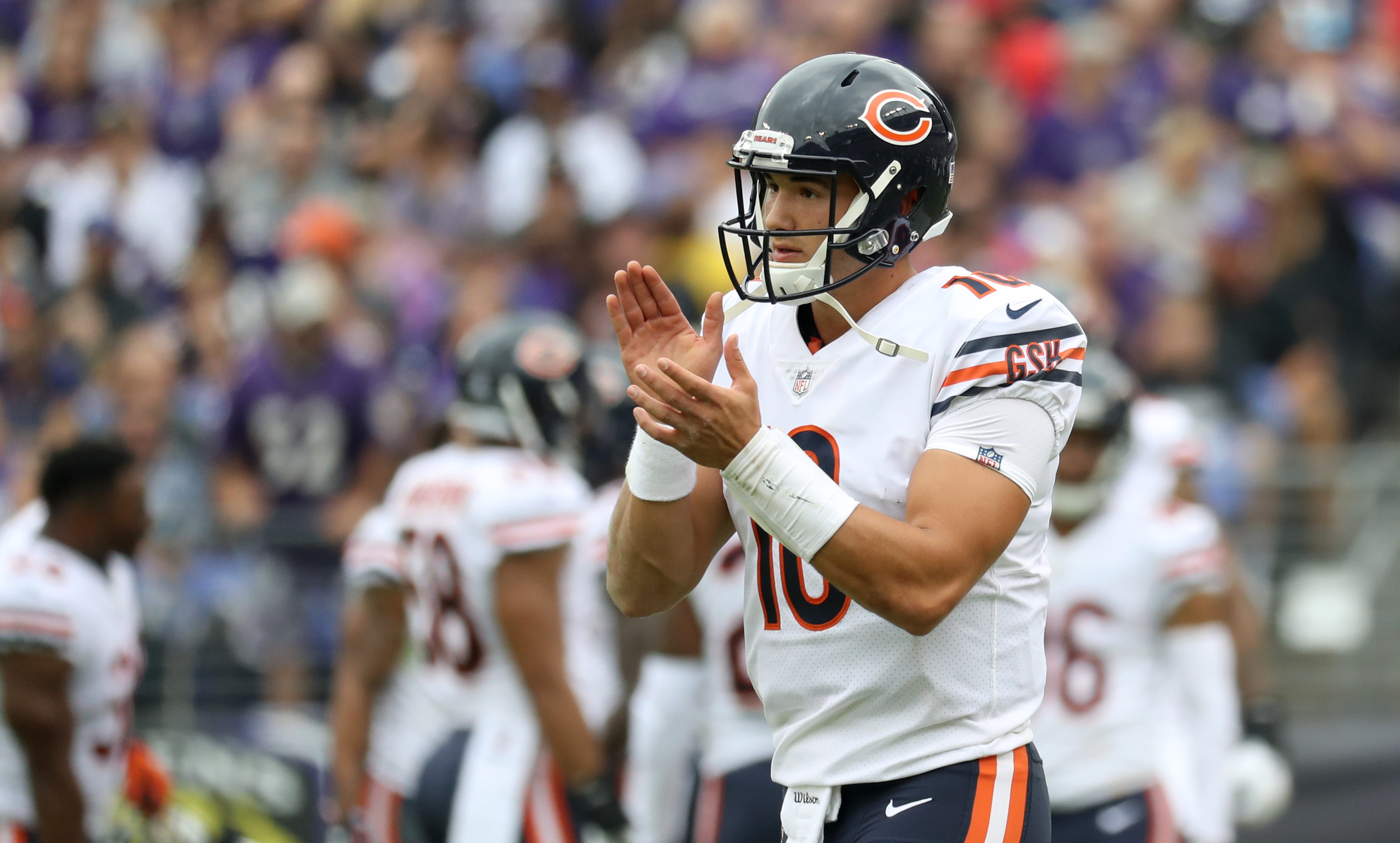 LAKE FOREST, Ill. — Between a hallway argument and a literal stench inside the building, it's been an odd week at Halas Hall. Yet in a matchup between two struggling franchises, Sunday's game between the Bears and 49ers is full of interesting storylines. We'll examine all of it in this week's 10 Bears Things:
1. The Bears' frustrations finally boiled over Monday afternoon at Halas Hall when an argument in the wide receivers meeting room spilled out into the hallway and could be heard in the adjacent media work room.
Tre McBride and Josh Bellamy were the two players primarily involved in the incident, according to multiple sources. The obscenity-laced argument started while the wide receivers were going over film from Sunday's 31-3 loss to the Eagles. Bellamy could be heard over-and-over again saying "get your mind right" and "get your man." During Sunday's game, McBride struggled with both his route running and blocking assignments. Interestingly, Bellamy didn't even make the trip to Philadelphia because he was dealing with a concussion.
"I didn't hear it," Bears head coach John Fox said Wednesday. "But I can just say that that happens on the sideline, that happens in meetings, that happens all the time. I just think that room is closer to y'all than I probably would have designed it."
But while Fox downplayed the incident, McBride was waived on Tuesday. His poor play was a factor, but the argument forced the issue. Fox claimed they were "just kind of churning the roster."
The question now is whether or not the drama is dead. One source said they weren't surprised that Bellamy and McBride were the players involved, indicating it may have been brewing.
Incidents like this aren't uncommon on underachieving teams that appear destined for a coaching change. The Bears were involved in a much more significant controversy during Marc Trestman's final season in 2014 when offensive coordinator Aaron Kromer outed himself as the anonymous source that criticized quarterback Jay Cutler.
We're not quite to the circus level of 2014 — in fact, we're nowhere close — but the Bears could badly use a win to ease rising tensions.
2. Try to calm down your Mitchell Trubisky anxiety. Your opinion of the young quarterback really should not have changed after Sunday's loss to the Eagles. He was facing the best team in the league with poor wide receiver play, suspect play calling and a running game that netted -6 yards from its running backs. I'm not sure Tom Brady would have looked good in the Bears' offense Sunday in Philadelphia, let alone a rookie playing in his seventh game.
"The thing that was most disappointing for me in the passing game is the uncontested, outside the number throws and a lot of that was, to be completely honest, a lot of it wasn't on (Trubisky)," offensive coordinator Dowell Loggains said.
Loggains mentioned one example of a receiver running a route at a depth of eight yards instead of 10, making it look like Trubisky's throw was high.
Still, there's no question Trubisky struggled against the Eagles and both he and Loggains admitted his mechanics were out of whack.
"I had bad footwork in the game and that usually leads to bad accuracy. Then timing. A lot of throws in the game are throws that I make and throw on time, and because of bad footwork and bad timing, it caused a couple throws to be off," Trubisky said. "So it's just me and the receivers getting back on the same page, really grooving our timing, me getting my footwork down and just doing exactly what I'm coached to do."
These aren't new issues. Going back to my pre-draft scouting notes on Trubisky, I noted in multiple games  how Trubisky's delivery wasn't as consistent in the pocket. We've seen this carry over to the NFL and I even made mention of it in a halftime tweet Sunday in Philadelphia.
2. I just looked back at my pre-draft scouting notes on Trubisky and saw that I wrote down in multiple games that his "delivery isn't consistent in the pocket." Having multiple arm slots can be a good thing, but if lower-body mechanics aren't sound, it can lead to inaccuracies.

— Adam Hoge (@AdamHoge) November 26, 2017
"He got caught bouncing a little bit," Loggains said. "It was a tendency he had in college and we talked to him a lot about keeping his shoulders and head still and he did get hoppy a little bit and there were some throws that were errant because of that and it's something we're going to keep working and grinding on that way."
There's no need to panic. Trubisky has made seven starts and has been good in three of them, average in three of them and bad in only one. You might expect better from the No. 2 overall pick, but considering the offense he is operating in, I don't think the early results are all that surprising. Plus, we're talking about seven games. Seven. It's still an extremely small sample size.
3. Speaking of Trubisky's college film, his battle against 49ers defensive tackle Solomon Thomas in the Sun Bowl remains my favorite tape from the 2017 draft class. Both players were outstanding. And while Trubisky had an amazing final drive in which he actually threw four touchdown passes (three were dropped), Thomas clinched the win for Stanford when he came unblocked and sacked Trubisky on the two-point conversion. The two will meet again Sunday.
That time Mitch Trubisky threw 4 touchdowns on one last-minute drive: pic.twitter.com/fzkVMhjOe8

— Adam Hoge (@AdamHoge) April 28, 2017
"(Thomas) is a really good player. High motor, loves the game. Really good dude," Trubisky said. "I got to know him pretty well throughout the draft process as well. So I've really enjoyed competing against him and he plays the game the right way. He's a really good dude and I'm looking forward to seeing him Sunday."
4. The storylines between the Bears and 49ers run deep, especially with the stunning draft day trade that put Trubisky on the Bears and Thomas on the 49ers. Time will tell which team came out of the 2017 NFL Draft in better shape, but the 49ers made the conversation even more interesting when they traded a high 2018 second round pick for quarterback Jimmy Garoppolo. I reported the Bears' very real interest in Garoppolo last winter, but ultimately, Garoppolo wasn't available unless general manager Ryan Pace was willing to part with the No. 3 overall pick. We now know that he would have been overpaying by a lot. Of course, if Garoppolo ends up being better than Trubisky, that doesn't really matter.
In his own weird John Foxian way, Fox acknowledged the Bears' interest in Garoppolo, while Loggains referred to his time in Cleveland where he evaluated Garoppolo with Kyle Shanahan, who is now the 49ers' head coach.
"Jimmy was a guy we had a lot of respect for," Loggains said. "Graded very high. It didn't surprise me that Kyle traded for him to get him in the organization because I know how he felt about him as well. I think he has a chance to be a really good player."
At least here in Chicago, Trubisky and Garoppolo will always be linked. And they'll face each other for the first time Sunday at Soldier Field. For two teams with a combined 4-18 record, it's a pretty fun storyline. In fact, for a league plagued with bad quarterback play right now, Trubisky vs Garoppolo is one of the better quarterback matchups this week.
5. Garoppolo grew up a Bears fan, but he's never actually seen an NFL game at Soldier Field. So his first Bears game will consist of him playing as the opposing quarterback. That's pretty cool.
"Of course I was a Bears fan. Obviously I had the Urlacher jersey, but I had the A-Train (Anthony Thomas) jersey as well," Garoppolo said via conference call Wednesday.
Garoppolo isn't hiding his emotions about making his first 49ers start at Soldier Field.
"It's exciting. It really is," he said. "I've got a lot of family and friends going. They're just as excited as I am. It's going to be a fun opportunity."
6. Yet another big connection in this game is kicker Robbie Gould, who will make his first return to Soldier Field since he was surprisingly released right before the 2016 regular season. 
"I'm pretty excited to be in front of the fans, I'm not going to lie," Gould said. "I love those fans. I love the organization. Last year, I think I made it a little too emotional of a game, and obviously that was my worst game in the last two years."
Playing for the New York Giants last year, Gould missed two of three extra points against the Bears, but made his only field goal attempt, a 46-yarder. He is 31-of-33 on field goals since the Bears released him, and 36-of-40 on extra points.
"The last two years have been really great," Gould said. "I've had a lot of great coaching and a lot of awesome players around me. It's been a unique experience, but it's also been fun to get back to playing at a high level."
7. The Bears' defense could be getting a very significant boost this week as inside linebacker Danny Trevathan practiced Wednesday for the first time since suffering a calf injury against the Saints Oct. 29. Both Fox and Trevathan talked as if they expect the linebacker to play Sunday. Even though Nick Kwiatkoski and Christian Jones have mostly played well while Trevathan has been out, the Bears have missed the veteran's speed and experience.
8. While the defense will likely be getting Trevathan back, it could lose safety Adrian Amos. He did not practice Wednesday after suffering a hamstring injury Sunday. Second-year backup Deon Bush would be the next man up, but the Bears might need to make a roster move because DeAndre Houston-Carson hasn't been practicing because of an ankle injury. One possibility would be activating second-year defensive back Deiondre' Hall, who has been on injured reserve all season, but resumed practicing last week and is eligible to be added to the active roster. Hall played cornerback last year, but was moved to safety in the offseason and played safety at Northern Iowa too.
9. Lamarr Houston is back. Seriously. He was waived by the Houston Texans Tuesday and claimed by the Bears Wednesday. They are in need of outside linebacker help after Leonard Floyd went on IR with a knee injury last week. Houston spent three seasons with the Bears before suffering a knee injury in the fourth preseason game this year. He reached an injury settlement with the Bears on Sept. 6 and signed with the Texans once he was healthy. Houston played in five games with the Texans, recording one sack and one forced fumble.
10. Want some more entertainment value for a game between a 1-10 team and a 3-8 team? Ed Hochuli is the referee. Just admit it. You're going to watch this entire game.
Ed Hochuli is the referee for Sunday's game between the #Bears and #49ers at Soldier Field. pic.twitter.com/eZ1VKtraLw

— Adam Hoge (@AdamHoge) November 29, 2017
Adam Hoge covers the Chicago Bears for WGN Radio and WGNRadio.com. He also co-hosts The Beat, weekends on 720 WGN. Follow him on Twitter at @AdamHoge.