This is an archived article and the information in the article may be outdated. Please look at the time stamp on the story to see when it was last updated.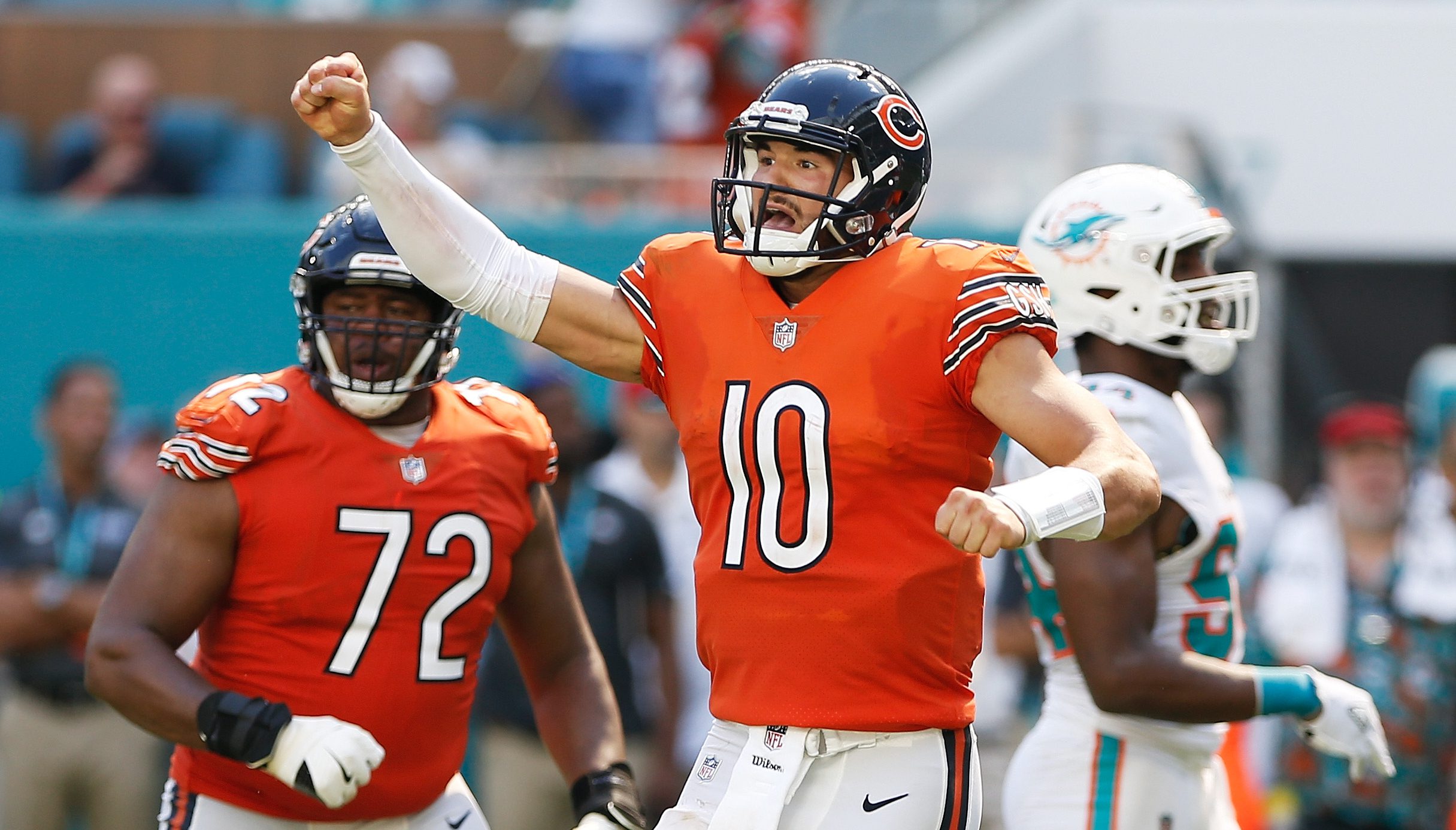 LAKE FOREST, Ill. — The Bears are relevant again. And I know they're relevant because they've already won more than half of the games they won during the entire 2017 season, their young quarterback is putting up numbers this franchise rarely sees — and everyone is mad. 
OK, not everyone. But it definitely seems like we're back to the days of the Bears being good, but not great, which means the fans are constantly tortured by what goes wrong in games they could've won.
And that's certainly better than how it was over the last four seasons.
But it's also leading to some bad opinions when it comes to the talented young quarterback who goes by the name of Mitchell — or sometimes Mitch — Trubisky. So let's start this week's 10 Bears Things column with a dose of perspective:
---
1. Wake Up And See What Trubisky Is Doing
Anytime a quarterback is missing wide open receivers downfield, fans are going to be frustrated. I get it. Those misses stand out, especially when they are missed touchdowns. 
Mitch Trubisky has missed too many of those throws this season. Just last week against the Patriots, I had him down for four errant throws on potential touchdowns, to go along with another one against the Dolphins the week before. The second-year quarterback also had multiple misses downfield to Taylor Gabriel in the first three weeks of the season.
The reasons for those misses have been exhaustively discussed, even by Trubisky, who has mentioned "happy feet," protection issues leading to late throws, and simply over or under throwing the football at times. 
But here are some encouraging points to keep in mind. For one, Trubisky has shown remarkable improvement in seeing the field. For the most part, he's going through his progressions, finding the open receiver and making the "right" throw, even when the throw itself is inaccurate.
Also, despite missing a handful of potential touchdown throws over the last few weeks, the Bears offense is putting up remarkable numbers, which is impossible to do unless you have a good quarterback. Check out these numbers for Trubisky over the last three games:
1,184 yards of offense
1,003 passing yards
12 passing touchdowns to only three interceptions
181 rushing yards and one touchdown
These are numbers the Chicago Bears never get from the quarterback position and it's why Matt Nagy's offense is putting up historic numbers right now. According to the Bears media relations department, the last time the Bears scored 107 points over three games was in 1989 when they scored 112 from Weeks 2-4.
And, again, Trubisky's errant throws appear to be masking what is otherwise a season every Bears fan would have easily accepted back in August.
Using ESPN's Total QBR, Trubisky ranks 10th in the NFL right now. That's ahead of Andrew Luck (12), Carson Wentz (14), Matthew Stafford (15), Cam Newton (16), Deshaun Watson (20), Russell Wilson (22) and, yes, even Aaron Rodgers (18). 
And when it comes to a sub-category of QBR referred to "points added" (number of points contributed by a quarterback above the level of an average quarterback), Trubisky ranks 9th — once again ahead of all of those previously mentioned quarterbacks.
Imagine where he would be if he had hit on just half of those missed throws downfield.
The point here? Mitch Trubisky and the Bears are doing some very good things right now. And there's a lot of room for improvement. A skeptic might say that Trubisky is never going to fix his accuracy. An optimist would probably tell the rest of the NFL to watch out.
---
2. Rest Mack Or Keep Him Going?
While Trubisky continues to get most of the attention, the reality is that the Bears' defense and special teams have played a much larger role in losing the last two games. It seems unfathomable that one ankle injury to Khalil Mack could have such an enormous impact on the Bears' pass rush, but it has simply disappeared since the bye week. 
"Well, certainly (Mack's injury) is part of it, but I don't think it's one of the main reasons, but it's definitely part of it," defensive coordinator Vic Fangio said Thursday.
The public debate this week seems to be about whether or not Mack should be shut down for a week or two to make sure he's back to his dominant self during the second half of the season. I understand the logic, but the Bears must feel like he can recover over the course of a few weeks with rest, treatment and limited practice time, while still playing on Sundays. If that's what the medical opinion is, then that makes sense. While Mack was clearly hobbled against the Patriots, he was still commanding extra attention and it's up to the rest of the pass rushers to take advantage. 
Fangio probably overreacted to Tom Brady's ability to get the ball out quickly by retreating his pass rushers back into coverage too often, but the defensive coordinator also brought up a good point that hasn't been discussed much:
"The thing that happened in that game too that affected all the points you guys are making is that we only had one 3rd-and-7 the whole game. The rest of them were 3rd-and-1s and 2s primarily, and then there were one or two 3rd-and-3s and then the other 3rd-and-6 we had was their last play, when they were trying to run the ball out. We didn't get them in third down and obvious pass situations."
That certainly didn't help.
---
3. Getting Miller involved
I don't typically give out fantasy advice, but if you're desperate for a wide receiver this week, check out Anthony Miller. Those five missed passes for potential touchdowns over the last two weeks? Four of them were in Miller's direction. And he caught a touchdown against the Dolphins too. 
Plus, Trubisky has said multiple times this week that he needs to get the ball to Miller more.
"He separates and he has that dog mentality that he's always open and he wants to make big plays for this offense," Trubisky said. "There are just a couple more details that he and I need to go through to get on the same page. And we're going to connect on some of those throws that I missed and that we both weren't on the same page with."
Trubisky also mentioned that he needs to make sure Miller "understands all the details of this offense, especially when we move him around." 
Miller had a false start last week and has had a few issues with lining up correctly, but after dealing with a shoulder injury, he could be on the verge of breaking out with Trubisky.
---
4. Challenge Flag
To the Bears defense… The Bears are one of three teams to have leads in every single game they've played this season. The other two teams? The Rams (7-0) and the Chiefs (6-1). The problem is, the Bears are only 3-3, which is amazing considering that they appeared to have the best defense in the NFL over the first month of the season. You'd think they'd be able to protect second half leads better.
This unit legitimately blew games against the Packers and Dolphins and, while the special teams was more to blame for losing the 10-point lead against the Patriots, the defense failed to get the fourth quarter stops necessary to beat New England.
As Trubisky and the offense continues to improve each week, Vic Fangio's unit has to do its job if the Bears have any realistic hopes of making the playoffs.
---
5. Watch The Tape
Nothing seems to have Nagy frustrated more than the lack of a consistent running game. After watching the run game very closely on the coaches' tape, I would say the Bears especially have to do better between the tackles:
#Bears film – I have the Bears down for 15 runs between the tackles Sunday, averaging 3.06 yards/carry. 13- Howard, 2- Cohen. Longest was for 6 yards. Shortest was no gain. This includes a 2-yard TD run by Howard and another 1-yard TD run that was nullified by illegal formation.

— Adam Hoge (@AdamHoge) October 23, 2018
---
6. The Opponent: New York Jets
After three straight home games, rookie quarterback Sam Darnold brings the Jets to Soldier Field for their first road game in nearly a month. Darnold certainly has upside in the future, but hasn't been nearly as good as he's getting credit for early in the season. You know those QBR numbers I referenced for Trubisky earlier? Well, Darnold is 31st in QBR (35.7) and is 32nd in points added, ahead of only Josh Allen. In fact, Darnold's points added number is -11.6, which means he's cost the Jets 11.6 points more than the average quarterback.
The Jets don't have a whole lot of fire power on offense and are banged up. Running back Bilal Powell was put on injured reserve this week and wide receivers Robby Anderson and Quincy Enunwa are both dealing with ankle injuries. Running back Isaiah Crowell can be dangerous and will test the Bears' recent tackling issues, but despite some inflated offensive numbers against poor opponents, this should be the worst offensive team the Bears have faced since the Cardinals in Week 3.
On defense, safety Jamal Adams and defensive tackle Leonard Williams are legitimate stars, but the Jets have the 20th ranked defense overall and are giving up 284.8 passing yards per game, which ranks 26th. The Bears should be able to continue their offensive growth in this game.
---
7. The Pick
Bears 31, Jets 20
If not for the Bears' inexplicable defensive struggles the last two weeks, I would call for a bigger blowout here. Yes, the Bears are 3-3 and the Jets are 3-4, but if you dive into the tape, you see that one team is much more talented than the other. That said, we'll learn a lot about this Bears team Sunday in a game they should win comfortably. It's the NFL. Anything can happen. And if the Jets win, uh oh. 
---
8. Quote of the Week
"Contrary to public opinion, I had a feeling what was happening."

– Bears defensive coordinator Vic Fangio when asked this week about when he realized the Bears were going to draft Mitch Trubisky instead of Jamal Adams.
---
9. Tweet of the week
Wondering what went wrong with #BearsSpecialTeams last week? Here's Bill Belichick to break it down for you:
A special (teams) version of the Belichick Breakdown.

BB walks us through the film of the top plays from Chicago. pic.twitter.com/C10muaTUVh

— New England Patriots (@Patriots) October 25, 2018
---
10. Final Thoughts
— If you missed the end of Monday night's game between the Giants and Falcons, then you missed Giants head coach Pat Shurmur going for two after scoring a touchdown with 4:47 left in the game to bring his team within 20-12. The two-point conversion was unsuccessful after Odell Beckham Jr. dropped a pass from Eli Manning, and the ESPN broadcast crew of Joe Tessitore, Jason Witten and Booger McFarland lost its damn mind. 
See, the thing is, the analytics show that you should go for two in that situation. If you get it, your odds of winning increase by 50 percent. If you don't get it, you still have an opportunity to tie the game by going for two on your next touchdown. Of course, if you just kick two extra points, the best case scenario is that you tie and force overtime, but that's assuming you make both kicks, which is no longer a certainty.
The reason why I bring this up is because the Bears were in a similar situation on Sunday and Nagy elected to kick the extra point after scoring a touchdown with 4:17 to go that brought the Bears within 38-31. Now, despite what the analytics show, I'm not against a coach playing it straight, hoping for two touchdowns and two extra points. Every team is different and a coach may feel comfortable with his team winning in overtime, especially at home.
But here's where there is no debate: Had Kevin White crossed the goal line on the Hail Mary at the end of regulation, Nagy absolutely should have kicked the extra point — and the reasoning is based on his decision to kick the extra point on the previous touchdown. See, if you are going to go for two after the Hail Mary in a situation where you either win or you lose, then the right move is to go for the two-point conversion after the first touchdown. That way you are either in position to kick the extra point to win after the second touchdown, or you have another crack at a two-point conversion to tie. If you don't get it at that point, you lose, but that's the same negative outcome as waiting to go for two after the Hail Mary? You follow?
Who knows what Nagy would have done, but you'd like to think the Bears are following the analytics in those situations. Because he kicked the extra point after the first touchdown, that tells me he would have kicked it again and played for overtime.
— One interesting connection in Sunday's game is that Jets head coach Todd Bowles was technically the first coach Ryan Pace ever interviewed as general manager of the Chicago Bears. While the Bears were finalizing the hiring of Pace back in January of 2015, Bowles happened to be at Halas Hall that day after his previously scheduled interview for the head coaching job was moved up a couple days. Remember, the Bears were simultaneously interviewing head coach and general manager candidates and went through a number of first round interviews with coaches like Adam Gase before they hired Pace.
The circumstances are somewhat awkward, but Pace was asked to interview Bowles since he was already in the building. It's unclear if Bowles was even on Pace's short list of head coaching candidates, but he ended up being the young GM's first interview. A few days later, Bowles was hired by the Jets, while Pace scooped up John Fox after he was fired by the Broncos.
Enjoy the game, everyone.
Adam Hoge covers the Chicago Bears for WGN Radio and WGNRadio.com. He also hosts "The Hoge & Jahns Podcast." Follow him on Twitter at @AdamHoge.