This is an archived article and the information in the article may be outdated. Please look at the time stamp on the story to see when it was last updated.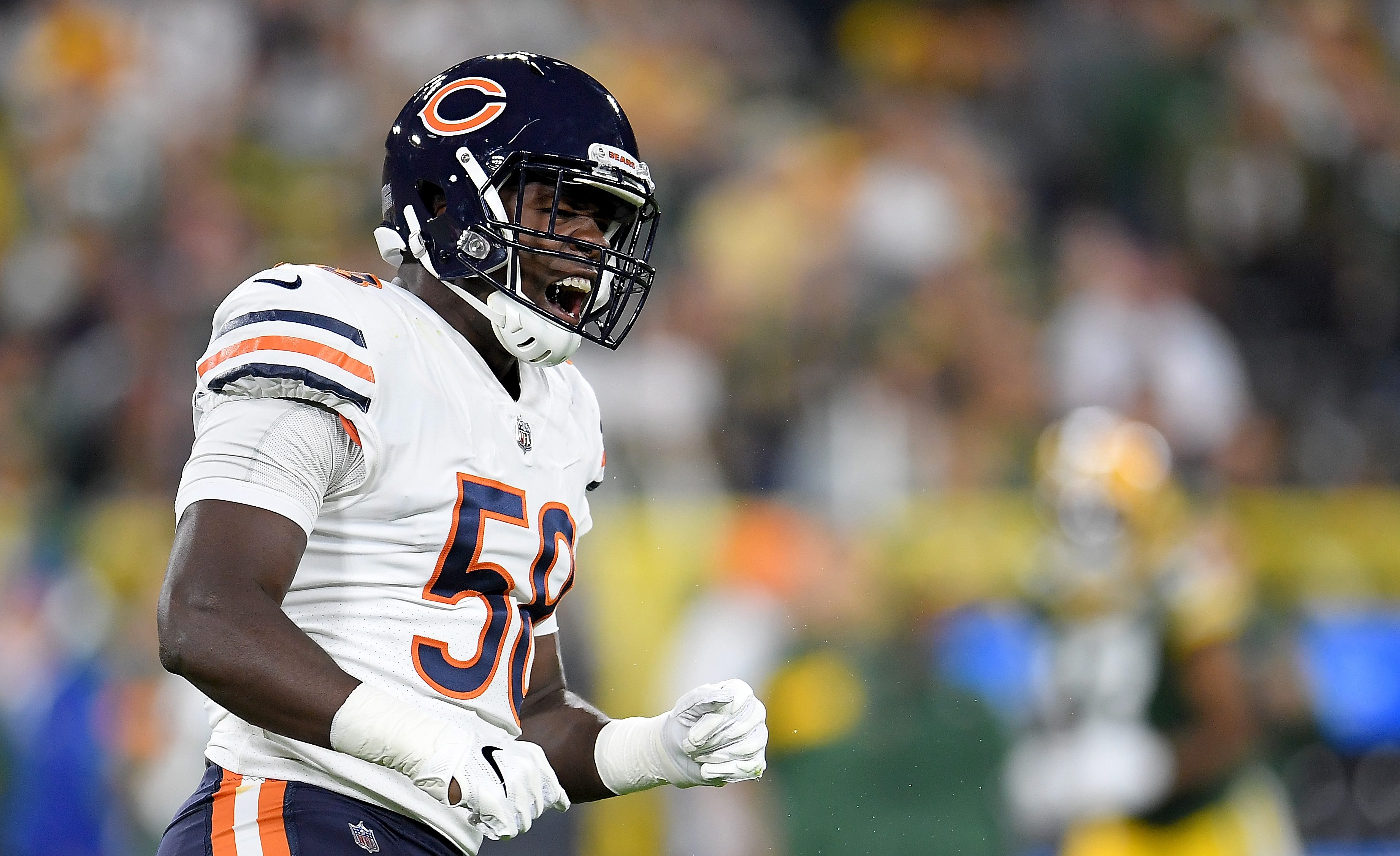 LAKE FOREST, Ill. — Earlier this week when Matt Nagy arrived for his first Monday afternoon postmortem at Halas Hall just 13 hours after the Bears' brutal 24-23 loss in Green Bay, you could tell the shock of the defeat had not subsided. 
Sleep wasn't really an option. The most important week of Nagy's short tenure as head coach was already here. Really, the job had really just begun.
"It definitely hurts. It stings," Nagy said. "But we need to use this. We need to go ahead and use this to get better."
That's been the task this week in Lake Forest. All the good vibes — the training camp optimism, the encouraging start in Green Bay and, frankly, the best football we've seen the Bears play in a long time — all went out the window in the second half Sunday night at Lambeau Field. 
Now it's Nagy's job to recapture the encouraging momentum that existed before the Bears coughed up a 20-0 lead against their biggest rival and unleash it Monday night at Soldier Field in a very winnable game against the Seahawks. 
With that goal in mind, let's jump into this week's 10 Bears Things:
---
1. Time To Unleash Roquan
The box score shows rookie linebacker Roquan Smith only played eight defensive snaps in the season-opener. 
The tape shows Nick Kwiatkoski was benched in favor of Smith late in the game. 
It's undeniable that Smith's speed is a weapon that must be used, and it was needed against the Packers when Rodgers kept picking on Kwiatkoski, who was trailing in coverage too often. It's only a matter of time before the No. 8 overall draft pick takes over the starting middle linebacker role. I don't know if it will be as soon as Monday, but Smith seems poised to play a lot more.
"I do feel like right now, with that time he's had, he's in a position to play more," Nagy said Thursday.
---
Listen — Hoge & Jahns Podcast: Week 2 Bears-Seahawks, NFL Preview 
---
The Bears were being extra careful after the minor hamstring tweak Smith suffered following his nearly month-long holdout, and they weren't sure how'd he react in his first game action in Green Bay. The results were limited, but they were positive as he showed the ability to cover, tackle laterally and even rush the quarterback in just eight snaps. 
Smith also says he's had no issues learning the defense. 
"I knew the game plan going into the game so I felt like I can do that to the best of my ability and I pretty much knew everything so it wasn't anything where I was like, 'Oh I don't know what to do in these cases and scenarios,'" Smith said.
If defensive coordinator Vic Fangio and inside linebackers coach Glenn Pires agree, then you can expect to see a lot more of Smith against the Seahawks.
---
2. Fix It In A Snap
After a disastrous couple of days snapping the football in Denver, center Cody Whitehair changed his technique in last month's preseason game against the Broncos and appeared to make some progress. But that was Aug. 18 and he didn't play in another game until Sunday, when a high snap in a crucial moment proved costly for the Bears. 
With the Bears leading 20-17 and 3:05 left in the game, Trubisky and Jordan Howard had driven down to the Packers' 22-yard-line with a chance to put the game away. Instead, Whitehair's snap got away. The Bears settled for a field goal, and, well, you know the rest.
"It can't happen like that in the red zone when we need to make a play, then it stands out," offensive line coach Harry Hiestand said this week. "We need to eliminate the ones that he can control."
Hiestand was quick to point out that not every shotgun snap is going to be perfect during the course of a game, but the errant ones that kill a play can't happen. In this case, Whitehair's snap nearly flew over Trubisky's head. The quarterback was able to knock it down, but he had no other option than to go down after that, losing three yards. 
"I think there was only one, maybe there was two," Hiestand said. "I mean, there were some that were a little bit higher than you'd like, but the one where (Trubisky) had to really change what he was doing, that one was down there in the red zone. We got to eliminate that. But no matter who is snapping the ball, the ball is not going to be there 50 times out of 50 in the exact same spot. But we can eliminate the ones that affect the play negatively. It can't happen. Just can't happen."
Still, given the rhythm and timing necessary in Nagy's offense, Trubisky needs to be able to trust the snaps. On the final drive of the game, when he threw the ball over Tarik Cohen's head in the flat, the snap was slightly off. Trubisky has to make the throw, but the snap got him out of the rhythm of the play from the start. 
Unfortunately, this is a storyline that refuses to go away.
---
3. Overlooked Play Of The Week
While Aaron Rodgers and Randall Cobb were in the middle of ripping the hearts out Bears fans yet again — this time with a 75-yard touchdown — a very notable thing happened if you could bare watching the play all the way to the end.
Did you notice who almost made the tackle at the goal line?
Khalil Mack.
On Monday, when outside linebackers coach Brandon Staley was asked which play stood out to him the most, that's the play he singled out.
"The chase play, the long one at the end, says a lot about what type of competitor he is," Staley said. "There's just not many players that are going to run 75 yards down the field after a rush."
---
4. Challenge Flags
In a new feature, let's throw some challenge flags out to some fans and even one player…
To those doubting Trubisky already… when I tabbed him as my No. 1 quarterback in the 2017 NFL Draft, I also gave him a mid-first round grade because I didn't feel like he was ready to start in the NFL right away. I believed he would become a good NFL starting quarterback (and still do), but we can't forget that he has only started 26 games since high school. I know everyone wants instant results, but don't lose sight of that.

 
To those constantly asking why rookie guard/center James Daniels isn't playing… isn't the answer obvious?
"It's like any player that you have on your team," offensive line coach Harry Hiestand said this week. "If a player that you have gives you the chance to be better or is better than the player in front of him, then he's going to get reps. If he's not, he's not."
The good news is that Daniels was active in Week 1 and is the backup at center and both guard spots. That means if any of the interior linemen were to go down, the coaching staff feels comfortable enough with the rookie going into the game.
To Jordan Howard… dude, stay in bounds. The Bears ended up needing the extra time because the Packers scored so fast, but with 3:12 left in the game, Howard failed to stay in-bounds, preserving a timeout for Green Bay. Howard barely stepped on the line, but he needs to do everything in his power to stay in-bounds and he was way too casual near the sideline. A coaching point for sure.

 
---
5. Watch The Tape
One of the biggest questions I had from Week 1 was how the Bears' pass rush could be so dominant in the first half and almost non-existant in the second half when Aaron Rodgers was on one leg. As usual in football, there were many explanations. 
For one, I don't think there's any doubt the Bears' defense got tired. Khalil Mack missed all of training camp and only had three practices before the game. Akiem Hicks looked a little gimpy in the second half, and the offense didn't help with two three-and-outs in the second half. 
But the Packers also made a key adjustment, sliding extra protection over to the right side, where Mack lined up on every single one of his pass rushing attempts. Right guard Justin McCray was really struggling, so they helped him. Take a look at this screenshot from the third quarter, when the Packers slid four offensive linemen to the right side to account for Hicks and Mack. 
Of course, this was only possible because Green Bay has an All-Pro left tackle in David Bakhtiari who they could put on an island. In this case, he neutralized Roy Robertson-Harris and Rodgers hit Geronimo Allison for a 15-yard gain. But there were also times when Leonard Floyd had 1-on-1 opportunities on the left side. 
Mack's presence is going to continue to open up opportunities like this for other Bears pass rushers. The other team gets paid too and Bakhtiari is really good, but Floyd and Co. need to be able to take advantage of easier 1-on-1 matchups going forward.
Which brings us to… 
---
6. The Opponent: Seattle Seahawks
In the Seahawks opener against the Broncos, Seattle allowed six sacks, eight tackles for loss and 11 hits on quarterback Russell Wilson. That has to have Mack and Hicks drooling this week. 
The Seahawks' offensive line is pretty bad and 33-year-old left tackle Duane Brown probably won't be able to consistently win 1-on-1 matchups like Bakhtiari did last week — at least he shouldn't. On the other side, right tackle Germain Ifedi really struggled against the Broncos. The Seahawks are certainly going to have to give him help if Hicks and Mack consistently lineup on that side together like they did in Week 1. Look for more twists and stunts, which caused Seattle a ton of problems against the Broncos.
Meanwhile, new offensive coordinator Brian Schottenheimer is going to see what worked so well for the Packers in the second half and ask Wilson to get rid of the ball quickly. Earlier this week I asked Bears defensive line coach Jay Rodgers what he emphasizes against a quick passing game and this was his response: 
"We either have to make our hands better or our hips better or, bottom line, get our hands up. Because if the ball is out fast, then you're not going to get two, three, four seconds to sit there and pass rush the entire time."
The corners can also play better. Prince Amukamara and Kyle Fuller both have new contracts and need to produce more than they did against the Packers. Look for Fangio to mix up coverages and drop linebackers into coverage to confuse Wilson. It worked for Denver. Don't be surprised if someone like Roquan Smith gets an interception in this game.
The Seahawks' running game should be slightly better than the Packers' non-existent running game, but it's not great. This is a game that Russell Wilson is going to have to win. Advantage: Vic Fangio, Khalil Mack and Akiem Hicks. 
On the other side of the ball, the Seahawks' defense is a shell of its old self. Yes, they intercepted three passes last week, but Case Keenum had a lot to do with that. K.J. Wright, Bobby Wagner, Tre Flowers, Dion Jordan and Bradley McDougald are all on the injury report already. To prove their desperation, they just signed a guy who is literally awaiting sentencing for insider training. Yes, the NFL is apparently going to let Mychal Kendricks play this week. Sometimes I think the NFL actually is "Playmakers," that ridiculous (but amazing) ESPN drama series from 2003.
---
7. The Pick
Bears 24, Seahawks 17
It's actually somewhat difficult to see how the Seahawks are going to score 17 points in this game considering the huge advantage the Bears have on their offensive line in this game. That said, I expect to Trubisky to be a little more aggressive Monday night and that could lead to a turnover that gives Seattle extra points. 
On the flip side, extra aggressiveness from Trubisky should lead to bigger plays and he and Nagy should be able to come up with more answers and more than just one offensive touchdown. 
The Bears are the better team and the emphasis on "finishing" after last week's collapse will have them highly motivated to win on Monday night. 
---
8. Quote Of The Week
Trubisky on the misleading screenshot going around social media that showed tight end Tre Burton wide open in the middle of the end zone with his hands up:
"I'm sure everyone saw what I saw and they're like, 'Oh, Mitch, throw to the wide open guy in the back of the end zone.' Trust me, I wish I would. Tarik was the first option in the flat. It's one of those plays where (you think), 'How risky are you going to be, are you going to take care of the football?' I checked it down, we lost five yards, but we got three points out of it and went up 10-0. So that was the big positive takeaway for me. But moving forward, if I want to evolve into the quarterback I want to be, you've got to take the opportunity and I've got to anticipate that even more. That wasn't something that happened in practice at all that week. But you've got to know as a quarterback if that opens up, take your chances and get it to the guy wide open. But it's a little less wide open when you're playing it full motion on film. When you've got the still picture, which I'm sure a lot of people saw, it looks like I don't know what I'm doing. Trust me, I'm hard on myself. You want touchdowns, not field goals. But I thought I put myself and my team in a good position in that instance, first quarter, check it down, three points, we're up 10-0."
---
9. Tweet Of The Week
My friend Laurence Holmes' response to the above explanation from Trubisky:
I appreciate him not caping for himself. And maybe Nagy can beat the Fox out of him. I'm ok with risk calculus, but at some point he's gonna be counted on for more.

— Laurence Holmes (@LaurenceWHolmes) September 13, 2018
I like the way Laurence put that: "beat the Fox out of him." We have to remember that all but one of Trubisky's starts so far took place in an offense that valued the football like there were C.I.A. secrets inside of it. Trubisky's first instinct last year was not to take chances. Nagy wants him to be more aggressive. And that also means staying in the pocket longer, even when there might be danger around him.
"It comes from me wanting to take care of the football, and then, two, not taking sacks. Yes, it helps our offense in some areas, but it can also get me into trouble when I don't need to. I've got to find a happy median, and in practice it's going to be pocket movement, moving around defenders in the pocket and continuing to keep my eyes downfield so you can find receivers," Trubisky said.
The good news is that Trubisky's college tape shows a quarterback that did have good pocket awareness and natural instincts to side step a rush while keeping his eyes downfield. Again, he just needs to get more experience and find more comfort at the NFL level. 
---
10. Final Thoughts
Let's not ignore that Cody Parkey went 3-of-3 on field goals from 26, 33 and 32 yards out. Yes, these should be automatic for an NFL kicker, but they haven't been for Bears kickers the last couple of seasons. It was a nice start. The Bears need more consistency from their kicker this year, especially if they are going to be involved in tight games all season.
The Bears missed tight end Adam Shaheen in Green Bay. The 2017 second-round pick is the most complete tight end on the roster and was poised for a breakout season before injuring his ankle/foot in the preseason. The hope is that he can come off injured reserve and contribute later in the year. The Bears need that to happen.

 

Last season I went on a rant on The Hoge & Jahns Podcast about how everyone needs to raise their expectations for players. The premise was basically that so many bad players had been taking the field for the Bears for so long that fans and media were forgetting what great football players look like. Khalil Mack is what a great player looks like. He's a game-wrecker. Very few players are on that level, but the Bears finally have one again. No matter what happens this year, it's going to be a treat watching him this year. Don't take it for granted.

 
Have a great weekend, everyone. Enjoy the game on Monday night.
Adam Hoge covers the Chicago Bears for WGN Radio and WGNRadio.com. He also hosts "The Hoge & Jahns Podcast." Follow him on Twitter at @AdamHoge.