This is an archived article and the information in the article may be outdated. Please look at the time stamp on the story to see when it was last updated.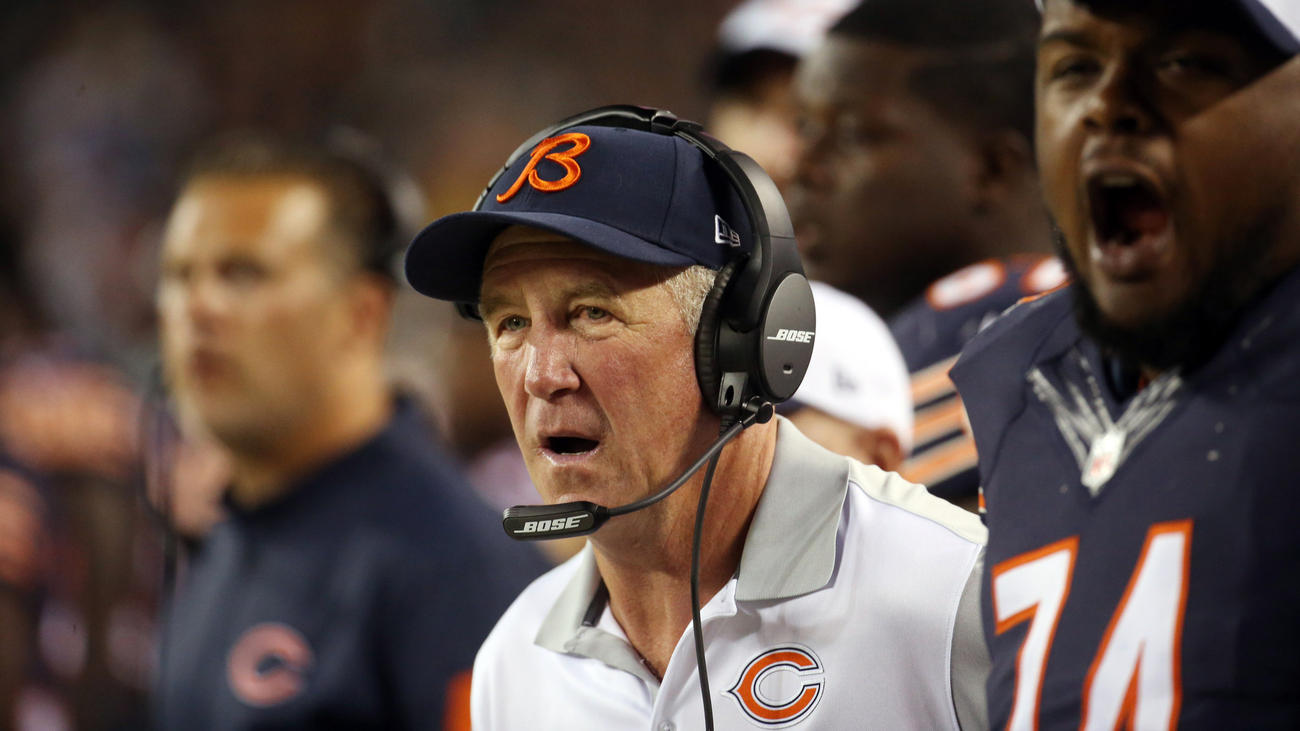 In the aftermath of last night's Bears win over the Dolphins, I provided some initial observations from the game, including five positives and five negatives. After re-watching the game, here are ten more "things" I took away from preseason opener:
1. Stay away from the ledge, people. There seems to be an overwhelming sense of doom after Thursday night's game because the No. 1 defense allowed a 14-play scoring drive and the No. 1 offense quickly went three-and-out. Relax. I know this team has built up zero credibility so far, but  when the coaching staff looks at the tape, they will be evaluating individual personnel, not the full team.
Do you want the No. 1 defense allowing a 14-play touchdown drive to start the game? Absolutely not. Especially because the Dolphins were guilty of two holding penalties too. You have to get off the field.
But let's look at the individual performances. Going into the game, there were seven players in particular I wanted to evaluate on the No. 1 defense: Ego Ferguson, Jarvis Jenkins, Jared Allen, Shea McClellin, Christian Jones, Tim Jennings and Brock Vereen. Of those seven players, only one had a poor drive: Brock Vereen. The players who struggled on that drive (other than Vereen) were Kyle Fuller, Antrel Rolle and Pernell McPhee, three guys you theoretically should be able to count on in the regular season.
Also, keep in mind that Vic Fangio was running one of the most basic defenses he's ever run. I only saw one blitz the entire drive. When he looks at each individual on the field, he's going to see more good than bad.
2. The same goes for the offense. Jordan Mills absolutely can not start the game with a false start, but to slam the entire offense for a three-and-out when they're starting with a 1st-and-15 without Matt Forte, Alshon Jeffery and Kevin White on the field isn't fair.
If anything, the offense looked pretty good on their second drive, which started at their own 9-yard-line. The offensive line blocked well and running back Jacquizz Rodgers picked up a total of 26 yards on three carries in a row. The drive was derailed by an Eddie Royal illegal formation penalty, but Cutler made a nice read and throw to Royal on third down to get into field goal range. The Bears were actually going to go for it on 4th-and-2, but center Will Montgomery was guilty of a false start.
Are the penalties concerning? Yes, but keep in mind that both penalties on the second drive came in no-huddle situations and the Bears were running Adam Gase's offense for the very first time against a live opponent. Royal was playing a different position than he has been practicing in (because of Jeffery's late injury) and it's unlikely we see Montgomery commit a false start on a 4th-and-short again this season. He's working with a new quarterback too. That's not Peyton Manning standing behind him anymore.
Are these excuses? Yes. But decent excuses for the first preseason game when both the offensive and defensive systems are brand new. It's only a problem if it becomes a trend.
3. Bears fans got a good look at a prominent new offensive wrinkle. Gase runs a ton of no-huddle. It's been on display in Bourbonnais and the Bears used a lot of it against the Dolphins. Typically, you'll see the offense go no-huddle after a decent gain, but there's some unpredictability too. For example, after an incomplete pass on 2nd-and-15, Cutler went no huddle and picked up 13 quick yards to Royal to get into field goal range.
4. The defensive line showed some surprising depth. This unit has to consistently control the line scrimmage for Fangio's scheme to work and I thought the top seven guys all played well Thursday. The starting unit consisted of Jeremiah Ratliff at the nose with Ego Ferguson and Jarvis Jenkins on the ends. Jenkins made a nice play on the first snap of the game and Ferguson drew a holding call and made a really nice goal line play, shedding a block and stuffing a would-be touchdown run. Rookie Eddie Goldman saw 26 snaps (a third of the total defensive snaps) and played well at the nose while the coaches got a glimpse at his stamina. Will Sutton was one of my five positives from the game, while Brandon Dunn looks like a good fit in this scheme. Cornelius Washington also had a strong night as he forced a poor pass on Sam Acho's interception. If he shines on special teams, he could actually make the 53-man roster.
5. It was a pretty good start for McClellin and Jones in the middle. Initially I thought McClellin made a bad gamble when he went for an interception on what turned out to be a seven-yard completion to Dion Sims, but the replay showed McClellin was there. Tannehill just threw a perfect pass just outside his reach. Later on the drive, McClellin weaved through traffic and dodged a Mike Pouncey block to make an open field tackle. Christian Jones, meanwhile, was slow to recognize Sims coming across the middle on a crossing route, but made two really nice run stops, including standing up running back Damien Williams at the goal line. Overall, not bad for their first real action in Fangio's defense.
6. You saw a couple different nickel packages. When deploying five defensive backs, Fangio will sometimes remove a linebacker and sometimes remove a defensive lineman. Christian Jones was the linebacker who came out in 3-3-5 situations, leaving McClellin in the game to relay the defensive calls. When the defensive lineman is removed, the defense is left in a 2-4-5, but those are often the situations you'll see Jared Allen come down to the line of scrimmage and rush from his old position. In fact, that nickel personnel grouping will look similar to the 4-2-5 the Bears used to run, just with more variation of techniques on the defensive line and blitzes from the linebackers.
7. Ka'Deem Carey probably earned a job… on another team. The situation just doesn't look great for him in Chicago. Jeremy Langford is unlikely to get cut because this regime drafted him, and Forte and Rodgers are the clear cut No. 1 and 2 running backs right now. Meanwhile, Senorise Perry was used like a core special teamer against the Dolphins, something Carey definitely is not. Carey played well, gaining 34 yards on seven carries and a touchdown, but he still looks like a longshot to make this roster. There's little doubt another NFL team will make note of his performance Thursday night, however.
8. Rookie center Hroniss Grasu has a bright future, but he's learning on the job. That was evident on his first series when he was pushed straight backward, resulting in a three yard loss for Langford. Grasu has tremendous makeup and should become a future leader on the offensive line, but there's a reason why Montgomery was brought to Chicago. He knows Gase's system and he'll be the steady anchor in the middle as long as he's healthy. And it's in the Bears' best interest for Montgomery to stay healthy this year.
9. I touched on this in my initial observations, but if I had to put two players on notice after the first preseason game they would be Brock Vereen and Jordan Mills. Both players came to training camp unproven and both struggled Thursday night. There weren't many surprises in the first preseason game, but I thought Vereen only getting 17 snaps was surprising. He left the game with most of the other defensive starters, while veteran Ryan Mundy ended up playing 27 snaps with the second unit. Vereen needs those reps much more than Mundy.
10. Did you notice the zone-read? Senorise Perry's 54-yard touchdown run came on a zone-read with quarterback Shane Carden in the game. We have yet to see any zone-read with the starters, but it was sprinkled in with the backups Thursday.
Adam Hoge covers the Chicago Bears for WGN Radio and WGNRadio.com. He also co-hosts The Beat, weekends on 720 WGN. Follow him on Twitter at @AdamHoge.