This is an archived article and the information in the article may be outdated. Please look at the time stamp on the story to see when it was last updated.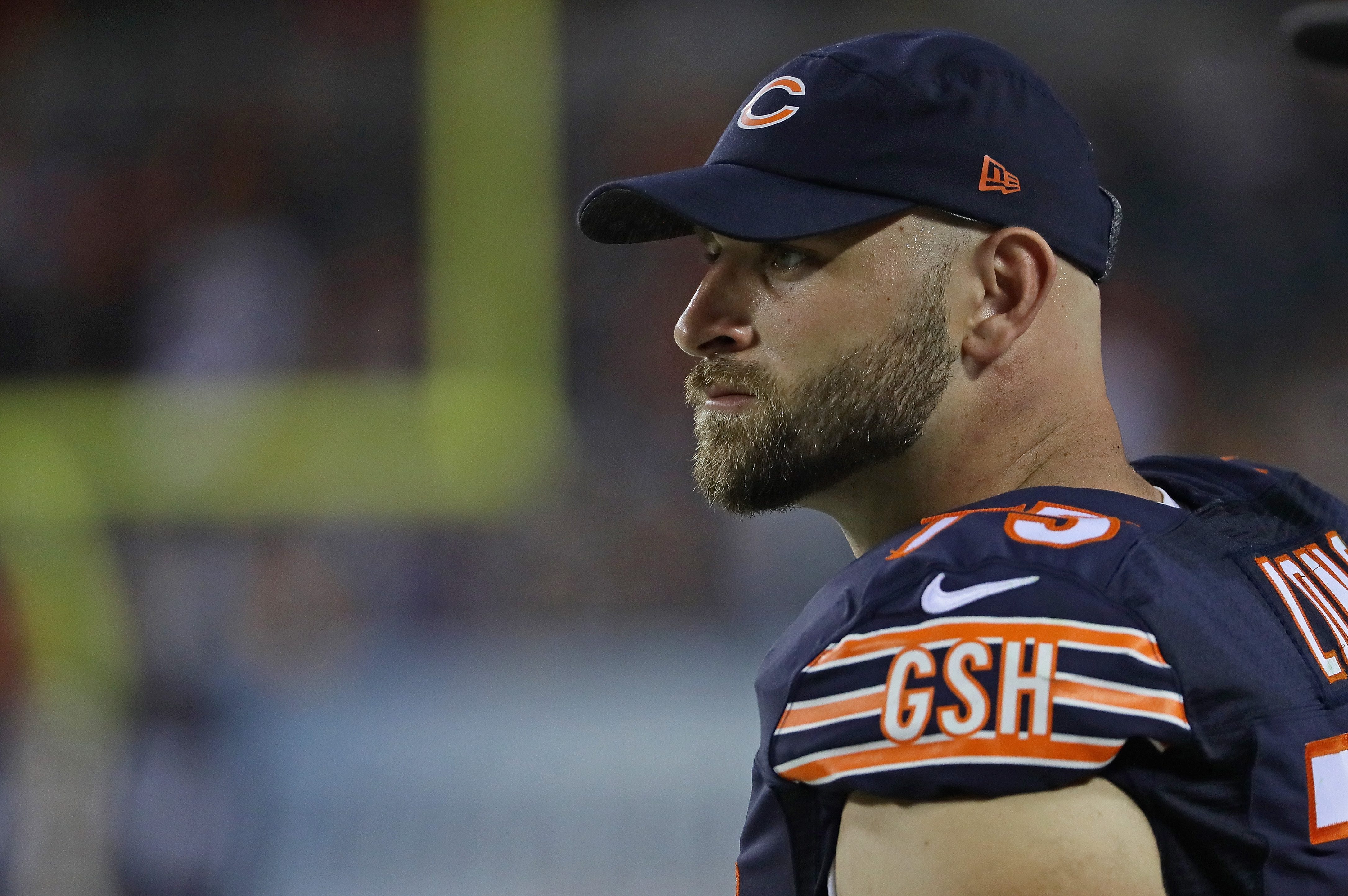 LAKE FOREST, Ill. — Here are 10 things you should know as the Bears get ready for Saturday's third preseason game against the Kansas City Chiefs at Soldier Field:
1. Kyle Long's shoulder injury is somewhat concerning, even if it ends up being minor. The Chicago Tribune reported Tuesday that he's dealing with "a labrum issue," which usually means the best case scenario is pain management and the worst case scenario is surgery. If it's just a minor tear, it's something Long can play through and get corrected in the offseason, if necessary. However, if it's a posterior labral tear from a dislocation, it could be a much bigger problem. According to Dr. Neil Ghodadra, a sports orthopedic surgeon who often contributes to WGN Radio, the latter would mean three weeks of rehab and therapy, putting the start of the season in major doubt. And if he went on to suffer another dislocation, Long would likely be done for the season.
That's the worst case scenario though and there were absolutely no signs in New England that Long had dislocated his shoulder, although we are talking about one of the toughest guys on the team. Chances are Long will play with the injury and play well.
PODCAST — Intentional Grounding, Episode 44: Roster Battles Heating Up
"I'm not really that concerned," quarterback Jay Cutler said Wednesday.
All this said, there's always the risk of doing more damage and it's notable that Long is playing on the fourth year of his rookie deal. The Bears already picked up the fifth-year option, but both the team and the three-time Pro Bowler have to be thinking about an extension at some point. Just something to keep in mind.
For now, there's 18 days until the season opener in Houston and the best thing for Long to do is rest and get that shoulder ready for the Texans.
2. This is a huge week for Cornelius Edison. With Long's injury, Ted Larsen has moved to right guard, leaving little-known Cornelius Edison as the Bears' starting center for Saturday's preseason game against the Chiefs.
And here's why he's so unknown: Not only did Edison play at Portland State (an FCS school), but right before the 2015 NFL Draft, Edison suffered a torn ACL while backpedaling during a pre-draft workout. It was horrible timing. Not only did Edison go undrafted, but he also went unsigned, as no NFL teams were willing to sign an offensive lineman with a torn ACL.
"It was definitely hard to swallow, just going through that injury," Edison said. "That wasn't the easiest thing. I was not expecting that to happen. But it happened. I had to take it and work through it."
Barely known before the draft, Edison basically disappeared from the public radar after his knee injury. But there was one team that kept its eye on him: the Chicago Bears. Edison had worked out for the Bears before the draft and, in late November, when the center was cleared from his knee injury, they signed him to their practice squad where he remained the rest of the season.
Saturday, he'll likely start the team's third preseason game at center and the door is wide open for him to make the team.
"It's a good opportunity," Edison said. "Just grow my confidence up and know that these are the best guys out there and I can play with them."
But as big of a week as it is for Edison, it's a big week for the Bears too. They don't have many other options at center, and could really use a young 23-year-old to emerge at the position. Assuming Long returns for the regular season, Larsen can move back to center, but he's somewhat limited at the position. Remember, the Bears released Matt Slauson because they wanted to get more athletic on the interior of the offensive line. Larsen isn't exactly the answer in that regard, especially at center, and there were two plays against the Patriots last week in which he failed to get out to the perimeter and make his block. While the tape on Edison is limited, examples of his mobility/athleticism exist, even if it is against FCS competition.
— Cornelius Edison (@cedison_) July 1, 2015
Cornelius Edison pancakin fools (Vine by @DucesII) https://t.co/71QHzIdJig

— Cornelius Edison (@cedison_) June 23, 2015
"I see my athleticism as a big side (of my game), and my physical attributes," Edison said. "I just have to keep working on the (mental) side — knowing my playbook, knowing my assignments and everything."
He's been working on that all offseason. But now he's snapping the ball to Jay Cutler. And Saturday, he'll do it against the Chiefs' starting defense. If he has success, it will be a major development for both Edison and the Bears.
3. In the meantime, Larsen seems more comfortable at guard, which isn't surprising. There's less to worry about at the guard position and Larsen believes he can be more aggressive there.
"When I'm playing center, I have to keep a calm mindset," Larsen said. "You've got to worry about ID'ing the defense and making all the (MIKE) points and snapping the ball. At guard, you know what you're doing, but you can do it at a higher aggression level. Going back to guard, that's cool. I can go back and be aggressive."
Right guard is Larsen's third position on the offensive line since the start of training camp. After starting at left guard, he kicked inside to center after Hroniss Grasu tore his ACL and now the veteran is filling in for Long at right guard. But this isn't the first preseason Larsen has had to move around the offensive line as he started the 2014 preseason at center for the Cardinals and then ended up playing guard all season. Last year, he split time between left and right guard.
"I think (my versatility) is helping the team," Larsen said. "I'm the only guy who switches positions and does it at a starting level."
4. Leonard Floyd's nagging injuries continue. Floyd suffered a "slight hamstring" injury over the weekend, but returned Tuesday in a limited capacity. Wednesday, however, Floyd was sidelined again with what Fox described as a "leg" injury. Theoretically, the "leg" could be the same as the "slight hamstring," but either way, Floyd did less Wednesday than he did Tuesday, putting Saturday's game in some doubt.
The good news is that this is not a serious injury, but the Bears would probably like to see Floyd get more reps Saturday against the Chiefs. They continue to rave about their ninth overall pick, but we've yet to see him have a big "wow" moment.
Floyd also missed time at the start of training camp because of an illness and a shoulder injury.
5. Nose tackle Eddie Goldman is setup to have a big year, but he still needs to prove to himself that his conditioning is good enough to get through a whole game.
"I feel faster because I lost some weight, (but) I didn't play a full game yet so I can't really judge myself," Goldman said Tuesday. "But I can tell you that feel faster, quicker."
When asked what he hopes to prove Saturday when the starters play into the second half, Goldman said: "Just to see where I am like in the third quarter. Because I doubt I'm going to play in the fourth quarter. To see where I am in the midst of the game, just to see how my body will react."
Goldman is by far the Bears' best option at nose tackle and the more he can stay on the field, the better the team's defense will be this season.
6. My favorite moment of the preseason happened during Tuesday's practice. After a fumble by the offense, starting safety Harold Jones-Quartey picked up the ball and started running towards the end zone. The only problem? A Cal-Stanford situation had developed as HJQ had to run through a large group of coaches and players to reach the end zone. As he dodged the bodies in front of him, a massive roadblock emerged: outside linebackers coach Clint Hurtt, a former defensive lineman at Miami (Fla.) who is still built like a brick house. By the time Jones-Quartey saw Hurtt, it was too late. Dressed in full pads and a helmet (remember, this is the Bears' fearless, hard-hitting safety) HJQ bounced of off Hurtt like a fly who had just been swatted.
HJQ ended up out of bounds. Hurtt, wearing just shorts and a t-shirt, didn't move an inch. It was impressive. And hilarious.
7. Rookie defensive end Jonathan Bullard, who was excused from the last three practices for personal reasons, was expected back at Halas Hall Wednesday evening and should be at Thursday's practice. 
"Without going into too much detail, I think sometimes things outside of football kind of hold precedent over football," Fox said.
8. Here's an interesting quote from Jay Cutler when asked if he likes having a running back by committee situation in the backfield:
"I don't have a choice. It's fine. It is what it is."
He continued, with a more positive outlook:
"Obviously, losing Matt, he was kind of the jack of all trades back there. With this crew we have now, it's nice because I think it's really hard in today's league to make it all year with one, or really even two backs, three downs, it's tough work."
9. The Senior Bowl released its 400-player watch list Tuesday and there are some interesting names:
Bryan Cox Jr. (Florida) — Son of former Bears linebacker Bryan Cox.
Kyle Fuller (Baylor) — Different Kyle Fuller. And not one of the Fuller brothers, either. Plays center.
Hardy Nickerson Jr. (Illinois) – Son of five-time Pro Bowler Hardy Nickerson who coached the Bears' linebackers in 2007 and is now Lovie Smith's defensive coordinator at Illinois.
Dan Voltz (Wisconsin) — Barrington native was named to the Senior Bowl Watch List and then retired from football on the same day due to injuries.
10. The Bears had some fun with the White Sox's new stadium name, Guaranteed Rate Field.
BREAKING: Still Soldier Field. pic.twitter.com/vGWA3PLNc3

— Chicago Bears (@ChicagoBears) August 24, 2016
But not as much fun as the Cubs.
Guaranteed fate.https://t.co/vPuKBxYMma

— Chicago Cubs (@Cubs) August 24, 2016
Adam Hoge covers the Chicago Bears for WGN Radio and WGNRadio.com. He also co-hosts The Beat, weekends on 720 WGN. Follow him on Twitter at @AdamHoge.