This is an archived article and the information in the article may be outdated. Please look at the time stamp on the story to see when it was last updated.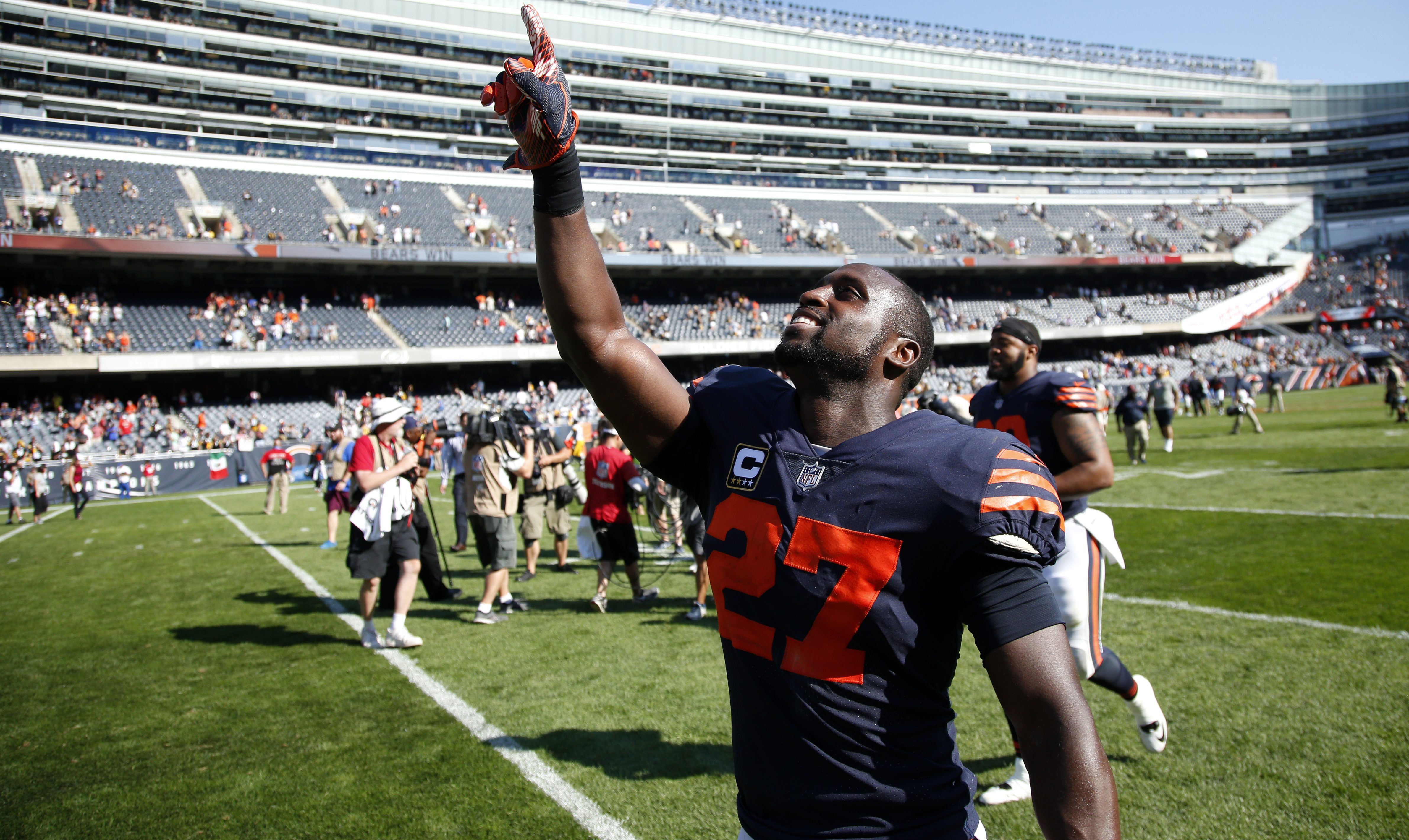 LAKE FOREST, Ill. — When Sherrick McManis was getting recruited by Northwestern, the Illinois state-champion long jumper caught the coaching staff off guard with a question.
"He asked us, 'Are you sure I can play at this level?,'" NU head coach Pat Fitzgerald recalled. "We were like, yes, Sherrick, we wouldn't have offered you a scholarship if we weren't."
At the time, McManis — a product of Richwoods High School in Peoria, Ill. — only had offers from Western Illinois, Eastern Illinois and Illinois State, but the "two-star" recruit certainly made quite a first impression at Northwestern. Fitzgerald still raves about how competitive McManis was in practice the moment he stepped on campus. It's why he instantly became a key contributor as a returner and coverage guy on special teams, earning Northwestern "special teams player of the week" honors in seven of the 12 weeks of his true freshman season in Evanston.
That was back in 2006. Twelve years later, no one around the Chicago Bears is surprised. McManis is one of the most established special teamers in the NFL and has been for a long time. It's why he's now a nine-year veteran and the longest tenured player on the Bears roster, having played for Lovie Smith, Marc Trestman, John Fox and now Matt Nagy.
We begin this week's "10 Bears Things" by taking a look at one of Chicago's most under-appreciated athletes, a special teams stud whose talents are now getting put to use by a creative defensive coordinator.
---
1. McManis Is Vic Fangio's "Change Up"
The acquisition of Sherrick McManis at the end of the preseason in 2012 was barely noticed at the time, but it turned out to be one of the better moves by former general manager Phil Emery in his first season. Emery traded fullback Tyler Clutts to the Houston Texans — the team that drafted McManis in the fifth round in 2010 — and by Week 9 of the 2012 season, McManis had already earned an NFL special teams player of the week award after blocking a punt that was returned for a touchdown in Tennessee.
Since Emery was fired at the end of the 2014 season, new general manager Ryan Pace has spent the bulk of his time fixing Emery's mistakes, but not when it comes to McManis. Pace has now extended McManis twice, including this past March when the 30-year-old signed another two-year contract.
---
Listen — Hoge & Jahns Podcast: Week 6 Bears-Dolphins, NFL Preview
---
But while most of McManis' highlights in Chicago have come on special teams, Bears defensive coordinator Vic Fangio identified a tool set that could be used on defense and carved out a special package for him that was put in motion during the second half of last season.
The 6-1, 193-pound defensive back's job? Rush the quarterback.
"He's chases a quarterback like he chases a punt returner," Fangio said.
A noted baseball fan, Fangio referred to McManis as a "changeup," except in this case he's catching offensive linemen off guard with McManis' fastball instead of slowing down the pitch. But the impact — the surprise factor — ends up being the same.
"I wouldn't call him an edge rusher. He's a defensive back that happens to be rushing off the edge. He's got a little bit of a gift for that," Fangio said. "We don't use it a lot, but use it sparingly and it is something for the other offenses to prepare for. It's just a nice little changeup for us and it gets him involved."
The package paid off big in Week 3 against the Cardinals, when McManis sacked rookie quarterback Josh Rosen to seal the win. In fact, McManis earned an interception and a sack on just five defensive snaps in that game.
"Man, God is good. It was great to see some hard work pay off and make some plays to help us win that game," McManis said. "And going forward you just want to replicate that and do it again."
He'll certainly get his opportunities. McManis also sees the field as a defensive back in the "dime" package (six defensive backs), but Fangio doesn't appear ready to dial back his pass rush opportunities, even if there are some drawbacks.
"He can get stoned if an offensive lineman gets him the right way. He can get stopped in his tracks pretty quick so that's one of the reasons why you're not going to it as a steady diet," Fangio said. "It's a change up and we do some different things when he's in there. He's not always rushing when he's in there, as evidenced by his interception (in Arizona). He's just a nice little tool that we use now and then."
When asked what position he considers himself when he's rushing the passer, McManis said: "A football player, honestly man. That's it. Whether it's defense or special teams, just trying to be a good football player and make some plays."
But while McManis is now making some splash plays on defense, he still has a big career goal to reach: make the Pro Bowl as a special teamer. He was an alternate in 2016 and appeared to be putting together a Pro Bowl-worthy season in 2017 before a hamstring injury cost him three games in the middle of the season.
"Definitely a goal for me. I've been aiming for it," McManis said. "Hopefully I can make some more plays, make some big plays and hopefully they come to me and I can make it happen."
He already has a case. Lost in his big defensive performance in Arizona was that his most impressive play came on a punt return when he made an open field tackle with no other player within 15-20 yards of him. McManis has also come very close to blocking a few field goals and it only seems like a matter of time before he gets one.
Just like it only seems like a matter of time before he makes the Pro Bowl.
---
2. A Real Competition On The O-Line
Every coach will tell you that competition within a roster is a good thing, but rarely do you see it actually play out during a season. Usually if there's a depth chart change in the middle of the season, it's because of injury or because the starter is playing poorly.
But that's not the case for the Bears at left guard right now.
When Bears head coach Matt Nagy and offensive line coach Harry Hiestand decided to rotate rookie James Daniels and veteran Eric Kush at left guard against the Bucs, I was surprised for two reasons: 1) It's rare to see offensive linemen rotate series in the NFL, and 2) Kush has been playing pretty well. Sure, there have been a couple of poor reps here and there, but for the most part, Kush has been playing a more than serviceable left guard for the Bears so far this season.
Of course, he also knows that Daniels is a second-round pick who is going to get an opportunity when it is deserved. Apparently that opportunity is coming now.
"We're in a good spot right now at that position," Nagy said this week. "Both those guys are playing well. They're playing the way we want them to play and so we're continuing to try and evaluate the starting spot."
That statement at least cracked the door open for Daniels to take over the starting job by Sunday (especially because Kush popped up on the injury report with a neck issue), but again, it's not like Kush has done anything to lose the job. It's unclear if the rotation will continue, but in the meantime, Kush is handling the situation very well and Daniels is appreciating the veteran's help.
"(Against the Bucs), when I would come off the field, he would tell me things that I could do better or different looks, like did I see that? I think it's really helpful because Kush (was just out there playing the same position) so I think that's very beneficial," Daniels said.
Nagy gave Kush credit for the way he handled the situation, while admitting "that can be a hard position sometimes."
When asked if it can be awkward battling a teammate for playing time, Kush responded: "It can be if you let it. But I just worry about improving what I can improve and having a good time with my teammates, my linemen and just trying to win some more ballgames."
He seems intent on not letting it get awkward.
"We're both getting time," Kush said. "So I've got to tell (Daniels), 'Hey, the guy I just went against did this, this and this. You have to be ready for it when you go in.' We're trying to win. We're professionals. If I know he's going in the next series, I've got to tell him, these are the moves I got and he's going to do the same for me. We're going to have fun and kick some butt together."
---
3. Early Grades Indicate Bears' Start Not A Fluke
Every once in a while in this space, I'll mention the grades I keep on the Bears during the season, which I don't think are fair to share in a small sample sizes because I can't possibly know every assignment on every play, but I do believe they have validity in larger sample sizes. I've been keeping these grades since 2013 and for the most part they match up with the decisions the organization has made on players (cuts, extensions, etc.).
Four games isn't exactly a large sample size, but there are some key trends starting to develop that I think are worth sharing.
For one, Khalil Mack is by far the best player the Bears have had on their roster since 2013. That's not exactly breaking news, but through four games, he's posted an 8.25 grade on my scale. For reference, 0.00 is the baseline and the previous top grade over the first four games of any season I've graded was Matt Forte's 5.00 in 2014.
And Mack isn't alone. The top five grades I have so far this season are:
Khalil Mack — 8.25
Tarik Cohen — 6.00
Akiem Hicks — 5.50
Eddie Jackson — 4.50
Allen Robinson — 4.00 (tied)
5. Danny Trevathan — 4.00 (tied)
The Bears simply haven't received this type of production from such a large group of players since at least 2012 when they went 10-6. The closest results I have to compare are from 2013 when Alshon Jeffery, Brandon Marshall, Matt Forte and Josh McCown all posted season-long grades between 3.94 and 3.25. That team went 8-8.
The point is, I don't think the Bears' 3-1 start is a fluke. At least, my grades over the last six years indicate it is not. I grade every game using the same method/scale, using the coaches' tape. The talent on the roster and execution this year is simply better.
Now, to be fair, we are comparing a four-game sample size to previous 16-game sample sizes, and there will almost certainly be some regression. For example, Mack should end up posting the highest season-long grade I've ever recorded, but maintaining an 8.25 would be pretty absurd. For the record, Akiem Hicks holds the best season-long grade I've recorded since 2013, which was the 4.94 he posted last season.
---
4. Challenge Flags
This week I'm going throw out some challenge flags to some narratives that are developing:
"Jordan Howard is unhappy." … The Bears are 3-1, there's not much to complain about right now and there was a whole lot of newspaper and talk radio space that needed to be filled during the bye week. So after Jordan Howard only touched the ball 11 times in Week 4 and apparently refused to talk to a reporter after the game, it was not exactly surprising to hear talk about whether or not Howard is happy in Matt Nagy's system.
To his credit, Howard handled questions about the situation well on Monday, although he was clearly bothered by the repetitive nature of the questioning.
"I wasn't frustrated. I was happy. We won. You see how much we won by. So there's not really nothing to complain about," Howard said.
Except it's actually understandable if Howard is a little frustrated. He's a former fifth round pick making $630,000 this year and should be in position to be talking about an extension next offseason as he enters the final year of his rookie contract. And after becoming the first running back in Bears history to rush for 1,000 yards in his each of his first two seasons, Howard is only on pace for 812 rushing yards and four touchdowns this seasons.
But let's not overreact here. Howard has 63 carries through the first four games of the season. Do you know how many carries he had through the first four games last year?
63.
And the first four games in 2016?
35. He didn't even play in the first game of his rookie season and didn't start until Week 4.
There's a lot of season left here. And the carries were actually split relatively evenly against the Buccaneers as Cohen received 13 to Howard's 11. It's just that Cohen caught the ball seven times and he's always going to be used as a receiver more than Howard.
But Howard has received more touches than Cohen in 19 of the 20 games they've played together. This was just one game — and it worked. Nagy identified a weakness in the Bucs that Cohen could better exploit and now the Dolphins will undoubtedly adjust this week.
Meanwhile, the issue isn't so much the amount of touches as it is the production. After averaging 5.2 yards per carry as a rookie and 4.1 yards per carry last season, Howard is down to 3.2 in the first four games of this season. With defenses keyed in on Howard, Nagy is adjusting the offense accordingly. But it's a week-by-week matchup thing. Howard is still going to get his opportunities to shine and it's up to him to take advantage.
"Leonard Floyd isn't cutting it as a pass rusher." … After our live episode of "The Hoge and Jahns Podcast" last week at Cortland's Garage, a listener came up to Adam Jahns and me and brought up how in the offseason we challenged Floyd to get to 10 sacks this year. So far, he has zero.
Indeed, we both thought that Floyd needed to pile up the sacks in his third NFL season to live up to his first round draft status from 2016. But that was back when he actually had to do that — before the Bears traded for Khalil Mack.
On one hand, the acquisition of Mack has shown that Floyd probably won't be that kind of generational pass rushing talent, but it has also changed his role in the defense significantly. He doesn't need to be that guy anymore. He just needs to be disruptive when asked to be and play well against the run.
He's doing those things. And I know for a fact that the Bears are happy with how Floyd has played so far this season. The tape shows that Floyd has been exceptional against the run and he hasn't had a bad game this season. Using the grades I mentioned before, Floyd posted a 2.60 last year and is at a 2.75 so far this season. That puts him in the category of a good starter, but not a Pro Bowl-level starter. And that's pretty much what he is.
Of course, it would certainly be nice to see the sack production increase the rest of the season, but then again, on this defense, there's only so many sacks to go around.
"Where's Roquan?" — I'll admit that this one is mostly coming from Twitter, but there does seem to be a significant amount of fans who feel like Roquan Smith has been too quiet in his first four games. I'll admit that other than the sack on his very first snap in Green Bay, there haven't been a ton of "splash" plays, but I can also tell you that the rookie certainly belongs. His sideline-to-sideline speed shows up all over the tape and when he tackles, he brings a thump. Smith is feeling things out right now on a really good defense, but he looks close to breaking out. I had very high hopes for him when he was drafted and nothing has changed.
---
5. Watch The Tape
This will be quick this week since the Bears didn't play on Sunday, so let's just take another look at what I believe might be Mitch Trubisky's "break out" throw:
#Bears tape — 14yd TD pass to Robinson. Trubisky has Howard (red) open underneath, but IDs man-coverage and, again, ANTICIPATES Robinson will have step on corner route. Not bad coverage. Trubisky throws him open for TD. Absolute dime. pic.twitter.com/0QTkLb5Plk

— Adam Hoge (@AdamHoge) October 2, 2018
---
6. The Opponent: Miami Dolphins
It's still tough to get a gauge on how good the Dolphins are as a team. Their three wins came against the Titans, Jets and Raiders before they were smoked by the Patriots 38-7 in New England. And just when you thought they were making an impressive statement by going up 17-0 on an improved Bengals team, Miami gave up 27 unanswered points (24 in the fourth quarter alone) and lost by 10.
The biggest swing in the game occurred when Dolphins left tackle Laremy Tunsil left with a concussion. Replacement Sam Young looked lost and the Bengals' front-seven beat up Ryan Tannehill and scored two defensive touchdowns in the fourth quarter. Tunsil's availability against Mack & Co. will be a huge storyline this week, but the Dolphins' offensive line was already vulnerable. Former Bears left guard Josh Sitton is out for the season and another former Bear — noted training camp instigator Ted Larsen — is currently starting at left guard. Akiem Hicks is already making a habit of embarrassing right guards this season, and Jesse Davis should be his latest victim.
When asked about his mindset this week, Hicks replied: "Destroy. Destroy everything."
With Tunsil on the field, the Bears should still have an advantage up front. Without Tunsil, well, my prayers go out to Tannehill in advance.
On the other hand, the Dolphins' defense is much better than what Mitch Trubisky saw against the very vanilla Buccaneers. The Bears' scout team won't be able to replicate every look Trubisky sees on Sunday so it will be interesting to see how the second-year quarterback responds to unscouted looks and exotic pressure. Will the boost of confidence from his six-touchdown performance lead to better mechanics or will he revert to some of the bad habits that hurt him earlier in the season? It's a big question this week.
The Bears also need to be aware of returner Jakeem Grant. Chris Tabor's unit has been good this year, but Grant can flip a game quickly. His 71-yard punt return touchdown against the Bengals put the Dolphins up 14-0.
---
7. The Pick
Bears 28, Dolphins 13
Unless Miami comes up with a defense or special teams touchdown, I just don't see how this beat up Dolphins offense will manage more than a touchdown and a couple field goals against this Bears defense. I'm sure Adam Gase and especially Dowell Loggains will be highly motivated against their former employer, but that doesn't mean there will be success against Khalil Mack, Akiem Hicks and this locked in defense. In fact, this feels like a game in which the Bears defense will find the end zone.
On the other side of the ball, I have respect for the Dolphins defense, but the bye week gave Matt Nagy more time to put together a comfortable script for Mitch Trubisky, who I think will continue to build on his improved outing against the Buccaneers. Nagy structured his bye week the same way Andy Reid does it and Reid is a remarkable 20-4 after the bye week, including the postseason. He's doing something right.
The Bears seem focused and should move to 4-1 with the Patriots coming to town next week.
---
8. Quote of the Week
"I had a little cut on my arm a few weeks ago, and then it reopened in Arizona on the first drive and was just gushing everywhere. And I didn't want that to happen this week, and I covered it up. And then you play pretty well, some superstition, call it what you want. I also got a lot of threats that I have to wear it."

— Mitch Trubisky confirming he will continue to wear the sleeve on his throwing arm that he played so well with against the Buccaneers.
---
9. Tweet of the week
There was nothing better this week than the message Drew Brees delivered to his children right after breaking the NFL's all-time passing record:
Drew Brees was mic'd up for one of the biggest plays of his career and a historical @NFL moment! 🔊 pic.twitter.com/6lQOf9j7Gh

— New Orleans Saints (@Saints) October 9, 2018
---
10. Final Thoughts
— We're five weeks into the NFL season and it's still hard to get a real gauge on the NFC North, but I'll try:
At 2-2-1, the Packers are pretty much exactly what I thought they'd be: a mediocre team carried by an outstanding quarterback with a head coach that will probably be fired if they don't make the playoffs.
The Vikings got back on track with a big win in Philadelphia. Their season still depends on their defense. If that unit starts playing better, then they are still the team to beat. If not, the Bears have a real shot to win the division. Week 17 in Minneapolis could be a big one.
The Lions are, well, they're just kind of there. That's kind of how they always are. They're a tough team to beat, but they're a team you expect to beat.
I'll say this: at a minimum, the Bears should go 3-0 against the NFC North at home this year. They were 0-6 against the division last year and they're already 0-1 this season. That has to change.
— The Bears will wear their orange jerseys Sunday for the first time since Nov. 13, 2011 when they beat the Lions 37-13 at Soldier Field to improve to 6-3. And if you think about it, that's pretty much the last time they had a good enough roster to make a real run. Unfortunately, Jay Cutler broke his thumb the following week against the Chargers and the Bears went on to lose five games in a row with a combination of Caleb Hanie and Josh McCown at quarterback. General manager Jerry Angelo was fired at the end of the season and the disastrous Phil Emery era was set into motion.
So basically what I'm saying is that getting rid of the orange jerseys was a huge mistake. Now they're back and so are the Bears. Something like that.
Adam Hoge covers the Chicago Bears for WGN Radio and WGNRadio.com. He also hosts "The Hoge & Jahns Podcast." Follow him on Twitter at @AdamHoge.