This is an archived article and the information in the article may be outdated. Please look at the time stamp on the story to see when it was last updated.
BOURBONNAIS, Ill. — At first, it seemed odd that Mitch Trubisky's first press conference of training camp was conducted alongside Kyle Fuller, the soft-spoken cornerback who surely wouldn't get more than a handful of questions sitting next to the Bears' star quarterback.
And yet it was Fuller who ended up saying the most, during a moment when he actually wasn't saying anything at all.
With that, we launch of a new season of my "10 Bears Things" column, a weekly deep-look inside the Chicago Bears, a team that hopes to take a significant jump forward in 2018 after four straight losing seasons.
---
1. Respect For Trubisky Everywhere
Predictability, the first five questions of the Trubisky-Fuller press conference went to the quarterback, but while Trubisky was answering a question about how his second training camp is different from the first, it was Fuller who caught my eye.
"I feel a lot more comfortable than last year, I know my role, I know exactly what I need to do, I know the offense. I can just go out there and be myself," Trubisky said. "I know everybody on the team, I've earned their respect and trust and I'll continue to do so through my work ethic and how much I care about this team and this game."
As he did during the majority of the press conference, Fuller sat silently to Trubisky's right, listening carefully to his answers, sometimes looking up, sometimes looking down. But while Trubisky said the words, "I've earned their respect and trust," Fuller very noticeably nodded in agreement, validating the claim from the new face of the franchise. 
Moments like this would repeat themselves throughout the first six days in Bourbonnais. 
"He has really taken ownership of this locker room," Kyle Long said about Trubisky. "It's not something that's forced. It's organic, and guys believe in him. We're lucky to have him."
Unprompted, Long also referred to Trubisky as "our captain," even though captains won't officially be chosen until the regular season starts.
Trubisky's passion for the game of football and eagerness to win over his teammates was evident even a year ago in Bourbonnais, despite being forced to work with the third-stringers in practice. Now that he has 12 starts under his belt and is the clear-cut QB1, he appears to have won over the entire group — offense and defense.
"Mitch doesn't look like a rookie. He looks like a veteran," cornerback Prince Amukamara said. "I'm just looking at his stage presence, just how he coordinates everybody, how he calls plays, his presence in the pocket and everything like that."
After years of storylines about the locker room's support or lack thereof for Jay Cutler, it doesn't appear that will be a major topic during the Trubisky era, no matter how long it lasts.
---
2. No Panic For Roquan
When Ryan Pace and Matt Nagy calmly downplayed their first round draft pick's absence from camp, I figured one of two things had to be true: Either Roquan Smith was close to signing or Pace and Nagy just did a really, really good job of softening the blow of a very disappointing distraction at the outset of training camp.
Smith's holdout is now 10 days old and the Bears are five practices into their season. To have their first round pick miss practice time in camp is one thing — Pace experienced that with both Kevin White and Leonard Floyd because of injuries — but to not even have Smith on campus and in meetings is certainly a setback, especially because they drafted him with the expectation that the rookie linebacker projects to be a defensive captain and someone who can be counted on to get the entire unit lined up properly from play-to-play. 
Because rookie contracts are already slotted by draft position, it's easy for fans to blame Smith for what is hopefully just small hiccup in a much larger career. But it's also very likely that Smith is caught in the middle of a bigger battle between the massive CAA (Creative Artists Agency) and certain NFL teams, and it doesn't help that the Bears reported to camp a week early. As of Tuesday, seven 2018 draft picks remained unsigned, and six of them were CAA clients, including Smith. By Wednesday morning, Jets quarterback Sam Darnold and Smith were the last two top eight picks without contracts and Darnold's deal could be close. If that's the case, Smith's deal shouldn't be far behind.
It's looking more and more like Smith is just the one player who was caught up by his team reporting to camp early. With four unsigned players drafted ahead of him, and three represented by the same firm, it makes sense that the signings are all occurring close together. If Smith was on an island as the only Top 10 player without a contract, this would be a much different situation, although that still remains a possibility until he actually signs.
---
3. Door Open For Kwiatkoski
Smith's absence, coupled with Danny Trevathan's early hamstring injury, has opened up a huge door for third-year inside linebacker Nick Kwiatkoski. He has taken over as the top inside linebacker in practices and is running with the opportunity. While not as fast as Smith or Trevathan, Kwiatkoski is a big linebacker who hits hard and has shown a knack for blitzing. 
On the latest episode of The Hoge & Jahns Podcast, my partner Adam Jahns wondered if Trevathan could be sitting himself out of a job, not because of a lack of talent, but because of a continuing trend of injuries. It's a fair question because Kwiatkoski (25) is three years younger than Trevathan (28) and most, if not all, of the guaranteed money has been paid on the 4-year, $28 million contract Trevathan signed in 2016. 
---
Listen — Hoge & Jahns, Episode 161: Early Impressions From Bears Camp
---
That said, I don't think the Bears can afford to be cutting players as talented as Trevathan, who, when healthy, is still currently the team's best inside linebacker. Also, it's not like they have a salary cap problem. The Bears need good depth at every position, and that's exactly what Kwiatkoski provides right now — a young, solid option who is good enough to start when needed.
---
4. The Bears' most improved player is… Dion Sims?
On an Instagram Q&A with fans last week, Bears general manager Ryan Pace was asked who on the roster has improved the most since last season. The easy layup would have been Trubisky, but Pace surprisingly declared that Dion Sims has improved the most, noting the tight end's great offseason.
Much has been made about the tight end position in Nagy's offense, but very little attention has been given to Sims, who doesn't figure to be as dangerous of a receiving option as free agent addition Trey Burton or 2017 second round pick Adam Shaheen. Of course, that line of thinking is exactly what drove Sims this offseason.
"I watch film on myself during the offseason and I try to nitpick at every little thing to see what are my weaknesses," Sims said. "And I think the big thing was route running, creating separation, being able to use my size to an advantage. Because of my size, I figure the faster I am, or the quicker I am, it will give me more of an advantage against safeties or backers or whoever is guarding me."
Thus, Sims spent the offseason in South Florida doing more speed training, making a point of working out on hotter days with higher humidity. Through two padded practices, Sims says he can already feel the difference, and so far he is getting his opportunity to contribute in the passing game.
As for getting praised by the GM: "It gives you confidence. And it encourages you to continue working harder. That's a lot of attention and spotlight and it puts pressure on you to handle praise and to keep working," Sims said.
---
5. Caution Used With Long, Robinson
While Allen Robinson and Kyle Long were declared 100 percent at the start of camp, both players have already received at least one day off from practice. In fact, Long has yet to practice on consecutive days.
Is this cause for concern?
It's notable, but no, it's not concerning. With the extra week of training camp, it makes sense that the Bears are easing into this thing, and that has actually been the case for the entire team as three of the first five practices have been unpadded and two could be classified as slightly upgraded walk-throughs. 
Robinson is still not even 11 months removed from ACL surgery and you may remember that last year Long tried to do too much too soon in camp and suffered a setback. Patience should be welcomed with Long, even if that's challenging for him.
"That's a tough one. Staying patient is something that I've always had to work on but taking it one day at a time, one hour at a time, one minute at a time really," Long said. "You start with treatment in the morning and then you go from there. As long as football practice is in there somewhere during the day, I'm pretty happy."
The extra week of camp should be taken into account with all of the early injuries deemed "minor," especially with veterans. Players like Long, Robinson, Danny Trevathan (hamstring) and Sherrick McManis (hamstring) know what they need to do to get ready for the regular season and they certainly don't need to be playing in the Hall of Fame Game.
---
6. Officials On Campus
One of the many benefits of starting training camp early was the visit from referee Walt Coleman and a few members of his crew. Coleman will work the Hall of Fame Game between the Bears and Ravens, and both teams were among the first to get in-person clarification on three major rule changes this season (more on those changes in a minute).
I could be wrong, but I think officiating will be as big of a story this season as it has been since the replacement refs fiasco during the first three weeks of the 2012 season. Not only are there three major rule changes, but there is also major turnover among the referees. Gene Steratore, Ed Hochuli, Terry McAuley and Jeff Triplette all left their posts this offseason, with three of them — Steratore (CBS), McAuley (NBC) and Triplette (ESPN) — joining TV networks as rules analysts. 
With the game becoming harder to officiate, it seems significant that the league is losing more and more top officials to TV jobs. And replacing 23.5 percent of your referees in a year with so many major rules changes is concerning. That let to me having this light-hearted exchange with Coleman during our yearly training camp meeting with officials earlier this week:
Losing four officials, is this a trend or just a coincidence?
No, it was a quirk, because the (three) guys went to work for the networks. 
Everybody want TV jobs now?
I guess. I guess they decided they like sitting up there with (Mike) Pereira and (Dean) Blandino and being able to criticize everything we do instead of having to actually make the calls, you know? Because it is a lot easier when you can sit up there and watch it in slow motion. 'Cause I'm really good — we're all really good — sitting at home with our clicker. Man, I'm the best official in the world. 
We are too.
Yeah, I wasn't going to say that. I'll just say that I'm really good when I'm sitting there when there's no pressure, there's nothing going on, and everything you need to sit there and say, "I wonder why they didn't do that?" Well, you know, when you're out there in the middle of it all, it does make it a little more exciting, a little more difficult to get things done and to get it right. 
Coleman is entering his 30th season in the NFL and is now the league's longest tenured official.  He has seen the league evolve in a major way during those 30 years, which bring us to…
---
7. Big Rule Changes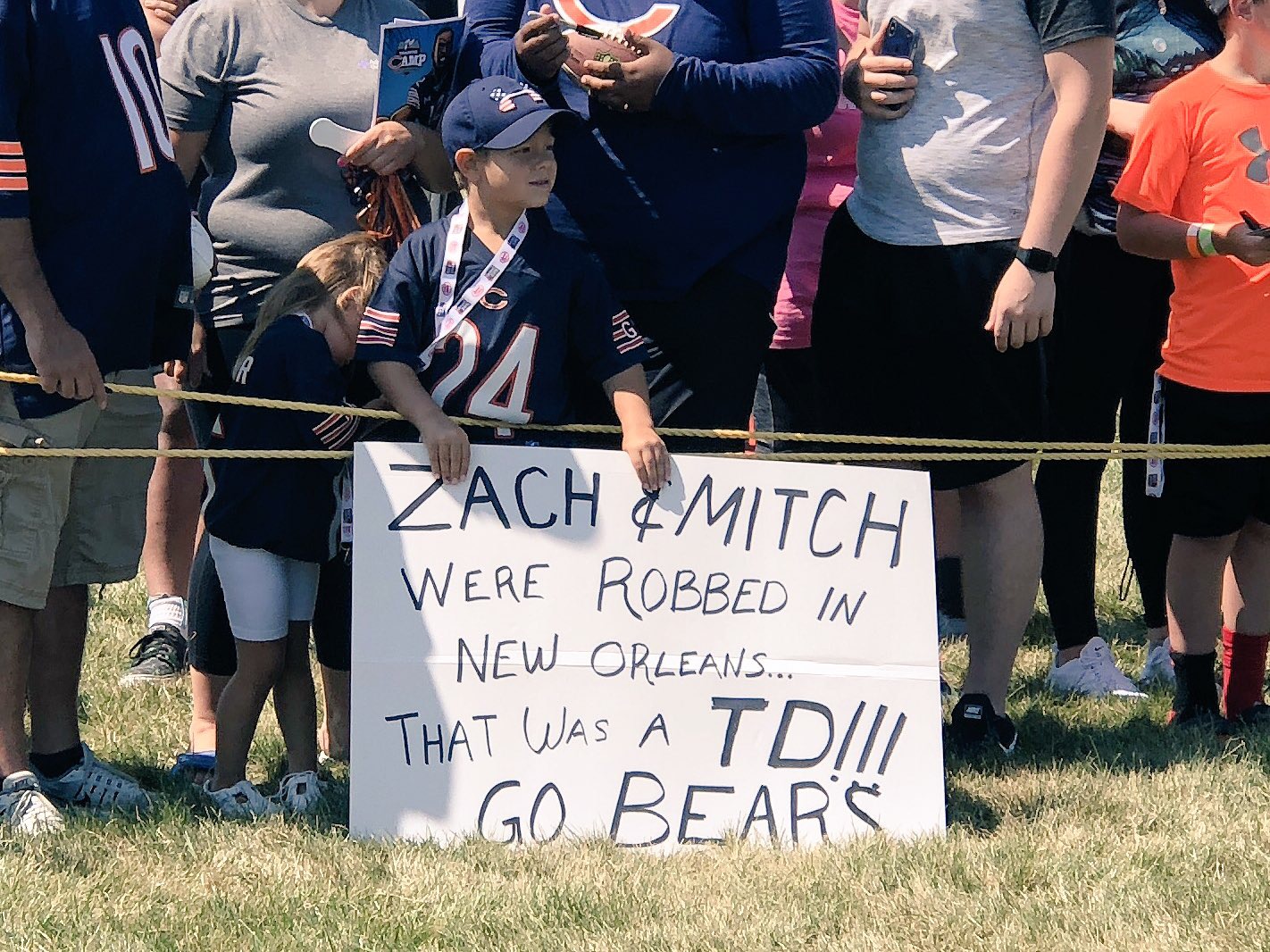 The NFL's competition committee passed three major rule changes this year: 
Stricter "use of helmet" rules
Catch/no-catch
Kickoffs
In Monday's meeting with officials, we were shown the same video Coleman and his crew showed Bears players in a meeting Saturday night. Of concern to me is that a number of the helmet hits shown in the video appeared to be pretty ordinary tackles that happen throughout all NFL games. Now, those hits are going to be 15-yard penalties. 
In addition, players can now be ejected for egregious hits with their helmets, and Danny Trevathan's hit against Davante Adams in Green Bay last year was an example of a hit that will now be an ejection (he was suspended for a game anyway). I asked Coleman about the fine line between a 15-yard helmet penalty and an ejection, and there doesn't seem to be any concrete guidelines. 
"It's one of those things where, when you see it, you'll know," Coleman said, adding that most of the ejection examples occurred when a player was already held up and an opponent came flying in with a blow that clearly could have been avoided. 
It's worth noting that ejections can be reviewed and reversed in New York, but the softer 15-yard penalties cannot be reviewed and turned into ejections. That's how it is in college football and it has led to "targeting" arguments on TV and social media every single week. 
Also, we're not just talking about helmet-to-helmet hits either. Players cannot deliver a blow to any part of the body using their helmets anymore. This is a major change.
The new catch rule still has some gray area too. There's basically three criteria: 1) possession, 2) two feet or another body part down, 3) making a football move. The "football move" continues to be vague and is basically a judgement call. It will be interesting to see if the officials — and director of officiating Alberto Riveron in New York — can be consistent with what qualifies as a football move.
The good news? All that "going to the ground" nonsense is gone. If a player loses the ball after meeting the aforementioned criteria, it's now a fumble. Or, if that player is already in the end zone before losing the ball, it's a touchdown. Thank you, Jesus.
Coleman wasn't shy about pointing out the problem with the previous catch rule: "We knew what a catch was, but it didn't seem like anyone else knew." He also pointed out that the new rule will impact New York more than it will the on-field officials because most of the controversial plays were originally called catches on the field before they were reversed in New York. This is true. Among the controversial Calvin Johnson, Dez Bryant, Jesse James and Zach Miller plays over the years, only the Johnson play at Soldier Field was actually called incomplete on the field. The other plays were all reversed after originally being ruled catches on the field. Now all of them will be catches. Common sense prevails.
Finally, one reporter in our meeting noted that there was no mention of the kickoff changes in the video that was shown to players. That's because the league is still working on it. It was then pointed out to Coleman that the Bears play a game in just 10 days (now eight days), to which Coleman responded, "I know. We'll be there too."
I appreciated Coleman's honesty during our meeting. The reality is that the officials don't really know how a lot of this is going to play out. When it comes to the kickoffs, players are no longer able to have a running start and are restricted on where they can line up. Does that mean special teams coaches are going to come up with completely new plays and schemes that officials have never seen before? It might, but if they do, those plays will likely be hidden until the regular season, which won't help the officials much during the preseason. 
Get ready for some fireworks in September. There's bound to be some controversy. 
---
8. Helfrich calling plays in practice
I couldn't help but notice in the Bears' first practice last week that offensive coordinator Mark Helfrich was the one relaying the plays to Trubisky in his helmet. That seemed notable because Nagy will be the one calling the plays during games and it's important that the communication is on point. 
"That's for practice. I've got to be able to see everything," Nagy said. "So when we get to game day I'll be the the one calling the plays into him and for now, right now, I've got to be able to (see everything). It won't be Mark all the time. There will be times where I jump in so that it is different. When you have somebody speaking in your ear it sounds different, so what Mark and I have done is we've agreed to how we're going to call the play as far as is it formation and then play, or is it play, formation, so that Mitch always hears the same format within his ear."
Consider that an encouraging response from Nagy, who continues to show that he's interested in coaching the entire team and not just his offense. That isn't always the case with head coaches who also call the offensive plays. 
---
9. NFL, NFLPA Working Together
For now, the NFL appears to be on its way to correcting its ridiculous decision to announce a national anthem policy without consulting its players. No matter how you feel about the previous protests, the league showed absolutely zero awareness by dropping the hammer on such a sensitive issue that many of the players care about so deeply. 
The NFL is now working with the NFLPA on the issue and it was encouraging to see both sides release a joint statement so quickly when a story emerged last week about the Dolphins possibly suspending players who violate the new policy. 
Anthem update from both the @NFL and @NFLPA: pic.twitter.com/GL0AtHpeAh

— Adam Hoge (@AdamHoge) July 20, 2018
---
10. What To Watch For This Week
After Wednesday's off day, the Bears will return to Bourbonnais with three padded practices in a row on Thursday, Friday and Saturday. Nagy indicated that the intensity will go up a notch and we may even see some sessions with live tackling. So far, camp hasn't looked any more physical than in past years, but with the extra week, it makes sense that Nagy is easing his players into it.
Of course, Roquan watch will continue, especially now that there is only one other player drafted ahead of him without a contract. If Smith doesn't report to Bourbonnais this weekend, that will put the Hall of Fame Game in jeopardy, which could cost him actual game reps. Neither side wants to see that. 
Adam Hoge covers the Chicago Bears for WGN Radio and WGNRadio.com. He also hosts "The Hoge & Jahns Podcast." Follow him on Twitter at @AdamHoge.