This is an archived article and the information in the article may be outdated. Please look at the time stamp on the story to see when it was last updated.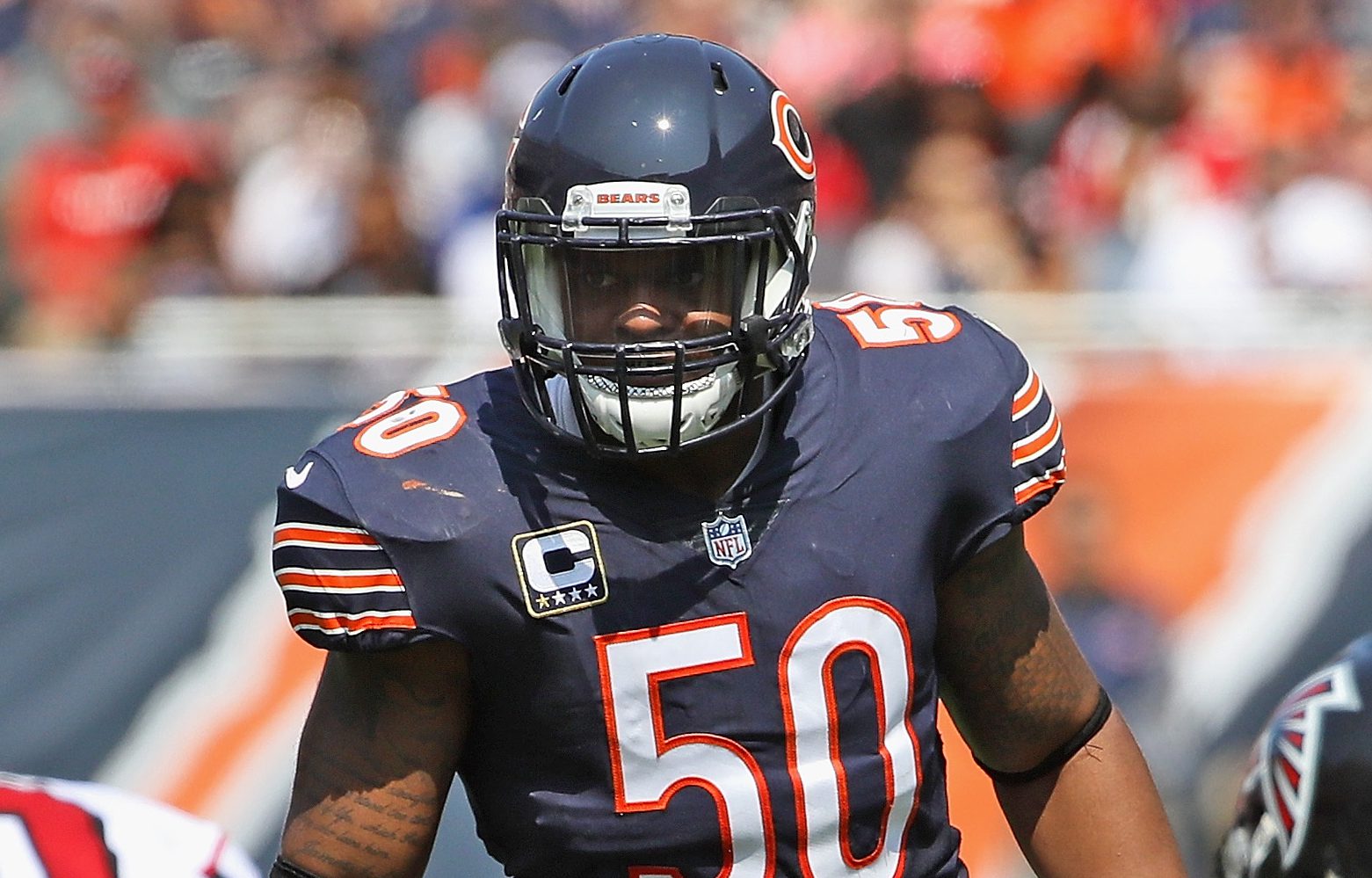 LAKE FOREST, Ill. — The Bears are in a unique situation this week, playing a team in Week 2 that has yet to play a regular season game. Here's everything you need to know as the Bears get ready to head to Tampa, which was hit by Hurricane Irma earlier this week.
1. The Bears are going to miss Jerrell Freeman. Not only was he a defensive captain, but he handled the defensive calls on the field and proved Sunday that he was still playing at a high level, leading the team with 10 tackles against the Falcons.
Bears head coach John Fox confirmed Wednesday that Freeman tore a pectoral muscle and will need surgery. While he didn't rule out a return for Freeman this season, that seems unlikely. According to Dr. David Chao (better known as @ProFootballDoc on Twitter), Freeman "could return late in the season or playoffs at best."
Hoge & Jahns Podcast: Week 2 Bears, NFL Preview
Losing Freeman for the season is a big deal for a team that has now lost three starters (Cam Meredith and Kevin White) to Injured Reserve.
That said, if you asked me before the season if Freeman would play in all 16 games this season, I would have said no, simply because he's a 31-year-old linebacker playing in the NFL. The chances aren't great. Fortunately, the Bears planned for this scenario and have a 24-year-old linebacker in Nick Kwiatkoski who they believe is good enough to start.
"You have to be ready for things like this," Kwiatkoski said. "It happened last year, injuries. I definitely feel like I've gained some experience. I feel I'm ready."
Kwiatkoski showed some early promise last season as a rookie despite missing the preseason with a hamstring injury.
"I felt kind of behind. I felt slow. I didn't feel myself," Kwiatkoski said about his NFL debut last year. "Getting the experience I did towards the end of last year and having preseason this year, I feel much better."
The Bears like Kwiatkoski's instincts at linebacker and believe he'll play faster with experience. As of Wednesday, he did not know whether or not he or Danny Trevathan would take over Freeman's signal-calling responsibilities, but don't be surprised if defensive coordinator Vic Fangio trusts the second-year linebacker with the headset in his helmet.
2. Speaking of defensive signal-calling responsibilities, is it possible that Freeman's concussion played a role in the 88-yard bomb the Bears gave up to Falcons tight end Austin Hooper? That's not me wondering. That's head coach John Fox.
"We actually had the call in early. I'm not sure if that might have been a result of Jerrell with the concussion or not, but we just didn't get it communicated," he said on Monday.
It seems telling that Fox offered that up on his own and the comment brings up the issue of player responsibility when it comes to injuries. I certainly understand why players never want to come off the field. Beyond their love of playing the game, jobs are lost all the time because of injury. No league has more insecurity than the NFL, which contributes to the ongoing concussion problem. Players try to play through them. Sometimes concussion symptoms aren't obvious, making it hard for even the independent spotters upstairs to notice when there's a problem. In Freeman's case, he finished the game.
But players also have a responsibility to their team. Playing hurt can be costly. In Freeman's case, it may have cost the Bears a win.
3. Mike Glennon's familiarity with the Buccaneers certainly won't hurt this week. 
"Obviously I'm familiar with their offense, familiar with their defense. I was going against them with the scout team every day last year," Glennon said. "A lot of things look familiar, but they haven't played a game yet so I have to be prepared for anything."
Glennon's knowledge of Dirk Koetter's system can aid the Bears' defense, but the fact he ran the scout team against Mike Smith's defense last year seems particularly beneficial to him. It will be interesting to talk to Glennon after Sunday's game to see how much that helps him during the game as he making decisions both pre- and post-snap.
"Mike's experience does help, and it helped in the Atlanta game," offensive coordinator Dowell Loggains said. "He had a lot of great ideas and great thoughts on those guys and he had success against those guys in the past."
Meanwhile, to his credit, Glennon isn't shying away from the extra significance of this game for him personally.
"Obviously it counts the same, but it's against the place I was for the past four years, a lot of friends, familiar faces on the other side, so I think it's just human nature to be looking forward to this a little more just because of going against my former team," Glennon said.
4. But who is Glennon going to throw the ball to? With Kevin White now on injured reserve, the Bears' top two receivers are Kendall Wright and Markus Wheaton — that is, if Wheaton can return from his broken pinky by Sunday. If not, is Deonte Thompson or Josh Bellamy No. 2? You're better off not trying to answer that question.
One would think newcomer Tre McBride will be active Sunday, while special teams coordinator Jeff Rodgers will probably have a say in whether or not rookie Tanner Gentry is active on game day (more on him in a minute).
But here's a question to ponder: is the situation really any different than last week? White didn't really have much of an impact on the game, catching two passes and dropping another.
"When Kevin went down, those last two series, I think we threw 25 straight passes in those two two-minute drills to get us down there, and those guys responded," Loggains said.
The offensive coordinator wasn't try to minimize White's impact. Instead, he was trying to point out how the other receivers stepped up in his absence. Still, it's a group that needs someone to capture the attention of opposing defenses, quickly.
5. The fans clearly hope that guy is Gentry, who had a tremendous preseason, but still spent Week 1 on the practice squad. The Bears like Gentry, but expectations should be tempered a little. As I mentioned above, it's not even a sure thing he'll be active Sunday.
"We just gotta kinda figure out how the numbers are gonna be this week and who's up, who's down," Loggains said. "We are excited about what Tanner brings and hopefully we can create a role for him if he's active and playing this week."
Gentry isn't necessarily shifty, but he has enough speed and has shown a knack for making tough catches, even in tight coverage.
"He has the ability to track the ball in the air," Loggains said. "He's fast. He plays really hard. He's just one of those guys — sometimes there are guys that have a knack for the football. We kinda feel like Tanner could be that guy."
One factor to keep in mind, though: Gentry has hardly worked with Glennon. In training camp and the preseason, he worked almost exclusively with Mitch Trubisky and Mark Sanchez. Wednesday, Gentry said this week of practice will be "very important" in building chemistry with Glennon.
"I think it's pretty critical for the quarterback to know how you run your routes, where you're going to be," Gentry said. "And also for the receiver to kind of know where the ball is going to be. I think that's very important and it does come from repetition in practice."
6. While the Bears have lost three starters to IR, they're hoping to get three more back soon. Wheaton, left guard Kyle Long and Prince Amukamara all practiced Wednesday, although they were limited.
Long seems to be getting closer to a return, but Tom Compton actually did a pretty good job filling in for him against the Falcons. The same goes for Kyle Fuller, who filled in for Amukamara. In fact, it will be interesting to see what the Bears do with Fuller when Amukamara returns. Frequent readers of this column know I believe Fuller would be a good fit in the slot, but Fangio has made it pretty clear he disagrees. Still, if Fuller is the team's third best cornerback, shouldn't he be on the field?
7. Speaking of Week 1 performances, here are a couple of notable standouts after film review:
Tarik Cohen was my top graded offensive player, while Akiem Hicks was the top performer on defense.
I don't think the offensive line deserves as much criticism as it has been getting. In fact, center Cody Whitehair was the only offensive lineman who graded out negatively in my book, and his holding penalty was actually a bad call by referee Jeff Triplette (John Fox said he was turning that play into the league office.)
Tight end Dion Sims was quietly very effective. I really liked that free agent signing when it happened and I think Loggains will continue to find ways to get him the ball. Already a very solid blocker, Sims is underrated as a pass catcher.
Safety Quintin Demps earned the lowest grade on the team from Week 1. While I'm still not willing to give him all the blame for the 88-yard blown coverage, he did need to bring Hooper down after the catch. He also missed a tackle earlier in the game that cost the Bears a third down stop.
8. Don't underestimate the loss of running back Benny Cunningham, who will miss some time with a high ankle sprain.
"Benny would've been a big part of the 3rd down protection plan," Loggains said when asked if Cunningham was missed on the final series of the game. "You go back and watch: the first 3rd-and-8 in the second series Thompson caught the in-cut and Benny made an awesome block setting the pocket for Mike. He would've been a big part of that just because that's his strength. He's a smart, situational football player. We missed him as the game went on that way."
The play Loggains referenced did not go unnoticed, even live.
Cunningham in on 3rd down again and had a great block to give Glennon time to throw a strike to Deonte Thompson.

— Adam Hoge (@AdamHoge) September 10, 2017
What once looked like a very deep position for the Bears is now pretty thin. Jeremy Langford  and Ka'Deem Carey are both gone now, which means rookie Taquan Mizzell — who spent the preseason with the Ravens — has a good chance to be active Sunday. But the 5-10, 185 pound running back out of Virgina comps closer to Cohen than Howard as a change-of-pace back and is unproven as a blocker. Meanwhile, Howard is dealing with a shoulder injury that kept him limited in practice Wednesday.
9. While Chris Conte was pretty much run out of Chicago, he has become a steady player for the Bucs, starting 28 of 32 games for Tampa the last two seasons. He even earned a two-year, $5 million contract extension in the offseason.
You probably remember that Conte picked off Jay Cutler and returned it for a touchdown last year in Tampa, a moment that meant a lot to the former Bear.
"I hate to make it personal, but for me it is personal," he told the Chicago Tribune last November. "It feels great. I don't want to say, '(Expletive) you, Chicago.' But, I want to say, '(Expletive) you, Chicago.'"
My reaction to that quote is the same now as it was last year: good for him. Conte received too much blame for a blown coverage (2013 Week 17 against the Packers) that wasn't all on him and was treated horribly that offseason. He was and continues to be a better player than he gets credit for and he'll get another crack at his former team Sunday in Tampa.
10. I'm really interested to see how the Bucs play Sunday after everything they went through with Hurricane Irma. Week 1 turned into their bye week, with players scattered all over the country and the team headquarters temporarily moved to Charlotte. While they do have film on the Bears that the Bears don't have on them, it's not like the Bucs have truly had two weeks to prepare for this game. Their minds were elsewhere and understandably so.
"You're going into the season and you think you're opening at Miami and you have a bye week in Week 11 and then all the sudden you have a bye week in Week 1, your team is scattered in various parts of the country and your state is hit by a hurricane," Bucs head coach Dirk Koetter said on a conference call Wednesday. "So of course, it had an effect. You just have to adjust and improvise and move on. Hopefully we'll be able to do that successfully. We won't know that until Sunday."
Koetter said the biggest challenge was just getting all his players back in Tampa — no easy task with the airport closed on Monday, with limited traffic coming in and out on Tuesday. He said a few players are still without power.
Wednesday may have been a normal work day for the Bucs, but there are still plenty of distractions as they prepare for Sunday's game.
Bonus Thing: Referee Ron Torbert has been assigned to the Bears-Bucs game.
Adam Hoge covers the Chicago Bears for WGN Radio and WGNRadio.com. He also co-hosts The Beat, weekends on 720 WGN. Follow him on Twitter at @AdamHoge.