This is an archived article and the information in the article may be outdated. Please look at the time stamp on the story to see when it was last updated.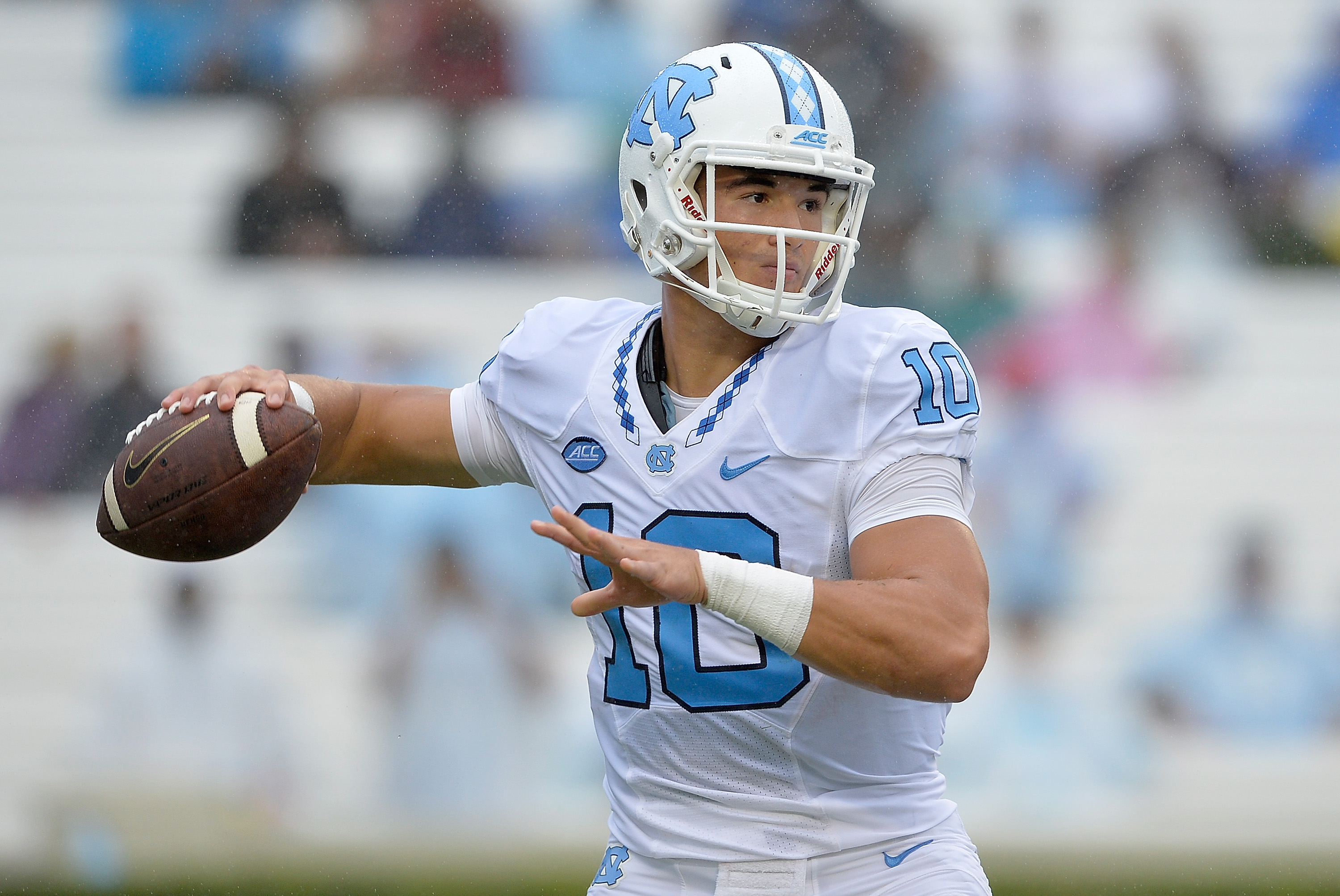 It's the question everyone in the NFL was talking about all weekend: Did the Bears need to trade up to No. 2 to draft Mitch Trubisky?
Here are my final thoughts/conclusions on that topic and many others after what will surely go down as one of the Bears' most memorable — and significant — drafts in franchise history:
1. After what seemed like endless conversations over weekend about the Bears' unorthodox draft, I went to bed Sunday night with this two-part conclusion:
A. The 49ers did have another team that wanted to trade up No. 2.
B. That team was probably not the Cleveland Browns, who badly coveted Trubisky, but had no idea the Bears wanted the same quarterback at No. 3.
And that's the irony of this situation: the Bears are essentially getting punished for doing an outstanding job of keeping their interest in Trubisky quiet. Had they tipped their hand, it's entirely possible the Browns — or another team — would have traded up to No. 2. At the very least, the 49ers would have had more offers and Pace would have had to give up a lot more than he did.
Hoge & Jahns Podcast, Episode 91: NFL Draft Recap
[audio http://serve.castfire.com/audio/3350216/3350216_2017-05-03-225616.64kmono.mp3?ad_params=zones%3DPreroll%7Cstation_id%3D3757.mp3]
Consider that as of Thursday afternoon, the 49ers and Bears still did not know if the Browns were actually taking Myles Garrett at No. 1. Cleveland's love for Trubisky was 100 percent real and if they were even considering taking the quarterback over a once-in-a-lifetime talent like Garrett, then it was entirely plausible they would be willing to use their truck-load of acquired draft capital to trade back up to No. 2.
My informed conclusion is that the Browns absolutely wanted to trade back up to get Trubisky, but they did not know they had to go all the way to No. 2 to get him. Pace deserves credit for this.
Monday morning, the entire NFL world woke up to Peter King's outstanding MMQB column from inside the 49ers' draft room. The insight was incredible and yet, to me, the most important takeaway from the lengthy piece was this: like everyone else, the 49ers were guessing too. John Lynch thought the Bears were trading up for Solomon Thomas. If that was the case, he was willing to draft Reuben Foster at No. 3, who he ended up getting at No. 31. So that's how close Lynch was to severely over-drafting a player with injury/character concerns. He ended up with Thomas and Foster and deserves credit for that, but this notion that a rookie GM outsmarted Pace is completely flawed. Lynch was guessing and got lucky.
Pace was guessing too, but unlike Lynch, he had conviction on one specific player and wasn't willing to lose his guy. King's story confirms that another "mystery" team was talking to the 49ers about the No. 2 pick, but it seems likely that trade wasn't for Trubisky. The 49ers called Pace back and asked him to throw a fourth rounder into the deal to get it done. Contrary to the popular narrative over the weekend, two third-round picks and a fourth-rounder is not a lot to give up for a quarterback in the first round. If that's the offer the 49ers were willing to take, it means the other offer likely wasn't a huge haul from another team trying to trade up for a quarterback.
Of course, this is where it's important to once again remember that other teams didn't think they needed to leapfrog the Bears to get Trubisky.
So did Pace need to trade up to No. 2 to get his guy? We still don't know for sure, but it stands to reason that Trubisky would have been available at No. 3.
I maintain that it doesn't matter.
Pace knew that other teams coveted his quarterback — especially the Browns — and the 49ers were telling him they had another offer. He didn't want to live with the regret of watching Trubisky become a franchise quarterback for another team. At that point, two threes and a four were a small price to pay.
You make that deal every time.
2. The idea that Fox wasn't involved in the Trubisky pick is unequivocally false. For one, Fox was a big part of the Bears' private dinner and workout with Trubisky in North Carolina, despite concerns that the former Carolina Panthers head coach was going to be too recognizable in Chapel Hill as the Bears tried to get in and out without being noticed.
Is it possible that Fox didn't know until a few hours before the draft that they were willing to trade up for Trubisky? Well, sure. Legitimate trade talks with the 49ers didn't start until Wednesday and the deal really didn't come together until right before the first round started Thursday night. So the head coach being briefed on those talks at some point Thursday afternoon is entirely plausible and normal.
Understand this: Trubisky was not just Pace's No. 1 quarterback. He was also the No. 1 quarterback for director of player personnel Josh Lucas, director of college scouting Mark Sadowski, national scout Ryan Kessenich, area scout Chris Prescott and offensive coordinator Dowell Loggains. Pace did not go rogue with the Bears' pick. There was unanimous approval among those who get paid to make these draft decisions.
The relationship between Pace and Fox is worth watching, but any reports of a rift between the two have been severely overstated.
3. The immediate praise of John Lynch and criticism of Ryan Pace in the wake of the Trubisky trade was very interesting. Let's not forget Lynch is a former member of the media with plenty of friends around the league. Too much of our immediate reaction to the NFL Draft is based on what we think is going to happen, which is silly because even the general managers don't know what is going to happen. There are a lot of egos in the NFL and I believe some of the backlash Pace received  — including from the "anonymous" league executives — was a result of him catching everyone off guard with a move no one predicted.
Lynch certainly looked good at the end of Thursday night when he ended up with both Thomas and Foster, but this of course ignores the fact that he almost drafted Foster at No. 3 when he didn't need to. The reality is that we don't know how good any of these players are going to be. What if Trubisky ends up being a top five quarterback and Lynch goes down as the guy who passed on him in favor of Brian Hoyer and Matt Barkley (who Pace let walk) before way over-drafting C.J. Beathard in the third round? That scenario is entirely possible.
Plus, I can't get this nugget from The Sacramento Bee out of my head: As recently as last week, Lynch didn't know what a rookie fifth-year option was. Seriously. An NFL general manager did not know what a rookie fifth-year option was until the media asked him about it and he had to go find out.
I'm not trying to pile on Lynch, I'm just trying to look at this from the other side. Let's give this a few years before we decide who was the better general manager on April 27, 2017.
4. The next five "things" will be spent looking at the Bears' draft class, starting with Trubisky: 
You can read more in-depth breakdowns of Trubisky in my annual quarterback rankings and even in my early evaluations of the quarterbacks back in February. Essentially, all of my initial impressions of Trubisky were verified over the last few months and I really believe the Bears are getting a good quarterback.
In addition to having all the raw quarterback tools, my favorite attribute of Trubisky's is his pocket awareness. His footwork is outstanding and he has a great feel for the pass rush, which is an instinct that is hard to develop. He can side-step pressure and still deliver accurate throws in a muddy pocket. Essentially, his mobility and athleticism are just as good as Jay Cutler's, but his college tape shows better poise under pressure and fewer mistakes when protection breaks down. His arm isn't as good as Cutler's, but it's good enough.
Of course, the small body of work is a concern and Trubisky's few mistakes were a result of inexperience in reading defenses, in my opinion. And while he has a quick release, Trubisky's delivery isn't always consistent, which is a minor mechanic flaw that will need correcting.
The bottom line: Trubisky is not ready, which is why the Bears will start with Mike Glennon. I ultimately gave Trubisky a mid-to-late first round grade and the only reason I didn't have him higher was because of the inexperience and the outstanding defensive depth in this draft class. But a first-round draft grade is a first-round grade. I believe Trubisky will be a good-to-great NFL quarterback.
The tape: All of Trubisky's potential was on display on his final college drive in the Sun Bowl when he managed to get in the end zone despite his receivers dropping three touchdowns.
That time Mitch Trubisky threw 4 touchdowns on one last-minute drive: pic.twitter.com/fzkVMhjOe8

— Adam Hoge (@AdamHoge) April 28, 2017
Pace's take: "One trait you'll notice is, as quarterbacks are extending the play, the ability to move around and keep his eyes down field still looking for open targets instead of just tucking the ball and wanting to run. Very good on third-down, very good completion percentage with pressure in his face. Just a lot of traits that he has that translate well to the NFL game."
5. I've heard a lot of positive things about second-round pick Adam Shaheen over the last few days. There's a strong sentiment that he might be a real steal in this draft. And what's interesting is that because of his size, his floor might still be pretty high.
We talked to Ashland head coach Lee Owens over the weekend on "The Beat" and while college coaches always praise their players publicly, few say things like this: "He's the real deal. I was blessed, I had a chance to coach a Hall-of-Famer when I was at Ohio State, Orlando Pace. I had a chance to coach a Hall-of-Famer when I was at Akron, Jason Taylor, who is going in this year. I know this is a bold statement and I don't want to put this on Adam's shoulders, but he's that kind of guy. I mean, I think he can be that kind of pro."
There's no question Shaheen has NFL size and speed. The big question here is how well he adjusts to the large jump in competition. I think this is going to be one of those prospects you can get a good feel for early on. If he's not overwhelmed when the pads go on at training camp, it's likely the Bears got a good one.
The tape: Yes, Shaheen was playing at the Division-II level, but it's still impressive how he is consistently running away from smaller defensive backs at 6-6 1/2, 278. Plus, his receiving ability is on display here:
New #Bears TE Adam Shaheen's receiving ability on display here: pic.twitter.com/Mbu1jJGKWZ

— Adam Hoge (@AdamHoge) April 29, 2017
Pace's take: "I think Adam's projected to play early. I like his skill set. We spent a lot of time on that. So, just because he's a small school player, yeah, it's a big jump. But I think he has the physical skill set to make that jump, and we're confident in that."
6. The Bears got a second-round talent in the fourth round. That's assuming Alabama safety Eddie Jackson is healthy, but the Bears' doctors cleared him medically after Jackson visited Halas Hall during the pre-draft process.
Jackson was a big-time player before suffering a broken leg last season on a injury that looked similar to what Kevin White endured last season. Jackson was tackled awkwardly on a punt return and his foot got caught in the turf, creating the break.
The tape: There is a rod in Jackson's leg now, but if he still has his speed, this is what the Bears could be getting as a free safety and a punt returner:
If new #Bears safety Eddie Jackson still has his speed, here's what his return abilities look like: pic.twitter.com/uWTfBXs2iy

— Adam Hoge (@AdamHoge) April 30, 2017
Pace's take: "It was just the ball skills and the instincts. So we really liked him as a safety and then you combine that with his skills as a punt returner and we knew we wanted to address punt returner. So I was like, man, we're going to kill two birds with one stone here and get a good safety and a good punt returner."
7. Who knows if Pace found the next Darren Sproles in Tarik Cohen, but that's what he was shooting for. Let's not forget that Cohen is only 5-6 1/2, 179, and very few players at that size are able to find success in the NFL, but Cohen's tape sure is exciting to watch. He was the focal point of North Carolina A&T's offense and was able to carry a huge load despite his limited size.
North Carolina A&T head coach Rod Broadway told WGN Radio that he didn't use Cohen much as a kick returner because he was too valuable to the offense, but he does believe Cohen can return kicks at the next level. While running back wasn't a huge need for the Bears, they badly needed upgrades in their return game and if Jackson and Cohen are the answers in that regard, then this will be looked at as a strong fourth round for the Bears.
The tape: Just watch.
This Tarik Cohen play is fun… pic.twitter.com/uLcXDWuNUF

— Adam Hoge (@AdamHoge) April 29, 2017
— Adam Hoge (@AdamHoge) April 29, 2017
Pace's take: "He's quick as a running back, he's instinctive as a running back, he was productive in every season he had there. Then you split him out of the backfield, and he's going to shake and separate from a linebacker and a safety. So he can create problems with his quickness and his suddenness, and his athleticism. Again, he was one of those guys we were all pretty fired up about and not just from the YouTube videos."
8. I'm not going to claim to be an expert on Kutztown offensive lineman Jordan Morgan, but I did take note of him at the Senior Bowl. I really value small school kids who look like they belong at the Senior Bowl because they are making a big jump in competition and are being thrown right into the fire in padded practices. Morgan didn't look overwhelmed at all, especially in one-on-one drills.
Pace's take: "Jordan Morgan played tackle in college. We see him more as a guard — he can do a little bit of both and has good arm length. Again, an advantage of coaching the Senior Bowl was intimate knowledge with this player, and (he's) another small school player, but I think that Senior Bowl experience kind of cemented for us what kind of player he is. We're excited about adding him to our offensive line."
9. Don't be surprised if undrafted free agent kicker Andy Phillips is more than a camp leg. Connor Barth was only signed to a cheap one-year deal in the offseason and Phillips was very accurate at Utah, especially from 40-plus yards.
What's interesting is that Phillips is already 27 years old and married with two kids. Before attending Utah, he was a member of the U.S. Ski Team and actually attended a high school in Park City, Utah that is literally called "Winter Sports School." He also served an LDS mission to Norway, which delayed his enrollment at Utah. According to his school bio, Phillips can actually speak Norwegian.
10. The Bears made two trades over the weekend involving 2018 draft picks, so here are the draft cards they currently hold for next year:
1st round
2nd round
4th round
4th round (Cardinals' selection)
5th round
6th round
7th round
After making the trade with the Cardinals to move back in the second round, what the Bears essentially lost in the Trubisky trade was this year's third round pick, this year's seventh round pick and next year's third round pick, while also gaining a sixth round pick and a 2018 fourth round pick. Pace then dealt that sixth round pick to trade up for Eddie Jackson.
If this is confusing, Pace simplified it even more: "It equated to giving up a little bit more than a third round pick in our trade for Mitch (Trubisky), so I felt good about that."
Bonus Thing —  I'll leave you with this final thought, and it's important: Ryan Pace really does like Mike Glennon. There's a reason he guaranteed the quarterback $18.5 million and it's because he believes Glennon has the upside to be a good starter in this league.
Now, I'm not naive. You don't draft a quarterback No. 2 overall unless you plan on him being your franchise quarterback, but there's nothing wrong with having more than one bullet in the gun at the most important position in sports. A city starving for a quarterback as much as Chicago should understand that.
And let's not forget that Pace has been looking for his franchise quarterback since he got here. He wanted to trade up and get Marcus Mariota in the 2015 NFL Draft, but didn't have the trade capital. I believe that played a role in making sure he didn't miss out on Trubisky. Pace doesn't plan on drafting at No. 3 ever again and he didn't want to miss out on the opportunity to get his quarterback.
Frankly, I missed on that. As recently as last week, I was using the Glennon signing as a reason why I didn't think the Bears would draft a quarterback in the first round. Signing Glennon wasn't a smokescreen, but it certainly contributed to the smokescreen. It worked on me, and it worked on John Lynch too.
"Then why'd they go get Glennon?," Lynch said in King's MMQB story when another member of the 49ers front office suggested the Bears might be trading up for Trubisky.
Because the Chicago Bears need to fix their quarterback situation. It's been broken for decades. And Pace is determined to find the solution.
Adam Hoge covers the Chicago Bears for WGN Radio and WGNRadio.com. He also co-hosts The Beat, weekends on 720 WGN. Follow him on Twitter at @AdamHoge.