This is an archived article and the information in the article may be outdated. Please look at the time stamp on the story to see when it was last updated.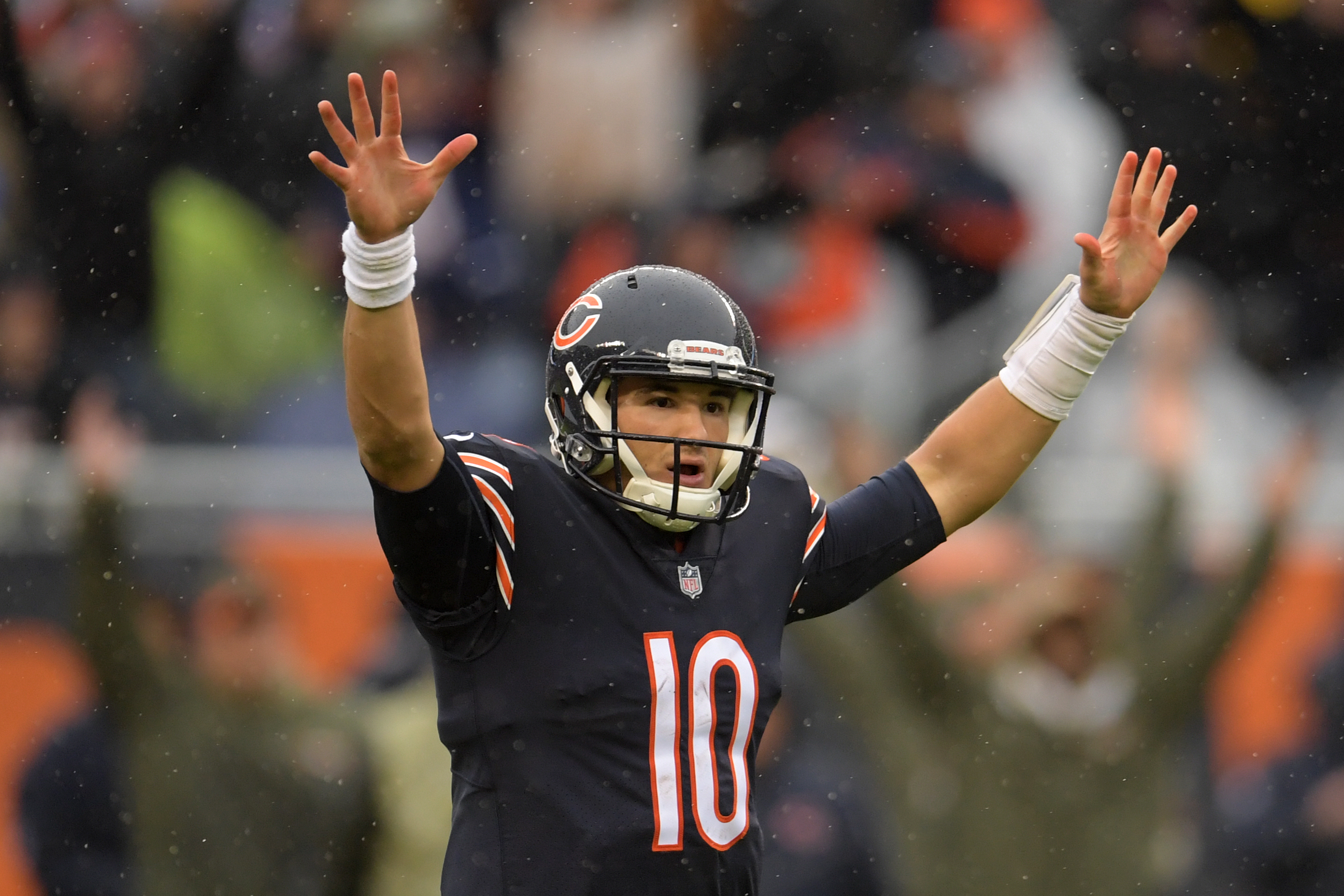 After four straight years of failing to win more than six games in a season, the Chicago Bears appear poised to improve in 2018. It will still take some injury luck to make a serious run at a postseason berth, but it's conceivable that Bears fans could be using the word "playoffs" in November and maybe even early December without getting laughed out of a room.
At the very least, here in mid-July, the big questions for the Bears are less about which undrafted free agents/journeymen will win starting jobs in camp and more about which young, seemingly talented players will take significant steps forward. That's an improvement.
With that in mind, here are 10 important questions as the Bears get ready for Year 4 under general manager Ryan Pace and Year 1 under new head coach Matt Nagy:
How much will second-year quarterback Mitchell Trubisky improve?
Let's face it. This is the most important big-picture question for the entire organization. It doesn't all have to happen in 2018, but Trubisky must make a significant step forward in his second NFL season, especially with the majority of the team's offseason moves made with his progress in-mind.
The good news is that despite modest numbers in 2017, Trubisky looked the part of a longterm, franchise quarterback and did so despite operating in an archaic offense devoid of any legitimate receiving options. Thankfully, an adequate offensive line and above-average running game kept Trubisky alive and healthy.
The fact that Trubisky's development didn't appear to be stunted in 2017 seems like a miracle, especially after witnessing the early returns on Nagy's system and additional offensive talent now present at Halas Hall. How effective Trubisky and Co. operate the thing remains to be seen, but this much is obvious: Nagy's system is a real NFL offense that belongs in 2018. The Bears are no longer running an offense that should only be viewed on ESPN Classic. 
2. How will Matt Nagy perform as both a head coach and a playcaller?
While optimism about Nagy's system is warranted, let's not forget that he'll still be a rookie head coach. Bears fans learned during the Marc Trestman era that while offensive-minded, quarterback-friendly head coaches are preferred in today's NFL, you still have to be able to manage 46 active players on game day and make good, sound decisions on the fly. We have no idea how Nagy will react in his new role.
And we also don't know how he'll continue to evolve as a play caller. Nagy has only called plays for six NFL games and one of them was highly criticized after the Chiefs blew a 17-0 lead in their lone playoff game last year. Essentially Nagy is picking up two new jobs — head coach and play caller — in addition to what made him such a popular offensive coordinator under Andy Reid. And he's doing all of it on a new team with a less talented roster. I have high expectations for Nagy in Chicago, but there will inevitably be some bumps along the way.
3. Can Leonard Floyd become the elite pass rusher he is supposed to be?
It's go time for Floyd, who already is in his third NFL season. The former No. 9 overall pick came into the league lean and underdeveloped, but has had two years to bulk up and refine his technique. Injuries have limited Floyd to 22 of 32 games, resulting in fair questions about his longterm durability. But Floyd has also flashed rare pass rushing skills at times, making him a possible breakout player in his third season. If Floyd doesn't take off in 2018, the Bears might be forced to decline the fifth year option on a former first round pick for the third year in a row.
4. On that note… will Kyle Fuller live up to his new contract?
It took Fuller until Year 4 to truly break out, which forced the Bears to use the transition tag on the cornerback after understandably passing on his fifth year option. That resulted in the Packers signing Fuller to a 4-year, $56 million offer sheet, which the Bears had to match. That's a lot of money for a player who has only had one truly good season in four tries (and still only had two interceptions last year), but good cornerbacks are always paid well and the Bears really couldn't afford to let another young, ascending player walk away after parting with Alshon Jeffery in 2017.
So will Fuller continue to play at the same level now that he's been paid? The early returns are positive. After a shaky start, Fuller has developed a strong bond with defensive coordinator Vic Fangio and become one of the hardest working students in the film room. During the offseason program, the Bears had tablets available on the sideline to immediately re-watch practice reps and Fuller was constantly running back and forth between the field and the tablets. Time will tell, but so far there doesn't appear to be any complacency evident with Fuller. Of course, the Bears would like to see that interception total go up this year.
5. Will Eddie Goldman and Adrian Amos continue their ascensions and earn contract extensions?
Goldman and Amos look like the keepers from Pace's first draft class, but neither has been locked up past 2018 yet. Still, both could be candidates for extensions during the preseason, a trend Pace continued when he extended left tackle Charles Leno Jr. last August. 
When healthy, Goldman is one of the more underrated defensive linemen in the entire league and he was able to play in 15 games last season. He's truly a difference maker in the run game. While the longevity of interior defensive linemen is limited, I would personally make it a priority to lock Goldman up.
Meanwhile, Amos took a significant step forward in 2017, proving to be a reliable starting safety. Pace showed some confidence in Amos by not making any major additions at safety this offseason, but on the flip side, he still hasn't delivered an extension yet.
6. How healthy will Kyle Long be and how big of a difference can he still make?
If you blinked, you may have missed that Long is already 29 years old and will turn 30 in December. After three Pro Bowl seasons to start his career, Long has only played in 18 of 32 games the last two seasons. In the NFL, this age/games played trend rarely results in a player returning to top form, but there could be some optimism with Long. For one, while he had three separate surgeries this offseason, they were all in the upper body, which bodes well for the gruesome ankle injury he suffered in 2016 that clearly still affected him in 2017. Even though he wasn't full-go in the offseason program, Long still was able to do a lot of on-field work and appeared to have the power back in his lower-half. It sure sounded like he will be ready for training camp, so it will be interesting to see if Long is full-go when the Bears take the practice field in Bourbonnais on July 20. He will be one of the more interesting players to watch in the preseason.
7. Will Allen Robinson be the guy who caught 80 passes in 2015 and 73 passes in 2016?
Given the nature of Nagy's system and the options available to Trubisky, Robinson doesn't necessarily have to catch 80 passes this season, but he does need to be the guy opposing defenses are game-planning for each and every week. Despite coming off a torn ACL, I thought Robinson was the perfect signing for the Bears this offseason, but it's always a good idea to temper expectations for NFL free agents because, let's face it, they usually don't work out (not to mention Pace's track record with wide receivers isn't exactly good). 
That said, Robinson falls into a different category for me because he's still only 24 years old and is clearly better on tape than any receiver Pace has signed or drafted over the last four years. 
8. Speaking of which, what are fair expectations for Kevin White?
Motivation shouldn't be an issue for White after the Bears declined his fifth-year option and signed Allen Robinson, Taylor Gabriel and Bennie Fowler before trading up in the second round of the NFL Draft for Anthony Miller. The team is clearly prepared for life without White, Pace's first draft pick as GM back in 2015. 
That said, there still could be a role for White in Nagy's offense. While he likely won't ever be the dominant No. 1 wide receiver the Bears thought they were drafting, White still brings some explosion as a catch-and-run wideout on quick passes, which fits Nagy's system. Considering White has only played in five out of a possible 48 games the last three years, staying healthy is obviously priority No. 1, and if he does, he's going to be involved. There's been some speculation that White could get cut if he struggles in the preseason, but that will only happen if he really struggles and the roster spot becomes an issue. The sample size is still so small that I would expect the Bears to see what they can get out of him, especially since his contract is fully guaranteed. 
9. Who will step up as a starter on the defensive line and who the heck is going to rush the passer from the edge?
Mitch Unrein may not have received a whole lot of attention, but he was a pretty good player for the Bears the last three seasons. The Buccaneers noticed, giving him $4 million guaranteed in the offseason. Meanwhile, the Bears decided to go younger, opening up a competition between Jonathan Bullard and Roy Robertson-Harris for the third defensive line spot alongside Goldman and Akiem Hicks. I thought Bullard got considerably better last year and Robertson-Harris could be poised for a breakout year too. Considering the lack of depth on the edge, both of those young players could prove to be pretty important on the defensive line. 
In my opinion, edge rusher was the most overlooked area of need in the offseason as the Bears said goodbye to Pernell McPhee, Willie Young and Lamarr Houston and essentially replaced them with free agent Aaron Lynch and sixth round draft pick Kylie Fitts. Isaiah Irving is an intriguing young player who showed potential as a rookie last year, but he's also a former undrafted free agent. Sam Acho is a good run stopper and a reliable player, but not an explosive pass rusher. 
The guess here is that Acho ends up playing a lot and Fangio gets creative across the board. Robertson-Harris has the ability to come off the edge and inside linebacker Nick Kwiatkoski has shown a knack for being able to blitz. Fangio even had a package last year that used special teamer Sherrick McManis as an edge rusher.
The reality is that the Bears could be one Leonard Floyd injury away from a dire situation at edge rusher, but the good news is that the defensive line and inside linebacker group is littered with guys who have the ability to get to the quarterback. The key, of course, will be for Floyd to stay healthy and perform well enough to draw extra attention.
10. Will Roquan Smith be a Week 1 starter?
I saved this question for last because I expect this answer to be an easy yes. The Bears will make him earn his role in the preseason, but I don't think it will take long for Smith to take over as a starter. After all, he's viewed as a guy who can quarterback the defense for years to come and I believe he has the ability to take over that role very quickly. Like at Lambeau Field in Week 1.
Adam Hoge covers the Chicago Bears for WGN Radio and WGNRadio.com. He also hosts "The Hoge & Jahns Podcast." Follow him on Twitter at @AdamHoge.