This is an archived article and the information in the article may be outdated. Please look at the time stamp on the story to see when it was last updated.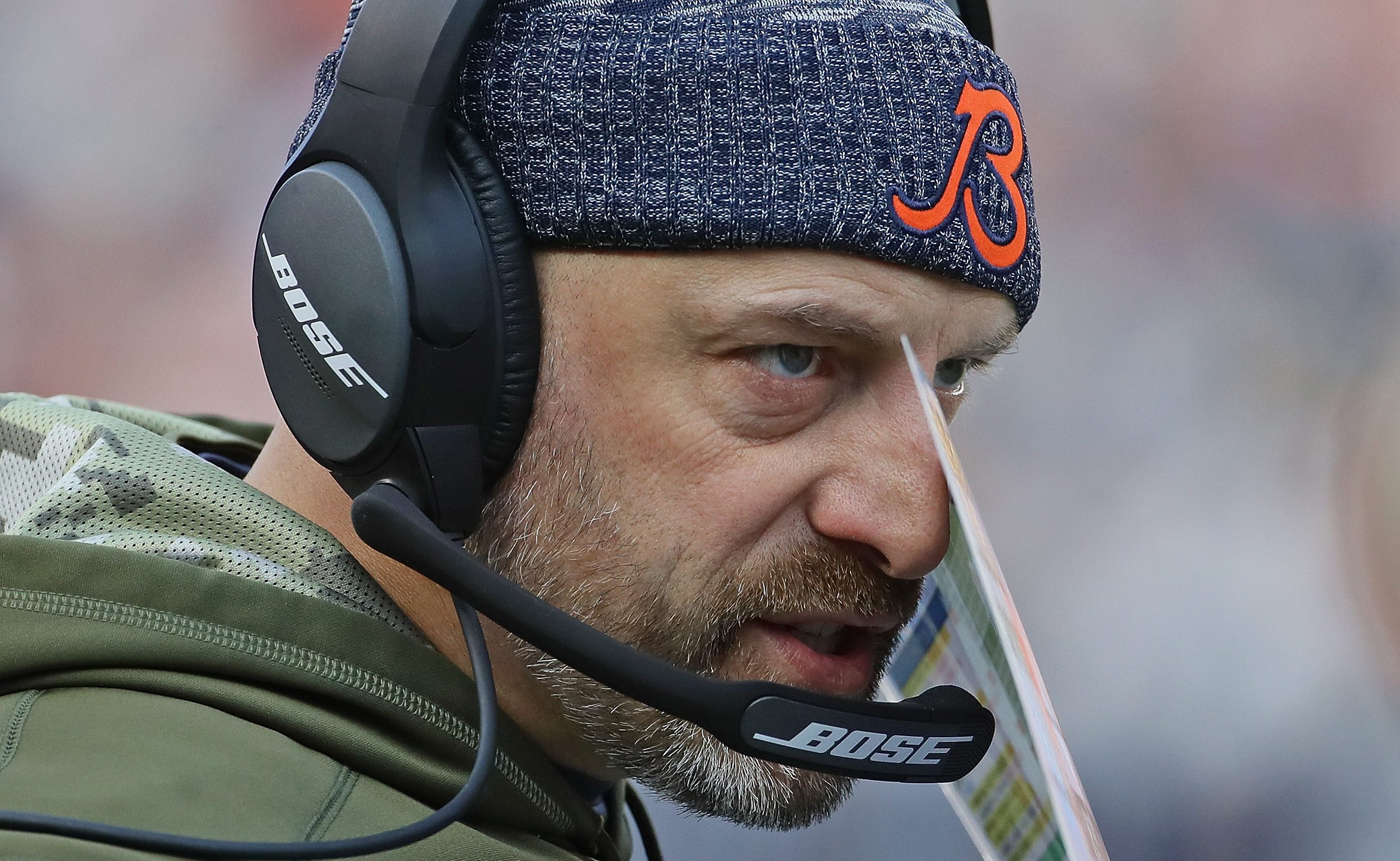 When the Bears were sitting at 3-3, they still needed to prove that they were serious playoff contenders. Some might argue that wins over the Jets, Bills and Lions don't prove anything, but the Bears — now 6-3 — thoroughly beat all three teams, showing that they are good enough to contend for the NFC North.
But there's a difference between making the playoffs and being legitimately competitive once you get there. Remember, the Bills made the playoffs last year. The Tennessee Titans even won a playoff game — against Matt Nagy and the Chiefs — before firing their head coach.
How would the Bears fare on the road in a playoff game in New Orleans or Los Angeles? Would you trust them to win those games?
Sunday night's game against the Vikings at Soldier Field will give us a better idea of how the Bears stack up in the NFC, but in the meantime, here are three (mostly non-Mitch Trubisky related) reasons why the Bears can actually win the Super Bowl this season, and three reasons why they can't — yet. 
Remember, there are still seven regular season games remaining and plenty of time to improve or regress.
Why The Bears Are Super Bowl Contenders
1. The Defense
Vic Fangio's unit currently ranks fourth in total defense (319.6), third in yards per play (4.98) and fourth in points per game (19.4). A brief two-week tackling slump in losses to the Dolphins and Patriots created some serious doubt about the team as a whole, but the defense bounced back with two strong performances without Khalil Mack before the elite pass rusher returned with two sacks against the Lions Sunday. 
At this point, there's little doubt the Bears' defense is one of the best in the league and capable of competing for a Super Bowl. It has a legitimate superstar in Khalil Mack and multiple players making a case for the Pro Bowl, including Akiem Hicks, Eddie Goldman, Danny Trevathan, Eddie Jackson and Kyle Fuller. First round draft pick Roquan Smith is getting better each week, which means the defense probably hasn't peaked yet. 
2) Injuries, or lack of injuries
Before you accuse me of jinxing the Bears' health, understand that this is more about how the organization has managed injuries this season. Luck is no doubt a factor — and the Bears will certainly suffer more injuries this season — but Nagy and general manager Ryan Pace overhauled the Bears' training staff and strength and conditioning staff in the offseason and the results have been very positive. 
Nagy was extra cautious with injuries during the preseason and it appears to paying off. For example, pass rusher Aaron Lynch barely practiced in the preseason, but was ready for the opener and has been a pleasant surprise. Meanwhile, Roquan Smith was shut down with a hamstring issue shortly after his contract dispute. Nagy insisted they were just being careful and, while Smith clearly went through some growing pains early in the season, he has stayed healthy and is becoming a key contributor. 
And there's no better example than how Pace, Nagy and trainer Andre Tucker handled Khalil Mack's ankle injury and Allen Robinson's groin injury in recent weeks. After initially letting them play against the Patriots, both players were held out against the Jets and Bills so they could get right. Along with Trubisky, Robinson and Mack were the best players on the field Sunday against the Lions.
Even the one catastrophic injury the Bears suffered — to right guard Kyle Long — came at a position where they had some depth. And he technically has a chance to return from his ankle injury for a playoff run.
The reality is that Super Bowl contenders also have some luck with injuries and manage them well. The Bears have made tremendous strides in this area in 2018.
3) Trubisky and his weapons should get better
Sunday's game not only showed how good Robinson can be, it also showcased the ascension of rookie Anthony Miller, who was slowed by a shoulder injury earlier in the season. Pace has done a tremendous job with his second round picks (Goldman, Cody Whitehair, Adam Shaheen, James Daniels) and Miller has a good chance to be the latest home run. He should continue to get better in the second half of the season.
And speaking of that Shaheen guy, he still needs to prove he can consistently contribute at the NFL level, but Nagy is excited about him. The second-year tight end was having a great preseason before suffering a foot/ankle injury in August. His season could start as soon as Sunday night and he should be become an important player in this offense.
Through nine games, the Bears have moved from 30th in total offense in 2017 (287.4) to 16th (363.4). They're 10th in yards per play (5.83) and, most importantly, fifth in points per game. Did you think the Bears would be averaging 29.9 points per game at this point in the season?
There's obviously been a ton of progress and Nagy's unit can still get a lot better if Trubisky and Co. continue to develop. However, that also brings us to the reasons for pessimism…
Why The Bears Are Not Super Bowl Contenders — Yet
1. The running game
This is where numbers can be deceiving because the Bears actually rank 16th in rushing yards per game (111.8) and 11th in rushing yards per play (4.24). The reality is that those numbers are heavily inflated by Trubisky's 320 rushing yards (7.8 per carry), which is the second-most among quarterbacks. Only Cam Newton has more with 327 rushing yards and that's with 29 more rushing attempts.
Nagy seems genuinely upset about the Bears' running game. Jordan Howard is only averaging 3.4 yards/carry and while Cohen is at 4.4, he's more of a boom-or-bust runner. The Bears have yet to prove they can consistently pick up four yards when they hand the ball off and that is the best way to break the will of a defense. 
"Not good. Nope. Not good. Not good enough," Nagy said Sunday. "As we get going here and the weather gets a little nastier, we need to be able to run the football. It's plain and simple."
Without a running game, it's hard to imagine the Bears beating the Saints or Rams in the playoffs. Heck, it casts serious doubt that they can beat the Vikings on Sunday. In some ways, these struggles make Trubisky's progress that much more impressive, but Nagy needs to find a way to take some pressure off his quarterback.
2) #BearsSpecialTeams
This starts with the kicker, but it does not end there. Cody Parkey has put the Bears in a tough spot, having made just 13-of-18 field goals this season to go along with missing his first two extra points of the season Sunday against the Lions. Pace gave Parkey a four-year contract with $9 million guaranteed, so he has time to get out of this funk, but it's definitely a big concern for a team that gets into opponent territory a lot. If the Bears want to be taken seriously in December and January, they need a reliable kicker.
But in general, Chris Tabor's unit has been inconsistent at best. Two special teams touchdowns cost the Bears a legitimate shot to beat the Patriots. Penalties have been an issue and Anthony Miller not knowing that he can't bat the ball forward on an on-side kick was a red flag. Cohen can be explosive as a punt returner, but the Bears aren't getting much out of their kick return game.
Super Bowl contenders have three good phases. #BearsSpecialTeams remain a weakness.
3) The lightly-tested rookie head coach
Don't take this the wrong way, because Nagy has proven to be a very good hire through his first nine games. There are very few reasons to believe he's going to fail as a head coach in this league. He's done wonders with the offense in very little time and the players believe in him. Nagy's transparency is refreshing and his determination — or "obsession" — is admirable. Bears fans should be very excited about the head coach.
That said, this is a column about potentially winning the Super Bowl less than three months from now and Nagy is still a relatively untested head coach. Let's not forget that his team lost a 20-0 lead in Green Bay this season. His decision to settle for a 53-yard field in overtime against the Dolphins cost the Bears a victory. And by his own (refreshing) admission, he failed to challenge a fumble against the Lions because he was looking at his play sheet and planning the next offensive series. 
Nagy would be the first to tell you that he's still learning as a head coach. The future is bright, but how he handles key decisions in big games down the stretch remains to be seen.
At this point, I believe the Bears are good enough to win the NFC North, but they need to develop a running game and improve on special teams before they can truly be considered a Super Bowl contender. And, of course, this season has always been about the quarterback. Trubisky needs to continue to make progress and be more consistent from week-to-week.
But let's be honest. The fact that this column is even being written in mid-November is pretty incredible. The Bears are not only relevant, but good. A Super Bowl this season may seem unlikely right now, but there are plenty of reasons to believe this team can improve by January. 
We should know a lot more a week from now.
---
Adam Hoge covers the Chicago Bears for WGN Radio and WGNRadio.com. He also hosts "The Hoge & Jahns Podcast." Follow him on Twitter at @AdamHoge.