This is an archived article and the information in the article may be outdated. Please look at the time stamp on the story to see when it was last updated.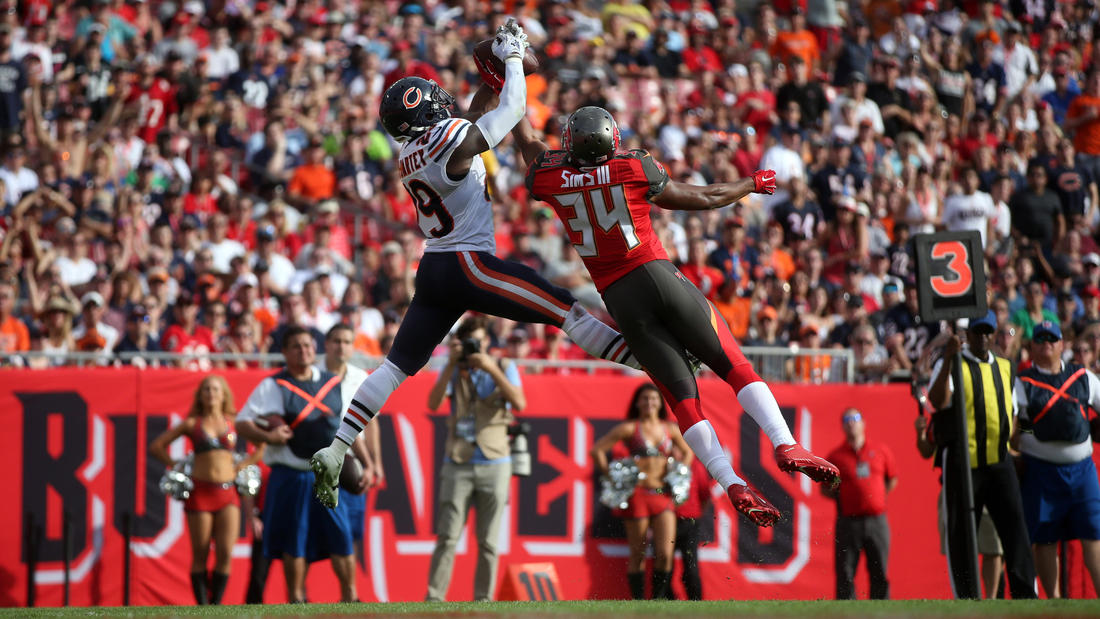 TAMPA — Like most players, Harold Jones-Quartey didn't think he should've been benched.
"I was a little upset," the Bears' rookie safety said. "Calvin Johnson had a great play on me and I lost my spot."
It was Week 6 in Detroit. The Bears had blown a last-minute lead and the game was now deep in overtime, tied at 34. Lions quarterback Matthew Stafford escaped to his right and saw Bears cornerback Kyle Fuller had passed Johnson off to Jones-Quartey. The rookie was stuck in one-on-one coverage with a future Hall-of-Fame wide receiver, who has a six-inch height advantage on him.
Welcome to the NFL.
Not surprisingly, Johnson came down with the 57-yard bomb, setting the Lions up for a chip-shot 27-yard field goal to win the game.
The entire play was little bit of a reality check. Not just because the Bears decided Jones-Quartey needed more seasoning (and for more reasons than just that one play, by the way), but because "HJQ" — his nickname since high school — was by far the league's biggest rookie longshot to be playing on an NFL field that day.
Consider this: Jones-Quartey, who was born in Ghana and lived there until he was nine years old, didn't even play true high school football.
Ever hear of the Columbus Crusaders? Me neither.
That's the club team — run by a ministry — that Jones-Quartey played on in high school. Horizon Science Academy in Columbus, Ohio didn't have a football team, so he joined the Crusaders, who "played just for fun" because they weren't eligible for the state high school playoffs.
Jones-Quartey was good enough earn a scholarship to play football at the University of Findlay, a Division II school with an enrollment of just 3,700. He went there as a wide receiver and was only a full-time safety for two years.
Ever hear of the Gridiron Showcase? Me neither.
That's the college all-star game Jones-Quartey was invited to last winter. The first edition was played in Arlington, Texas in January and it's so unknown that even Jones-Quartey thought it was played in Austin.
Without the recognition of a more popular all-star game and without an NFL Combine invite, HJQ went undrafted, of course. But not only did he go undrafted, he wasn't even signed as a free agent right away. He had to go to the Arizona Cardinals' rookie minicamp just to get a tryout. It was there where he impressed enough to earn a trip to training camp. By all accounts, Jones-Quartey had a good preseason, but the Cardinals didn't have the space for him on their 53-man roster, allowing the Bears to claim him off waivers.
Fast-forward to Sunday in Tampa, and Bears general manager Ryan Pace and his scouting department look like geniuses. Getting another opportunity on a defense devoid of playmakers, Jones-Quartey took full advantage, intercepting Buccaneers quarterback Jameis Winston and forcing a fumble on running back Doug Martin to help the Bears win 26-21.
"He had zip. He was fresh," Bears head coach John Fox said when asked why he gave Jones-Quartey the start after veteran Chris Prosinski started the last five games. "He had a great week of preparation. I saw him improve. He got better just in practice."
Jones-Quartey said safeties coach Sam Garnes informed him Wednesday that he would be taking reps with the No. 1 unit in practice. He took full advantage, making the exact same plays he made in the game Sunday.
"We saw that play all week," Jones-Quartey said about the interception. "I picked it off in practice a couple times … I just didn't believe he threw it."
Suddenly, Bears fans searching their rosters for No. 29 had to take notice of the first Bears safety to intercept a pass this season. But considering few people have heard of the Columbus Crusaders and the Gridiron Showcase, you're forgiven if you had never heard of Harold Jones-Quartey until Sunday.
After all, he's used to it.
"I've been an underdog my entire life," he said after the game. "Small-school guy. I'm playing against big-time guys and I'm not afraid so I've gotta do something to make them know that I'm not timid out there."
So not only did he make the plays, but he made sure the Buccaneers' sideline knew about it.
"That's my mindset every game. I step out there. I feel disrespected," he said. "I feel like people don't give us D-II guys a shot because of where we came from. And I think that drives me. That drives a lot of us small-school guys."
Jones-Quartey's attitude is exactly what the Bears love. The coaching staff noticed the way he reacted to getting benched, and the way he prepared from that point on.
"We get to watch him every day," Fox said. "So I was proud of the young man and the way he performed … He'll just continue to get better."
HJQ only has one more game this season to prove himself, but for him, it's a big one. He can't wait to show Calvin Johnson how much he has improved since Week 6. The Lions visit Soldier Field next week.
"I kinda owe Calvin a little something," he said. "I'm actually looking forward to the Detroit game because they beat us in overtime with a big-time catch and that's kind of how I lost my spot, so I'm kind of really anxious to play that game."
That's right. The unlikeliest of NFL rookies saying he can't wait to face the superstar who got him benched. It's no wonder he's made it this far.
Adam Hoge covers the Chicago Bears for WGN Radio and WGNRadio.com. He also co-hosts The Beat, weekends on 720 WGN. Follow him on Twitter at @AdamHoge.