This is an archived article and the information in the article may be outdated. Please look at the time stamp on the story to see when it was last updated.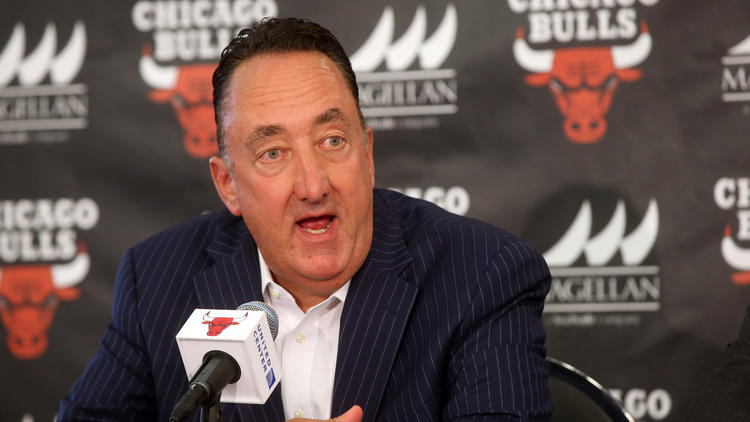 In Chicago, two of the city's five major sports franchises — the Blackhawks and Cubs — have clear, purposeful approaches that are producing tangible results. Another — the Bears — at least had the sense to identify disaster and make shrewd hires to get back on track, although it's too early in the rebuilding process to be able say with certainty that it's working.
And then there are the Bulls and White Sox.
The Bulls and White Sox, of course, have the same owner — Jerry Reinsdorf — and thus, not surprisingly, have many similarities, including championships. But unfortunately, over the last few years, those similarities have not been good — and in some cases, mind-boggling.
Thursday's NBA trade deadline, for example, brought back frightening flashbacks to last July's MLB trade deadline when the White Sox wandered around without a direction, trying to unload Jeff Samardzija while simultaneously inquiring about Yoenis Cespedes and Justin Upton. In the end, general manager Rick Hahn did nothing, ultimately losing Samardzija to the Giants in free agency while Cespedes helped lead the Mets to the World Series.
Thursday went similarly for the Bulls, as Yahoo!'s Adrian Wojnarowski reported that the Bulls attempted to unload Pau Gasol while simultaneously inquiring about draft bust Shabazz Napier. Just like the White Sox, the directionless Bulls didn't pull the trigger on either deal, underwhelming its fan base by simply sending Kirk Hinrich to Atlanta for a second-round pick and Justin Holiday.
To be clear, the problem here isn't the inactivity, it's that both teams entered their respective trade deadlines without an obvious direction and came out stranded in the desert.
Meanwhile, both GMs attempted to justify their reasoning with comments that only added to the confusion.
"We didn't make calls looking to move Pau," Bulls general manager Gar Forman told the Chicago Tribune Thursday. "We received calls on most of our players."
Wait, you didn't make calls looking to move Gasol? He's 35 years old and going to opt out of his contract at the end of the season, asking for more money. Either Forman is lying, or he didn't do his job.
As for Hahn: "Frankly, it's a little frustrating," he told the Tribune last summer. "We were optimistic we were going to be able to get something done. Ultimately, the cost just didn't justify the return."
This quote makes sense in regards to the illogical idea of adding pieces last July, but in Samardzija's case, the cost of trading him was next to nothing, considering he had two months left on his contract. Unfortunately, Hahn apparently let a 7-1 run before the trade deadline trick him into thinking the White Sox had a shot at the playoffs. Predictably, they finished 10 games out of the wild card race.
As for the return, at least the White Sox netted the No. 28 overall draft pick as compensation for losing Samardzija to the Giants, but now they appear to be unwilling to part with that pick to sign somebody like Dexter Fowler, who could provide much needed help in the outfield.
It's that kind of thinking that has fans of both the White Sox and Bulls asking: What exactly is the plan here?
On one hand, the White Sox were willing to cough up even more prospects to land third baseman Todd Frazier and second baseman Brett Laurie this offseason, but they reportedly weren't willing to give outfield free agents Alex Gordon, Upton or Cespedes more than a three-year contract. Thus, the Sox opened spring training Friday with major holes in the outfield, at shortstop and an underwhelming catching duo of Alex Avila and Dioneer Navarro.
Are they trying to compete or not?
While the Bulls are six months behind the White Sox on the calendar, Thursday's confusing trade deadline suggests they are on a similar directionless path.
And should we really be surprised? Both franchises have vice presidents — John Paxson and Kenny Williams — who had early success as general managers and were promoted instead of fired once the hype ran out. Now they both oversee unproven general managers and occasionally say things publicly that create confusion over who is really controlling roster decisions.
Meanwhile, both franchises had a successful manager/head coach they kicked to the curb because the front office couldn't get along with them. You would think the Reinsdorfs would have learned from Robin Ventura's 297-351 record since they fired Ozzie Guillen, but remarkably, they repeated the same mistake last summer, sending Tom Thibodeau packing while the owner threw him under the bus.
All of these similarities between the Bulls and White Sox would be fine if they were winning, but they're not. It's been 18 years since the Bulls won a championship and they've only won five playoff series in that time. The White Sox won the World Series in 2005, but it's time to stop living in the past and realize they've only been to the playoffs once in the last decade, and that was eight years ago.
Right now, the idea of either the Bulls or White Sox winning another championship seems silly. For that to happen, both teams need to first come up with a concrete plan and stick with it.
Just ask the Blackhawks what to do. Or heck, by October, you might even be able to ask the Cubs.
Adam Hoge covers the Chicago Bears for WGN Radio and WGNRadio.com. He also co-hosts The Beat, weekends on 720 WGN. Follow him on Twitter at @AdamHoge.