This is an archived article and the information in the article may be outdated. Please look at the time stamp on the story to see when it was last updated.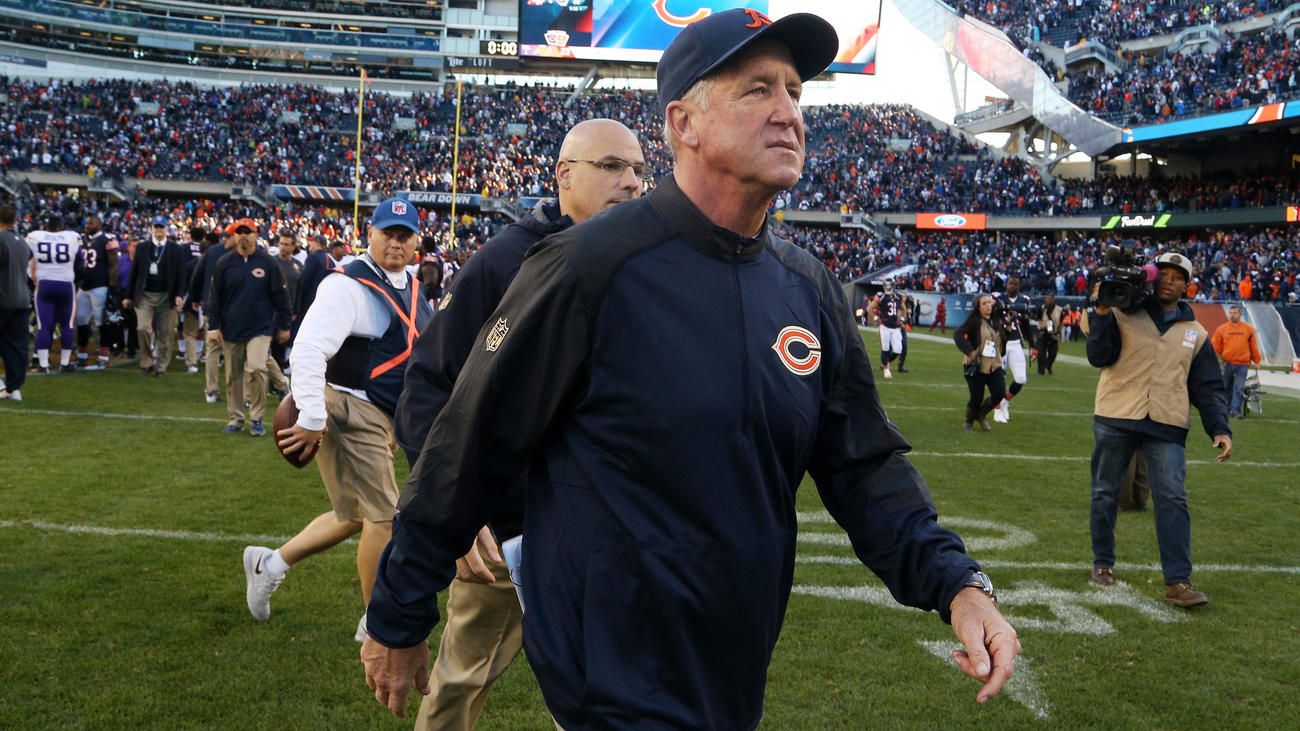 CHICAGO — These are your Bears. The well-coached, transitioning, but still not very good Bears.
"We are what we are," head coach John Fox said after the Bears allowed the Vikings to score 10 points in the final two-minutes, essentially handing a division rival a 23-20 win on their own (slippery) turf.
Right now the Bears are a 2-5 football team. And they should probably be 4-3.
"Coach (Fox) said it, and it's true: Great teams know how to win close games and good teams know how to give away close games. We gotta try to get over that hump to be a great team," Pernell McPhee said.
The Bears probably aren't even a good team, but they're not an awful team either. Their last four games have all been decided by three or less points. They found a way to win the first two and they found a way to give away the last two.
"It's like what I told the team — we fought, we battled, and our guys competed," Fox said. "It's not a lack of effort or a lack of 'want-to.' It's just in key moments, you gotta make plays."
Fox is right. The Bears don't have a effort problem or an attitude problem or anything like that. They have a talent problem. Not across the entire roster, but in enough key positions that they're going to lose more games than they're going to win.
As Fox put it, "We were good enough to be close, but not good enough to win."
That might as well be the theme of the Bears' 2015 season. Fox and general manager Ryan Pace are in the process of overhauling this roster and they've actually done a pretty admirable job on defense, where all 11 starters Sunday were different than the 11 starters who took the field at the start of the 2014 season.
And with that in mind, it's important to remember that the Bears didn't allow an offensive touchdown to the Vikings until the final two minutes of the game Sunday.
Unfortunately, Pace and Fox clearly need another offseason to rework this team. They're short enough players that when injuries strike — and there's been a bunch of them — it hurts bad.
Sunday's loss to the Vikings was direct evidence of that reality. Who would have thought the Bears would miss suddenly important nickelback Bryce Callahan? Fox and defensive coordinator Vic Fangio correctly determined during the bye week that Sherrick McManis wasn't cutting it as the nickelback and they identified Callahan as an admirable replacement. Callahan played well Sunday until he suffered a concussion late in the fourth quarter.
Enter McManis, who quickly committed a holding penalty and allowed rookie wide receiver Stefon Diggs to turn an underneath option route into a 40-yard touchdown.
"I gotta do my job," McManis said. "That was my guy."
But this is one area where the coaching staff can be criticized. Alan Ball is making $3 million to sit on the bench and it's hard to understand why he isn't seeing the field. The Bears easily could have shifted Tracy Porter inside when Callahan got hurt and put Ball on the outside instead of going back to McManis. Porter practiced in the slot during training camp and Fox said when they signed him that Porter is capable of playing "all three spots on sub-defenses."
As for Ball, "he's our next corner up," Fangio said Wednesday.
Guess not.
But no matter the corner combinations, the Bears clearly have a depth issue in their secondary.
And now they might have a depth issue at running back too. Matt Forte suffered a knee injury and did not return to the game, which put rookie Jeremy Langford on the field in the fourth quarter. Langford played well, but he dropped a crucial third down conversion that gave the Vikings the ball back with a minute remaining.
"He's going to be a heck of a player for us," quarterback Jay Cutler said when asked about Langford's drop. "I told him that one play doesn't win or lose a football game."
In this case, Langford probably has the talent to be on the field in crucial situations, but he still lacks experience. In that moment, the Bears missed Forte.
Meanwhile, the play that maybe hurt the Bears the most was the missed interception by Antrel Rolle, a veteran who has the talent and the experience to make big plays in the clutch. He was staring at an under thrown ball from Teddy Bridgewater, but was undercut by wide receiver Charles Johnson, who caught the 35-yard pass that put the Vikings in field goal range.
"I thought it was just a for-sure layup," Rolle said, adding that he didn't see Johnson to his outside.
But in a Cover-2 defense — which the Bears were in on that play — it's his job to know Johnson is there. If Rolle makes a stronger play on the ball, it's likely an incomplete pass at a minimum.
And for this Bears team, there's been a lot of "ifs" like that over the last two games, both last second losses to division rivals. Instead of winning those two games and heading to San Diego with a 4-3 record, the Bears are 2-5 overall and 0-3 against the NFC North. So what's the goal now?
"To get better," Fox said after the game. "It didn't change after (an 0-3 start) and it's not going to change at 2-5."
The truth is, the Bears are getting better. There's just too many holes on the roster. Pace and Fox need another year to fix it, at least.
Adam Hoge covers the Chicago Bears for WGN Radio and WGNRadio.com. He also co-hosts The Beat, weekends on 720 WGN. Follow him on Twitter at @AdamHoge.