This is an archived article and the information in the article may be outdated. Please look at the time stamp on the story to see when it was last updated.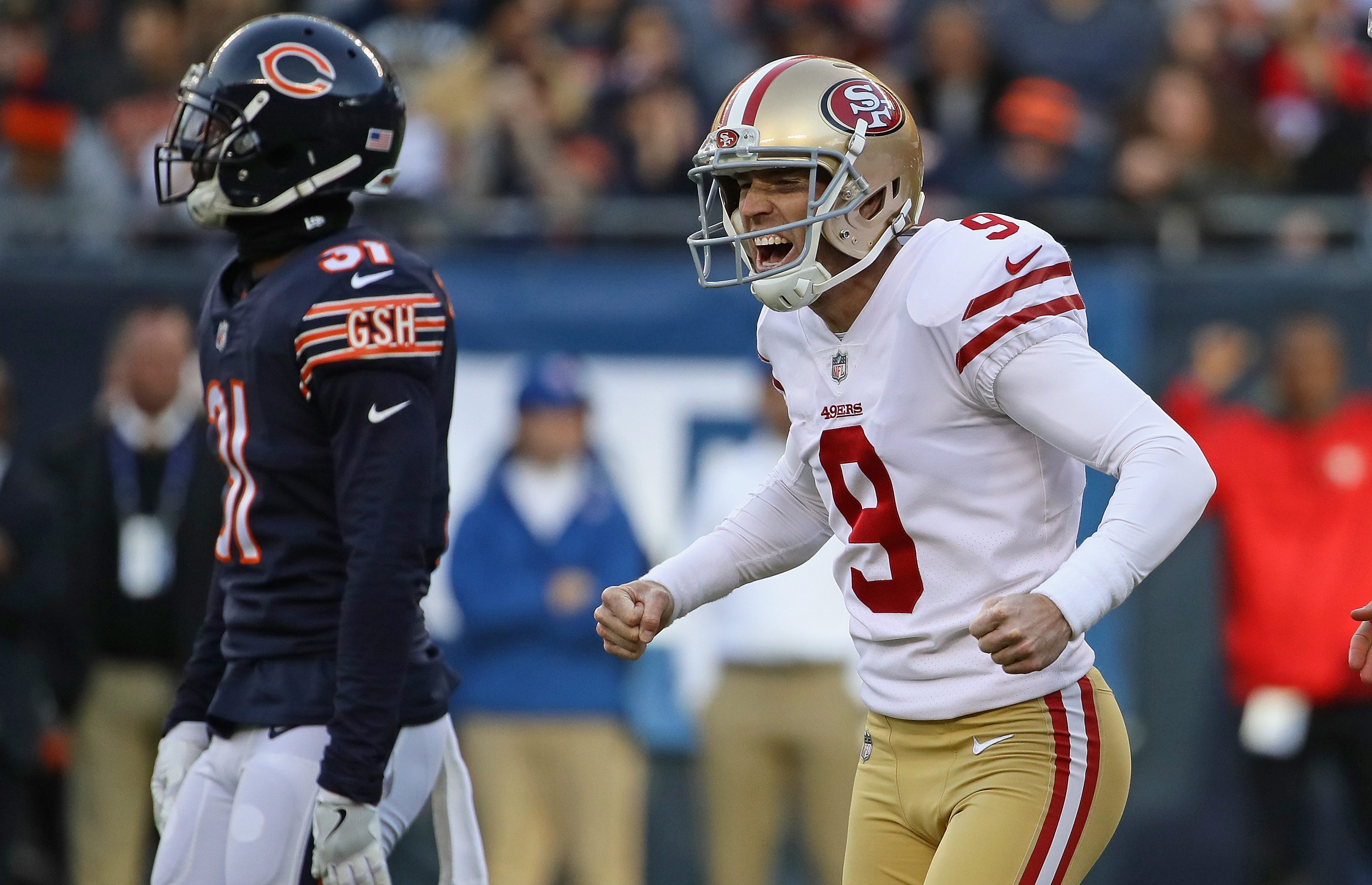 SOLDIER FIELD — With a flurry of fist pumps, Robbie Gould directed his not-so-subtle celebration straight toward the Chicago Bears' sideline.
Earlier in the week, Bears special teams coordinator Jeff Rodgers admitted Gould was "a real competitive player," so he and head coach John Fox couldn't have been too surprised by Gould's reaction after their former kicker knocked in the game-winning 24-yard field goal with four seconds remaining. He essentially beat the Bears by himself, scoring all of the 49ers' points in a 15-14 victory at Soldier Field.
"I didn't see that," Fox said about Gould's celebration. "I can't comment on something I didn't see."
He apparently didn't see Gould's talent either, electing to release the kicker right before the 2016 season in a move that also falls on general manager Ryan Pace, who ultimately has control of the 53-man roster.
"I talked to Foxy, I talked to Jeff (Rodgers) today and said, 'I appreciate everything you guys did for me,'" Gould said after the game. "Really if it wasn't for them, I probably wouldn't be having the run — with a lot of help from coaches and players — that I'm having in the last two years."
Gould is now 36-of-38 on field goals since leaving the Bears and he specifically mentioned that "it's pretty special to be playing for a guy like Coach (Richard) Hightower," who was the Bears' assistant special teams coordinator in 2016 and is now the 49ers special teams coordinator.
Yes, the optics of what unfolded Sunday at Soldier Field are just brutal for the Bears, especially for Pace. He was beat by the kicker he cut, with the help of the quarterback (Jimmy Garoppolo) he potentially could have acquired, who happened to play at his own alma mater (Eastern Illinois). Only Bill Belichick knows if Garoppolo could have been a Bear, but one would think the haul Pace gave up for Mitch Trubisky (the No. 3 overall pick, two third-round picks and a fourth-rounder) could have been enough last spring. As it turned out, the 49ers got Garoppolo for just an early second-rounder and were on the receiving end of that haul Pace gave up for Trubisky. It's still way too early to know which franchise will benefit the most in the long run, but in the context of Sunday's loss to Gould and Garoppolo, it all looks bad. Really, really bad.
To his credit, Gould was very classy in his remarks about his former employer, even saying the Bears are "probably the greatest sports organization, greatest group of fans I've ever been a part of."
The first part of that comment is an extremely tough sell these days, and there's no doubt the fans deserve better than to lose single-handedly to their own franchise's leading scorer, who never should have been let go.
Unsurprisingly, the Bears' loss included more inexplicable decisions from the head coach, who completely botched the end of the game.
With the 49ers trailing 14-12, Garoppolo led his team down to the Bears' 3-yard-line with 1:34 left in the game. That's when Fox used his final time out, meaning that all the 49ers had to do was kneel on second and third down to run out the clock and kick what was essentially a college extra point for the win.
Somewhat shockingly, the 49ers handed the ball off to Carlos Hyde on second down, a gift that Fox completely ignored. The only correct coaching move in that situation was to allow Hyde to walk into the end zone untouched, which would have left around 90 seconds on the clock for Trubisky to lead a potential game-winning touchdown drive. Instead, the defense tackled Hyde for a two-yard loss, the clock kept running and Garoppolo set the field goal up by kneeling on third down. Fox essentially handed the 49ers the win.
Amazingly, his explanation after the game was more baffling than his coaching.
"We talked about (letting the 49ers score), but it would have had to be done at about 1:36 or 1:40 or whatever it was," he said. "We felt good about the block we had on the potential field goal. Neither one of those are great options at the 5 and 4 yard line."
Ignoring the fact that "1:36 or 1:40 or whatever it was" is enough time to go down the field and score, Fox actually said that he "felt good" about blocking a 24-yard field goal. He really said that.
And he's right that neither of the options are great, but one option gives you a chance to win and the other one results in an almost-certain loss. Which option would you take?
Even if you remove the usual uninspired play and baffling offensive game plan from the equation, Fox's bungling of the end of the game is reason enough for him to be let go Monday morning — a week too late already. In fact, it's hard to imagine any scenario in which Fox coaches the team next week in Cincinnati — except one: it's the Bears.
But Fox's fate has been sealed since losing to the Packers on Nov. 12. And if that game was the "worst-case scenario" for him, then Sunday's result was the worst-case scenario for Pace.
From Connor Barth to Roberto Aguayo to Cairo Santos, the Bears' kicker situation has been a disaster since Gould was let go. And while Gould was busy scoring all of the 49ers' points Sunday, Santos was on the sidelines nursing a groin injury the Bears knew about when they signed him. Punter Pat O'Donnell had to handle kickoffs, while Santos was limited to two extra points.
Gould said he hasn't talk to Pace since he was released.
"Ryan has never reached out to me. When we were in New York last year he didn't speak to me and I didn't see him today. I don't expect him to," Gould said, adding that he didn't leave the Bears on bad terms.
But anyone who watched Gould during his 11-year run in Chicago knows how competitive he is and he didn't shy away from the fact that this game meant a lot to him.
"To come in here, get a win like that, and to get a game-winner, I don't think I could have written it any better to be honest with you," he said.
Meanwhile, on the other side, it couldn't have been written any worse for Pace and Fox.
Adam Hoge covers the Chicago Bears for WGN Radio and WGNRadio.com. He also co-hosts The Beat, weekends on 720 WGN. Follow him on Twitter at @AdamHoge.