This is an archived article and the information in the article may be outdated. Please look at the time stamp on the story to see when it was last updated.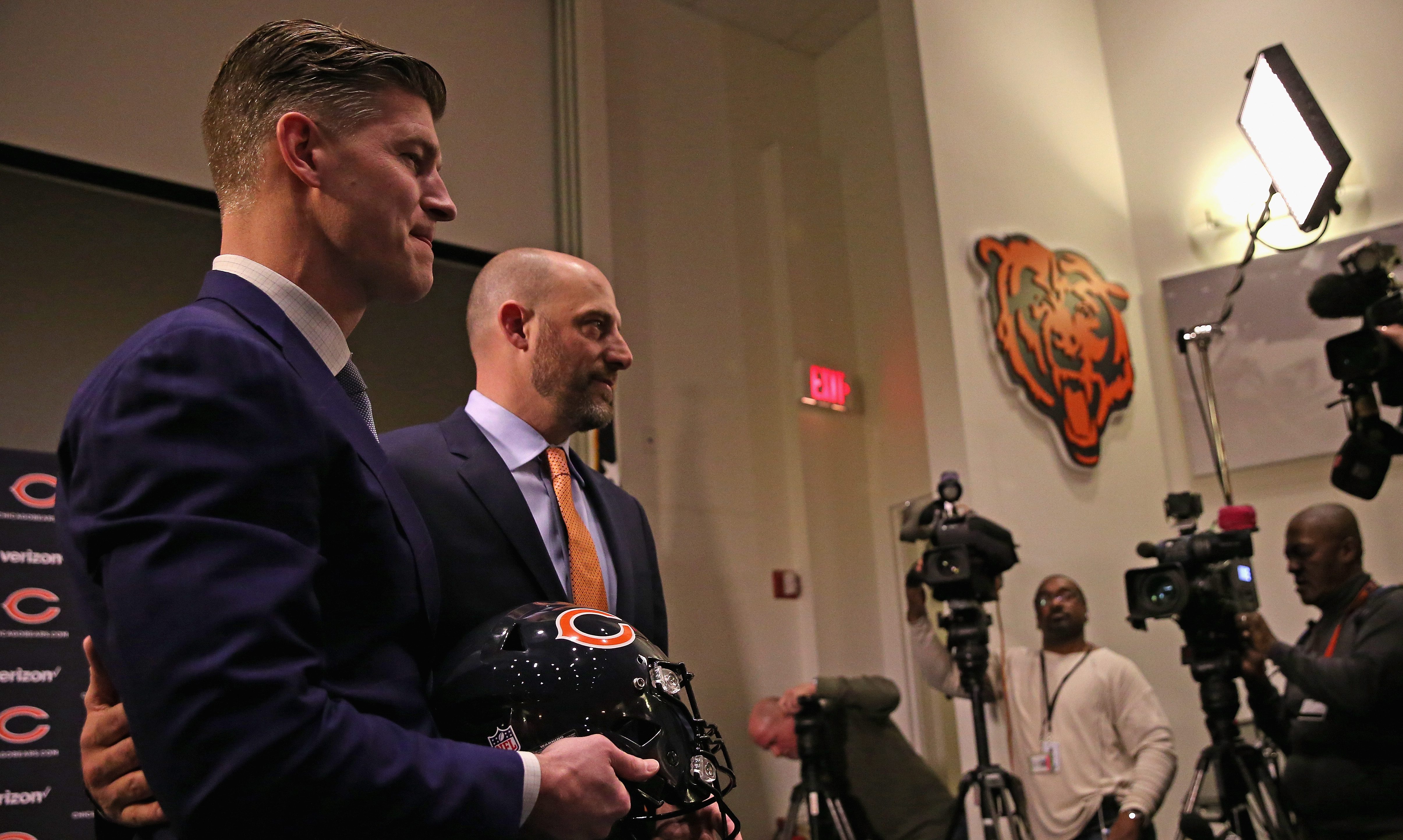 LAKE FOREST, Ill. — Tuesday's gathering inside the Mugs Halas Auditorium at Halas Hall may have been an introductory press conference for a new Bears head coach, but for at least one moment, it gave the media and fans a glimpse at what a Matt Nagy postgame press conference might look like.
After all, the former Kansas City Chiefs offensive coordinator did play a pivotal role in a playoff game just three days earlier, and there were lingering questions to be answered — the same questions Bears general manager Ryan Pace needed answered as he interviewed Nagy the morning after the Chiefs blew an 18-point lead and lost to the Tennessee Titans.
Matt, did you call the plays the entire game and, if so, what was thinking behind the play calling in the second half?
This is usually where John Fox would grumble and deliver a long "uhhhh" before not answering the question. Nagy did something entirely different.
"Yeah, I called every single play in the second half," he said. "That there was a learning situation for me. I've gone back and looked at it. There are scenarios where I wish I would've made some different choices with the play call. For me, that was a failure in my book. But I'll grow from it, and I'll learn from it, I promise you that, and I'll use it as a strength here for me with the Chicago Bears."
Nagy wasn't done.
"I felt terrible for our team, for our organization, put in a lot of good work. When you lose a player like (Travis Kelce), you got to adapt. And I met with our offense. Our offensive staff supports me, Coach Reid supports me. But I called every play in that second half. I stand by it. And I promise you I'm going to learn from it."
In seven-plus seasons covering the Chicago Bears, I have not seen a head coach — from Lovie Smith to Marc Trestman to John Fox — own a game day mistake like Nagy did Tuesday. Trestman came close when he showed up to Halas Hall the day after opting to kick a 47-yard field goal on second down with a lengthy explanation, but he never actually acknowledged that it was the wrong decision.
I mean, John Fox challenged a play against the Packers that resulted in his team losing the ball and even though replays clearly showed running back Benny Cunningham fumbling the ball into the end zone, Fox still said after the game, "I don't think anybody saw that."
Of course, fresh off of three years of John Fox press conferences, it would have been nearly impossible for Matt Nagy to not look impressive at the podium Tuesday. And you get zero points for winning press conferences. He needs to win games.
But Nagy should get credit for owning his mistakes in Saturday's playoff loss and it's obvious that he did get that credit with Pace. Win or lose, Nagy was set to interview with Pace, Bears chairman George McCaskey and team president Ted Phillips on Sunday morning. Considering how the game played out, Pace reached out to Nagy's agent, former Bear Trace Armstrong, and told him that they were mindful of Nagy's emotions and willing to push the interview back if needed.
"That meant the world to me. Instead we went even earlier," Nagy said. "I wanted to go earlier because of that. That's where it all started. That was a good feeling."
And thus began Chicago's newest bromance. Both Pace and Nagy talked about the trust that built up in the interview and the confidence they have in their important partnership. After a 4.5 hour interview with the Bears, Nagy left to interview with Indianapolis Colts GM Chris Ballard, a good friend who had just left the Chiefs organization last winter. But Pace didn't go home. He felt like he had his guy and knew that he was likely competing against a Ballard-Nagy friendship that already had established roots. Feeling a similar conviction about Nagy that he had about Trubisky before the draft, Pace set up a dinner that night — a double-date with Nagy, his wife, Stacey, and Pace's wife, Stephanie. The meal at Stock Hill steakhouse sealed the deal. Nagy was offered the job before the sun came up on Monday morning.
"One of the things I noticed right away off the bat with Ryan is understanding how easy it's going to be for us to have a partnership. It's going to be strong," Nagy said. "I told him. I said, 'I got you.' This is something here we're going to do together."
Nagy quickly built up trust with Pace and that started with honesty about Saturday's loss. The GM had the same questions everyone else did.
"I happened to be in my hotel watching (the game) and I had mixed emotions, you know, watching that," Pace admitted. "But one of the things I love about Matt is his humility and willingness to come in and talk about that moment like he did with you guys. He owned it. 'Hey, guys, this is what happened, I was calling the plays, this is what I learned from that moment, and this is what I'm going to do better going forward.' I think that says a lot about him as a person."
It's easy to see why Pace and Nagy hit it off. They are similar in age, demeanor, confidence and the way they talk about football.
Perhaps they'll have the chance to talk about Nagy's playcalling in another playoff game soon.
Adam Hoge covers the Chicago Bears for WGN Radio and WGNRadio.com. He also co-hosts The Beat, weekends on 720 WGN. Follow him on Twitter at @AdamHoge.