This is an archived article and the information in the article may be outdated. Please look at the time stamp on the story to see when it was last updated.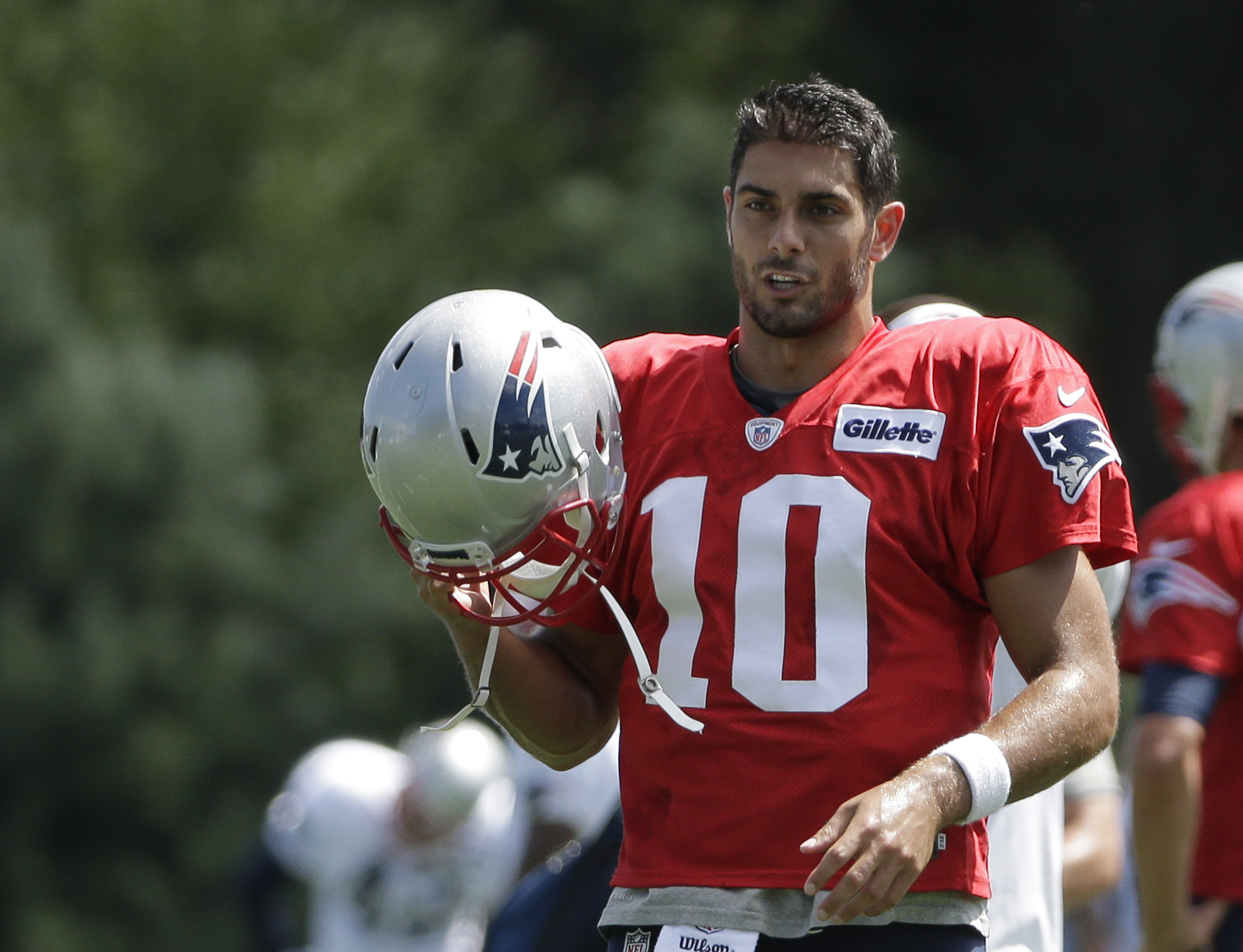 FOXBOROUGH, Mass. — On his first rep against Alshon Jeffery Monday, Patriots cornerback Malcolm Butler jammed his hands hard into Jeffery's chest.
Message sent.
From there, you could see tempers building and, on a hot, humid afternoon in New England, it wasn't surprising to see the battle spill over to the sidelines.
Here are five observations from Monday's joint practice between the Bears and Patriots on the fields outside Gillette Stadium:
The "fight" between Jeffery and Butler will go down as the biggest story from practice, but it really wasn't that big of a deal. Jeffery was taking exception to Butler's physicality at times and frustration eventually set in on a running play when Jeffery and Butler locked facemasks and refused to let go. The situation was close to being defused until Bears wide receiver Josh Bellamy ran in and pushed Butler, which is what set off the "brawl" between the two teams.
To me, the bigger story is that Jeffery and Butler were both held out of the rest of practice, with Butler actually being sent to the locker room.
"Bill (Belichick) and I both made a big deal out of it and the agreement was that if anything happened like that, they're out," Bears head coach John Fox said. "And they were."
Bears tight end Zach Miller confirmed that the players were aware of the agreement and he downplayed the incident.
"I don't think what happened today was overly drastic," Miller said. "You have two guys competing all day long and then they get tangled up and nobody threw any punches. Nobody was trying to drop anybody."
That wasn't the only scrum of the day, as Lamarr Houston and Patriots offensive tackle Nate Solder got into it during field goal drills (yes, field goal drills). It appeared former Bear Martellus Bennett was also involved and Bennett and Houston may have exchanged words. Those two once got into a scuffle during OTAs two years ago.
Fox has downplayed the fighting in practice, but the reality is that it got completely out of hand at Family Fest Aug. 6 and Fox made it clear to his team that it wouldn't be tolerated anymore.
"We kind of cleaned it up amongst ourselves with our own system. And at some point, you kind of have to manage your emotions," Fox said Monday.
I didn't get the sense that Fox was irritated with Jeffery (there has to be some leniency since he was practicing against a different team), but it's far enough into the preseason that the fighting shouldn't really be happening anymore.
"The closer you get to real games, the more important that is," Fox said. "We didn't have any issues in the game thus far. And that's ideally what we're building for."
Martellus Bennett had plenty of opportunities to show off in front of his former team Monday. Rob Gronkowski pulled up limping early in practice and didn't return, allowing Bennett to be featured as the Patriots' No. 1 tight end. The results were mixed, as Bennett had a drop against Bears' rookie Leonard Floyd and later missed a deep pass up the seam as linebacker Jerrell Freeman blanketed him in coverage. However, Bennett later took advantage of matchups against reserve safety Chris Prosinski and rookie cornerback Deiondre' Hall, pulling in touchdowns from Jimmy Garoppolo on both plays.
Bennett did not speak to the media after practice, but the Patriots indicated he would be available to reporters Tuesday.
I was very impressed by Garoppolo Monday. I studied him closely before the 2014 draft and gave him a second-round grade — which is where the Patriots drafted him — but other than his garbage time appearance in the Patriots' blowout of the Bears two years ago, I haven't been able to watch Garoppolo up closely until today.
He's good. He was good coming out of Eastern Illinois, but he's much more polished than he was when he impressed at the Senior Bowl in 2014. Getting drafted by Bill Belichick and playing behind Tom Brady will do that to you.
The Patriots' offense didn't really look much different when Brady was on the sideline Monday and Garoppolo only needed four plays to get into the end zone against the Bears' No. 2 defense in two-minute drills.
I expect the Patriots to be just fine without Brady the first four weeks of the season and I'm really intrigued to see if Garoppolo ends up taking over for Brady down the road. That will probably be determined by when Brady retires and since Garoppolo is already in his third year, the kid's future might be elsewhere.
Hmm… he's from Arlington Heights.
Missing: Shea McClellin and Brock Vereen. Neither former Bear was at practice Monday and we only got answers on one of them. It turns out, Vereen actually retired Monday despite still only being 23 years old. The 2014 Bears fourth-round pick was waived by the team last year and he ended up with Patriots after a short stint with the Vikings.
As for McClellin, there was no explanation given for why he wasn't at practice.
The Bears got to experience a Bill Belichick practice. While the two coaching staffs got together to go over some planning, John Fox basically let Belichick do practice his way and there were some interesting wrinkles. For one, the teams only used one field for 11-on-11 drills instead of splitting up onto two fields.
"I think any time you come visit, the practice standpoint of the facility, you really tend to kind of go a little bit more with what they do," Fox said. "It's kind of a good changeup. That's how the Patriots have kind of done it and we're working with their practice set up."
Another wrinkle: Two hours into the grueling, hot practice, both teams were sent to a hill where they had to do wind-sprints. That certainly doesn't happen in Bourbonnais. Although, good luck finding a hill down there.
Tuesday's practice is expected to be a little cooler and the teams moved it up to 10 a.m. ET so that should help with the heat.
Adam Hoge covers the Chicago Bears for WGN Radio and WGNRadio.com. He also co-hosts The Beat, weekends on 720 WGN. Follow him on Twitter at @AdamHoge.