This is an archived article and the information in the article may be outdated. Please look at the time stamp on the story to see when it was last updated.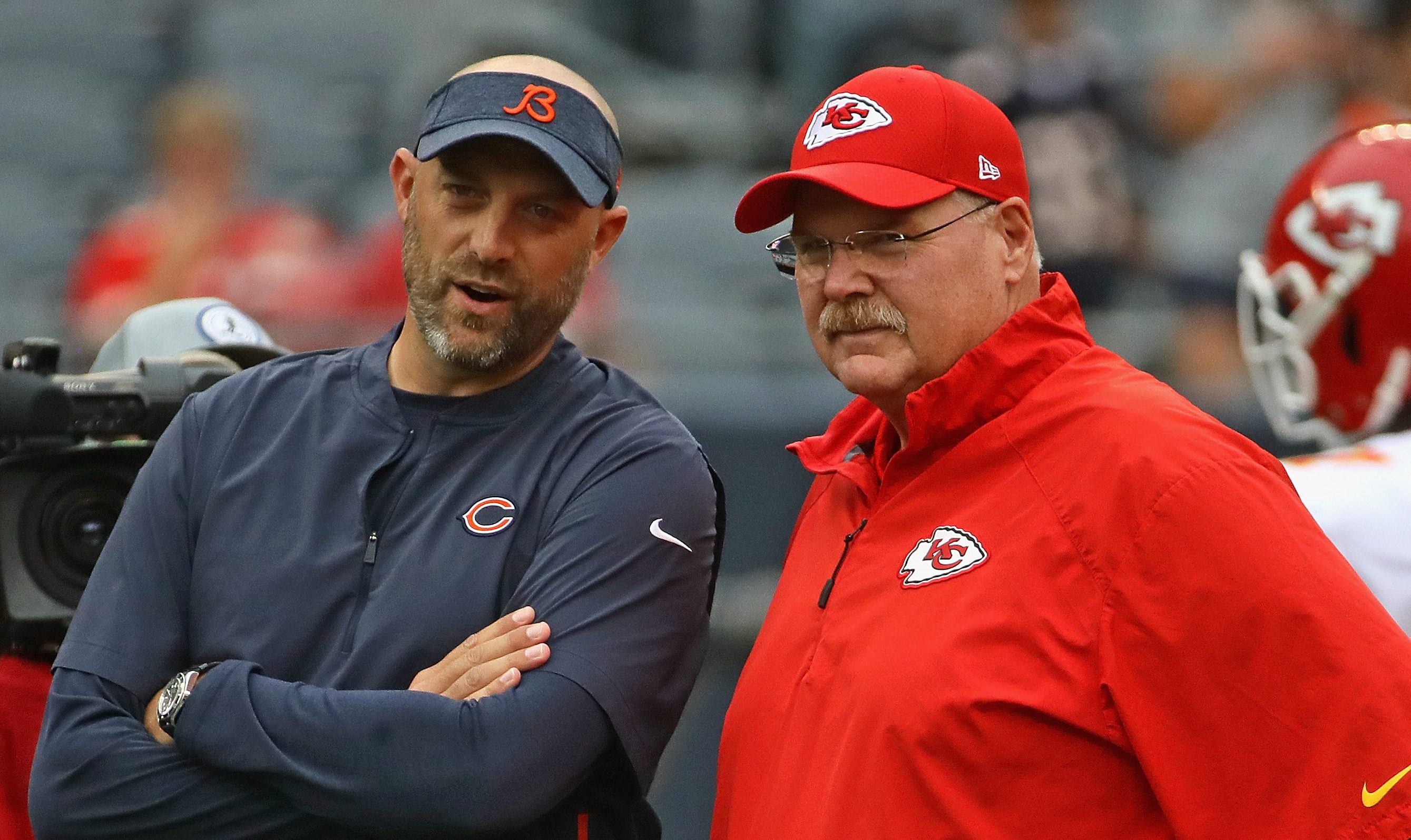 SOLDIER FIELD — For three years, Bears fans, reporters, analysts, etc. complained about an abundant amount of injuries, questioned why they kept happening and demanded the team do something different. So, this year, general manager Ryan Pace hired a new head coach, a new training staff and a new strength and conditioning staff and together they devised a detailed plan to help curb the injuries. With that goal in mind, and feeling confident with where his team is at, new head coach Matt Nagy opted not to play his starters in Saturday's preseason game against the Chiefs.
So the response from many of the same fans, reporters, analysts, etc.?
WHY ARE YOU DOING SOMETHING DIFFERENT?!?
I get it. It's a new offense. Mitch Trubisky is young and still relatively inexperienced. Blah. Blah. Blah.
I've watched the Bears play their starters in the third preseason game in each of the last seven years I've covered the team and I'll ask you this: Is there any obvious evidence that it helped? Because last year I watched Cameron Meredith get carted off the field in Nashville and that had a very obvious negative impact on the development of the team's rookie quarterback throughout last season.
But Mitch needs the reps!
"I hear it, but I don't believe it right now with where we're at," Nagy said after the Bears' backups beat the Chiefs' starters 27-20 Saturday at Soldier Field. "We're at almost 2000 snaps right now in practice. Team-snaps in OTAs until now, we're at 2000 snaps. So for somebody to tell me that 25-30 reps (against the Chiefs) is going to go ahead and make him a better player Week 1, Week 2, Week 3, it's not going to happen."
To his credit, Nagy passionately defended his decision in a press conference that went over 13 minutes. At one point, Nagy waived off a member of the Bears' media relations staff who was signaling for just one more question, saying, "I don't care. I'll go ahead. I'm good. Go ahead (with your questions)."
When a reporter challenged Nagy on how his desire to "callous" his team contradicts the idea of not playing starters in the preseason, the head coach was quick with his reply: "If you remember correctly, I told you we'd be calloused, but we'll be smart too. Right?"
Indeed, that's exactly what Nagy said in his first press conference in Bourbonnais.
This much I know for sure: staying healthy is much more important than preseason reps.
But the fear of injuries wasn't the only factor behind Nagy's decision. That's part of it, but he would not have made this decision without feeling confident that his starters are ready for their Week 1 opener in Green Bay. The starters received playing time in Cincinnati and Denver the past two weeks because they weren't ready yet. Now, after another week of practice — one in which they simulated a regular season game week — Nagy feels like they are prepared enough that the risk of playing did not outweigh the reward.
You can counter by saying, "Mitch isn't ready!" or "Mitch needs more reps," but I'm going to defer to the head coach on that.
"I know this team better anybody right now and I feel strong about that," Nagy said.
Indeed, the head coach has a much better idea of how ready his team is than anyone else, especially when the downside of playing Trubisky Saturday could have been a Cam Meredith-like injury and a lost season, not only for Mitch, but the entire team.
Did you want Mitch taking that head-pounder from Tanoh Kpassagnon that Chase Daniel took in the second quarter?
But, again, the injury-risk is just one factor. The Bears reported to Bourbonnais 38 days ago. Mitch Trubisky, Allen Robinson, the rookies, and many other players showed up 41 days ago. The team has had a ton of practice time and still has two weeks before the regular season starts.
"If we win that game against Green Bay (in Week 1), trust me, it's not because we didn't play 25 (snaps Saturday)," Nagy said. "And if we lose it, it's the same thing, I promise you that."
No, if the Bears lose to the Packers, it will be for the same reasons they usually lose to the Packers — either they don't have enough talent on the field, or the game plan isn't good enough.
Speaking of which, Packers head coach Mike McCarthy and defensive coordinator Mike Pettine are probably sitting in their offices right now watching Bears tape from Saturday's game. Would you want them to be looking at what Nagy is running with Trubisky?
Of course, Nagy wouldn't have given the Packers that option anyway. Had Trubisky played, the offense still would have been vanilla. So do people really think live reps with "dummy" plays are more valuable than controlled practice reps with real plays that will actually be run in a game? Nagy estimated that only 40 percent of preseason reps actually "simulate it real under the lights" and that "you're not getting real reps unless you are in practice."
For the record, McCarthy didn't play his offensive starters Friday night and Los Angeles Rams head coach Sean McVay did the same Saturday.
I do have sympathy for Bears fans who bought tickets for Saturday's game and season-ticket holders who are forced to pay for the preseason. That is not fair and is something that needs to be addressed by the league. Perhaps the Bears can take the lead on that issue, especially if they are going to be one of the teams starting the trend of sitting starters earlier in the preseason. The fear of lost revenue is much more misguided than the fear of injuries and is easily correctable in an era when television revenue matters much more than ticket revenue — but that's a subject for a different day. And, frankly, it has nothing to do with getting a football team ready for the regular season.
"I need to do what's best for our team and where we're at," Nagy said. "I understand that sometimes that can affect fans, but trust me, the thing I'm trying to do is do the best thing for our fans and that's to have our guys ready to go in Week 1."
On one hand, I certainly understand why Bears fans are quick to question the organization whenever it is involved in something that goes against the grain. The Bears haven't exactly earned the benefit of the doubt over the last seven playoff-absent years. But you would think a new strategy to combat injuries would be welcome in this town, especially after what has unfolded the last three seasons. Factor in the extra week of training camp and a completely rational desire to not show the Packers their new offense, and no one should be surprised by Nagy's decision to sit his starters Saturday.
But Mitch needs the reps!
Well, he'll get his reps on Sept. 9 against a Packers team that has no idea what's coming. And if either Dion Sims or Adam Shaheen return by then, he'll have 10 healthy starters with him too.
Now that sounds pretty smart.
Adam Hoge covers the Chicago Bears for WGN Radio and WGNRadio.com. He also hosts "The Hoge & Jahns Podcast." Follow him on Twitter at @AdamHoge.