This is an archived article and the information in the article may be outdated. Please look at the time stamp on the story to see when it was last updated.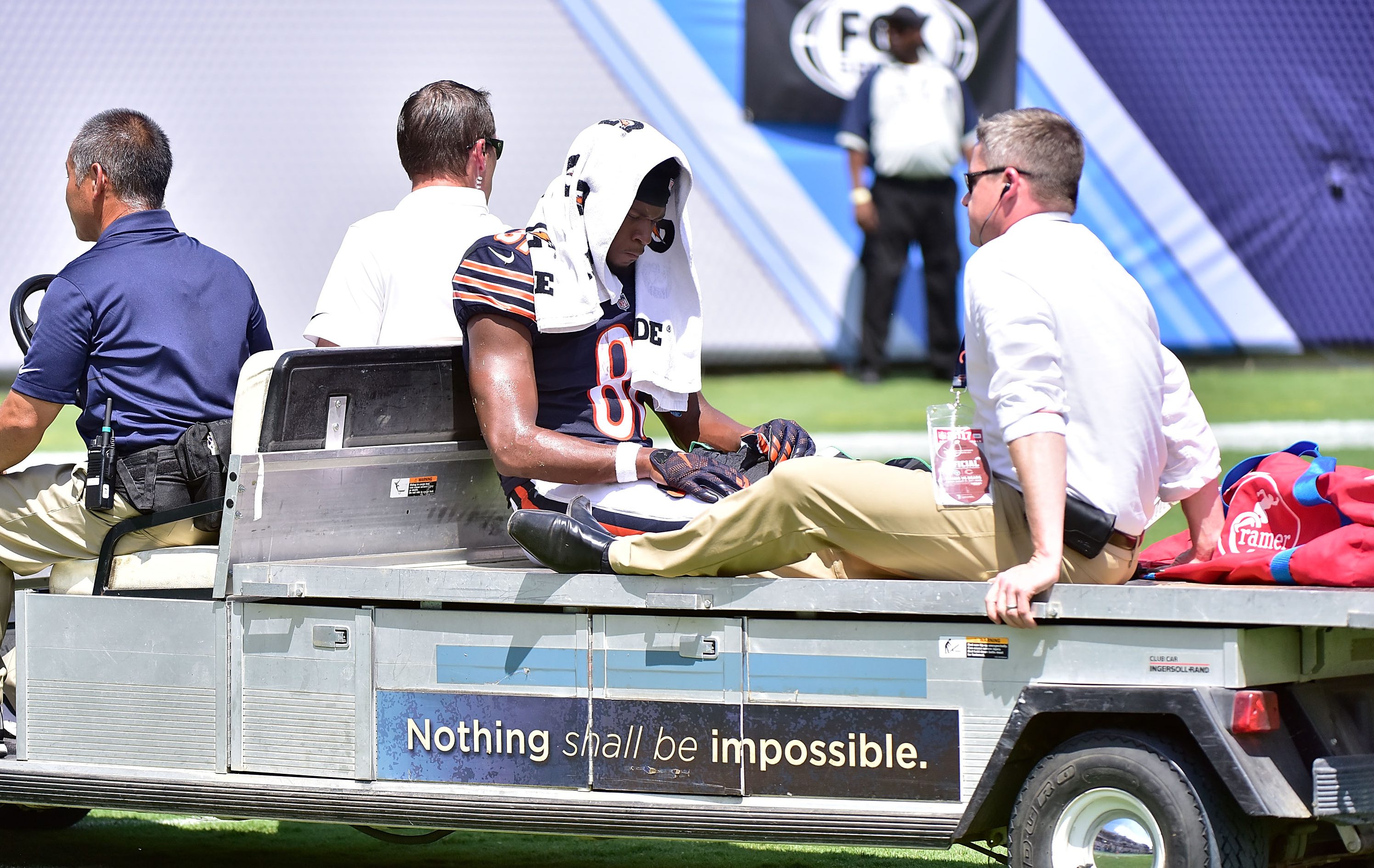 NASHVILLE — The Bears' much anticipated quarterback battle took a backseat Sunday to a major injury that will affect both Mike Glennon and Mitch Trubisky going forward.
Third-year wide receiver Cameron Meredith suffered what is at least a torn ACL in his left knee, and it might be worse. Head coach John Fox confirmed the "suspected" torn ACL, and now the Bears will brace for the MRI, just hoping Meredith is able to return in 2018.
"It's a bad part about preseason football," Bears tight end Zach Miller said. "An unfortunate part about losing a great player and a great teammate. He was important to us. It just, it sucks."
The significance of the injury cannot be glossed over. Wide receiver was already the Bears' weakest position and now the team's best — and certainly most reliable option — is lost for the season.
But keeping the big picture in mind, Meredith was a hidden gem for general manager Ryan Pace, who discovered the wideout at the team's local Pro Day in 2015 shortly before using his first-ever draft pick on Kevin White. While White's injuries and slowed development have hurt the Bears' offense, the unexpected rise of Meredith from undrafted free agent to No. 1 wide receiver has helped soften the blow.
Now the Bears have to hope Meredith's left knee doesn't halt the growth of a player who was still ascending. A clean ACL tear is best case scenario at this point. Anything beyond that could be very concerning. The fact that Meredith is an unrestricted free agent after the season only clouds the picture even more.
"I already talked to him," Miller said.
The tight end knows — he has suffered his fair share of major injuries, including one during his fourth season, a contract year.
"I just told him, A) stay positive, and B) get ready to grind … The grind of the every day, monotony of rehab — I told him, you just have to attack it with a championship mentality," Miller said.
Meredith was not available to comment after the game, but later chimed in on his injury on Twitter, saying:
We fall down, but we get up! Minor setback for the MAJOR comeback! 😤 #GodGotMe

— Cam Meredith (@Cam_I_Am81) August 27, 2017
Despite what was otherwise an encouraging dress rehearsal against the Titans, the loss of Meredith was felt in the locker room after the game. The wide receiver is a humble, hard-working player who had earned the respect of the entire team.
"Seeing Cam go down, you know that's my guy. We came (into the league) together. We do everything together," fellow receiver Kevin White said.
So what does this mean for 2017? For one, White needs to emerge — immediately. Sunday's performance was a decent first step, as the third-year wide receiver with just four regular season starts caught two passes for 30 yards, including a 19-yard strike downfield from Glennon. But later in the game, White failed to come down with a high throw from Mitch Trubisky that still hit his hands.
"Myself and the rest of the receivers, I feel like we need to step it up and take some of that load," White said.
Throughout training camp and the preseason, Glennon has appeared to favor Meredith over White, but now he doesn't have a choice.
"He's another guy, with Cam down now, that I think will continue to grow and be that guy in our offense," Glennon said about White after the game.
Otherwise, Kendall Wright showed his third-down dependability with three third-down catches on the Bears' opening touchdown drive, which was well run by Glennon. The Bears also have Markus Wheaton, but he hasn't been able to play in the preseason after an appendectomy and broken pinky finger. Perhaps rookie Tanner Gentry's 45-yard touchdown catch from Trubisky will secure him a spot on the roster. Unfortunately, Victor Cruz may have sealed his fate, dropping a first-down from Trubisky in the fourth quarter after the rookie made a tremendous play to escape a blitz and get the throw off.
But none of these options are as reliable as Meredith, who was still ascending in his third year. In a perfect world, Meredith would have been a good No. 2 to the version of Kevin White the Bears thought they were getting, but he also wasn't a bad No. 1. Claiming Meredith was a No. 1 by default doesn't do justice to the player he had become.
And the player the Bears still hope he can be.
Adam Hoge covers the Chicago Bears for WGN Radio and WGNRadio.com. He also co-hosts The Beat, weekends on 720 WGN. Follow him on Twitter at @AdamHoge.