This is an archived article and the information in the article may be outdated. Please look at the time stamp on the story to see when it was last updated.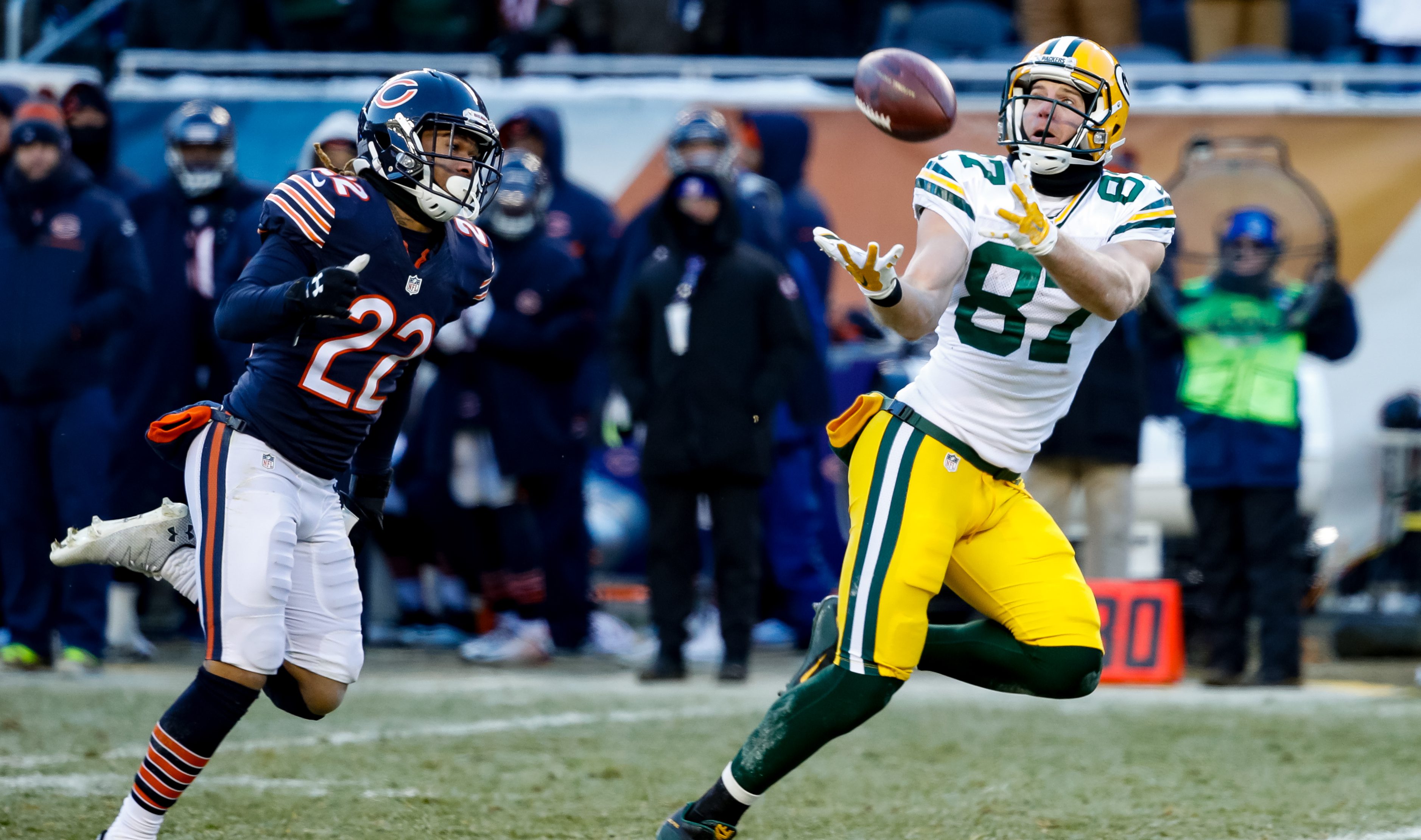 At 4:03 p.m. CT Sunday, after most of his players had already left Soldier Field, Bears general manager Ryan Pace appeared in the locker room and took a seat next to rookie cornerback Cre'Von LeBlanc.
His message: Keep your head up.
The pep talk was short and private, but Pace had a smile on his face and was clearly trying to send his young defensive back home with a positive message.
Intentional Grounding, Episode 73: Bears-Packers Postgame Show
[audio http://serve.castfire.com/audio/3253097/3253097_2016-12-19-160037.64kmono.mp3?ad_params=zones%3DPreroll%7Cstation_id%3D3757.mp3]
After all, just five and half hours earlier, Pace could be heard on the team's radio network praising the work of LeBlanc, an undrafted rookie who the GM claimed off of waivers from the Patriots at the end of the preseason.
"What I love about (LeBlanc) are his intangibles and that really jumps out," Pace said in his weekly appearance on the team's radio pregame show. "He's here 24/7. He's always watching tape. He's always asking questions. He's always bouncing around coaches' and scouts' offices. He's just a guy who wants to max out his game. And the more guys that we can add like that, that are passionate about football, that love being around here and want to get better, the better we're going to be."
LeBlanc is exactly the kind of player Pace is looking for, which is why it was important to pick him up emotionally after the rookie allowed a 60-yard completion to Jordy Nelson in the final minute of Sunday's game, allowing Mason Crosby to kick a game-winning 32-yard field goal as time expired, which gave the Packers a 30-27 victory.
"It's football, so you're going to have ups and downs," LeBlanc said after the game. "You're going to have trials and tribulations. It's just up to you to have short-term memory loss and come in on Monday and Tuesday and get back into the playbook."
And based on his already solid reputation at Halas Hall, there's no doubt LeBlanc will do just that. The rookie stood at his locker after the game and acted more like a veteran, answering every tough question with a thoughtful answer, describing his errors with transparency.
"I was inside-leverage, off about seven yards, one-yard inside," he said. "Jordy Nelson came at me vertical, I opened up my hips. Once he broke my cushion and he went post, I sped-turned and he just kind of ran away from my leverage. Great ball, great throw."
It was a great throw. To a great wide receiver. Which is why it is important to keep perspective on the play. At just 5-9, LeBlanc went undrafted in April because he's an undersized corner out of Florida Atlantic who also lacks top-end speed (he ran a 4.65 at his pro day). That makes him vulnerable against deep throws if his technique isn't perfect, because he lacks the recovery speed once he loses his leverage.
"(I should have) had better technique," LeBlanc said. "Should have stayed on top and challenged the wide receiver more."
Easier said than done against an All-Pro wide receiver, especially when one of the best quarterbacks of all-time delivers a dart 60 yards downfield. Lacking ideal length and recovery speed, LeBlanc was put in a vulnerable position on the play.
So why wasn't there safety help over the top? Did defensive coordinator Vic Fangio call for one-on-one coverage or did a safety screw up?
According to veteran cornerback Tracy Porter, the Bears were in quarters coverage, which essentially splits the field into four quarters, each one covered by a defensive back. Safety Adrian Amos was in man-coverage underneath on the other side of the field and he said the safety help "depends on what the safety and corner saw on the play." In this case, the safety in question is rookie Deon Bush and his assignment depends on the route combinations the Packers ran. Bush squatted underneath, leaving LeBlanc one-on-one downfield, something the corner should be prepared for on the play. In short, safety help is a possibility, but not guaranteed.
"In that coverage, the corner is really kinda on his own," LeBlanc said. "Just gotta be on top, top-shoulder. Once I sped-turned and he was running away from my leverage, it was just a great ball, great throw."
Whether or not Bush read his assignment correctly is unclear. Head coach John Fox purposely gave a vague answer to the question, saying, "I am not going to get into the blame game."
Porter, meanwhile, didn't think there was a breakdown in the coverage.
"Not to my knowledge," he said. "(LeBlanc) was doing what he was supposed to be doing. It's just that he had an entire field and Aaron was able to throw the ball away from him and Jordy just made an adjustment on the ball."
Asked if he was expecting help over the top, LeBlanc said: "Kinda. Sorta. But, I mean, at the end of the day, my technique needs to be better and I gotta be on top of that as a football player."
The guess here is that Fangio will take some of the blame this week, as LeBlanc was put in a tough position. The players on the field were aware that Rodgers might try to take a shot, as Porter said, "I kind of told the guys to keep their antennas up." LeBlanc admitted: "In the huddle, it was like, stay deep, stay on-top, they might take a shot." But without help over the top, it was a mismatch, one that Rodgers has preyed on throughout his career, especially at Soldier Field.
It's easy to see why the Bears like LeBlanc — he possesses quickness and ball skills (he had a pick-six just last week) — but he's undersized as an outside corner in the NFL and was probably playing out of position Sunday. It's fair to wonder why Demontre Hurst was being used in the slot instead of LeBlanc, with promising rookie cornerback Deiondre' Hall (who possesses ideal outside corner length) standing on the sideline all game.
So blame the coaches before you try to run LeBlanc out of town like Chris Conte. Try to remember that the rookie still has exciting promise, especially if he's used correctly inside.
"The thing about Cre'Von is every day in practice, he makes plays. He's been doing it all season," Pace said on the pregame show. "I feel like he picks off two balls every practice. So what I thought about last week was when he made the play — the pick-six — you finally saw it transfer over into a game and that was exciting to see."
That's why the GM was there to support the rookie after the game. And that's why LeBlanc will be right back in the film room Monday with his head held high.
Adam Hoge covers the Chicago Bears for WGN Radio and WGNRadio.com. He also co-hosts The Beat, weekends on 720 WGN. Follow him on Twitter at @AdamHoge.