This is an archived article and the information in the article may be outdated. Please look at the time stamp on the story to see when it was last updated.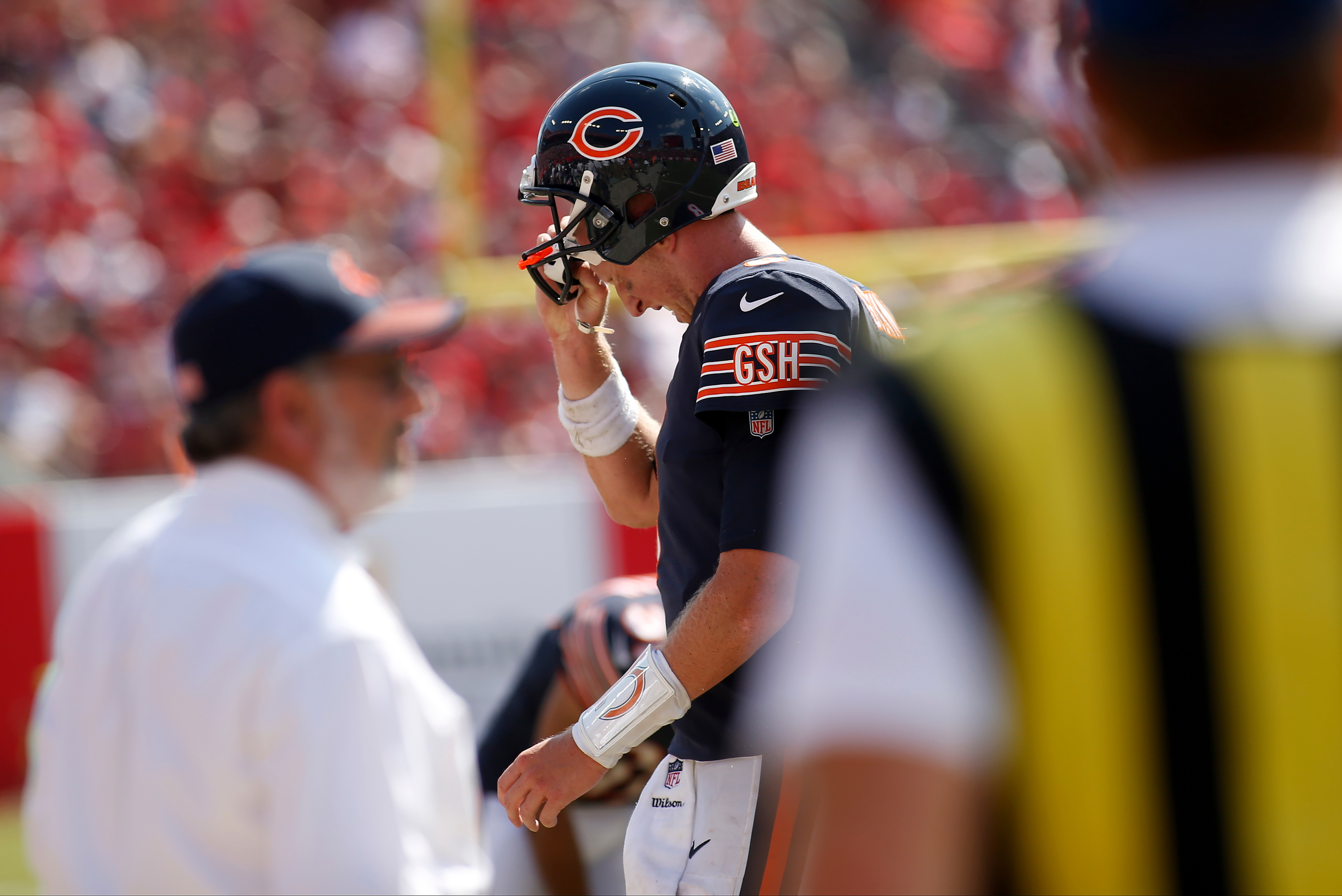 TAMPA — John Fox tried hard. He tried really hard.
After Mike Glennon threw two interceptions, including a pick-six, and fumbled away another possession — all in the first half — Fox tried as hard as he could to defend his starting quarterback, knowing that the calls for Mitch Trubisky are loud and are not going to stop.
"I don't think, in any way, even (without) seeing the tape yet, you can pin that (loss) on the quarterback. Everybody had their hand in that," Fox said.
That answer came after Fox was asked if he will consider starting rookie Mitch Trubisky next week against the Steelers and it started with a quick, "No."
But, come on, John. To suggest that Glennon wasn't in "any way" responsible for the Bears' 29-7 loss to the Buccanneers is disingenuous, especially when you began the press conference referencing your team's four first half turnovers. The quarterback was responsible for three of them.
"The first one was just a quick-game concept that we've run a good amount. Kwon (Alexander) just broke on the play," Glennon said. "Second one, (Josh Bellamy) kind of turned around the nickel a little bit, so I thought when he broke out that he was going to win. Obviously, not the case. I need to move on in my progression and avoid those situations."
Fox also referenced Bellamy's route on the play, saying: "I'm not sure we ran a real clean route on the out-cut." Indeed, it looked like Bellamy had Bucs cornerback Robert McClain beat, but he stumbled out of his break. To his credit, Glennon took the responsibility, knowing he still can't make such a dangerous throw.
"If I'm not 100 percent sure he's going to win, then just move on," Glennon said. "The second read in the progression was open."
The same could be said on Glennon's first interception, which was forced to tight end Dion Sims, who was covered by multiple Buccaneers. It's unknown whether or not Adam Shaheen was the next read in the progression, but he was wide open on the play.
Perhaps Glennon gets a pass for the sack-fumble, as the entire right side of the line allowed pressure, but Glennon's inability to escape inevitable pressure remains an issue.
Frankly, the Bears could have paid Jay Cutler less money to turn the ball over three times and throw a pick-6 in Tampa. We know this because that's exactly what Cutler did in Tampa last year in one of his worst performances in a Bears uniform. It was no doubt the last straw for Cutler in Chicago, a game that led Pace to release the quarterback and invest even more money in Glennon, who was standing on the opposite sideline that day at Raymond James Stadium.
That's perhaps the biggest reason why Fox's refusal to put any blame on Glennon misses the mark. Pace and Fox's lack of patience with Cutler's turnovers is why he's now playing for the Dolphins, even though he's better than the Bears' current starting quarterback. Surely, Glennon won't last long if he mimics Cutler-like performances.
Sadly, it was the second straight week of déjà vu for John Fox's Bears. Last week's loss to the Falcons — with four shots at the end zone to win— looked just like their loss to the Titans last season. And Sunday's loss to the Buccaneers looked just like their loss to, well, the Buccaneers last season.
"Yeah, not quite as bad, but not pretty," Fox said.
No. It was just as bad.
And once again, the only major difference was that the quarterback Pace drafted No. 2 overall to fix these issues was standing on the sideline with a headset and a clipboard.
At this point, it's obvious that Trubisky gives the Bears a better chance to win football games. If he's not playing, then he must really not be ready. Unfortunately, with each poor Glennon start that passes by, the concern about Trubisky's lack of "readiness" will only grow, as will the lack of trust in the organization's ability to evaluate quarterback talent. After all, Pace is just as responsible for giving Glennon $18.5 million guaranteed as he is trading up to get Trubisky, even if the latter move will ultimately have a much larger impact on his job security.
Meanwhile, we've now reached the part of the season that everyone saw coming. The part where Pace's desire to develop Trubisky slowly contradicts Fox's desperate need to win football games.
Perhaps no one thought that part of the season would come as early as Week 2, but that's part of the problem. This was the game that wasn't supposed to happen in Fox's third season. Everyone knew an 0-4 start was possible — maybe even likely — but with all that health and depth the Bears have been boasting about, they were supposed to be competitive in every game. Getting blown out 29-7 in Week 2 was just a startling reality check that showed the Bears haven't really improved that much since the last time they visited Tampa — a 36-10 drubbing last November.
Putting that into context with Fox's 9-25 record as Bears head coach is hard to ignore. At a minimum, Fox needs his team to be competitive this season. Sunday's game was a three-phase disaster. The Bears looked unprepared and uninspired.
In the NFL, these are the games — the moments — that start to create doubt in a locker room. Players second-guess their coaches too, especially when times are tough.
And especially when more talented players are sitting on the bench.
Eleven days ago, John Fox was asked why Glennon gives his team the best chance to win football games. This was his answer:
"He's earned it. I think a lot goes into evaluating players. I think the locker room knows. They know probably better than all of us. I think it's pretty obvious to me."
Fox is right. They do know better than all of us. And he should remember that as the more talented quarterback continues to sit on the bench.
Adam Hoge covers the Chicago Bears for WGN Radio and WGNRadio.com. He also co-hosts The Beat, weekends on 720 WGN. Follow him on Twitter at @AdamHoge.