This is an archived article and the information in the article may be outdated. Please look at the time stamp on the story to see when it was last updated.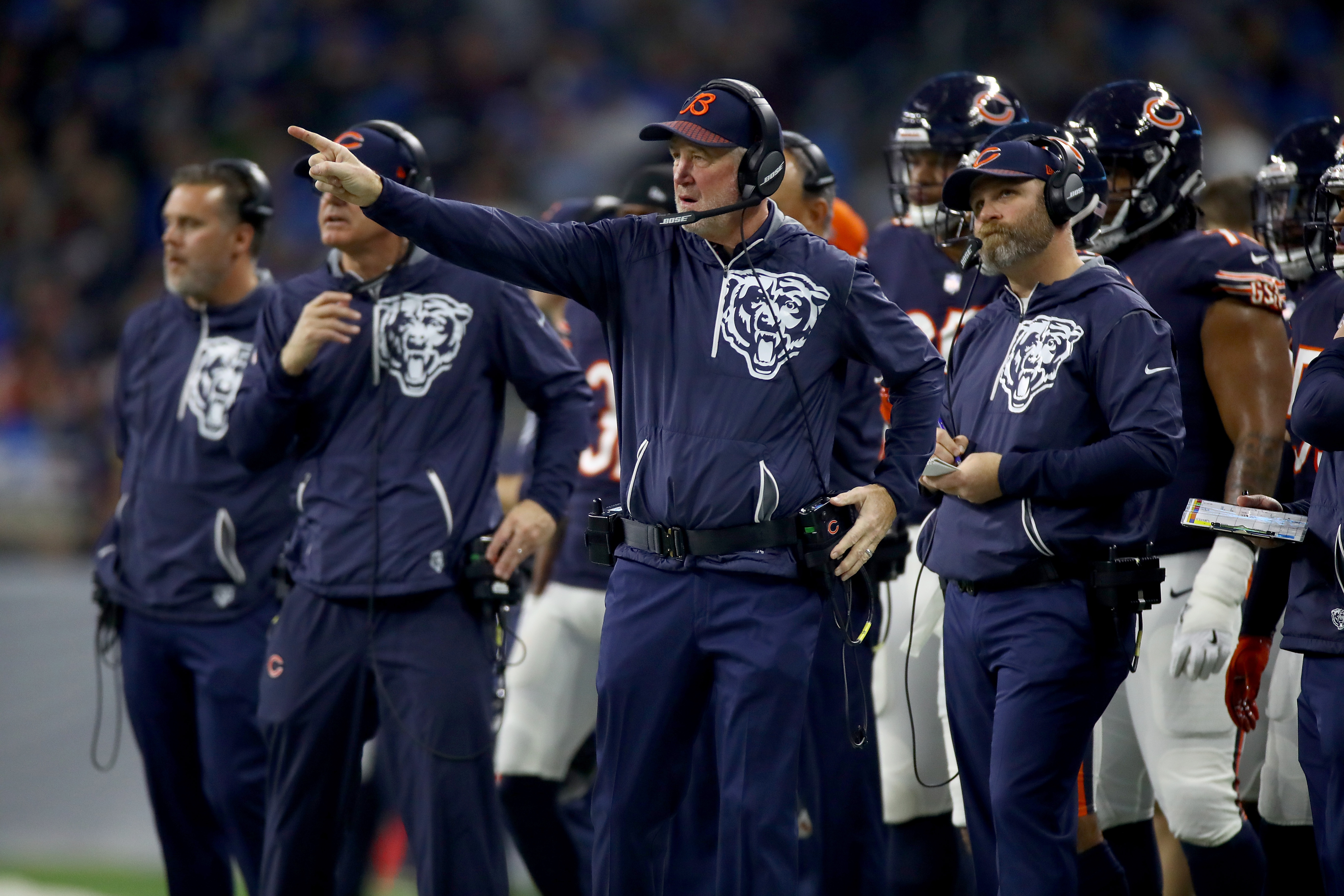 DETROIT — It was just a football game against a division team that was in playoff contention.
There, you just read the worst lede in the history of sports writing.
Except that sentence is actually a direct quote from the head coach of the Chicago Bears after John Fox fell to 3-14 against the NFC North with a 20-10 loss to the Lions Saturday at Ford Field.
"Overall, I think it was just a football game against a division team that was in playoff contention," Fox said as he opened his postgame press conference. "We just didn't start fast. We had penalties, in particularly on offense. To spot them 13 points in the first half, the guys battled, kind of semi got back into it. But a little bit too little too late."
By "semi got back into it," Fox means the Bears scored their first touchdown of the game with 2:32 left in the fourth quarter before "semi" trying an on-side kick by pooching the ball 37 yards downfield where there were exactly zero players wearing Bears jerseys.
Fox also "semi" tried to score points earlier in the game before punting on 4th-and-1 on his own 45 yard line. And, according to him, he never even "semi" considered going for it, despite trailing 6-0 early in the second quarter — or, perhaps more notably, owning a 4-9 record.
"I don't think that was a huge factor, but we can talk about that," Fox said, as he stopped his answer.
What did the Bears have to lose?
"You do got something to lose, it's called field position," Fox said.
With the help of a Lions penalty on the punt, the Bears did manage to pin Matthew Stafford back at his own 8-yard-line, at least temporarily, before he led a 10-play, 92-yard touchdown drive to make it 13-0.
But, again, Fox didn't think his fourth down decision was a huge factor in losing a game by 10.
Fox also mentioned the penalties in his opening statement. There were 13 penalties on the Bears, to be exact.
"I think some of it was some new guys in because of some guys lost (to injury). That's not an excuse, it's just reality," Fox said.
Well in real reality, only three of the Bears' 13 penalties were committed by non-starters and two of those were on special teams, committed by regular special teamers (John Timu and DeAndre-Houston). So there was really only one penalty — backup center Hroniss Grasu's holding call — that could be contributed to "new guys."
As for the "semi" on-side kick/pooch/whatever kick when the Bears were down 10 with 2:30 left in the game, Fox had this to say:
"I mean, again, it's field position … typically most people would kick it deep early so that you have field position and you don't force them to go fourth down and they have field position. So, I don't regret doing that."
Fox doesn't need to regret it because the Bears did get the ball back, but Mike Nugent only "semi" kicked it deep. The kick traveled 37 yards in the air and went straight to returner Golden Tate, who just ran out of bounds to avoid a big mistake. So it wasn't really a deep kick or an on-side kick.
Oh well. At least Fox had a "semi" understandable answer for why it took 15 weeks to get wide receiver Markus Wheaton involved in the offense.
"He's missed a lot of time. It started at training camp with appendicitis, then I believe it was a finger. Anyways, it's been a little bit," Fox said. "It's good to see him out there getting some production. I think he had one catch on the season up until tonight."
He's right about the production. Wheaton came into the game with one catch and delivered two on Saturday for 42 yards. But the "missed a lot of time" excuse went out the window weeks ago. Saturday's game was Wheaton's six game played in a row and ninth overall on the season. An August bout of appendicitis is a hard sell when trying to explain why a receiver making $6 million has three catches.
Then again, it's probably useless to try to make sense of John Fox's postgame explanations. After all, it was just a football game against a division team that was in playoff contention.
Adam Hoge covers the Chicago Bears for WGN Radio and WGNRadio.com. He also co-hosts The Beat, weekends on 720 WGN. Follow him on Twitter at @AdamHoge.