This is an archived article and the information in the article may be outdated. Please look at the time stamp on the story to see when it was last updated.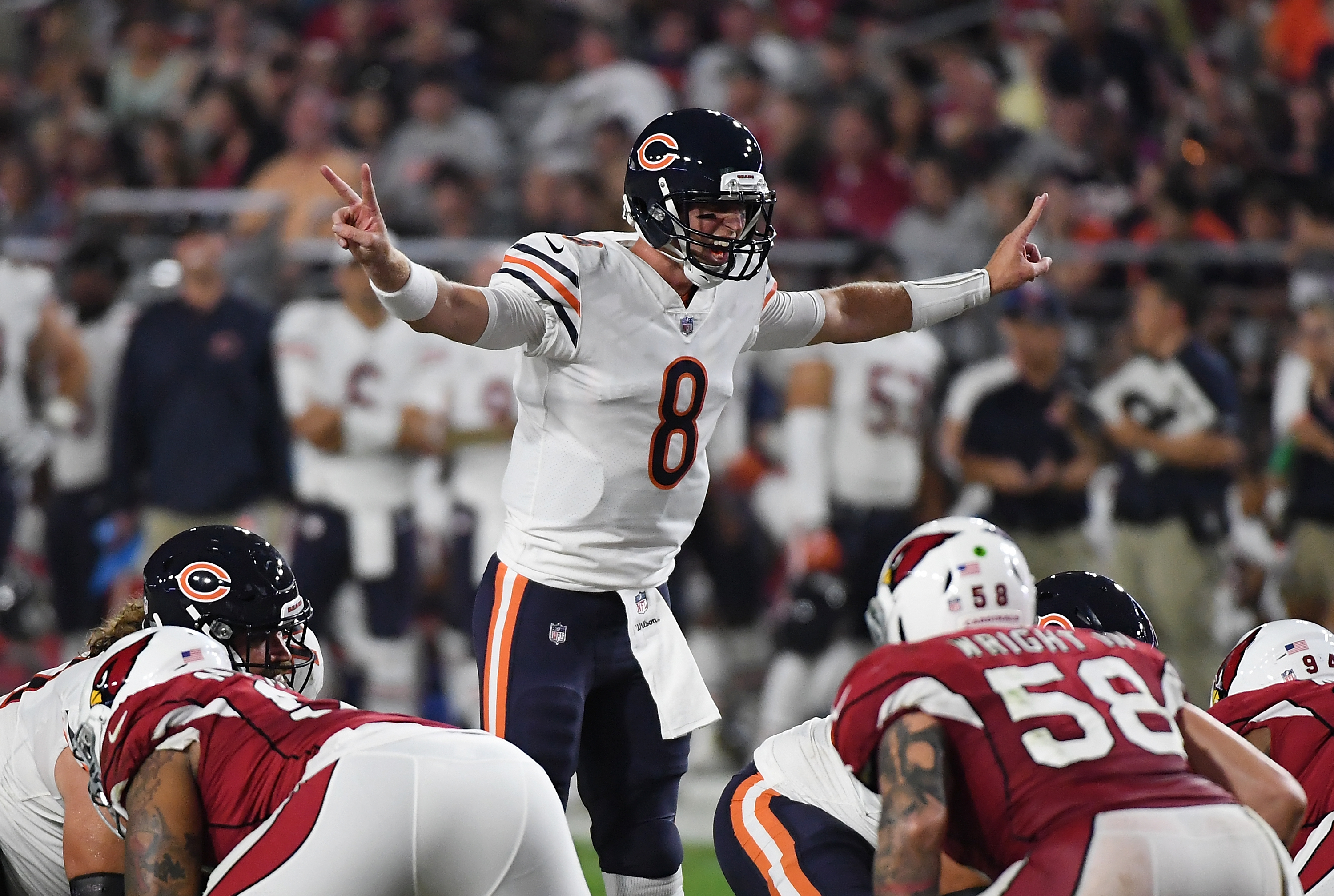 GLENDALE, Ariz. — It's time for the Chicago Bears to have a real quarterback competition.
That doesn't seem like it's going to happen, but it should.
Anybody with a remote control and a television tuned to either of the Bears' first two preseason games can see who the most talented quarterback on the roster is — it's the one that was playing in the fourth quarter Saturday night in Arizona.
And the Bears know that already. That's why they traded up to draft Mitch Trubisky No. 2 overall in April.
That's not to say Trubisky should be anointed the Bears' starting quarterback. But he should get a fair chance to win the job. Saturday night's preseason game in Arizona was anything but a fair chance. Playing behind an offensive line that killed the running game and allowed two scary hits to their quarterback (one to the head and one to the legs, both of which were roughing the passer penalties), Trubisky didn't really get a chance to repeat last week's impressive debut at Soldier Field.
And yet he still completed 6-of-8 passes for 60 yards and a touchdown in a solid, but abbreviated performance.
On the other hand, uncontested starter Mike Glennon — who had adequate protection and running back Tarik Cohen averaging 7.0 yards per carry — was, well, fine.
"I thought it was a big improvement," head coach John Fox said about Glennon, which is technically true following the quarterback's 0.0 passer rating in the first preseason game. "I thought we had a very limited look in Week 1, like most first offenses in this league. Some starting quarterbacks don't even play in Week 1. But I thought the whole offense responded, including Mike."
Here's the key question though: Why are the Bears treating Glennon's first team unit like "most first offenses in the league?" It consists of a quarterback who hasn't started an NFL game in almost three years, a third-year wide receiver who has played four of 32 games in his career, a different third-year wideout who went undrafted and an offensive line missing a three-time Pro Bowler.
In other words, the Bears' first-team offense shouldn't be treated like an established unit. It's not. And that starts with the quarterback, whose "big improvement" Saturday can't be described as anything more than ordinary. Glennon's best pass was an 18-yard throw to Cam Meredith and his worst was a goal-line toss up that was easily picked off by Cardinals safety Tyrann Mathieu and returned 52 yards.
"I thought he reacted really well (to the interception)," Fox said. "I think he was involved in helping get the guy down, which I appreciate."
So, using the two preseason games as evidence, the reasons for keeping Glennon as the uncontested starter are: he's a great leader, he threw a really nice pass to Meredith on Saturday night and he tried to tackle the safety who picked off his floating pass near the end zone.
Remember, Fox is the same guy who said "I don't think there are any givens" when asked to reaffirm Jay Cutler as his starter last year while Cutler was recovering from a sprained thumb.
So why is Glennon's starting job a given?
To be clear, I'm not calling for a change already. I'm just questioning why there isn't more of a competition. Sure, if the regular season started tomorrow, I could understand why the Bears would want to start Glennon over Trubisky. But it doesn't. It starts in 21 days. And the Bears still have one more good opportunity to test their No. 2 overall draft pick next Sunday in Nashville against the Titans.
Heck, the Bears don't even need to call it a real competition if they don't want to. But they'll be wasting a big opportunity if they don't give Trubisky time to play with the Bears' starters and against the Titans' starters to see what he can really do with adequate protection and a strong running game.
And why does that matter so much? Let's fast forward to the regular season. If Glennon continues to play like this (his passer rating Saturday was 74.4) against the Falcons, Buccaneers, Steelers and Packers, mind you, the Bears will be 0-4. And that's a shame, because here's another significant development from Satuday's game in Arizona: the defense and special teams look secretly decent. Maybe even good.
And considering the Bears even boasted an explosive rushing attack behind Cohen Saturday, it didn't take a trained football eye to see what was missing: a quarterback that can open up the offense downfield.
Maybe Glennon is that guy. Admittedly, the sample size is still very small. But in two preseason games and a whole bunch of practices, we have yet to see him be that guy.
On the other hand, we have seen Trubisky be that guy — albeit with backups, against backups.
So why not see if it is real? Why not alternate series next week in Nashville to see what Trubisky looks like with the first-team offense?
When asked that question Saturday night, Fox dodged a real answer, simply saying "our first unit will get the most extensive amount of playing time that they'll see in the preseason against Tennessee."
That's good. The first-unit needs an extensive amount of playing time against Tennessee. And it should get that playing time with both Mike Glennon and Mitch Trubisky.
Adam Hoge covers the Chicago Bears for WGN Radio and WGNRadio.com. He also co-hosts The Beat, weekends on 720 WGN. Follow him on Twitter at @AdamHoge.