This is an archived article and the information in the article may be outdated. Please look at the time stamp on the story to see when it was last updated.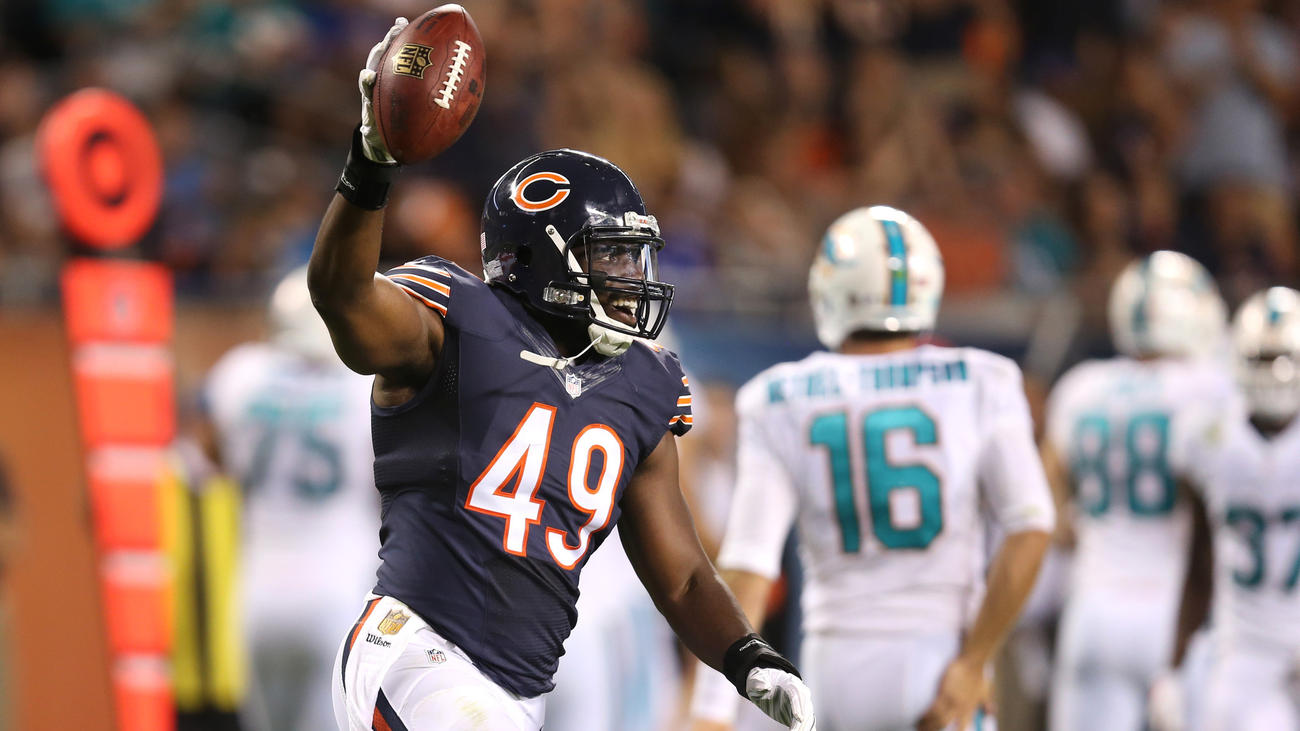 CHICAGO — When evaluating the preseason, here's a tip you must follow: Evaluate everything on an individual basis, not a team basis.
Sure, the 2015 Chicago Bears looked a lot like the 2014 Chicago Bears in the first quarter of Thursday's preseason game against the Dolphins, but when it was all over, I actually had more individual positives listed in my notebook then negatives.
Here's a quick look at five positives and five negatives, starting with the biggest negative — a potentially significant injury to wide receiver Alshon Jeffery.
Negatives
WR Alshon Jeffery — When Jeffery didn't take the field during warmups, it wasn't all that surprising because he's been dealing with a minor AC joint sprain in his shoulder. Holding him out of Thursday's game made sense. But it was odd that he wasn't even seen on the sidelines and as it turned out, there was a significant reason why:
"Alshon Jeffery strained a calf in practice the other day in camp and we held him out," head coach John Fox said after the game.
So how serious is the injury? Fox admitted Jeffery is on crutches and using a walking boot, but said it's "just to keep him from using it. Hopefully it will speed up the healing process."
Fox called Jeffery "day-to-day" but he also said the same thing about fellow wideout Kevin White, who remains on the PUP list and hasn't practiced yet in training camp.
Safe to say it hasn't been a great start to the season for the Bears' two most electric receivers. Jeffery was off to a great start in camp, looking poised to have a great season.
S Brock Vereen – The Bears want Vereen to be more physical and he missed out on a chance to shine when he hesitated on Jarvis Landry's touchdown on the first drive of the game. I'm not sure Vereen would have beat the ball to Landry even without the hesitation, but he had a chance to run right through Landry and break up the pass.
Fox said there was a miscommunication on the play after the slot receiver went into motion.
"(Vereen) was a little late and lost his leverage," the head coach said. "It was about three people's errors."
Besides that one play, it was surprising Vereen only played the first series with the starters. Ryan Mundy saw much more playing time with the second-team defense and Vereen needs the reps much more than Mundy.
CB Kyle Fuller – Fuller's coaches and teammates continue to rave about him, but I'd say he's had a very average camp so far. That continued Thursday night. Fuller wasn't terrible, but he was beaten twice on the opening drive, including on a 3rd-and-7. Those are the situations where the Bears need him to be a shutdown corner.
RT Jordan Mills – Unbelievably, Mills jumped early on the Bears' first offensive snap of the game. Well, it is somewhat believable, which is the problem. Mills is a great kid and a hard worker, but he needs to show improvement in a hurry because right now he's the weak link on a pretty decent offensive line.
"I'm not worried about that," Mills told WGN Radio when asked about his job security. "I'm not even talking about that. People can say what they want on the outside, but they don't know what goes on in here so it's not anything I worry about or think about."
It will be interesting to see if the coaching staff is thinking about it though. So far, there have been no signs that Mills' job is in jeopardy, but Charles Leno has looked pretty good as the primary backup left tackle. He could be next up.
OLB Pernell McPhee — File this under things not to overreact about, but Thursday's game was the worst McPhee has looked since training camp started. He's been great in Bourbonnais, but looked rusty on the Dolphins' initial scoring drive. Fox said the Bears' "mis-fit" Lamar Miller's 27-yard run on the drive, but at least live, it looked like McPhee failed to set the edge. Later, on 3rd-and-goal at the 8-yard-line, McPhee jumped offsides. That proved to be costly because it allowed the Dolphins to go for it on 4th-and-goal from the 2-yard-line. That was the play in which Vereen got beat by Landry for the touchdown.
Positives
DT Will Sutton – Sutton has looked a lot better in Vic Fangio's defense than I thought he would. I wasn't sure he would fit in a 3-4, but he's looked pretty decent as a defensive end in training camp. That play continued Thursday night as he got a consistent push into the backfield and showed an ability to take on multiple blockers. In the second half, Sutton even saw some time at nose tackle, where he continued to control the line of scrimmage. The coaches will certainly note that his success came against backups, but it was a good start for Sutton as he looked to secure a roster spot and see playing time in the "waves" of linemen Fangio will deploy in the regular season.
OLB Jared Allen – It's still weird seeing a future Hall-of-Fame 4-3 defensive end line up in a two-point stance, but Allen has looked a lot more comfortable as training camp rolls on. Thursday night was no different. The first-team defense didn't have a great night, but it wasn't Allen's fault. He looked comfortable in coverage, even reading a screen pass and nearly picking off Ryan Tannehill. With more experience, he probably catches that ball.
CB Sherrick McManis – Primarily known as a solid special teamer, McManis had a good offseason at cornerback, which has earned him reps with the first team defense in training camp. Some of that is due to injuries, but McManis looked like the Bears' best corner Thursday night — playing both outside and in the slot — and could earn more reps. He made a nice break on the ball to break up a third down pass in the first half and made a tremendous play in the third quarter when he stripped Dolphins running back Mike Gillislee from behind and then recovered the ball 15-yards downfield.
"I'm very determined," McManis said after the game. "I'm determined like this every year. Do my special teams thing and also show them I can play corner and play nickel."
QB Jimmy Clausen – Clausen got off to a dreadful start in training camp, but had a much better second week in Bourbonnais and carried that play over to Soldier Field. He was steady and mostly sharp Thursday night, completing 17-of-27 passes for 151 yards. More importantly, he was only sacked once and didn't turn the ball over. You can live with that for your backup quarterback.
OLB Sam Acho – Acho's roster spot isn't quite guaranteed, but he certainly helped himself against the Dolphins. He had a key third down sack in the second quarter and later picked off Dolphins quarterback McLeod Bethel-Thompson and was maybe one tackle away from returning it for a touchdown. The Bears' defense needs more game-changing plays like that and Acho delivered them Thursday.
Adam Hoge covers the Chicago Bears for WGN Radio and WGNRadio.com. He also co-hosts The Beat, weekends on 720 WGN. Follow him on Twitter at @AdamHoge.