This is an archived article and the information in the article may be outdated. Please look at the time stamp on the story to see when it was last updated.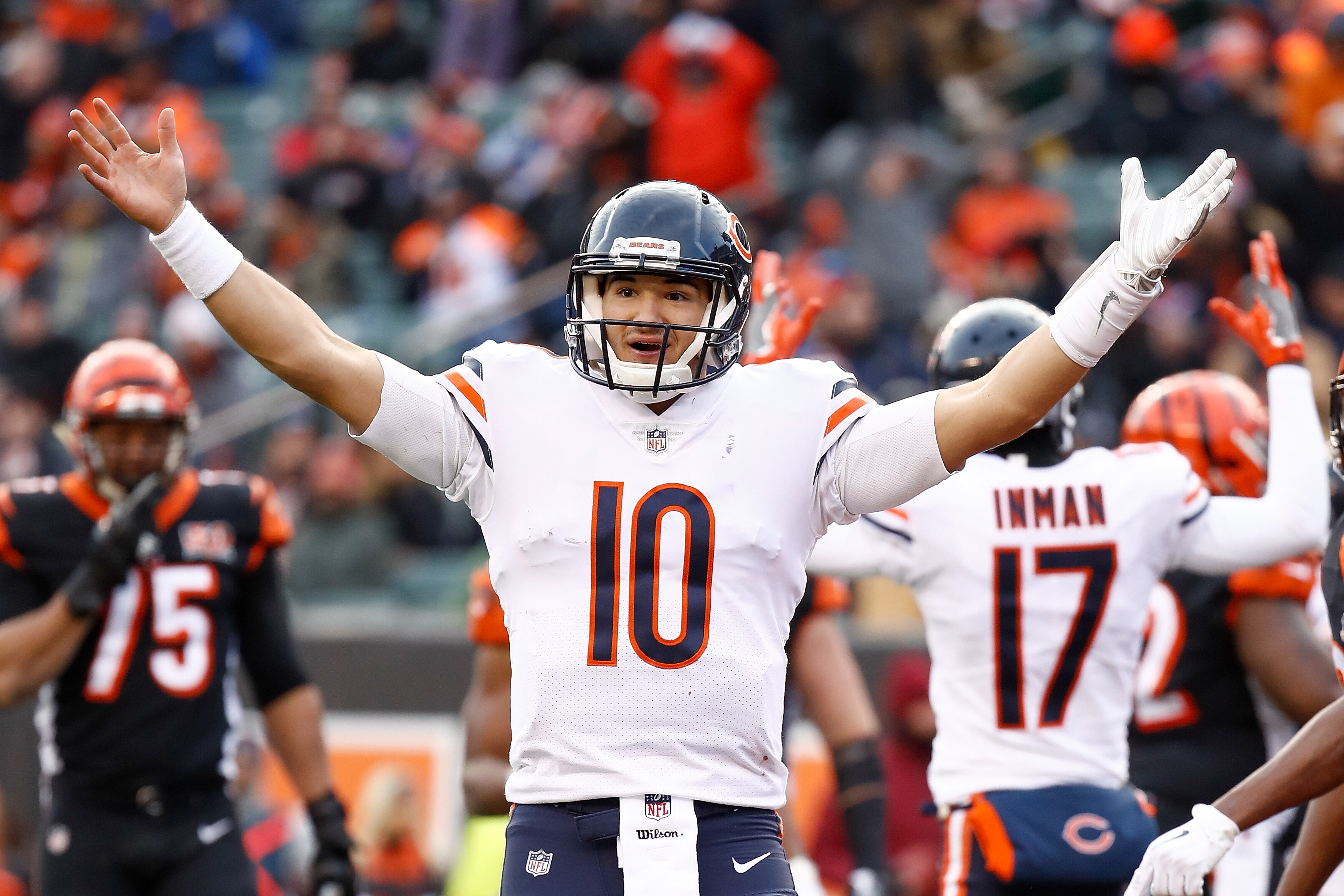 CINCINNATI — Back in October, a couple days after the Bears successfully ran "Heisman," the trick play Dowell Loggains had been working on for two decades, I stopped the offensive coordinator at Halas Hall and we watched the version the Buccaneers had run 17 years earlier.
Loggains had just finished up his weekly press conference, answering question after question about a play the entire league was raving about. We discussed the play for a minute or two before he interrupted me with a very important point:
"It's great, but we have to find a way to get some wins."
That was the thing. The Bears were 1-4. Despite the creative trickeration, they had lost 20-17 to the Vikings. But it was Mitch Trubisky's first start and he had played well, despite a late interception. There was excitement about the quarterback and the wrinkles he could bring to the offense, such as "Heisman," a play that required a mobile quarterback and could not be run by Mike Glennon.
Yet Loggains' point about "wins" was an important reminder of the parallel realities at Halas Hall this season — nothing is more important than the development of Trubisky, but the coaches running the show knew from the start that they had to win games to save their jobs.
Fast forward to Sunday at Paul Brown Stadium and those two realities finally appeared to mesh together in a 33-7 beatdown of the Bengals that highlighted Trubisky's growth, but was likely too little too late for Loggains and head coach John Fox.
Winning is important for Trubisky too, which is why worrying about draft position is a waste of time. The rookie quarterback needs to experience as much success as possible before the calendar flips to 2018.
"I just feel confident I'm getting better each week," Trubisky said after the game. "Yes, it's from the play, but I get feedback from my teammates. I can tell that they're confident in me and that my play is just going to get better each week, and I know how to prepare."
The Bengals may have been the perfect opponent for the Bears Sunday — a banged up team with a lame-duck coach coming off a brutal loss to the Steelers on a short week — but no one could have foreseen the offensive explosion Trubisky & Co. put together in Cincinnati.
482 total yards. 29 first downs. 6.7 yards per play. 38:09 time of possession.
The offense was balanced. The Bears' ground game was unrelenting. And, most importantly, Trubisky was outstanding.
"I thought Mitch Trubisky played very well last week," Fox said. "When you don't experience the end result that's a W, it's hard to put much into that. I've seen him grow every week he's been out there since all the way back to Minnesota."
At Halas Hall this past week, Trubisky expressed some surliness with the media for the first time. He seemed downright pissed off by the five-game losing streak and the negativity that inevitably accompanied it. He seemed determined to stop the streak.
Sunday, Trubisky delivered. It was the first time he did not look like a rookie. He was poised and in command. He consistently read the Bengals' defense correctly and delivered throw after throw. He was fully in command of the offense and the team.
"Oh, hell yeah," right tackle Bobby Massie said about Trubisky's command. "Mitch will tell us, 'Shut the f*** up' in the huddle. Mitch has got some balls. He's going to be a good quarterback."
It's not the first time we've heard that type of talk from his teammates. Left guard Josh Sitton told a similar story last month. And the genuine, unsolicited praise of Trubisky's work ethic and leadership can be traced all the way back to training camp, when it was obvious the rookie carried a certain swagger and God-given ability that the rest of the quarterbacks simply did not possess.
And those traits have been evident throughout Trubisky's nine NFL starts. But they've also come with a fair share of rookie moments on what was a 3-9 football team. Praise and potential only carry so much weight when you aren't winning football games.
Which was why Loggains was quick to point out the importance of needing a win after Trubisky's first start — a loss. And it's why before the 49ers game last week, Trubisky admitted, "I need a win in the worst way."
Sunday served as an important reminder that there is still value in the final month of a lost season, even if some of the games are played in front of half-empty buildings like Paul Brown Stadium.  So instead of worrying about draft position and an unlikely scenario in which Fox saves his job, simply focus on what matters most: the positive development of Mitch Trubisky.
With that in mind, Sunday was a big-time win for the Bears.
Adam Hoge covers the Chicago Bears for WGN Radio and WGNRadio.com. He also co-hosts The Beat, weekends on 720 WGN. Follow him on Twitter at @AdamHoge.