This is an archived article and the information in the article may be outdated. Please look at the time stamp on the story to see when it was last updated.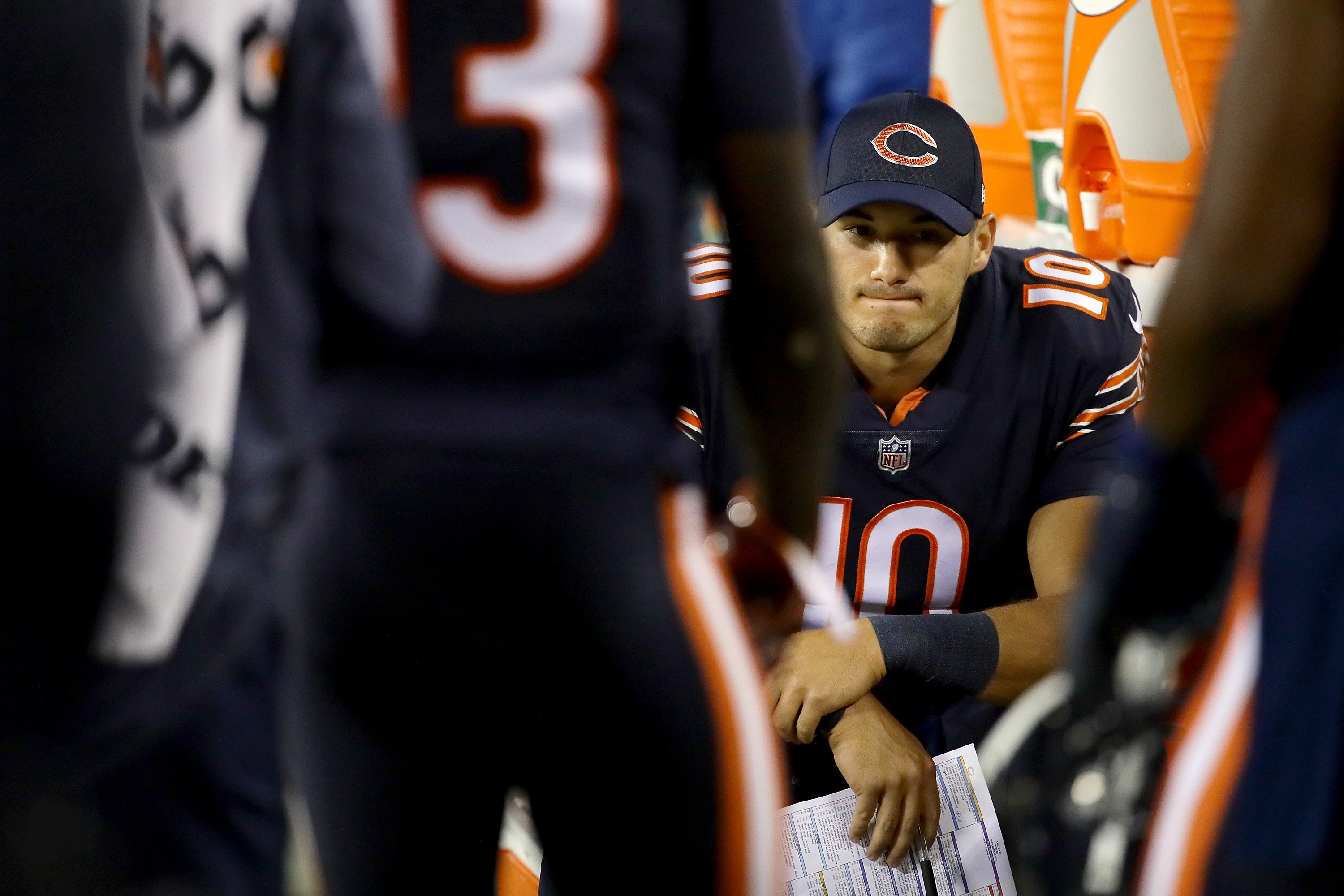 GREEN BAY, Wis. — The correct time to play Mitch Trubisky already came and went. That time was two weeks ago in Tampa when the Bears found themselves in a 17-0 hole after three early turnovers, two by Mike Glennon.
That game was a lost cause as soon as head coach John Fox trotted Glennon back out onto the field after apparently not even contemplating a change. Glennon promptly threw a pick-six, creating a score so lopsided it was pointless to even put Trubisky in during garbage time. The Bears lost 29-7.
Hoge & Jahns Podcast: Bears-Packers Postgame Episode
But alas, the Bears still found themselves in Green Bay Thursday night with a chance to be 2-2 after a brutal four-week stretch, thanks to the Pittsburgh Steelers inexplicably deciding not to attack the Bears' potent running game on Sunday.
Packers head coach Mike McCarthy wasn't going to make that same mistake, as he and defensive coordinator Dom Capers dared Glennon to beat them. McCarthy even said this week that he expected Glennon to take more shots downfield, a thought that likely had him sleeping very well on a short week. Sure enough, Glennon tried to take a shot downfield on his very first snap Thursday, but he couldn't pull the trigger and fumbled the ball away when Clay Matthews eventually reached him.
You didn't need a slow motion replay to see what happened, as the entire play happened in slow motion.
"I just have to get the ball out of my hands quicker," Glennon said after the game. "Didn't quite like what I saw, but I have to move on in the progression and get the ball out of my hands quicker."
Instead, the Bears were down 14-0 before Glennon even took a second snap, meaning the game was essentially over — unless Fox finally went to the bullpen and put in the rookie.
Mother nature even tried to drop a hint at the end of the first quarter, giving Fox a 45-minute lightning delay to make a change. At that point, it still seemed like the game was in reach. The Packers were literally playing with one offensive tackle and their top two running backs were injured during the game. At one point, they only had one available inside linebacker, forcing Capers to put four safeties on the field while playing rookie safety Josh Jones at linebacker.
How did Glennon take advantage of that situation? By immediately throwing an interception to Ha Ha Clinton-Dix. Two plays later, it was 21-0 Packers.
Still, after all that, Glennon managed to lead a two-minute drive before halftime, pulling the Bears within 21-7 — just close enough to give Trubisky a chance to win the game.
Instead, Fox conceeded, a truly stunning move when you consider that a win over the Packers would have done wonders for his job security. A 2-2 record after four games against the Falcons, Buccaneers, Steelers and Packers? Two wins in three years at Lambeau Field? No one could really argue with those results.
Of course, no one knows if Trubisky would have led a comeback. But there were 78,362 people in attendance at Lambeau Field that knew Glennon had no chance.
Sure enough, Glennon threw another interception in the third quarter and the Bears fell behind 35-7 before adding a touchdown in garbage time. For the second time in three weeks, the score was so lopsided that Fox didn't even want to get Trubisky some work in the fourth quarter.
"If you watched the game, I don't think it was an ideal time to put him in," Fox said.
No, the ideal time was when the score was 14-0 with three and half quarters left to play against a depleted division rival.
"Again, Mitch is a young player. He's four regular season games into his rookie season in his NFL career," Fox said.
Well, if Fox is afraid to put Trubisky in the game, then it's inexcusable that he's even active as the backup. So why is he active?
"In case of injury. We have seven offensive linemen every week too, so there's two backups. But that's just the way football works," Fox said.
It was a condescending answer that ignored the obvious presence of Mark Sanchez on the roster, who frankly should have been playing over Glennon Thursday if Trubisky still isn't ready.
But Trubisky is ready. He's not learning anything watching a Glennon-led offense that will look completely different when he gets on the field. The only way for him to develop at this point is to play, which could finally happen when the Bears host the Vikings on Monday Night Football Oct. 9.
"We need to make a lot of changes. We'll evaluate everything and we have a lot of work to do here before we line up against Minnesota," Fox said.
That was a much different answer to the quarterback question than the one he gave in Tampa, when he immediately declared Glennon the starter against the Steelers. At this point, it would be surprising if Trubisky didn't start in Week 5 against the Vikings.
"We'll look at everything and everybody. Not just the quarterback position," Fox said.
How Glennon lasted a full quarter of the season as the Bears' starter is remarkable when you consider he has eight turnovers in his last 12 quarters. From Fox's standpoint, the stubborness doesn't make a whole lot of sense. From general manager Ryan Pace's standpoint, I can at least understand some of the logic — he guaranteed Glennon $18.5 million and had to be hoping there was something to be salvaged.
But with every snap Glennon takes, the signing looks worse and worse. He's simply not an NFL starter and there's no hope of flipping him for draft picks after the season. Mike Glennon is a sunk cost and it's well past time to move on.
"The changes that we need to make, hopefully we make those changes," defensive captain Akiem Hicks said after the game. "Hopefully we put our team in position to win on defense and offense."
Whether or not Hicks was addressing the quarterback situation with those comments is unclear, but you have to imagine the defense is tired of taking the field after eight Mike Glennon turnovers in the last three games.
"You hate to see a turnover. You never want to put yourself in a position where you have to come back and get right back on the field after a series where you stopped them," Hicks said. "But that's the name of the game that we play. On every football team that I've been on, there's going to be a turnover and the defense's job is to come out and stop them from getting a touchdown. It happens."
But it happens way too much with Glennon.
"The No. 1 thing we obviously have to fix is the turnovers because I'm not giving our team a chance when you turn the ball over like that," he said.
Glennon knows it. The rest of the locker room knows it. And one would have to think Fox and Pace finally know it.
It's Trubisky time.
Adam Hoge covers the Chicago Bears for WGN Radio and WGNRadio.com. He also co-hosts The Beat, weekends on 720 WGN. Follow him on Twitter at @AdamHoge.