This is an archived article and the information in the article may be outdated. Please look at the time stamp on the story to see when it was last updated.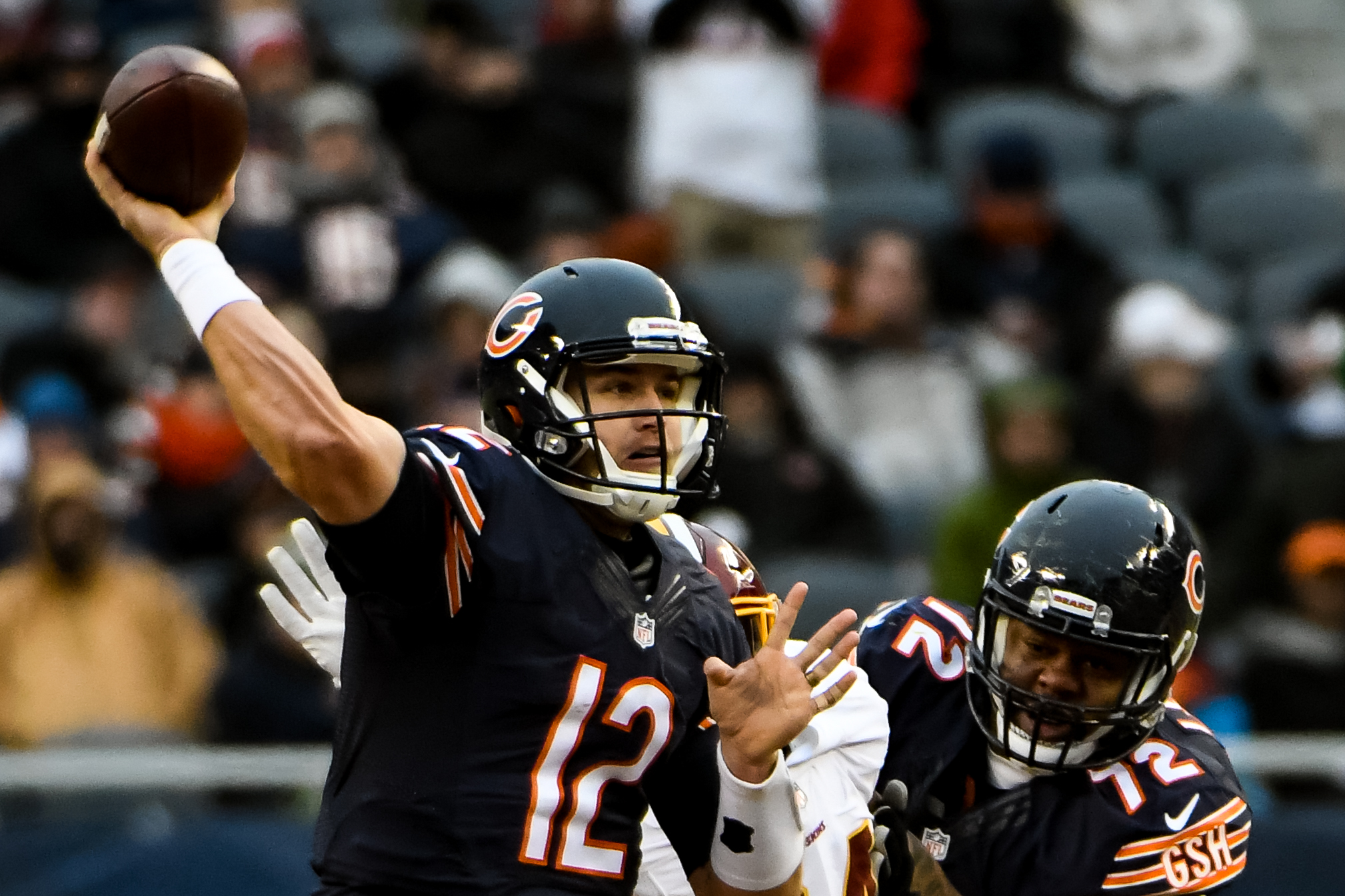 SOLDIER FIELD — When evaluating NFL quarterbacks, there are only a select few who possess both incredible talent and near-perfect technique and decision-making. Then there are those who have rare talent, but fall into bad habits and make poor decisions. Then there are those who don't possess a top-level arm and good mobility, but overcome this detriment with near-flawless technique and good decision-making.
Then there are the rest.
The Matt Barkley Bears fans saw at Soldier Field on Christmas Eve was part of "the rest." His five interceptions in the Bears' 41-21 loss to Washington checked all the boxes: throwing into triple coverage, not taking a sack, overthrowing open receivers, not getting help from receivers, and even simply getting beat by a top-level cornerback like Josh Norman.
But the Matt Barkley Bears fans saw in his first four starts was better. He showed "good enough" arm strength and delivered passes into tight windows when he used his feet well and stepped into his throws. He mostly belonged to the third group previously mentioned — the ones who can overcome less-than-ideal NFL quarterback talent with good technique and decision-making.
Still, there were warning signs. When Barkley didn't set his feet, he didn't drive the ball. His passes "fluttered" too frequently and there were at least three passes in recent games that should have been picked off. When he abandoned his safe-thinking, he made poor decisions (see: throwing into triple-coverage to tight end Daniel Brown against the Packers) and was often picked off.
In fact, despite seemingly exciting a large portion of the Bears' fan base in his first five games, Barkley came into Saturday's game against Washington with just six touchdowns to seven interceptions — a reality too many were ignoring.
By the end of Saturday's game, both of those numbers increased, but one much more than the other. After throwing two touchdowns and five interceptions against Washington, Barkley now has eight touchdowns to 12 interceptions this season, a ratio that does not scream "2017 starter."
Of course, numbers can lie, and to be fair, Barkley has been shouldering a much bigger load than he should be. The Bears have been trailing during the vast majority of his time on the field and his offensive coordinator has shown a reluctance to rely on running back Jordan Howard, even though the rookie is averaging 5.1 yards per carry. Barkley has received solid, but not great protection and he's been put in some tough situations that have sometimes required him to force some throws.
Those were all reasonable excuses in recent weeks, but again, the tape was still showing scary tendencies that foreshadowed what happened Saturday at Soldier Field.
"I was standing in my (own) way today," Barkley admitted.
Indeed, there were too many Jay Cutler-like moments — the ones where you just shake your head and wonder what the quarterback was thinking. The most egregious of these moments came on a first-and-10 at mid-field in the second quarter when Barkley inexplicably went for a home run throw to Josh Bellamy in triple-coverage. It was intercepted by Bashaud Breeland. Later, after John Fox shocked the world by attempting (and successfully executing) a fake punt, Barkley refused to accept a sack and instead lobbed a pass vaguely in the direction of Alshon Jeffery, which was instead picked off by Norman. And in the fourth quarter, Barkley had two more passes intended for Jeffery that were picked off, including one where he didn't set his feet and fired a pass way over his wide-open wide receiver.
"It's a tough one to swallow. It's kind of one that you want to forget," Barkley said. "There's still a lot to learn from."
Yes, there is. Which is why there still might be some upside with Barkley. So far, the fourth-year quarterback looks an awful lot like Cutler — just with less raw talent. On the surface, that's not a good combination, but the difference is that Barkley has such little experience that it's conceivable he can learn from his mistakes and develop better habits.
Still, there's a ceiling here. And that ceiling is probably more like Brian Hoyer, a quarterback who has held onto a job in this league because he grasped his limitations and relies on good technique and solid decision-making. He makes the safe throws, but not necessarily the game-winning throws. In other words, Hoyer is a very good backup quarterback.
Though the sample size is still small, the early returns on Barkley are similar. He looks like a good backup.
The truth is, neither Hoyer nor Barkley are good enough to replace Cutler long term. And yet the Bears should probably still bring one of the soon-to-be free agents back to compete and provide depth at the game's most important position.
At this point, I'd lean toward Barkley because I think he provides a little more upside at 26 years old. But let's be clear: if Matt Barkley is your unquestioned, unthreatened starter come Week 1 of 2017, the Bears haven't improved their quarterback situation.
Adam Hoge covers the Chicago Bears for WGN Radio and WGNRadio.com. He also co-hosts The Beat, weekends on 720 WGN. Follow him on Twitter at @AdamHoge.