This is an archived article and the information in the article may be outdated. Please look at the time stamp on the story to see when it was last updated.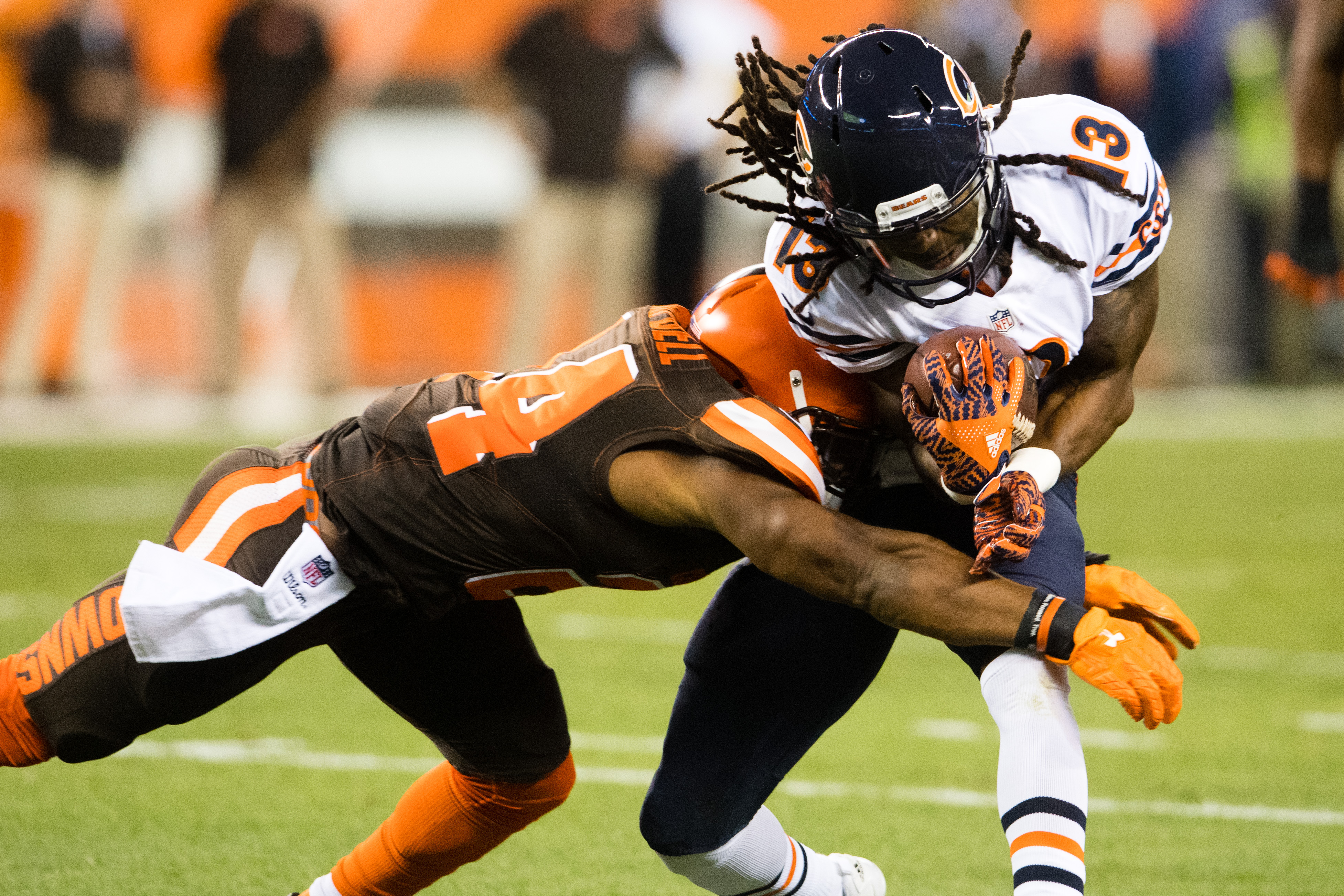 The Bears aren't doing Kevin White any favors.
Already entering a crucial third NFL season with an immense amount of pressure on his back, the team once again cast doubt about the wide receiver's health as head coach John Fox provided no explanation for why White didn't practice Tuesday and sidestepped a question about whether or not White will practice at all during the team's 10 OTA practice sessions.
"We're not really going to get much into that, as far as who's in, who's out," Fox said. "Just realizing that we're not lining up to play just yet."
For all we know, White could be fine. It's May. It's one practice.
Or maybe it's the whole season. Again.
That's the wide spectrum of possibilities Fox has presented here. And frankly, that's the way he likes it. But my goodness, throw the kid a lifeline. When it comes to Kevin White's injuries, the Bears lost the benefit of the doubt a long time ago. And, given the sensitivity involved with a former No. 7 overall pick who has played in just four of 32 possible games, you'd think the head coach would be eager to calm the waters a little bit.
"I can't control what people think or feel, just that he was injured last year, he came off surgery and we've got about six or seven others of those," Fox said. "It's really the same as everybody else."
It's obviously not the same as everybody else and Fox has been doing this long enough to know that he absolutely does have some control over what people think or feel. Right now, many Bears fans think they can't trust Fox when it comes to injuries and they feel like White might be injury-prone the rest of his career.
Further muddying the situation was the revelation by Bears quarterback Mike Glennon that White practiced on Monday.
"He made some really good plays yesterday that got me excited and the rest of the team," Glennon said about White. "He's really eager to learn. I know he's eager to get back out on that field."
It's noteworthy that Glennon said this before Fox spoke to reporters, so Fox's refusal to commit to White practicing at all during OTAs certainly raised eyebrows. Could White be dealing with a new injury?
"Um, no," Fox said.
White was on the sidelines at Tuesday's practice, so fans can at least be comforted by the fact that the wide receiver is walking.
But even if we take Fox at his word, that he's "just trying to make sure we get guys ready for camp, and even more precisely, for Game 1 against Atlanta," then White practicing once and then sitting out the next day still seems suspicious.
When asked back on Jan. 2 if he would be 100 percent for the offseason program, White said: "Yes, for sure."
Since then, all indications pointed to White being full-go for OTAs, mini-camp and training camp, and given the lack of practice time he's received the last two years, the wide receiver needs every rep he can get. Just last week, new Bears wide receivers coach Zach Azzanni discussed White's lack of practice time and some of the bad habits he still possesses.
"I get to almost start from square one to be quite honest with you," Azzanni said. "Nothing against (his last two position coaches), they just weren't able to get him out there a lot. So some of the habits that he had, bad habits from college, he probably still has and I'm able to come in and try and break those habits."
So with that in mind, why wasn't White on the practice field for OTA practice No. 2? Is something causing discomfort after just one practice, and if so, why is that happening? Or, if this was just part of a well thought out plan to bring White back slowly, then why not explain that clearly to your fans?
Remember, this is how the whole saga began two years ago. White was mysteriously absent from minicamp and the team provided no explanation. He didn't play a single game that year.
And that's why Fox claiming that White's situation is "the same as everyone else" is not fair to the fans and it's definitely not fair to White.
"He doesn't like things written about him — is he a bust, or all that," Azzanni admitted.
Unfortunately, the Bears aren't helping.
Adam Hoge covers the Chicago Bears for WGN Radio and WGNRadio.com. He also co-hosts The Beat, weekends on 720 WGN. Follow him on Twitter at @AdamHoge.