This is an archived article and the information in the article may be outdated. Please look at the time stamp on the story to see when it was last updated.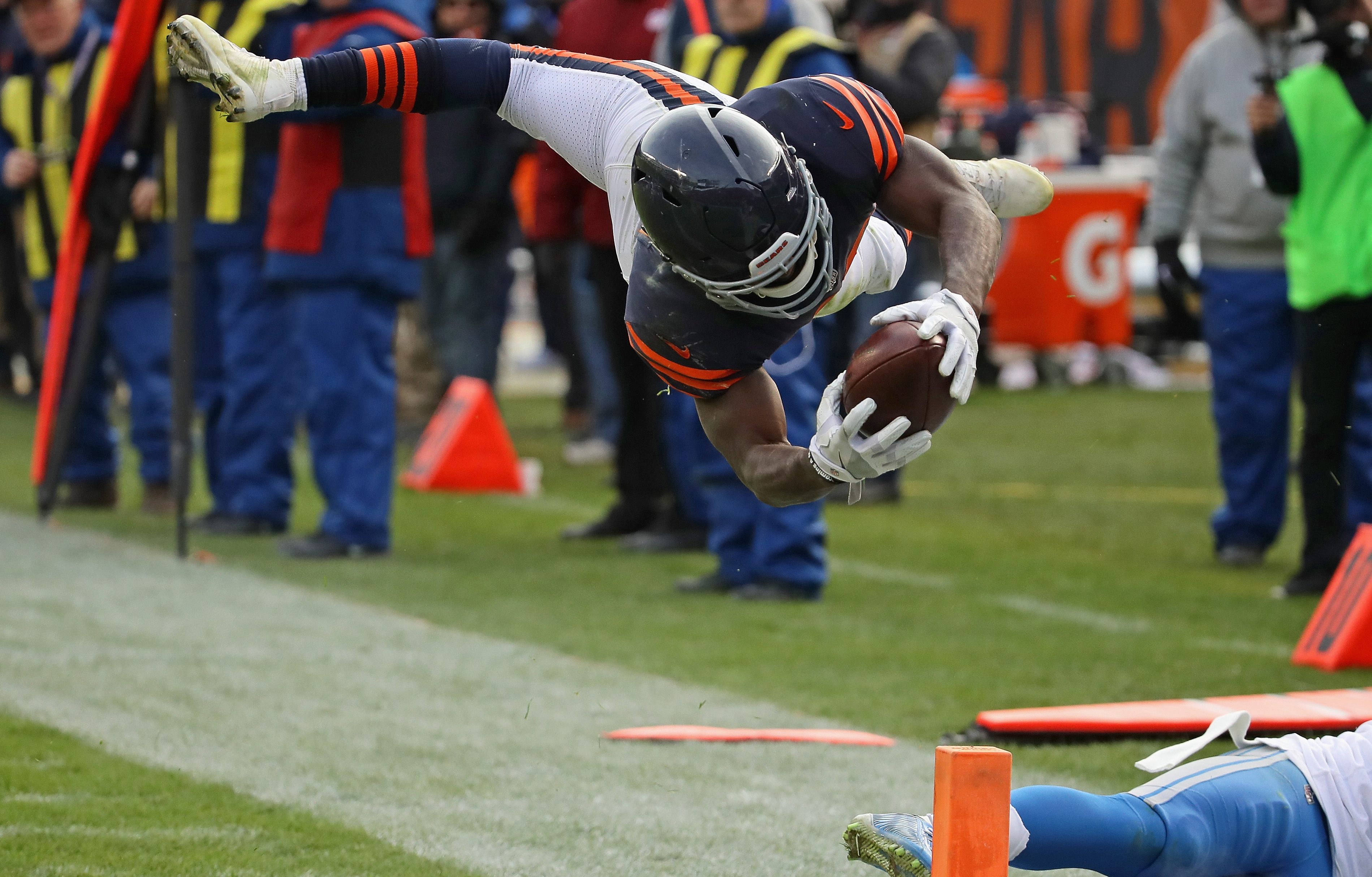 SOLDIER FIELD — The Bears appeared to have it all figured out on offense. Until they didn't.
This column could have been about how offensive coordinator Dowell Loggains best utilized his personnel, called plays that built on one another and allowed his young, talented quarterback to carry the Bears to a victory in the final seconds of the game.
That was the case for most of Sunday's game at Soldier Field, but strangely, in the final 1:35, familiar problems (and questions) arose, including kicker Connor Barth missing a 46-yard field goal that would have sent the game to overtime. Instead, the Bears dropped to 3-7 on the season with a 27-24 loss to the Lions.
Shortly before kickoff, I tweeted a checklist for the Bears' offense. There was really nothing extraordinary about the checklist — it was just a bunch of common sense solutions to get the football moving.
A checklist for the #Bears' offense today:

– Play Tarik Cohen at least 50% of snaps (has only happened once)
– Play Markus Wheaton
– Use Cohen in backfield more
– Use Shaheen in passing game
– PLAY ACTION
– Use shotgun more
– Just let Trubisky play

Anything else?

— Adam Hoge (@AdamHoge) November 19, 2017
And guess what? Loggains hit almost everything on this checklist on the first drive of the game, which resulted in a field goal only after Trubisky threw low to Benny Cunningham on third-and-goal.
It was as if the Bears had a different playbook Sunday. After getting grilled all week at Halas Hall, the coaching staff used rookie running back Tarik Cohen early and often. He finished the game with four catches for 15 yards and nine carries for 44 yards and a touchdown, but his impact on the game was much more significant as his presence on the field opened up big plays in the passing game and on the ground for Jordan Howard.
"I felt like I was used in a lot of ways — as a decoy sometimes, (and) sometimes I was the guy getting the ball. I feel like that's what I need to do to be a major key in this offense. So I was very happy," Cohen said.
And yet, inexplicably, Cohen wasn't on the field for the final drive of the game. Neither was Howard. And neither was tight end Adam Shaheen, who led the team with four catches for 41 yards and a touchdown Sunday.
Instead, Loggains and head coach John Fox went with Benny Cunningham as the lone running back, because they trust him the most in pass protection. They went with Daniel Brown as the only tight end. And they went with a combination of Dontrelle Inman, Kendall Wright, Tre McBride and Markus Wheaton at wide receiver.
Howard's presence on the bench in the two-minute package can be attributed to his problems catching the football, but with 1:35 left in the game and three timeouts Loggains didn't even want to present the threat of running the football with Howard even once?
As for Shaheen, the Bears opted to instead insert Brown into the two-minute package once Zach Miller got hurt and Dion Sims came down with his undisclosed illness. Apparently it's a trust thing, going with the veteran over the rookie — nevermind that the Bears excused their rash of pre-snap penalties last week on account of new players like Brown being on the field (he was guilty of a false start against the Packers).
And then there's Cohen. During the week, Fox and Loggains bungled every attempt to explain his lack of playing time and then built the bulk of Sunday's game plan around the rookie, leading to a ton of success. So why wasn't he on the field for the final drive?
"There are a lot of situations that a lot of people, including you all, don't get," Fox said. "In a two-minute (package), not everybody on the team knows all that. We have Adam Shaheen, we have Mitchell Trubisky, we have Tarik Cohen — they are playing in their (10th) games in their NFL careers, as rookies. They have a lot on their plate as it is, and they can't do everything."
So they can't handle the most crucial package in the playbook?
"It's just more so about me learning more things in the offense so that in the hurry-up situation I can be in the slot or I can go to the X-receiver or the Z-receiver or just be in the backfield," Cohen said, confirming that he doesn't know all of the plays in the two-minute package. "Probably just the hurry-up plays at those positions. I know certain plays at those positions, but you know, just to open up the whole playbook with me, I would have to learn all of those plays."
To be clear, this isn't a Devin Hester situation where he's struggling to learn the playbook. The Bears have constantly raved about Cohen's intellect and ability to pick things up, which means Fox and Loggains are the reason why Cohen isn't in the two-minute package. They've decided not to put that on his plate.
Again, it's Week 11. The Bears have known for a while now that Cohen is their most dynamic playmaker — they've said so themselves. They can't simultaneously rave about Cohen's ability to pick things up fast and then claim he's not ready for the most crucial time of the game. And yet they do.
The Bears spent the majority of Sunday's game moving the ball successfully with Cohen, Howard and Shaheen. Yet none of them were in their two-minute package for even one play. I'm sorry, but that is not defensible.
Even if Cohen doesn't know all the plays, just his mere presence on the field attracts extra attention. How do I know? Fox and Loggains spent all week saying so.
And they really can't get away with claiming Cohen and Shaheen are clueless in the two-minute drill. I watched them practice two-minute situations all summer in OTAs and training camp. Even if they weren't practicing that package this specific week, what about in-game adjustments? Cohen and Shaheen were difference makers all game. That didn't make you think about changing your two-minute personnel?
Of course, I know what the common response is going to be here: The Bears still got down to the 28-yard-line and Connor Barth missed a 46-yard field goal. It wasn't the offense's fault, right? Sure, but here's the thing about that: It wasn't a seamless drive. There weren't many open targets, which was proven by Trubisky having to pull off a miraculous scramble for 19-yards on 4th-and-13 after two incompletions and a sack. Plus, players can overcome poor coaching decisions. Trubisky has been proving that for six games now.
And yes, Barth has to make that field goal. But the Bears have known for months that he isn't a reliable kicker. Why do you think they dropped nearly half-a-million on Roberto Aguayo back in training camp? Fox and Loggains should have known that they had to make that field goal as comfortable as possible and to do that, they needed their best players on the field.
When asked after the game what was working so well with Cohen, Howard and Shaheen, Trubisky said: "They're good players. If you get good players the ball, they're going to make plays for us."
Imagine that.
You know, it's interesting, because when explaining some of his team's inconsistencies, Fox said: "We've shown spurts and moments, like we have for some time now. But we have lulls. We have siestas. We just don't do it for 60 minutes."
And that just might be the best way to describe the last three years of Chicago Bears football under John Fox.
Adam Hoge covers the Chicago Bears for WGN Radio and WGNRadio.com. He also co-hosts The Beat, weekends on 720 WGN. Follow him on Twitter at @AdamHoge.