This is an archived article and the information in the article may be outdated. Please look at the time stamp on the story to see when it was last updated.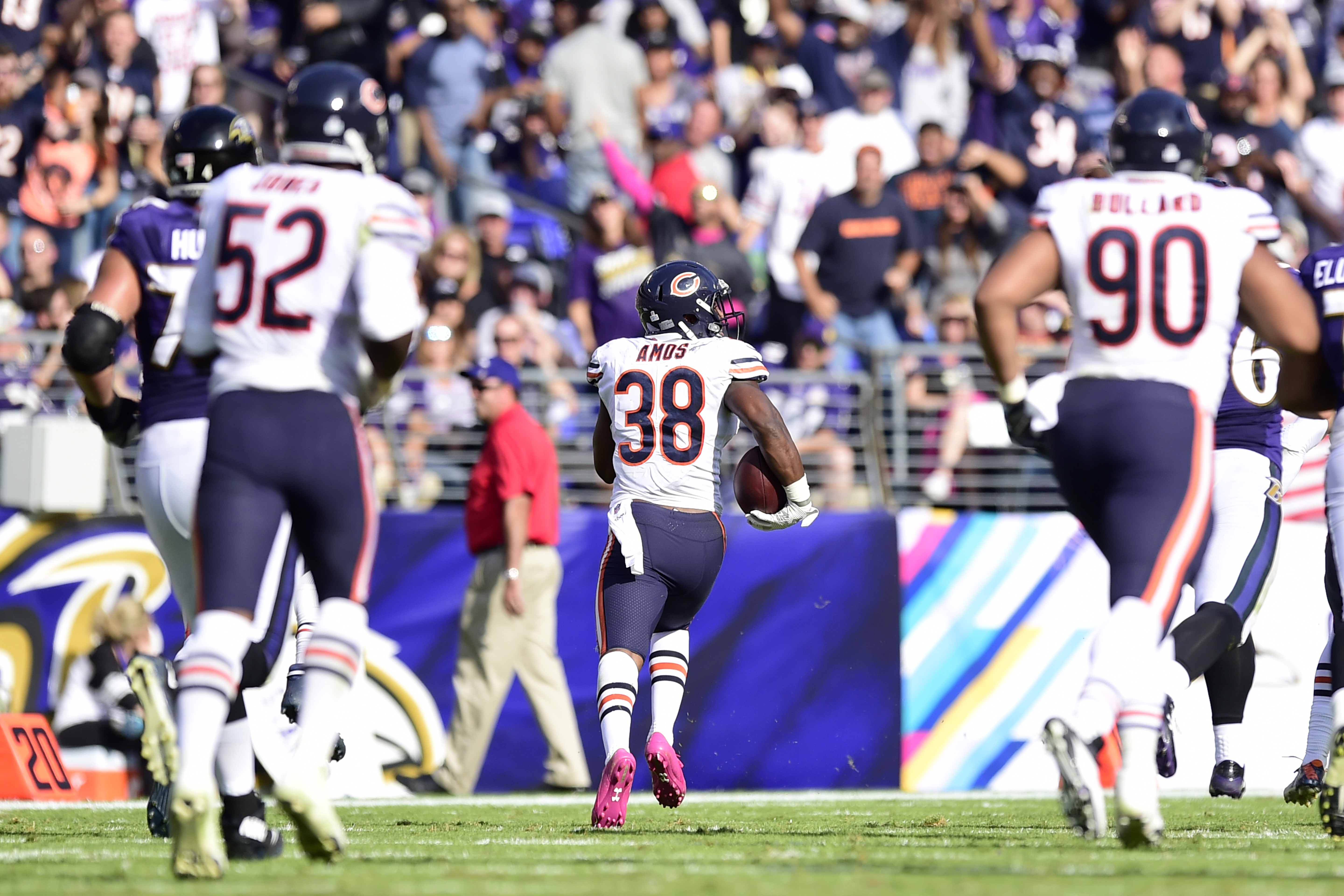 BALTIMORE — Sorry, Mitch. But for once, you're not the story today.
Sure, the Bears would not have beat the Ravens 27-24 in overtime Sunday without Mitch Trubisky's athleticism, which bailed out his center's bad snaps and helped set up the game-winning field goal, but this one would have looked much different had Vic Fangio's defense not delivered its most impressive performance to date.
Hoge and Jahns, Episode 122: Bears-Ravens Postgame Podcast
Time after time, the defense came up with crucial stops — after turnovers, in the fourth quarter and in overtime — to bail out the Bears' offense and special teams unit in what might have otherwise been the ugliest loss under John Fox.
"We had the keys and we were going to keep that door locked until we came out victorious," Bears outside linebacker Pernell McPhee said.
Asked how they got the keys, McPhee replied: "We took 'em. They had 'em first. (The keys) were in the lion's den and we took the keys and we gonna take 'em with us."
Like many on the Bears' defense, McPhee struggled to hold in his excitment after the game. Making his first return to Baltimore — the team that drafted and developed him as a fifth-round pick — McPhee badly wanted to sack Joe Flacco, a goal he accomplished.
"I just made a great play for my team, man. I'm excited bro. I can't even lie to you," McPhee said. "I ain't good at expressing my feelings, you know what I'm saying?"
And yet he expressed them quite clearly. McPhee has battled through injury and is still making valuable contributions to a unit that did not allow an offensive touchdown against the Ravens. He had good reason to be excited Sunday.
Those who have watched the Bears closely this season know they have a good defense. They quietly came into this week allowing 305 yards per game, which ranked sixth, and 5.07 yards per play, which ranked ninth. But they had also allowed 24.8 points per game (25th), which certainly wasn't a fair statistic considering the load they had been carrying with a minus-nine turnover differential.
Of course, part of that was on them. The Bears were one of three teams that entered Week 6 without an interception and the lack of takeaways is what made them a good, but not great defense.
On Sunday, the Bears had a great defense. The Ravens only totaled 291 total net yards, did not score an offensive touchdown and the Bears took the ball away three times, including two interceptions.
"We've gone through all the inadequacies at this point from last season and earlier this season, but I think a lot of it is, it helps to play with the lead," Bears head coach John Fox said. "We've only done that twice this season, and we've won both games."
But it also helps to win the turnover margin and it's an extra boost when you can score on a takeaway. No play was bigger than when two Baltimore natives combined to create a pick-6, which gave the Bears a 24-13 lead they never should have relinguished.
If you're looking for Kyle Fuller, who was born and raised in Baltimore, he's still superglued to the Ravens' wide receivers. Flacco kept challenging Fuller, and the former first round pick kept answering, including on the pick-6 when he broke hard on Flacco's pass and disrupted the play enough that the ball bounced off wide receiver Chris Moore and deflected to fellow Baltimore native Adrian Amos, who returned the interception 90 yards for a touchdown.
"For it to happen here at home in Baltimore, it was a great feeling," Amos said. "My granny was up in the stands with the rest of my family, so it was a great moment."
Now in his third season, it was Amos' first career interception, but he said it wasn't the first time he scored inside M&T Stadium. He played some high school games here and said he caught a touchdown as a wide receiver in this building.
"I remember there's a field under the bridge nearby where I watched my father play 7-on-7 games growing up and looking at the stadium," Amos said. "Just growing up around Baltimore and being a Ravens fan, watching Ray Lewis and Ed Reed, this was a dream come true coming back to play in this stadium."
And yet, the good vibes almost didn't last. As hard as the defense tried, they just couldn't prevent the rest of the team from nearly blowing the game. The Ravens only scored three points off of two fourth quarter fumbles by the Bears, but there wasn't much the defense could do about the two touchdowns Jeff Rodgers' special teams unit allowed. And even after the Ravens tied the game at 24 following Michael Campanaro's 77-yard punt return with 1:37 remaining, the defense had to step up and make a stop after Jordan Howard channeled his inner Marian Barber and inexplicably ran out of bounds with 31 seconds left.
Fangio bailed Howard out of that mess with a smart call that funneled the Ravens to the middle of the field and ran out of the clock. Then, in overtime, his unit managed to force a three-and-out after a poor punt by Pat O'Donnell gave the Ravens good field position.
At that point the defense was begging for some help and Howard delivered with a 53-yard run that put the Bears on the brink of field goal range.
Of course, Trubisky's talent had to steal some of the spotlight as he used his outstanding footwork in the pocket to avoid pressure and deliver an 18-yard strike on 3rd-and-11 to setup Connor Barth's 40-yard game-winning field goal.
But as impressive of a play as it was by Trubisky, Sunday's win belongs to the defense, a unit that despite losing three starters to injured reserve, looks like one of the league's best.
Perhaps more importantly, it's a defense that should continue to give its rookie quarterback a chance to make those impressive plays in clutch moments to secure victories.
Adam Hoge covers the Chicago Bears for WGN Radio and WGNRadio.com. He also co-hosts The Beat, weekends on 720 WGN. Follow him on Twitter at @AdamHoge.