This is an archived article and the information in the article may be outdated. Please look at the time stamp on the story to see when it was last updated.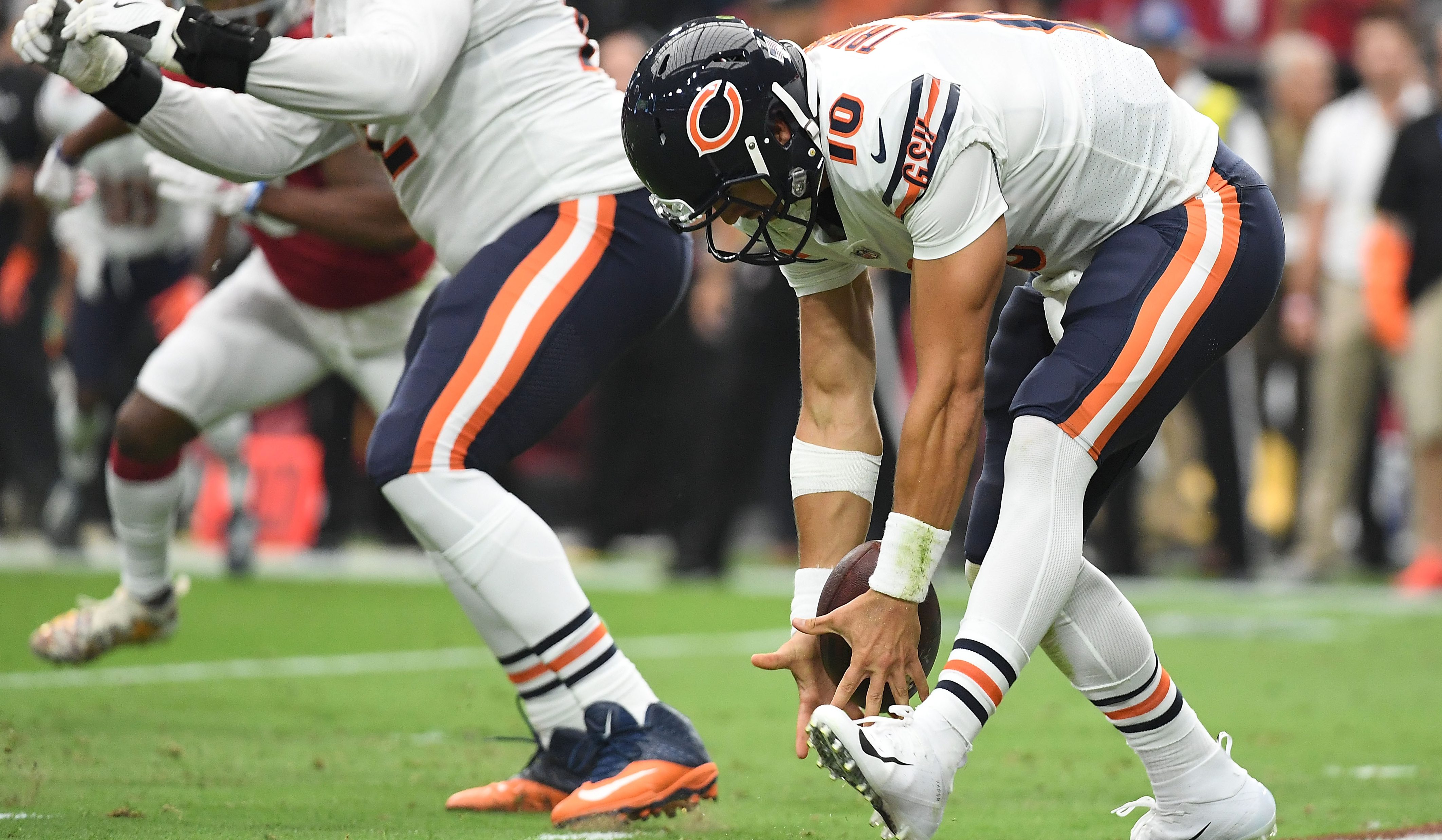 The Bears might have the best defense in the NFL. And in this league, that usually gives you a shot to win a championship.
Of course, Chicago knows better. This city has been here many times before. Bears fans know you can get all the way to the Super Bowl with an elite defense, but you also need a good enough quarterback to win. 
Back in first place for the first time since 2013, the Bears have a championship-level defense. Khalil Mack is playing like the Defensive Player of the Year, and a dominant second half helped the Bears erase a 14-0 deficit and beat the Cardinals 16-14 in Arizona.
Get this: The Cardinals had five second half possessions and on those five possessions, the Bears had four takeaways (three interceptions, one fumble recovery) and sacked rookie quarterback Josh Rosen to the end the game.
"It doesn't take a rocket scientist to realize we're winning games because of our defense," Bears head coach Matt Nagy said after the Bears improved to 2-1 to take sole possession of first place in the NFC North.
But Nagy made that comment right after preaching — and sort of begging for — patience with his slowly evolving offense, which has only managed four touchdowns in three games.
"I know people don't understand this —  it takes time. We will get this," he said. "These guys are putting in a lot of valuable time and energy in trying to learn this thing. We are as a staff. And when we figure it out and we get it, it will be fun."
Here's the thing. It sure looks like the Bears are a quarterback away from being a playoff team. Nagy has to continue to preach patience because he has no other choice. He and the rest of the organization is waiting for Mitchell Trubisky to break out. If it happens, watch out. If it doesn't, well, watch out.
At this point, the Trubisky bandwagon appears to be deserted, even if the physical tools are still there. The issues remain the same: his clock is ticking too fast, he's not seeing the field all that well, and his footwork leads to errant throws when rushed. 
The good news? These are all correctable problems.
The bad news? They are correctable until they're not. Sometimes it never clicks.
But Nagy insists that it will. And it might. He really has no other choice to believe. The Bears don't have another first round pick until Trubisky's rookie contract expires — in 2021.
Bears general manager Ryan Pace went all in on Trubisky when he traded a boatload of draft capital to move up to draft him. Then he double-downed by trading two years' worth of first round picks for Khalil Mack. That move was unrelated — you make that trade no matter what — but it made it even more crucial that Trubisky becomes the franchise quarterback the Bears need.
My personal belief is that Trubisky not as far away as it sometimes looked Sunday. Much like last week against the Seahawks, if he hits a couple open throws that he missed, the entire day looks a lot different. For the second week in a row, he missed Taylor Gabriel on a deep touchdown. And later, he didn't give Allen Robinson a chance on a designed third down fade near the goal line. 
Not only are these missed opportunities leaving points off the scoreboard, they are making the entire offense much easier to defend, slowing down the run game and making the entire operation much harder on Trubisky. 
So is it as simple as Trubisky hitting a couple of big throws and the entire offense opening up as result? Probably not, but it would certainly help. Either way, until we start to see him make those throws, the fans are going to doubt him and his head coach is going to have to protect him in the second halves of games.
In the meantime, it's probably good that Trubisky stays "Zero Dark Ten" on social media as it appears he was once again "screenshotted" Sunday on the fade to Robinson:
Bears had four receivers to the right, Cardinals only had three to cover them. Trubisky never even looked right, took the snap and immediately threw incomplete to his left. pic.twitter.com/j4NoFfhh6h

— Michael David Smith (@MichaelDavSmith) September 23, 2018
The guess here is that the screenshot once again lacks full context. Yes, the Bears have a 4-on-3 advantage on the right side, but we've also learned in these first few games that Nagy has been running some "one-read" plays in key moments. The right side is purposely overloaded to guarantee one-on-one coverage for Robinson on the left side, which Trubisky gets. Chances are that Nagy will say on Monday that Trubisky made the right read, he just didn't make a good enough throw. And that's true. If Trubisky gives Robinson a chance, it's probably a touchdown, even if there was an advantage on the other side of the field.
But the throw wasn't made. So the questions linger. And at this point they are fair. 
Fortunately, as Nagy admitted, the defense is so good that the Bears are still 2-1 after three games and are already a 2.5-point favorite over the Buccaneers next week.
But, again, Chicago has seen this story before. 
They might have a playoff team, they might not. They might have a quarterback, they might not.
Adam Hoge covers the Chicago Bears for WGN Radio and WGNRadio.com. He also hosts "The Hoge & Jahns Podcast." Follow him on Twitter at @AdamHoge.