This is an archived article and the information in the article may be outdated. Please look at the time stamp on the story to see when it was last updated.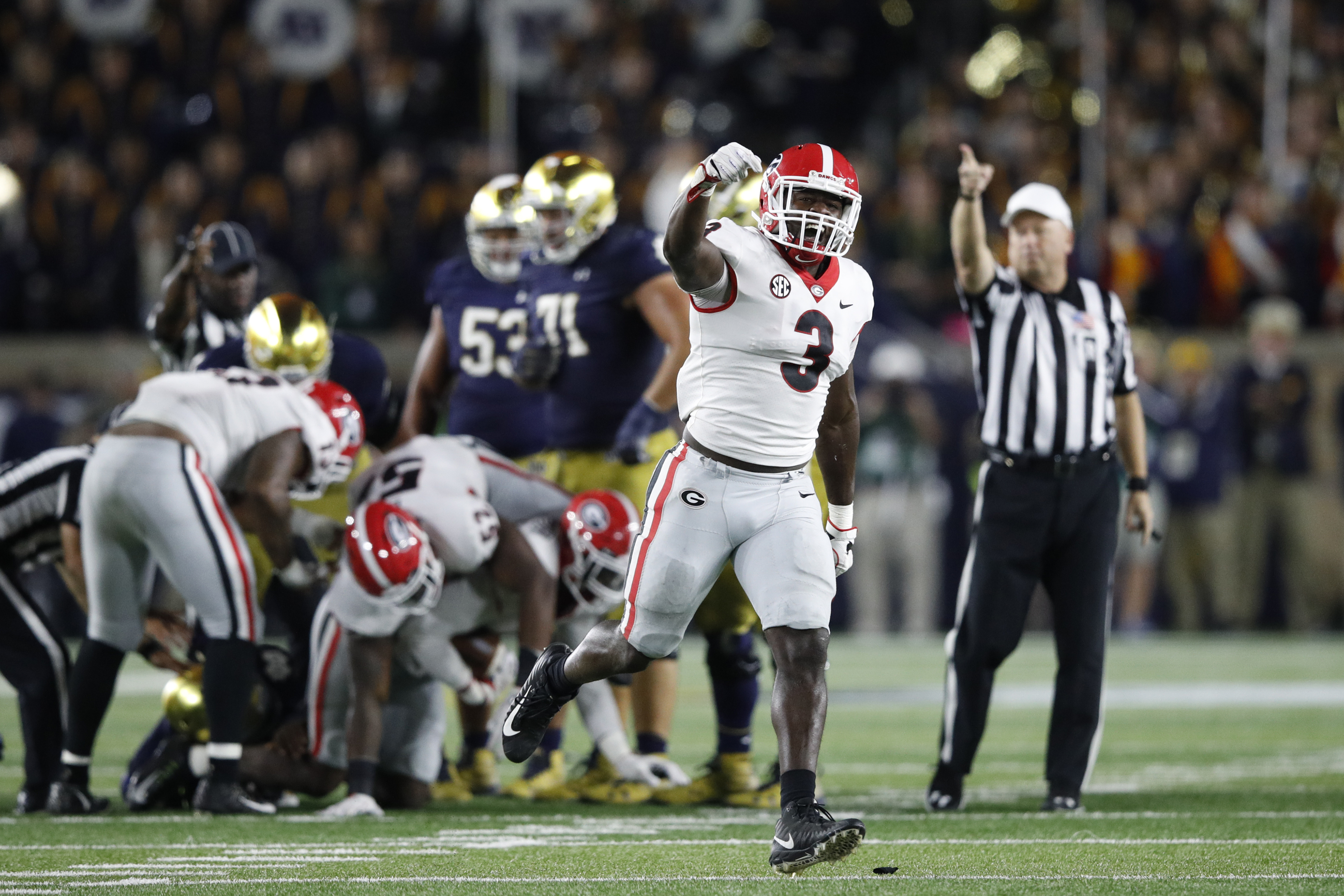 With the bulk of free agency done, we now have a better look at the Bears' projected depth chart and NFL Draft needs.
Perhaps most obvious, the Bears' needs at wide receiver and cornerback have been alleviated after the signings of Allen Robinson, Taylor Gabriel, Trey Burton, Kyle Fuller and Prince Amukamara.
On the flip side, edge rushers are now a desperate need as Bears general manager Ryan Pace did more subtraction (Pernell McPhee and Willie Young) than addition (Aaron Lynch).
Unfortunately, it's looking more and more unlikely that North Carolina State pass rusher Bradley Chubb will be available at No. 8. Would Pace consider trading up for Chubb? I wouldn't rule it out. Pace has shown that when he has conviction on a player (i.e. Mitchell Trubisky and Leonard Floyd), he will go get them. 
We don't project trades in these mock drafts, however, and I believe it is healthy to look at contingency plans. As Bears fans know, draft night can be very unpredictable. With that in mind, let's jump into Bears Mock Draft 3.0:
(Reminder, Notre Dame guard Quenton Nelson and Iowa cornerback Josh Jackson were the first picks in the first two Bears Mock Drafts, which you can read here. We don't repeat picks. That would defeat the purpose of the exercise.)
1st round, No. 8 overall — LB Roquan Smith (6-1, 236)
This one came down to either Smith or Virginia Tech linebacker Tremaine Edmunds, who may actually fit the Ryan Pace draft profile a little better. Edmunds is huge and freakishly athletic and it wouldn't surprise me if he has Pace and defensive coordinator Vic Fangio drooling over him as a potential pass rusher, especially considering he's only 19 years old. But there's little on tape to suggest Edmunds is a sure-thing as a pass rusher, meaning he would be a high-upside project, not unlike Leonard Floyd was when he was drafted. 
Let me be clear: I'm not opposed to that idea. Edmunds has a high-ceiling and could end up being even better than Bradley Chubb. But that's a risky proposition. 
Most project Edmunds as an enormous inside linebacker, which has brought on lofty Brian Urlacher comparisons. Sorry, but Edmunds doesn't have Urlacher-like instincts. Not even close. In fact, that's his biggest weakness and it's a glaring weakness on tape. 
Basically, this came down to either drafting a pass-rushing project in Edmunds, or a plug-and-play inside linebacker in Roquan Smith. Smith may be the smaller linebacker, but he has outstanding instincts and flies from sideline-to-sideline. He's excellent in coverage and plays bigger than his actual size. He's the type of high-character player who would quickly become a defensive captain and "quarterback" of the defense for years to come. 
And let's not overlook the inside linebacker position in terms of depth. Danny Trevathan and Nick Kwiatkoski are your starters right now and both have had issues staying healthy. John Timu and Jonathan Anderson return as backups for what already seems like their 18th season (it's actually their fourth). And Trevathan is already 28 years old, which can't be ignored. This is a position of need for the Bears and Smith is an outstanding player who could start Week 1.
2nd round, No. 7 (No. 39 overall) — OG/C Billy Price, Ohio State (6-4, 312)
Bears get first-round value with Price, who suffered a torn pectoral on the bench press at the Combine and will likely fall into the second round. All reports indicate Price will be ready for training camp, but if the Bears were to draft him, they would obviously have their own medical evaluation and timeline.
Is it risky drafting an injured player? Sure, but Price never missed a game as a four-year starter at Ohio State and he plays with a physical edge. The injury came off the football field. Price is a mauler in the run game and a smart tactician as a pass blocker who is athletic enough to pull to the outside. He has captain-like character and might have the most value at center where he can make the line calls. That would allow Cody Whitehair to settle in as the Bears' left guard. 
4th round, No. 5 (No. 105 overall) — WR DaeSean Hamilton (6-1, 205)
The Bears' needs at wide receiver have changed after signing Allen Robinson, Taylor Gabriel and tight end Trey Burton, but they would be wise to continue adding weapons for Mitch Trubisky in the draft. 
Hamilton is simply a good wide receiver who is being overlooked because he isn't the fastest or most athletic guy at the position. But he's an outstanding route runner with good hands, especially in traffic. He would compliment Gabriel as a secondary slot option because he's more of a reliable possession-type receiver, rather than speed burner. Hamilton is also a high-character player raised by two Marines who will earn his NFL money on third down and in the red zone.
4th round, No. 15 (No. 115 overall) — CB Parry Nickerson, Tulane (5-10, 182)
Nickerson is a speedy slot corner — the exact kind the Bears could use right now. After locking up Kyle Fuller and Prince Amukamara on the outside, the Bears are still relying on Bryce Callahan and Cre'von LeBlanc in the slot, with mixed results in the past. Nickerson ran a 4.32 at the Combine and has outstanding ball skills, despite being a smaller corner. But with the influx of speedy slot receivers around the league, Nickerson is the type of corner who could matchup in sub packages — which are on the field the majority of the time these days. 
5th round, No. 8 (No. 145 overall) — EDGE Ola Adeniyi, Toledo (6-2, 248)
While it is at the MAC level, Adeniyi's tape is impressive. He had good production in 2017 with 8.5 sacks and 20 tackles for loss. His Combine testing was just OK, which is why I think he will still be available here in the fifth round. Adeniyi appears to be more explosive on tape and he makes a ton of big plays. For a team in need of edge rushers, Adeniyi would provide good depth this late in the draft and could be a rotational contributor as a rookie.
6th round, No. 7 (No. 181 overall) — EDGE Leon Jacobs, Wisconsin (6-3, 246)
Again, we're taking a swing on another late-round edge rusher here, hoping one of them turns into an eventual starter. Unlike Adeniyi, Jacobs doesn't really have the production on his resume, mainly because a couple of injuries kept him behind outstanding outside linebackers like T.J. Watt, Vince Biegel and others who have been churning through the Wisconsin program in recent years. But Jacobs has the athletic pedigree and tested well at the Combine. He also has experience playing both inside and outside in the 3-4. 
7th round, No. 6 (No. 224 overall) — DT Poona Ford, Texas (5-11, 303)
Ford is a hard-working, interior defensive lineman who will need to overcome his size limitations at the next level. He's also not a very productive pass rusher, which is why I disagree with the notion that he needs to end up in a one-gap system where he can penetrate and get after the quarterback. Ford actually shows some ability to two-gap on tape, but I'm not going to oversell him. I think he's a good fit in Vic Fangio's system as a rotational depth guy who will provide effective play in bursts when he's on the field. That's good value in the seventh round.
Adam Hoge covers the Chicago Bears for WGN Radio and WGNRadio.com. He also hosts "The Hoge & Jahns Podcast." Follow him on Twitter at @AdamHoge.