This is an archived article and the information in the article may be outdated. Please look at the time stamp on the story to see when it was last updated.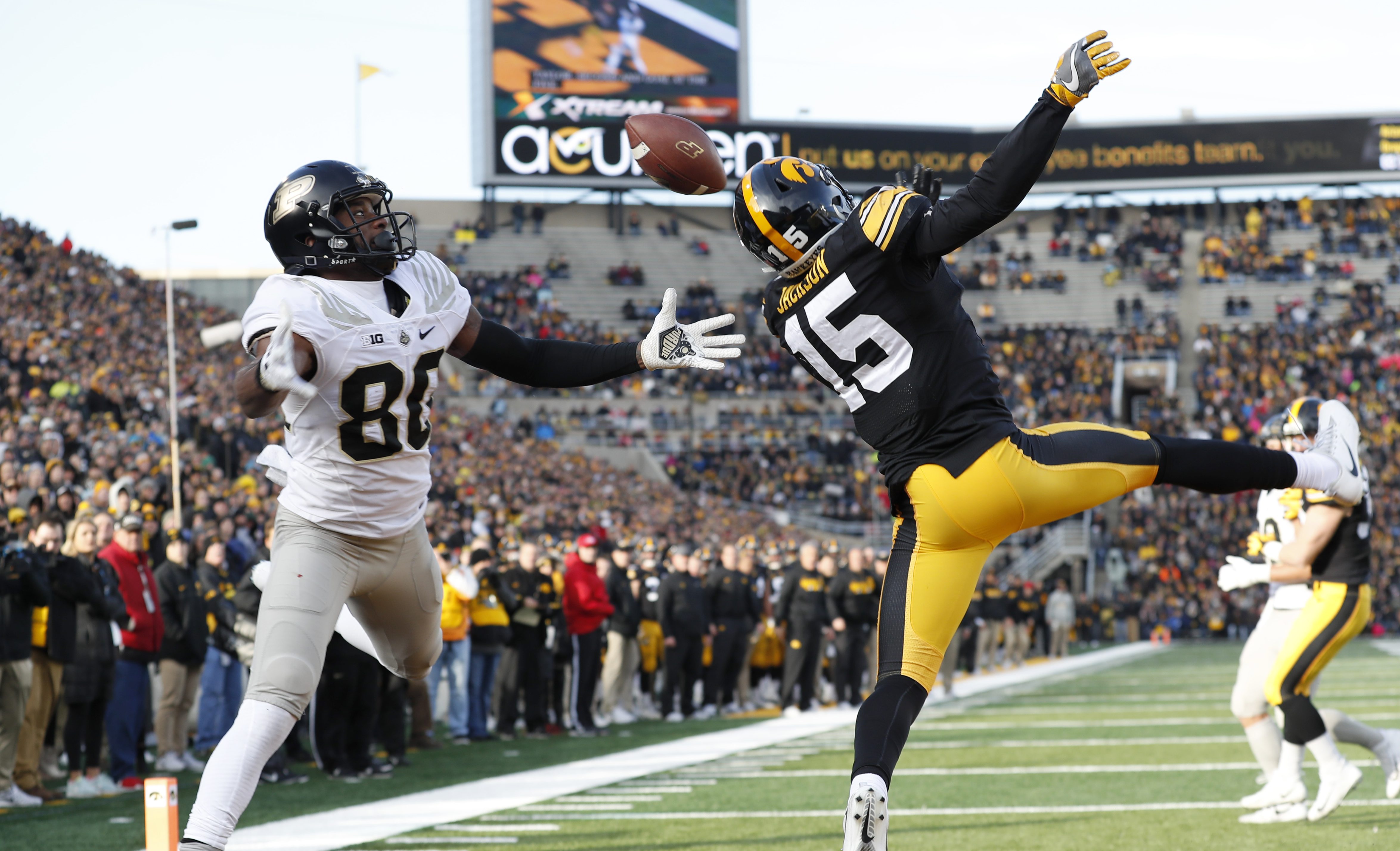 The NFL Combine is behind us, which means we have a lot more clarity on how draft prospects are stacking up.
For the sake of clarity, there are four players I absolutely love for the Bears at No. 8 overall. One of those players is Notre Dame offensive guard Quenton Nelson, who I featured in Bears Mock Draft 1.0. The other three — Penn State running back Saquon Barkley, Alabama defensive back Minkah Fitzpatrick and North Carolina State pass rusher Bradley Chubb — would also be great fits for the Bears, but there's a chance none of them survive to No. 8. In that case, Bears general manager Ryan Pace could be fielding calls from QB-needy teams looking to move up. I don't project trades in these team-specific mock drafts, but that is a scenario to keep in mind.
For Bears Mock Draft 2.0, let's operate under the idea that those four players are off the board and Pace still makes his pick at No. 8:
1st round, No. 8 overall — CB Josh Jackson, Iowa (6-0 3/8, 196)
Even if the Bears end up retaining Kyle Fuller, they need another young, playmaking corner — and ideally one with a little more height and length. That's why, in the debate between Iowa's Josh Jackson and Ohio State's Denzel Ward, I side with Jackson.
The debate between Josh Jackson and Denzel Ward for CB1 is real, but this is the tiebreaker for me: pic.twitter.com/GEXQAw9qkP

— Adam Hoge (@AdamHoge) March 5, 2018
Ward is a little faster and twitchier, but I love Jackson's instincts and ball skills. He came to Iowa as a wide receiver and unlike most receivers who switch to defense, Jackson has maintained his catching abilities. In 2017, he led the country with eight interceptions and 26 pass breakups. While primarily playing zone, Jackson has the natural instincts to play more man-coverage at the next level and I like that he has some room on his body to carry more weight. He already bulked up since the end of the college season and still ran a 4.49 in Indianapolis, although it was later downgraded to a 4.56 (his pro day will offer more clarity). I see some Charles Tillman in Jackson's game. He's exactly what the Bears need on defense right now.
2nd round, No. 7 (No. 39 overall) — WR Christian Kirk, Texas A&M (5-10, 201)
I'd love to find a bigger wide receiver with this pick, but those guys either go in the first round or fall later because of speed deficiencies. Kirk is a high-character guy and a polished route runner who can make things happen after the catch. One high-ranking talent evaluator told me Kirk isn't getting enough attention, perhaps because of his small catch radius. But this guy simply knows how to get open and his toughness will make him a feisty matchup at the next level. While he won't give Mitchell Trubisky a big target to throw to, Kirk would definitely help a depleted wide receiver group immediately.
4th round, No. 5 (No. 105 overall) — WR Justin Watson, Penn (6-2 5/8, 213)
Some honesty here: I'm really not sure if I'm over-drafting Watson here or not giving him enough credit. The outstanding college production and rave reviews from the Senior Bowl don't matchup with the lack of a Combine invite. And considering the lower level of talent he faced and concerns about his long speed, Watson's Pro Day will tell us more about where he'll ultimately fall.
So let's go off of what we know: This kid is always open and he catches everything. Yes, it was in the Ivy League, but I say this every year: I love players from smaller schools who show up at the Senior Bowl and dominate. When you go from playing Brown and Yale and then arrive in Mobile and make Power-5 defensive backs look silly, you have some skill. While he might have some issues getting large separation, he's big enough and physical enough to fight off defenders and make adjustments to the ball while it's in the air. And the hands are outstanding.
Can I go to Penn's Pro Day on March 19?
4th round, No. 15 (No. 115 overall) — EDGE Hercules Mata'afa, Washington State (6-1, 254)
We've seen college defensive ends transition to 3-4 outside linebackers, but what about an undersized defensive tackle? There's no way Mata'afa can continue to play inside at the NFL, but he's just a projection on the edge, which is why he'll fall. This guy is a high-motor, high-production player who racked up 21.5 TFLs and 9.5 sacks in 2017. If he successfully transitions to the edge, he's going to be a really good player. If he doesn't, he'll still be a valuable fringe-starter/special teamer in the mold of Sam Acho. He may even be able to play inside linebacker in a 3-4 defense. I'm willing to take the chance here in the middle of the fourth round.
5th round, No. 8 (No. 145 overall) — RB Justin Jackson, Northwestern (6-0, 199)
I'm still trying to figure out what I'm missing with Jackson, who dominated the Big Ten for four straight years. He has outstanding tape, tested very well at the Combine and is a high-character guy who commands respect from every teammate he's ever had.
Jackson produced four straight 1,000-yard seasons despite never playing behind a dominant offensive line. At times that resulted in him dancing around behind the line of scrimmage instead of committing upfield, but that was a forced habit that can be developed out of him. The questions about his long speed are fair, but he reduced those concerns by running a 4.52 in Indianapolis, which was the sixth best number among running backs. In fact, two sources told me over the weekend that Jackson's Combine numbers will move him up draft boards.
I would be willing to draft Jackson earlier than the fifth round, but I have yet to hear that he will go earlier. While Jordan Howard is no doubt a good NFL running back, there are legitimate questions about how he'll fit in Matt Nagy's system. Not that Jackson would replace Howard, but he would bring some added versatility and catching ability out of the backfield. The Bears need another option outside of Tarik Cohen if Howard were ever to miss time.
6th round, No. 7 (No. 181 overall) — OT Brandon Parker, North Carolina A&T (6-7, 314)
Last year, Ryan Pace used his fifth round pick to draft a guard from a smaller school (Jordan Morgan) with the idea of redshirting him while he got one more year out of Josh Sitton. Whether or not that pick pays off remains to be seen, but I like using that same strategy with Brandon Parker, who was Tarik Cohen's left tackle at North Carolina A&T. Parker has the size, length and athleticism to play left tackle in the NFL, but will likely need a year to adjust to the competition and put all of his natural tools together with better technique. I love the idea of Parker working with new offensive line coach Harry Hiestand while he adds strength and fills out his massive frame. This is a developmental pick that could really pay off.
7th round, No. 6 (No. 224 overall) — TE Durham Smythe, Notre Dame (6-5, 257)
Injuries held Smythe back in South Bend and he's more of a blocking tight end, which is why he'll likely fall to the later rounds. I actually think an NFL team will get more out of him in the passing game than Notre Dame did, but he'll still be a "Y" tight end at the next level. With the Bears committed to Adam Shaheen has their future pass-catching tight end, Smythe would be a good replacement for Dion Sims because he blocks very well, especially in the running game. I worry about the durability, but Hiestand (who came from Notre Dame) will have insight on the injuries and be able to give the Bears' scouting department a convincing argument on whether or not this kid can be more than he was in college.
Adam Hoge covers the Chicago Bears for WGN Radio and WGNRadio.com. He also hosts Sports Central Monday-Friday on WGNRadio.com. Follow him on Twitter at @AdamHoge.